The Sherlocks of County Kildare
Following the Anglo-Norman invasion of Ireland, Co. Kildare was granted to the FitzGerald family. Other Norman families who settled in Kildare at this time included Birmingham, Sutton, Aylmer, Wogan, White, Eustace and Sherlock, according to Ryan.
Within 500 years of settling in Ireland, the Sherlock clan was becoming influential throughout the island. By the early 1600s, Sherlocks were reported in counties Clare, Cork, Dublin, Wexford, Kildare, Kilkenny, Limerick, Meath, Tipperary, Waterford and Wicklow. A Nicholas Skurlag appears among the jurors in an inquisition at Wexford in 1296. In yet another inquisition concerning the extent of a manor, held in 1298, a Richard Scurlog is listed as a juror. In 1282 a John Scorlog Jr. was summoned as a juror to attend Killmallock, Co. Limerick. In the same county, Nicholas Scurlog was a bailiff in 1397. In 1431 Richard Scurlog was Archdeacon of Cork, and in 1599 a Richard Sherlock was High Sheriff of Co. Clare. Sir Arthur Chichester, Lord Deputy of Ireland, knighted Sir George Sherlock, of Cahir, Co. Tipperary, at Dublin Castle on 28 Nov. 1606.
However, it appears that the family truly first rose to prominence in Co. Kildare, specifically in Sherlockstown, Little Rath and Naas. Still, the history of this family branch is one of the most difficult to piece together because there is little detailed Information about the family prior to the 1600s. Sherlockstown, 2 miles southeast of the village of Clane, was most likely established in the 13th century. The first mention of Sherlockstown in public records is in 1299 where it is stated "the villula of Schylockstown did not come to the inquisition of the coroner" at Kildare in May and October and was fined ₤10. Burke makes reference to a Walter Sherlock who had 60 acres of property in Sherlockstown in 1339.
In 1442, Henry V conferred the chief sergeantry of Co. Kildare on another Walter Sherlock, who in 1432 was granted a treasury order for his "great labours" in Co. Kilkenny and the Marches of the Pale, as well as collecting a state subsidy in the diocese of Ossory. This was probably the same Walter Sherlock who was a seneschal to the Earl of Ormonde in Kilkenny and Tipperary in the early 1400s and the sovereign of Kilkenny in 1442. He also may have been the ancestor of the branch of the Sherlock family that settled in Co. Waterford.
In 1432, Nicholas Sherlock was dean of Kildare. A Robert Sherloke was recorded as being seated at "Sherlockston" in 1544, 1549 and 1555. A Charles Sherlock was a Member of Parliament for Naas in 1639, and he was expelled for non-attendance in 1642,
probably in fear of his safety after the 1641 Irish Rebellion. Ffrench says that for many years an intimate connection existed between the Sherlock family and the town of Naas, Co. Kildare, which is a few miles south of Sherlockstown. Much of the genealogy information below is based on a hand-drawn family tree, the original of which is in possession of the National Library of Ireland. John Sherlock, of Naas, was born about 1515. He married Elizabeth Sutton, daughter of William Sutton, of Kildare. John represented Naas in Parliament in 1560. They had at least two children:
I. James, of whom presently.
II. Edward, who married _____ _______. They had several children, including two sons:
Richard, who married, first, Catherine _______, daughter of John _______, of Naas.
They had one child who died young. Richard married, second, Ellinor
Allen, daughter of Walter Allen. Richard married, third, Mary Nangle, daughter
of Robert Nangle, of Ballyfax, Co. Kildare. Richard and Mary's children included:
1. Thomas, who married Ellinor Vogan, daughter of William Vogan.
2. Matthew.
3. George.
Richard married, fourth, Elizabeth Eustace, daughter of Walter Eustace, of Duddingtown, Co. Dublin (maybe the Walter Eustace executed in 1583, a son of Sir Rowland Eustace, 2nd Viscount Baltinglass). Richard died at Naas on 14 May 1636 and was buried at the church of Naas. Richard and Elizabeth's children included:
1. Michael.
2. Edward.
3. John.
4. Anne.
5. Frances.
6. Mary.
B. Robert, who married Margaret Sutton, daughter of Nicholas Sutton, of Naas.
Robert died 7 Jan. 1634 and was buried at the parish church of St. David of Naas.
III. Thomas, who is listed as one of the overseers of his brother James' will.
IV. Alson, who is mentioned in her brother James' will James Sherlock, of Naas, married Anne Usher, daughter of Robert and Margaret (FitzJohn) Usher, of Dublin. She had been previously married twice. James was a Member of Parliament for Naas in 1585. James' name appears in May 1586 among those of the knights and burgesses of Parliament who protested against the attainder of James FitzGerald as Earl of Desmond. James died about 1595. The children of James and Anne (Usher) Sherlock included:
I. Robert, who had a son:
A. Richard Sherlock, who was sovereign of Naas in 1636. He had two sons:
1. John, of Kildare.
2. Robert, who married Jane Dowdell. His will was dated 8 May 1694. They had six children: George, Robert, Christine, Margaret, Joan and Jane.
II. Philip, of whom presently.
III. Andrew.
IV. Jennet.
James married, second, Anne Allen. When he died in 1595, James was seized in fee of two castles, a stone house, 35 messauages, 132 acres of arable land, a garden, and a water mill, all of which were in Naas.
Phillip Sherlock was seated in the towns of Little Rath and Derry in 1556. His wife is unknown, but it is believed he had at least two sons:
I. Christopher, of whom presently.
II. John.
Christopher Sherlock, of Little Rath and Derres, is mentioned in state records in 1602. In 1608, a Sherlocke of Sherlockstowne was constable of Kildare. In 1609, Christopher was sovereign of Naas and he was a Member of Parliament for Naas in 1613.
In 1627, Christopher was seated at Sherlockstown, and he was Member of Parliament for Naas in 1634. In 1629, Christopher married Ann FitzGerald, a daughter of James FitzGerald, of Osberstown, Co. Kildare. An old stone, now located at Sherlockstown, has the arms of Christopher Sherlock and his wife impaled with the date 1633. The Sherlock arms were: Per pale Argent and Azure, three fleurs-de-lis counter changed. Christopher and Ann had at least one child:
I. John, who in 1635 was knighted by the Earl of Stafford. He had married Catherine Ashburnham on 14 July 1634 in London. In 1646, John was an officer in the service of Charles I of England, and governor of Naas under James Butler, Duke of Ormonde. In his will, dated of 1652, John states, "In regard to the trouble of these times, and the general devastation of this county, my whole estate is likely, in all probability, to be of small benefit to me or to my wife, during our natural lives, and it hath pleased God (the wise disposer of all things) to bereave of my children and posterity of my own loyns; and those that are my brothers by my father (a second mother) are utterly incapable to inherit, in respect of their wicked adhering to the Irish, in the horrid rebellion of this nation." He was buried on 18 March 1652 at St. Michan's, Co. Dublin. Catherine married, second, John Preston, mayor of Dublin and widower. She died 10 Sept. 1665. Christopher married, second, Elinor _______, and they had two children:
I. Philip, of whom presently.
II. Esther.
Philip Sherlock, of Little Rath, married, first, __ Keatinge, a daughter of Thomas Keatinge.
In 1658, Philip had his property sequestered as a papist, and was one of the few proprietors restored by the Court of Claims in 1662. He married, second, Elizabeth Eustace, daughter of William FitzJohn Eustace, of Castlemarten, and sister of Sir Maurice Eustace, Lord Chancellor of Ireland. Philip's will was dated 10 May 1684. He died eight days later and was buried at Bodenstown, about a half mile from Sherlockstown. Elizabeth married, second, Nicholas Adams. Children of Philip and Elizabeth include: I. Christopher. (see the chapter "Dundrum, County Dublin, and Rahan Lodge, County Offaly")
II. Laurence.
III. Eustace, of Drumlargin, co. Meath. He married Hester FitzSimon. His will was dated 16 June 1707, and proved 14 Aug. 1707. They had a daughter: Elizabeth.
IV. Robert, who died young.
V. John.
VI. William Patrick, of whom presently.
VII. Edward, who lived in Corfu.
VIII. Mary, who died in 1695.
IX. Helen, who married _____ Bellew.
William Patrick Sherlock, of Co. Westmeath, was the sixth son of Philip Sherlock and Elizabeth Eustace, of Little Rath, Co. Kildare. He was born about 1660. For reasons unknown, unlike his oldest brother he had been raised Protestant. In 1704 he
purchased Sherlockstown, restoring it as the family seat. William married Rebecca Clayton, daughter of Randall and Judith (Perceval) Clayton. She was born about 1666. Their children included:
I. Richard, of whom presently.
II. Mary, who was born about 1688. She married Thomas Fetherstonhaugh, son of John Fetherstonhaugh, of Rath, Co. Westmeath, and Castlekeeran, Co. Meath. Thomas was born about 1685 and died in 1749. Their children included:
A. William, who married Lydia Sherlock, daughter of William and Mary (Wolfe) Sherlock. William Fetherstonhaugh died in 1770. They had two sons:Thomas and William.
B. John, who was dean of Leighlin. He died 17 July 1764.
C. Ralph, who was knighted and held the office of Member of Parliament for Co. Longford from 1765-68. He served as Member of Parliament for Johnstown between from 1768-80. He was created 1st Baronet Fetherstonhaugh on 26 June 1776.
D. Francis, who was born about 1735. He married Hannah Birch in October 1753.
Francis was an alderman at Dublin. He died in 1787. They had two children: Mary and Thomas.
III. Catherine, who was christened 12 June 1689 at St. Catherine's in Dublin.
IV. Elizabeth, who was christened 12 July 1690 at St. Catherine's.
V. Thomas, of Irishtown, Co. Kildare, who was born about 1691. He died in 1770.
VI. Edward, of Ballyhogan, Cо. Kilkenny, who was born about 1693. He died in 1776.
VII. William, who was born about 1694 in Carrick, Co. Westmeath. On 5 Feb. 1719, he married Mary Wolfe at St. Audoen in Dublin. She was born 6 April 1701 in Naas, Co. Kildare, a daughter of Richard and Lydia (Page) Wolfe. William died about 1747, and Mary died 24 July 1765. William and Mary's children included:
A. John, who was born about 1720 in Brannoxtown, Co. Kildare.
B. William, who was born about 1723 in Brannoxtown. He married Margaret Fetherston, a daughter of Cuthbert and Mary (Magan) Fetherston, of Bracken Castle in Dardistown, Co. Westmeath. William died about 1765. They had a son:
1. William, born about 1746 in Carlow, Co. Carlow. He married Elizabeth Hewetson about 1771. She was born about 1751 in Thurles, Co. Tipperary. She died about 1811. Their children included: James, William, John, Francis,
Robert, Hannah and Wilhemina.
C. Eleanor, who was born about 1725 in Brannoxtown. He died in 1793.
D. Ann, who was born about 1727 in Brannoxtown.
E. Mary, who was born about 1729 in Brannoxtown. She died in 1796.
F. Rebecca, who was born about 1731 in Brannoxtown.
G. Elizabeth, who was born about 1733 in Brannoxtown.
H. Lydia, who was born about 1734 in Brannoxtown. She married William Fetherstonhaugh, of Carrick, Co. Westmeath. He was son of Thomas and Mary(Sherlock) Fetherstonhaugh (see above). William died in 1770. They had two sons: Thomas and William.
I. Alice, who was born about 1737 in Brannoxtown.
Richard Sherlock was christened 10 Jan. 1686 at St. Catherine's in Dublin, the oldest son of William Sherlock and Rebecca Clayton. In 1718 Richard married Elinor Knight, daughter of the Rev. Nicholas Knight and granddaughter and heiress of Dudley
Collory, of Castle Carbery, Co. Kildare.
The town lands of Little Rath, Derry and Bodenstown – that were lost by Christopher Sherlock in 1703 – were bought back by
Richard in 1741 and reunited with the other major family holding: Sherlockstown. Richard died 7 July 1762 and is buried in the family tomb at Sherlockstown. Richard and Elinor's oldest son was:
William, of whom presently.
Sherlockstown House in Co. Kildare, located a few miles north of the town of Naas, was built about 1807 by William Sherlock. It replaced an older family home.
William Sherlock was born in 1745 in Ireland. He married Helena Pakenham on 24 June 1768. She was a daughter of Thomas and Elizabeth (Cuffe) Pakenham, Baron and Countess Longford, of Pakenham Hall. William was a ranger of the Curragh (1765-
88), a position appointed by the Lord Lieutenant to guard grazing rights, prevent encroachment and mind the game. Helena died 10 May 1774 and William died 28 March 1788. They had four sons and one daughter, but the names of only three of their children are known.
I. William, of whom presently.
II. Francis Sherlock, KH4, who was born about 1771 in Ireland. He was a colonel of the 4th Regiment of Royal Irish Dragoon Guards. He entered the service in August 1793 as a coronet in the 8th Light Dragoons and served in the French Revolutionary Wars in 1794-95 in Flanders, Holland and Germany. Francis served in South Africa during the first British occupation of that country (1795-1803). He was promoted to major in 1804. As a lieutenant colonel, Francis was in command of 550 officers and men and 534 horses in Portugal in 1811 during the Peninsular War. This was the first time the 4 Francis Sherlock was a Knight of the Royal (Hanoverian) Guelphic Order. Begun in 1815, the Order has not been conferred by the British Crown since the death of King William IV in 1837, when the personal union of the United Kingdom and Hanover ended.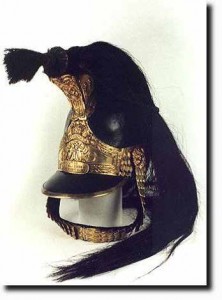 A helmet of a soldier from the 4th Regiment of the Royal Irish Dragoon Guards believed to have been that of Francis Sherlock.
4th Regiment had been sent to a foreign country to fight against men who were not their own countrymen. He was promoted to colonel in 1814. Around 1807, Francis married, first, Emily _______.
William Sherlock, son of William and Helena (Pakenham) Sherlock, succeeded his father while still a minor. He entered the 17th Lancers, served in the Walcheren Expedition, and rose to the rank of lieutenant colonel of the 5th Dragoon Guards. He and a Thomas Burgh were Parliamentary representatives for Kilbeggan, Co. Westmeath, from 1791-98. "William Sherlock of Sherlockstown and Thomas Burgh of Chapelozid were both from Kildare families and connections to Kilbeggan were tenuous," according to McCormack and Flynn. William married Matilda Singleton in 1807. That same year, William had the original family home at Sherlockstown torn down and a new manor, still standing, built in its place. William and Matilda had at least four children: I. William Robert, who was born 8 Oct. 1810, and baptized 20 Dec. 1810 at St. Peter's in Dublin. He inherited Sherlockstown House and the related estates. According to Lewis, in 1840 Sherlockstown covered an area of 556 acres and 22 perches, and nearby Sherlockstown Common covered 138 acres and 30 perches. Sherlockstown is situated on the Grand Canal, and contains Sherlockstown House built in 1807, the "handsome modern mansion of W.R. Sherlock, Esq., and Prospect, belonging to the same family," according to Lewis. In May 1841, William was confined to the sheriff's prison for nine months, probably for debt, according to Norton. While in prison, he was found to be both physically and mentally ill and often drunk. He died in May 1842 soon after release from prison.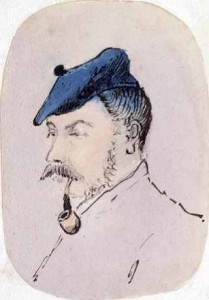 A sketch of then-Lt. Francis George Sherlock Sr. while aboard the ship Orontes in 1864 in transport to New Zealand. The sketch is the collection of the Alexander Turnbull Library. The artist is unknown.
William Sherlock, the son of Richard Thomas and Emma (Galer) Sherlock, was born in Canada in 1836. After his great-uncle, Col. Francis Sherlock, died in January 1848, he inherited most or all of the Sherlockstown estate, which by that time included more than 1,200 acres. He attended Trinity College and became a Church of Ireland clergyman. William married one of his cousins, Adelaide Victoria ("Ada") Sherlock, on 13 Sept. 1860 in Southwell, Nottinghamshire. She was a daughter of Col. Francis Sherlock (see above). In 1863, William is listed as curate (parish priest) of Carrigaline, Co. Cork. William later became canon of Christ Church and, in 1888, vicar of Clane. He was later archdeacon of Kildare. In the 1890s, he was secretary of the Kildare Archaeological & Historical Society and was editor and writer of the society's journal.
Ada died 23 Feb. 1901 at Sherlockstown. In the 1901 and 1911 Irish censuses, William is listed as a widower living with his adult daughters at Sherlockstown. William died 17 March 1919 at Sherlockstown. William and Ada had four daughters6, all of whom never married:
I. Lillie Stewart, who was born 24 June 1863 in Southwell. In the 1891 English census, she is listed as a "visitor" with the family of her aunt Frances (Sherlock) Gordon in Southwell, Nottinghamshire. In the 1901 Irish census, she is listed as a visitor with the family of James George Scott in Bray, Co. Wicklow. Lillie died 30 Dec. 1914 in Sallins, Co. Kildare.
II. Rosa Kathleen, who was born in 1864 in Southwell. She inherited Sherlockstown when her father died. Following her death, the property passed to her two surviving sisters.
III. Sophia Matilda, who was born about 1868 in Co. Wicklow, Ireland. She died 21 Sept. 1934 in Sallins, Co. Kildare.
IV. Grace Edith, who was born 23 May 1870 in Southwell. She died in 1953. Soon after her death, the Sherlockstown estate was sold and passed out of the hands of the Sherlock family, who had owned it for as many as 700 years. The property was put up for public auction and bought by the Power-Smith family. In 1963, the estate was sold to Stephen O'Flaherty, whose descendants still owned the property as of 2005. It now measures approximately 200 acres.
http://www.theflyingscotsman.ca/sherlock_tree.pdf
Ireland Diocesan and Prerogative Marriage Licence Bonds Indexes 1623-1866
First name(s) Last name Year Spouse's first name(s) Diocese
Alice Sherlock 1757 Thomas Prerogative Court
Alice Sherlock 1757 Thomas Prerogative Court
Alicia Sherlock 1809 Thomas Cloyne
Amelia Sherlock 1756 William Clogher
Ann Sherlock 1742 Robert Clogher
Ann Sherlock 1746 Thomas Cloyne
Ann Sherlock 1797 James Cloyne
Ann Sherlock 1809 Edward Ossory
Ann Sherlock 1813 Joseph Ossory
Anne Sherlock 1789 Hugh Cloyne
Anne Sherlock 1790 John Ossory
Anne Sherlock 1806 Henry Warner Cloyne
Anne Sherlock 1807 William Cloyne
Anne Sherlock 1828 John Cork and Ross
Avarina Purdon Sherlock 1858 Rev. Richard Cloyne
Averina Sherlock 1826 William Harrington Cloyne
Bridget Sherlock 1814 Philip Waterford and Lismore
Catherine E Sherlock 1843 Joseph Meath
Catherine Louisa Courteney Sherlock 1850 John Cashel and Emly
Catherine Sherlock 1750 Revd. William Prerogative Court
Catherine Sherlock 1787 Richard Cloyne
Deborah Sherlock 1736 Edward Prerogative Court
Diana Sherlock 1717 Bartholomew Cork and Ross
Dorothea Sherlock 1752 William Clogher
Edward Sherlock 1782 Elinor Prerogative Court
Eliza Sherlock 1839 James Armagh
Elizabeth Sherlock 1721 Thomas Cloyne
Elizabeth Sherlock 1738 Thomas Dublin
Elizabeth Sherlock 1759 Halll Cloyne
Elizabeth Sherlock 1793 George Lucas Prerogative Court
Elizabeth Sherlock 1793 George Lucas Prerogative Court
Elizabeth Sherlock 1838 John Ossory
Eustace Sherlock 1734 Jane Dublin
George Sherlock 1837 Elizabeth Cork and Ross
Grace Sherlock 1789 Thomas Cloyne
Grace Sherlock 1800 Richard Cloyne
Grace Sherlock 1813 William Cork and Ross
Hanna Sherlock 1814 Robert Ossory
Hannah Sherlock 1773 Samuel Ossory
Hannah Sherlock 1804 Isaac Ossory
Hannah Sherlock 1823 Richard Ossory
Harriett Sherlock 1842 Henry Waterford and Lismore
Henry B Sherlock 1828 Sarah Cloyne
Hugh Robert Sherlock 1835 Elizabeth Down, Connor and Dromore
James Sherlock 1790 Mary Cork and Ross
James Sherlock 1795 Ann Waterford and Lismore
James Sherlock 1796 Lucinda Ossory
James Sherlock 1814 Writh Ossory
Jane Sherlock 1755 Robert Prerogative Court
Jane Sherlock 1772 Phillip Cloyne
Jane Sherlock 1826 James Langley Cloyne
Jane Sherlock 1831 Adam Alexander Down, Connor and Dromore
Johanna Sherlock 1800 John Ossory
John Sherlock 1780 Judith Cloyne
John Sherlock 1787 Sarah Cork and Ross
John Sherlock 1826 Ann Cloyne
John Sherlock 1826 Mary Killala and Achonry
John Sherlock 1828 Mary Ossory
John Sherlock 1838 Frances Ossory
Jonathan Wigmore Sherlock 1817 Harriet Cloyne
Joseph Sherlock 1760 Grace Cork and Ross
Joseph Sherlock 1765 Arabella Cloyne
Joseph Sherlock 1792 Alicia Cloyne
Joseph Sherlock 1814 Anne Killaloe
Letitia Anne Sherlock 1816 Thomas Cork and Ross
Lydia Sherlock 1777 William Cloyne
Margaret Sherlock 1808 William Ossory
Margaret Sherlock 1826 John Cloyne
Margarett Sherlock 1802 Thomas Cloyne
Maria Sherlock 1831 William Meath
Maria Sherlock 1838 Laurence Ossory
Martha Sherlock 1799 Benjamin Ossory
Mary Anne Sherlock 1794 John Ossory
Mary Anne Sherlock 1796 Mathew Ossory
Mary Jane Sherlock 1846 Thomas Cloyne
Mary Sherlock 1745 Thomas Cloyne
Mary Sherlock 1762 Alexander Prerogative Court
Mary Sherlock 1783 Robert Ossory
Mary Sherlock 1789 William Cloyne
Mary Sherlock 1803 Frederick Cloyne
Mary Sherlock 1831 Joseph Sherlock Cork and Ross
Philip Sherlock 1810 Mary A Kildare
Philip Sherlock 1822 Mary Meath
Prudence Sherlock 1822 William Cloyne
Rachel Sherlock 1790 Paul Kildare
Rebecca Sherlock 1752 Richard Prerogative Court
Richard Sherlock 1753 Lydia Cloyne
Richard Sherlock 1765 Ann Prerogative Court
Robert Sherlock 1724 Mary Cloyne
Robert Sherlock 1809 Sarah Ossory
Robert Sherlock 1838 Lucy Kildare
Robert Sherlock 1841 Anne Ossory
Rosamond Grace Sherlock 1814 Benjamin Cork and Ross
Samuel Sherlock 1738 Margaret Dublin
Sarah Elizabeth Sherlock 1843 Frederick Ware Cork and Ross
Sarah Sherlock 1826 James Langley Cloyne
Simon Sherlock 1841 Ann Waterford and Lismore
Susanna Sherlock 1812 Daniel Ossory
Thomas Bevan Sherlock 1837 Elizabeth Cloyne
Thomas Sherlock 1711 Elinor Cashel and Emly
Thomas Sherlock 1738 Elizabeth Dublin
Thomas Sherlock 1759 Easter Cloyne
Thomas Sherlock 1809 Martha Ossory
Thomas Sherlock 1815 Mary Cashel and Emly
Thomas Sherlock 1833 Frances Meath
Thomas Sherlock 1835 Mary Catherine Cork and Ross
Thomas Sherlock 1837 Abigail Kildare
Thos Sherlock 1840 Henrietta Killaloe
William Harrington Sherlock 1826 Averina Cloyne
William Sherlock 1752 Susanna Cloyne
William Sherlock 1768 Hellena Prerogative Court
William Sherlock 1795 Hannah Cork and Ross
William Sherlock 1829 Alice Ossory
William Sherlock 1831 Sarah Armagh
William Sherlock 1846 Anne Kildare
Wm T Sherlock 1811 Catherine Killala and Achonry
Wright Sherlock 1791 Charlotte Cork and Ross
Ireland Diocesan and Prerogative Wills & Administrations Indexes 1595-1858
Abraham Sherlock 1735 — Connor
Abraham Sherlock 1844 — Connor
Abraham Sherlock 1844 — Prerogative Court
Alexander Sherlock 1838 — Prerogative Court
Alexr Sherlock 1838 — Connor
Anastasia Gertrude Sherlock 1793 Dublin Prerogative Court
Anastatia Gertrude Sherlock 1793 Dublin Prerogative Court
Ann Sherlock 1794 Dublin Prerogative Court
Ann Sherlock 1796 Dublin Prerogative Court
Barthw Sherlock 1807 — Prerogative Court
Barthw Sherlock 1807 — Prerogative Court
Benjn Sherlock 1831 Kildare Prerogative Court
Catherine Sherlock — Meath Prerogative Court
Catherine Sherlock 1848 Meath Prerogative Court
Catherine Sherlock 1848 Meath Prerogative Court
Catherine Sherlock 1848 Meath Prerogative Court
Catherine Sherlock 1848 Meath Prerogative Court
Catherine Sherlock 1849 Meath Prerogative Court
Catherine Sherlock 1849 Meath Prerogative Court
Charles Sherlock 1739 Dublin Prerogative Court
Chr Sherlock 1833 Dublin Prerogative Court
Christopher Sherlock — — Prerogative Court
Christopher Sherlock 1652 Kildare Prerogative Court
Christopher Sherlock 1663 — Waterford and Lismore
Christopher Sherlock 1786 Dublin Prerogative Court
Christr Sherlock 1841 Dublin Prerogative Court
David Sherlock 1812 Dublin Prerogative Court
David Sherlock 1812 Dublin Prerogative Court
David Sherlock 1819 — Prerogative Court
David Sherlock 1819 — Prerogative Court
Don Pedro Sherlock 1751 — Prerogative Court
Edward Sherlock — Dublin Prerogative Court
Edward Sherlock 1634 — Prerogative Court
Edward Sherlock 1709 Kildare Prerogative Court
Edward Sherlock 1710 — Prerogative Court
Edward Sherlock 1710 — Prerogative Court
Edward Sherlock 1745 — Prerogative Court
Edward Sherlock 1776 Kilkenny Prerogative Court
Edward Sherlock 1776 Kilkenny Prerogative Court
Edward Sherlock 1813 — Waterford and Lismore
Edward Sherlock 1826 Dublin Prerogative Court
Edward Sherlock 1829 Kildare Prerogative Court
Edward Sherlock 1835 Laois (Queen's) Prerogative Court
Edward Sherlock 1850 Dublin Prerogative Court
Edward Sherlock 1850 Dublin Prerogative Court
Edwd C Sherlock 1825 — Prerogative Court
Edwd Sherlock 1697 — Prerogative Court
Edwd Sherlock 1720 — Prerogative Court
Edwd Sherlock 1835 Laois (Queen's) Prerogative Court
Eleanor Sherlock 1836 — Prerogative Court
Eleanor Sherlock 1836 — Prerogative Court
Elinor Sherlock 1794 — Prerogative Court
Elizabeth Devereux or Sherlock 1720 — Prerogative Court
Elizabeth Sherlock 1771 — Prerogative Court
Elizabeth Sherlock 1782 Dublin Prerogative Court
Elizabeth Sherlock 1843 — Cloyne
Elizth Sherlock or Devereux 1720 — Prerogative Court
Elizth Sherlock 1782 Dublin Prerogative Court
Ellinor or Doyne Sherlock 1652 — Prerogative Court
Ellinor Doyne or Sherlock 1652 Carlow Prerogative Court
Ellinor Sherlock 1794 — Prerogative Court
Eustace Sherlock 1707 — Prerogative Court
Eustace Sherlock 1707 — Prerogative Court
Eustace Sherlock 1762 Dublin Prerogative Court
Francis George Sherlock — — Prerogative Court
Francis Sherlock 1848 — Prerogative Court
Francis Sherlock 1848 — Prerogative Court
George Sherlock 1614 Waterford Prerogative Court
George Sherlock 1671 — Waterford and Lismore
Harriett Elizabeth Sherlock 1854 Cork Prerogative Court
Henry B Sherlock 1837 Cork Prerogative Court
Henry Sherlock 1832 Antrim Prerogative Court
Henry Sherlock 1832 Antrim Prerogative Court
Hesther Bellew or Sherlock 1735 Dublin Prerogative Court
Hugh Sherlock 1800 — Connor
Hugh Sherlock 1812 — Connor
Hugh Sherlock 1812 — Prerogative Court
Hugh Sherlock 1836 — Connor
Hugh Sherlock 1836 — Prerogative Court
James Fitz Paul Sherlock 1623 Waterford Prerogative Court
James FitzPaule Sherlock 1627 — Prerogative Court
James Sherlock 1595 — Prerogative Court
James Sherlock 1627 — Prerogative Court
James Sherlock 1727 — Waterford and Lismore
James Sherlock 1748 Tipperary Prerogative Court
James Sherlock 1749 — Prerogative Court
James Sherlock 1768 Meath Prerogative Court
James Sherlock 1768 Meath Prerogative Court
James Sherlock 1768 Meath Prerogative Court
James Sherlock 1769 — Prerogative Court
James Sherlock 1795 Dublin Prerogative Court
James Sherlock 1820 — Prerogative Court
James Sherlock 1837 — Connor
James Sherlock 1837 — Prerogative Court
James Sherlock 1844 Dublin Prerogative Court
James Sherlock 1847 Dublin Prerogative Court
James Sherlock 1847 Dublin Prerogative Court
Jane Anne Sherlock 1851 — Prerogative Court
Jane Anne Sherlock 1857 — Connor
Jane Sherlock 1844 Dublin Prerogative Court
Jane Sherlock 1844 Dublin Prerogative Court
Jas Sherlock 1768 — Prerogative Court
Jas Sherlock 1834 Dublin Prerogative Court
Jno Sherlock 1821 — Prerogative Court
Jno Sherlock 1833 Meath Prerogative Court
Joan Sherlock 1782 Dublin Prerogative Court
Joane Sherlock 1782 Dublin Prerogative Court
John FitzGeorge Sherlock 1629 — Prerogative Court
John Sherlock — — Prerogative Court
John Sherlock 1632 — Prerogative Court
John Sherlock 1667 Waterford Waterford and Lismore
John Sherlock 1761 — Cloyne
John Sherlock 1761 — Connor
John Sherlock 1765 — Connor
John Sherlock 1770 — Prerogative Court
John Sherlock 1795 — Cloyne
John Sherlock 1816 — Connor
John Sherlock 1819 Cork Prerogative Court
John Sherlock 1819 Cork Prerogative Court
John Sherlock 1820 Dublin Prerogative Court
John Sherlock 1820 Dublin Prerogative Court
John Sherlock 1822 — Prerogative Court
John Sherlock 1822 Louth Armagh
John Sherlock 1833 Meath Prerogative Court
John Sherlock 1834 — Cloyne
John Sherlock 1841 — Waterford and Lismore
John Sherlock 1843 Laois (Queen's) Prerogative Court
John Sherlock 1847 Offaly (King's) Prerogative Court
John Sherlock 1849 Dublin Prerogative Court
John Sherlock 1849 Dublin Prerogative Court
John Sherlock 1852 Cork Prerogative Court
Jonathan Wigmore Sherlock 1852 Cork Prerogative Court
Joseph Sherlock 1749 — Prerogative Court
Margaret or Byrne Sherlock 1760 Dublin Prerogative Court
Margaret Sherlock — Dublin Prerogative Court
Margaret Sherlock 1857 Dublin Prerogative Court
Maria Sherlock 1836 Laois (Queen's) Prerogative Court
Maria Sherlock 1836 Laois (Queen's) Prerogative Court
Martin Sherlock 1797 Sligo Prerogative Court
Mary Sherlock 1692 — Prerogative Court
Mary Sherlock 1695 — Prerogative Court
Mary Sherlock 1763 — Prerogative Court
Mary Sherlock 1765 — Connor
Mary Sherlock 1792 — Prerogative Court
Mary Sherlock 1798 Kildare Prerogative Court
Mary Sherlock 1798 Kildare Prerogative Court
Mary Sherlock 1808 Dublin Prerogative Court
Mary Sherlock 1808 Dublin Prerogative Court
Mary Sherlock 1818 Waterford Prerogative Court
Mary Sherlock 1818 Waterford Prerogative Court
Mary Sherlock 1830 Louth Armagh
Mary Sherlock 1831 — Clogher
Mary Sherlock 1852 Dublin Prerogative Court
Mathew Sherlock 1827 Louth Armagh
Michael Sherlock 1840 — Prerogative Court
Nathl Sherlock 1831 Kildare Prerogative Court
Nicholas Sherlock 1714 — Meath
Nicholas Sherlock 1740 — Clogher
Nicholas Sherlock 1764 Dublin Prerogative Court
Nicholas Sherlock 1764 Dublin Prerogative Court
Nichs Sherlock 1815 — Meath
Palney Sherlock 1725 — Prerogative Court
Patrick Sherlock 1684 — Prerogative Court
Patrick Sherlock 1725 Dublin Prerogative Court
Patrick Sherlock 1725 Dublin Prerogative Court
Patrick Sherlock 1726 Dublin Prerogative Court
Patrick Sherlock 1726 Dublin Prerogative Court
Patrick Sherlock 1730 Dublin Prerogative Court
Patrick Sherlock 1740 Tipperary Prerogative Court
Patrick Sherlock 1743 — Prerogative Court
Patrick Sherlock 1744 — Prerogative Court
Patrick Sherlock 1744 — Prerogative Court
Patrick Sherlock 1786 Dublin Prerogative Court
Patrick Sherlock 1786 Dublin Prerogative Court
Patrick Sherlock 1808 — Drogheda Peculiar
Patrick Sherlock 1810 — Prerogative Court
Patrick, Junr Sherlock 1743 Tipperary Prerogative Court
Paul FitzPiers Sherlock 1635 Waterford Prerogative Court
Paul Sherlock 1776 Waterford Prerogative Court
Paul Sherlock 1776 Waterford Prerogative Court
Peter Sherlock 1813 — Meath
Peter Sherlock 1838 — Prerogative Court
Philip Sherlock 1684 Kildare Prerogative Court
Philip Sherlock 1832 Meath Prerogative Court
Philip Sherlock 1832 Meath Prerogative Court
Phillip Sherlock 1684 Kildare Prerogative Court
Pierce Sherlock or Sherlog 1690 — Cashel and Emly
Rebecca Sherlock 1854 Cork Prerogative Court
Rebecca Sherlock 1854 Cork Prerogative Court
Revd. Bartholomew Sherlock 1807 Dublin Prerogative Court
Revd. Edwd Cuff Sherlock — — Prerogative Court
Revd. Martin Sherlock 1797 Sligo Prerogative Court
Revd. Martin Sherlock 1797 Sligo Prerogative Court
Richard Sherlock 1664 Meath Prerogative Court
Richard Sherlock 1762 — Prerogative Court
Richard Sherlock 1762 Dublin Prerogative Court
Richard Sherlock 1762 Dublin Prerogative Court
Richard Sherlock 1762 Kildare Prerogative Court
Richard Sherlock 1799 Dublin Prerogative Court
Richard Sherlock 1799 Dublin Prerogative Court
Richard Sherlock 1808 — Prerogative Court
Richard Sherlock 1830 — Cloyne
Richard Sherlock 1839 Limerick Prerogative Court
Richd Sherlock 1839 Limerick Prerogative Court
Robert FitzEdwd Sherlock 1634 — Prerogative Court
Robert Sherlock 1748 Dublin Prerogative Court
Robert Sherlock 1790 — Prerogative Court
Robert Sherlock 1800 Dublin Prerogative Court
Robert Sherlock 1808 Cork Prerogative Court
Robert Sherlock 1822 Carlow Prerogative Court
Robert Sherlock 1832 Carlow Prerogative Court
Robert Sherlock 1848 Meath Prerogative Court
Robert Sherlock 1848 Meath Prerogative Court
Robert Sherlock 1849 Meath Prerogative Court
Robert Sherlock 1849 Meath Prerogative Court
Robert Sherlock 1849 Meath Prerogative Court
Robt Jno Sherlock 1832 Dublin Prerogative Court
Robt John Sherlock 1832 Dublin Prerogative Court
Saml Sherlock 1830 — Prerogative Court
Samuel Sherlock 1830 — Connor
Sir John Sherlock 1654 — Prerogative Court
Sir John Sherlock 1770 — Prerogative Court
Teresa or Chartre Sherlock 1811 Dublin Prerogative Court
Thomas B Sherlock 1843 — Cloyne
Thomas Sherlock 1700 — Prerogative Court
Thomas Sherlock 1719 — Prerogative Court
Thomas Sherlock 1770 — Prerogative Court
Thomas Sherlock 1770 Kildare Prerogative Court
Thomas Sherlock 1775 Dublin Prerogative Court
Thomas Sherlock 1775 Waterford Prerogative Court
Thomas Sherlock 1780 Dublin Prerogative Court
Thomas Sherlock 1780 Dublin Prerogative Court
Thomas Sherlock 1780 Dublin Prerogative Court
Thomas Sherlock 1780 Dublin Prerogative Court
Thomas Sherlock 1788 — Connor
Thomas Sherlock 1796 Cork Prerogative Court
Thomas Sherlock 1796 Cork Prerogative Court
Thomas Sherlock 1802 — Prerogative Court
Thomas Sherlock 1802 Kilkenny Prerogative Court
Thomas Sherlock 1812 — Prerogative Court
Thomas Sherlock 1837 — Prerogative Court
Thos Sherlock 1713 — Prerogative Court
William Sherlock — Kildare Prerogative Court
William Sherlock — Kildare Prerogative Court
William Sherlock 1615 Waterford Prerogative Court
William Sherlock 1708 Kildare Prerogative Court
William Sherlock 1709 Kildare Prerogative Court
William Sherlock 1716 — Prerogative Court
William Sherlock 1716 — Prerogative Court
William Sherlock 1727 — Cloyne
William Sherlock 1741 — Prerogative Court
William Sherlock 1775 Waterford Prerogative Court
William Sherlock 1775 Wexford Prerogative Court
William Sherlock 1788 Kildare Prerogative Court
William Sherlock 1793 Dublin Prerogative Court
William Sherlock 1793 Dublin Prerogative Court
William Sherlock 1794 — Prerogative Court
William Sherlock 1800 — Ferns
William Sherlock 1808 — Prerogative Court
William Sherlock 1812 Kildare Prerogative Court
William Sherlock 1812 Kildare Prerogative Court
William Sherlock 1820 Kildare Prerogative Court
William Sherlock 1820 Kildare Prerogative Court
William Sherlock 1826 Kildare Prerogative Court
William Sherlock 1827 Kildare Prerogative Court
Willm Robt Sherlock 1844 Kildare Prerogative Court
Willm Robt Sherlock 1844 Kildare Prerogative Court
Wm Robt Sherlock 1844 Kildare Prerogative Court
Wm Sherlock 1832 — Prerogative Court
Wm Sherlock 1832 Meath Prerogative Court
Wright Sherlock 1849 Cork Prerogative Court
Wright Sherlock 1849 Cork Prerogative Court
Wright Sherlock 1849 Cork Prerogative Court