This page covers the life and times of John Stewart / Stuart of Timahoe and later Hortland to Kildare and his descendants from County Kildare to Canada, Australia, The Dardenells, the United Kingdom and Robert Monteith.
Map of County Kildare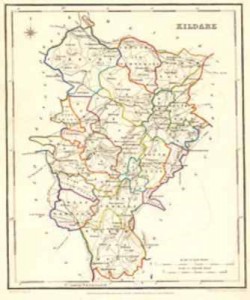 Map of Hortland County Kildare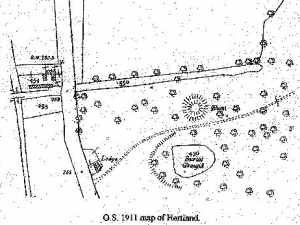 THE STEWART FAMILIES FROM HORTLAND CO KILDARE IRELAND AND DESCENDANTS
John Stewart 1800-1886
John Stewart Born 1800. Died 1886.
Rose Stewart  1800-1878
Married Rose or Roseanna (No surname recorded). Born 1800. Died 1878. Issue: 3 children Richard. Eliza and another daughter (No name registered).
In the Marriage licence Bonds 1680's-1850's I found a John Stuart 1837 married Rose Fullerton in Kildare. This is the only marriage of a John and Rose in Co Kildare recorded in the records during those years. If this is so John Stewart must have changed his surname spelling possibly to get access to land and to farming. That being so he probably changed his religion at that time as well as non Anglicans had difficuly in accessing land. (Interesting times. Administrators comment).
July 2015
The following details were taken from the Records of Ireland Diocesan & Prerogative Marriage Licence Bonds Indexes of 1866 from Find My Past web site. These records cover the period 1623-1868.
In searching for the marriage of John Stewart to Rose the following is the only record of a John marrying a Rose in the 1800's
John Stuart year 1837 of the Diocese of Kildare to Rose Fullerton.
Did my ancestor change his Surname from Stuart to Stewart in order to obtain land as he became a land tenant farmer & land steward for the Hort family in Hortland and did he also change his religion as it was difficult for Roman Catholics to get land during those times. Yes he did along with his son Richard of Hortland. This was in the mid to late 1800's.
Editor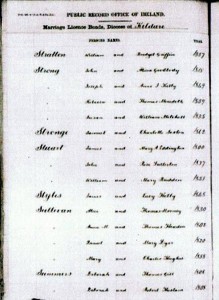 Copy of page from the Register 1837
John wrote to Capt. Hort in a letter dated 28th September 1880, where he stated that he was staying with his daughter at Donadea. No Christian name was mentioned but in St Michael's & All Angels churchyard in Millicent stands a grave stone with the following inscription: Henry Manders, Born 1846, Married 1871, Died 1932, aged 86 and Jane Manders (nee Stewart) and Born 1849. Died 1931, aged 82. Could this be Johns other daughter?..
The Manders family came from Milltown, Staplestown which is near Donadea and Hortland and Henry attended Hewetson School in Clane Co Kildare.
A further twist is the family story refers to a Morgan Stewart who according to family lore came over to Ireland with John Stewart but no trace of him has been found, however, I came across a Morgan Stewart in the 1901 Census Returns who lists a Morgan Stewart aged 72 unmarried- cannot read or write, a servant living at 30 Hortland Co Kildare in the home of one Mary Reilly aged 74 unmarried and both are listed as Roman Catholic. If Morgan converted to Catholicism, then this could be the reason that we could not find any trace of him in family records. Anyone converting to another religion in those years was excommunicated from their own families. As Morgan could not read or write the 1901 Census Form was filled out and signed by Mary Reilly. Morgan later died in a workhouse in Dublin.
May 2014 Finding Morgan
The name of Morgan Stewart of Hortland is very briefly mentioned in the family history, yet he appears to have been airbrushed out. No records of his birth or where he was born. Family lore indicated that he was a brother of John Stewart of Hortland. This I question as Morgan was 20 younger than John so its more than likely that Morgan was a son of John's. (Not proven).
The first official records of Morgan is to be found in the 1901 Census Returns of Ireland, where Morgan is listed as residing in the house of Mary Reilly in Hortland,  who is a farmer, Morgan is a house servant. As Morgan could not read or write, the Census Form was filled in by Mary. She is listed as a Roman Catholic, and in filling in Morgan's name she shows him to be also a Roman Catholic. Is this the reason why he is airbrushed out of the family. This would not have been unusual given the way things were in the mid 1800's. Morgan's age is given as 72.
What happened to him, in continuing my search, I discovered his Death Certificate which shows that he died 13th November 1908 aged 88 from Powers Court, which is near Mount Street in Dublin.
He died in the South Dublin Union Workhouse which is now known as St. James Hospital James Street Dublin. (see details below).
He died of Cardiac Failure and according to his Death Cert, he was unmarried.
I wonder why did he finish up in Power Ct. yet one of his alleged nieces who married a Carroll was living a couple of doors down the street.
So what happen to him after he died. I discovered that he is buried in unit 12.5 St Paul's section Glasnevin Cemetery Dublin in a plot unmarked of paupers graves.
In May this year I found that Morgan in the Workhouse was listed as a Protestant. Sp we may never know what really happen in terms of his religion if he had any.
May 2020 I found a record of Morgan's birth listed as 1829 in Timahoe Co Kildare.
South Dublin, Co. Dublin
Up to 1838
In 1703, an Act of the Irish Parliament provided for the setting up of a House of Industry in Dublin 'for employing and maintaining the poor thereof' (O'Connor, 1995). A workhouse was subsequently erected south of the River Liffey on land at the south of (Saint) James's Street and was administered by a body called 'The Governor and Guardians of the Poor' whose members included the Lord Lieutenant, the Lord Mayor, the Lord Chancellor, the Protestant Archbishop of Dublin, sheriffs, Justices of the Peace, and members of the Corporation. This body, which met monthly, had powers to place people in the workhouse, and to discipline those already there if they disobeyed workhouse regulations. Punishments could include flogging, imprisonment or deportation.
Dublin City workhouse, 1762
The main classes of inmate were 'sturdy beggars', 'disorderly women', the old and infirm, and orphan children. Up to 100 men and 60 women slept in bunk-like beds crammed into the workhouse cellars which were 240 feet (75 metres) long by 17 feet (5 metres) wide. The diet was made up of bread, milk, porridge, gruel, and 'burgoo' which was oatmeal in cold water seasoned with salt and pepper.
The Governors also provided care for abandoned children aged between 5 and 16, and could apprentice them out. A further Act in 1730 extended this role to cover all foundling children and a substantial part of the workhouse was allocated to this, with the workhouse being renamed the Foundling Hospital and Workhouse of the City of Dublin.
In 1772, the establishment's functions of the House of Industry and Foundling Hospital were separated and placed under separate management. A new House of Industry was set up on a site at the north side of the Liffey, leaving the existing premises continuing to operate as a Foundling Hospital.
The subsequent growth of the Foundling Hospital is illustrated by the following figures:
1702 – 260 children were admitted, and the number increased annually, especially after 1740.
1757 – 700 infants had been taken in yearly in the three previous years.
1796 – in the six years ending 1796, 12,786 infants were admitted.
1797-1818 – in twenty-one years, 43,254 infants were admitted.
The Foundling Hospital's popularity was no doubt due, at least in part, to its no-questions-asked policy. At one of its gates, there was a basket fixed to a revolving door. Someone wishing to leave a child anonymously could place it there, ring the porter's bell, and then depart. However, in the mid-1790s, the fate of the children left the Hospital started to come under scrutiny. The very large proportion of the children admitted who shortly after admission died attracted attention on several occasions. In the period 1791-1796 a total of 5,216 infants were sent to the infirmary with a solitary one recovering. In the March quarter of 1795, of the 540 children received into the Foundling Hospital, no less a number than 440 died. In 1797 a Committee of the Irish House of Commons was appointed to inquire into the management of the establishment. The Report was a most damning document.
It appears the children were "stripped" when sent up to the Infirmary (to die), and had the old clothing that they came into the House in put on them. That they were then laid, five and six huddled and crushed together, in the receptacles called cradles, "swarming with vermin," and they were then covered over with filthy and dirty blankets, which had been "cast" as unfit for use.
The particular feature in the working of this institution, it appears, was "The Bottle." The Hospital Nurse deposed when examined on oath by the Committee that a medicine called significantly "The Bottle" was handed round to them all at intervals indiscriminately. She did not know what was in it, but supposed it was a "composing draught," for "the children were easy for an hour or two after taking it." The surgeon, when he did come, always asked if she had given them "The Bottle," but asked no other questions. The surgeon knew all too well what the bottle was made up of, and that the children derived assistance from its contents. They were being assisted to die.
The Irish House of Commons adopted the recommendations of the Committee to reform the government of the Foundling Hospital. The new Corporation of Governors came into office in 1798, under a special Act of Parliament, and the Foundling Hospital was "reformed." However, things appeared to improve little. In 1829, the English House of Commons received information of continuing malpractices. Of 52,150 children admitted during 30 years ending January, 1826, 14,613 died in hospital while infants, 25,859 were returned as dead at nurse in the country, 730 died in the infirmary, 322 more who had been sent into the country for their health. In all, 41,524 died. The House unhesitatingly recommended the closing of the hospital and new admissions ceased in 1831. During the 1830s, the Hospital continued in operation supporting its existing inmates until they left, mostly through completion of an apprenticeship. By 1839, some 4,258 children, apprentices, and adult invalids were still counted as being dependent on the institution.
South Dublin workhouse site, 1836
After 1838
South Dublin Poor Law Union was formally declared on the 6th June 1839 and covered an area of 69 square miles. Its operation was overseen by an elected Board of Guardians, 33 in number, representing its 9 electoral divisions as listed below (figures in brackets indicate numbers of Guardians if more than one):
Co. Dublin: South City (18), Clondalkin (2), Donnybrook (2), Palmerstown (2), Rathfarnham (2), Rathmines (2), Tallaght (3), Whitechurch (2).
The Board also included 11 ex-officio Guardians, making a total of 44. The population falling within the Union at the 1831 census had been 182,767 with Divisions ranging in size from Whitechurch (population 2,921) to South City (140,000).
The part of Dublin to the south of the River Liffey was formed the separate North Dublin Poor Law Union.
The Poor Law Commissioners published a map of the new South Dublin union in their 1840 Annual Report:
The existing House of Industry and Foundling Hospital were adapted under the supervision of the Commissioners' architect George Wilkinson. The building work cost £5,608 plus £4,591 for fittings etc. It was intended to accommodate up to 2000 inmates as follows:
250 aged and infirm males
200 able-bodied and partially infirm males
350 boys
350 aged and infirm females
300 able-bodied and partially infirm females
350 boys
200 sick in the hospitals and violent lunatics in cells
The new workhouse accommodation was formally declared fit for the reception of paupers on 25th March, 1840, with the first admissions taking place on April 24th. The layout of the site soon after its conversion is shown on the 1849 map below: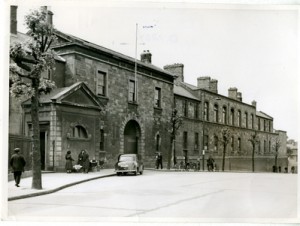 South Dublin workhouse site, 1907.
In 1895, the workhouse was visited by a "commission" from the British Medical Journal investigating conditions in Irish workhouse infirmaries. Their report noted that South Dublin had separate infirmaries for Roman Catholic and Protestant patients, staffed respectively by nuns (Sisters of Mercy) and deaconesses, with a large number of pauper inmates acting as nursing assistants. Although some of the deaconesses had been trained at Tottenham Hospital, the nuns lacked any formal nursing training. The nuns also only worked during the daytime, and acted only in a supervisory role in the male wards. A total of thirteen nuns and around half a dozen deaconesses had charge of more than a thousand patients, with some wards being "distinctly overcrowded". Further details are available in the full report. The BMJ's revelations contributed to the introduction of significant improvements in the standard of Irish workhouse nursing, with the employment of pauper inmates as nurses ending ending after the passing of 1898 Local Government Act.
In 1916, the workhouse was occupied by rebel forces and during the subsequent fighting a member of the nursing staff was accidentally killed.
In 1918, the North Dublin union was amalgamated with South Dublin, the joint union being named the Dublin Union and based at the former South Dublin site. The old North Dublin workhouse was then taken over for military use.
With the formation of the Irish Free State, the hospital continued to develop as a municipal hospital and was renamed St. Kevin's Hospital. It was later amalgamated with some of the smaller voluntary hospitals in the city and a new hospital was built at St. Kevin's which became known as St. James' Hospital.
The northern part of the original South Dublin workhouse site is now occupied by Trinity College, with St James' Hospital lying at the south. One block of the original buildings, dating from about 1750, still survives at the west of the site. It comprises a three-storey block at its northern end, said to have been used as the workhouse Master's residence. This is linked to a long two-storey block running north south.

South Dublin former Master's house from the north-east, 2002
© Peter Higginbotham.
South Dublin former workhouse buildings from the south-east, 2002
© Peter Higginbotham.
Some of the older hospital buildings remain at the north-east of the St James' Hospital site.
South Dublin hospital buildings from the north-west, 2002
© Peter Higginbotham.
Excavations for new buildings on the older part of the site now occupied by Trinity College have revealed the existence of the original Foundling Hospital basement. It is planned to preserve this historic structure under the new buildings.
Pelletstown School
The South Dublin union operated a separate poor law school at Pelletstown, on the north side of the Navan Road, alongside Dublin's Phoenix Park. The North Dublin union's school, St Vincent's Home, stood a few hundred yards away to the south-east. In 1914, the two schools housed a total of 635 children.
South Dublin workhouse school site, 1907.
Records
Bibliography
Links
John came to Ireland c. 1820's to work as a land steward for Sir Fenton Hort of Hortland. The first reference to John is in the Tithe Applotment Books of 1833 and later in Griffiths Valuations of the 1850's.
In looking for old records of John's arrival in Ireland, he is not recorded in the 1835 Kildare Voters Registry: (having a vote required one to own land worth £20), so he may have been living in the area but he is not listed.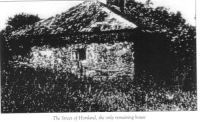 The Street Hortland – John Stewarts residence
This picture when it was taken in 2000 is all that was left of the five semi-detached houses built by Hort for his tenants, as he wanted to remove them from near the main house. (Administrators Note: On a site visit in March 2010 I found that in 2000 a planning decision was granted to a family to demolish the last remaining piece of the old house on "The Street" and for a new house to be built on the site.
So sadly no trace of "The Street" remains today.)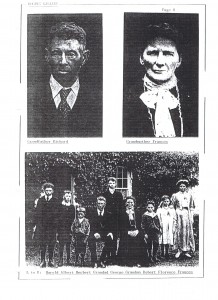 Richard Stewart 1846-1934
Richard Stewart, Born 1846, Died 1934. According to his birth certificate his surname is recorded as Stuart – the same of his father John's marriage record.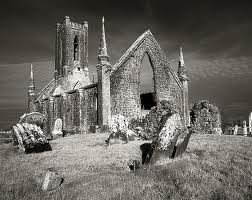 Married in 1879 in Ballinafagh Church to Francis Dillon of Timahoe.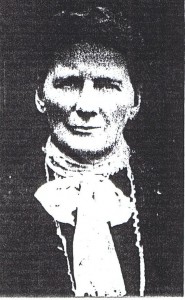 Francis Stewart nee Dillon 1857 – 1937
Issue: 12 children, Frederick, Richard J, Roseanna Jane, Helena M, Francis D, George Dillon, Albert, Harold, Caroline, Robert + 2 others.
Eliza Born 1849. Married October 1877 Kilcock Parish Church to John Carroll Born 1848 of Ranelagh Dublin.
From the 1901 Census Returns, the Carroll family is recorded as living in 73.2 Percy Place Dublin. Eliza is now a widow aged 48 with the following children, Susan 22, Stewart 19, Rose 14, Albert 12, William 8, non are married.
In the 1911 Census Returns Eliza is now 60 years old, with only Albert 22 a civil servant and William 18 living at home.
Roseanna Jane born 1866 married James ffrench a RIC man in 1901. In the 1911 Census Returns they are listed as living in no 8 Baurstooken Golden Co Tipperary. No children listed. James is aged 40 and Roseanna Jane is aged 25.
I found a record of a child Clarissa FFrench b. 22 March 1912 ID 999294 Tipperary I wonder is this one of Roseanna 's children. ( April 2015)
Jane Born 1849. Died 1931, aged 82 married Henry Manders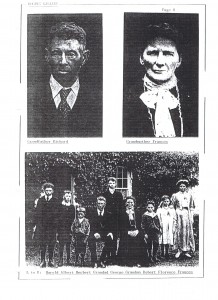 The Stewart family in 1912 outside the house in Hortland
This photograph shows from left to right: Albert, Harold, Herbert, Richard, George, Francis (nee Dillon), Roberta, Florence & Francis.
From RCB Library Churchtown Dublin.
Richard is recorded as being appointed Right Side Man for Kilcock Parish Church as recorded in the Church Vestry Records during the years 1886-1893, a gap in the records and then later from 1924-1934.
Albert is listed as being a member of the Vestry from 1936 to 1942, with George D. from 1924 to 1928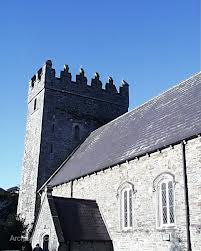 Maynooth C of I
In the 16th January 1923 returns listing Parishioners & Vestrymen and Women  for Maynooth Parish Richard, Albert and George are all listed as principally attending Donadea Parish Church. RCB Library Book No P 561,9.1
In 1924 and 1928 returns both Albert & George are listed as still being members of Maynooth Parish church.
Richard is still listed in 1934 returns for Maynooth Parish
Albert is listed in the 1934 and 1942 returns for Maynooth Parish
As in later years, job prospects for the young Stewarts of Hortland were scant and many had to emigrate in search of employment. Their prospects were limited because of the low standards of education offered by the local National School.
The Bog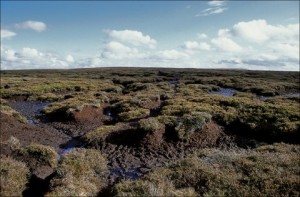 The Bog behind the family home in Hortland, only good for turf (fuel for burning).
Richard was a small-time farmer: his marshy fields which were separated from the Bog of Allen by a thin dividing line, yielded scarcely enough of anything to feed an economic goat let alone a family of twelve children.
Five of his eight sons had no belief in the virtue of misery so they peered forward and sensed that sort of speculation which is sometimes called hope.
They knew there would be no spare crusts on the Hortland platter, and that their beds would be required for younger members of the family. They emigrated to start a new life in Canada.
Eventually, the farm in Hortland was run by Richard and his sons George and Albert. They worked long hours – 'Black to Black' as they used to say, meaning sunrise to sunset. Their days seemed endless and however hard they worked, they were never better off. Small-time farming was a constant chore: there was never enough money to ease their burden by hiring labour.
Richard lived to the age of 93 years and continued to work the farm until a few weeks before his death in 1934, from pneumonia.
Albert Thomas Born 1895 Died 1972 Interred Dunmurraghill (Green Hills) alongside Frederick and Margaret. This graveyard is now closed as is Donadea graveyard.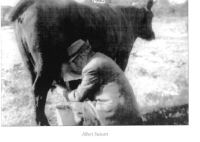 Albert milking his cow at 7am on a May morning in 1960 on the farm in Hortland.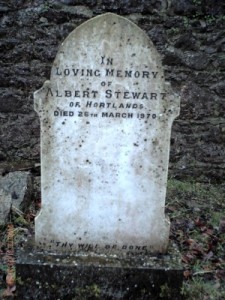 Albert's grave in Greenhills Donada.
George and Albert inherited the farm when their mother died in 1937.
From Hortland County Kildare to a life in Kellowna British Columbia Canada
Richard Stewart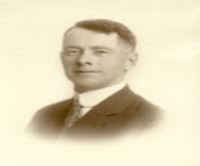 Bill  –  William Stewart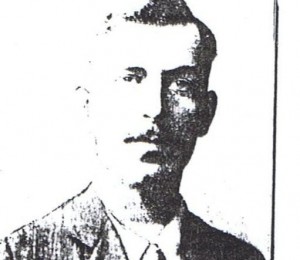 Bill Born 29th November 1881 in Hortland.
Bill immigrated to Canada in 1905, but returned home soon afterwards.
He set sail for the second time in 1907 to live in Vernon, British Colombia (BC) where he worked for Lord Aberdeen's Coldstream ranch.
He joined Dick (Richard) in 1909 and they established the Stewarts Bros Nurseries in 1911.(see seperate link with details regarding the nursery and vineyard).
For some reason, Bill fancied his chances in Australia and in 1913 he set sail for Melbourne where he worked as a gardener.
Then came World War 1. In 1915, he joined the Australian Imperial Force (AIF) to be known as '444 Private Stewart William'.
He was posted to Egypt to complete his military training for the Western Front (France).
However instead of service in Europe, the 23rd Battalion AIF was diverted to the Dardanelles campaign. Bill sailed on HM troopship Southland en route for Gallipoli, but sadly his transport ship was torpedoed: he died on board the hospital ship Neuralia on 3rd September 1915 and was buried at sea.

HM troopship Southland.

Hospital ship Neuralia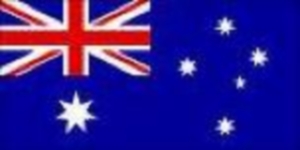 The Austrailan Flag.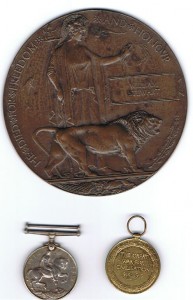 Picture of Bills Medals and Death Plaque from WW1.
Freddie Stewart of Mountmellick Co Laois Ireland is the custodian of Bill's war medals and Death Memorial Plaque.
Bills name appears on war memorials in Melbourne Australia, Gallipoli Turkey, Kelowna Canada and on family headstone at Kilcock Parish Church Co Kildare Ireland.
Memorial Stone in Kelowna British Columbia Canada
The following images and reports appeared in The Irish Times of March 2010, of Irelands President Mary McAleese laying a wreath at the Hellas Memorial for the Irish soldiers killed in Gallipoli Turkey during the 1st World War.
William (Bill) Stewart enlisted in the Australian Imperial Army and he lost his life on a troop ship off the coast of Turkey. The following details of his career were supplied by Bob Stewart.
Bill (William) Stewart of Hortland, Killowna British Columbia Canada Australia & Gallipoli
Irish President visits Monument Hellios Turkey
The Garden of Remembrance to all of Ireland's War dead of the 2 World Wars at Islandbridge Dublin.
My grateful thanks to Andrea & David McFadden in Canada for supplying me with information and photographs of the Stewart family in Canada which are reproduced on this web page.
Arriving in the Okanagan Valley in 1908 from County Kildare, Ireland, Richard Stewart Sr., affectionately known as Poppa, was the first to begin the Stewart family's tradition of growing fruit. Bill had emigrated to Canada some two years earlier and both brothers worked for the Kelowna Land and Orchard Company for their first number of years, while they saved up enough money to purchase a nursery of their own.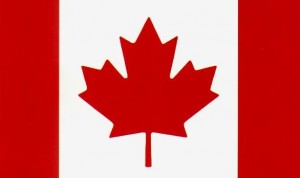 The Canadian Flag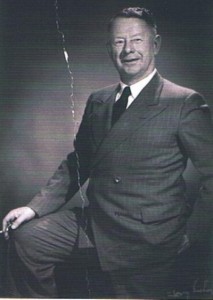 Richard 
 This is a picture of Grandfather Stewart before he left Ireland in 1908
 Greenhouse Old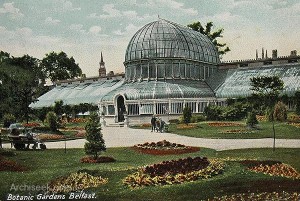 Having worked in the greenhouses of Lord Guinness in Ireland in Ashford Castle, Richard was drawn towards a series of greenhouses on Gellatly Bay, prior to starting Stewart Brothers' Nurseries Ltd, in 1911 with his brother Bill.
Ashford Castle Cong County Mayo Castle and Grounds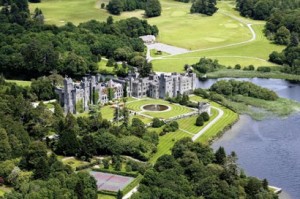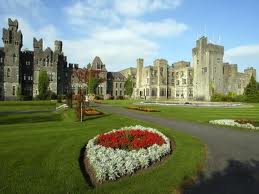 Richard's Reference from Ashford Castle Cong Co. Mayo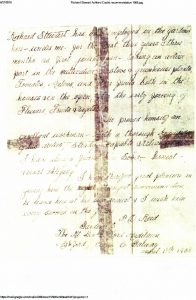 Prior to emigrating to Canada, Richard Stewart of Hortland was employed as a journeyman gardener at Marley Park Rathfarnham Dublin and later at Ashford Castle Cong County Mayo in the early 1900's.
Copies of references for Richard and of his work at both locations were recently found which have added greatly to his work life before emigration.
Richard's Reference from Marley Park Rathfarnham Dublin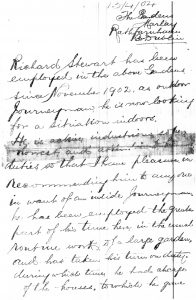 History of Marley House and its owners.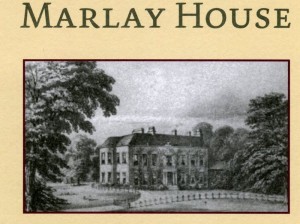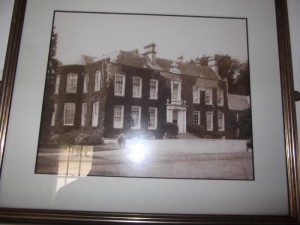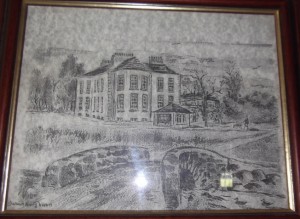 The history of the lands at Marley Park can be traced back to the Anglo-Norman conquest in the 12th century and later to Tudor times when Henry VIII  confiscated the lands then owned by St. Mary's Abbey. In 1690 Thomas Taylor acquired the property. He built a house on the estate, which was called "The Grange", and began to farm the land. Both his son, Alderman Thomas Taylor and his grandson James Taylor, held key political positions in Dublin during the 1740's, 50's and 60's. Part of this original house still stands and is incorporated in the restored house.
The La Touches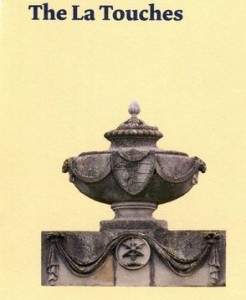 In 1764 the land was bought by David La Touche III, a member of the Irish Parliament and the first Governor of the Bank of Ireland.
The La Touche family, whose original name was Digues, is said to be of English descent, having left England in the latter half of the 12th century. The settled in Paris where they has a large estate called "La Touche" from which they took their new name. The La Touche family coat of arms contains a pomegranate, the symbol of fertility and abundance. The coat of arms can be seen on the large granite urn over the front door and the pomegranate motif recurs in the main hall.
David Digues La Touche, whose family had embraced the Protestant faith, was born in 1671 near Blois in the Loire Valley in France. Following the Revocation of the Edict of Nantes in 1685 some La Touche family members fled to Holland in search of religious freedom. David soon joined them, and his uncle obtained for him a commission in General Caillenotte's Regiment, in the army of William of Orange.
In 1690 David fought in the Battle of the Boyne, but, as General  Caillenotte was killed in the battle, the Regiment was disbanded and David served in the Princess Ann of Denmark's army and in the Liverpool Regiment. He left the army in Galway, where he was billeted on a weaver who sent him to Dublin to buy worsteds.
David decided to stay in Dublin, where with another Huguenot he set up as a manufacturer of cambric and rich silk poplins.
His business also became a gathering-place for the Hugenots of Dublin, who, when they had to travel outside the capital, began to leave their money and valuables with David for safekeeping. Some of this money would be advanced as loans at a reasonable interest and so the La Touche Bank came into being. In 1716 David joined forces with Nathaniel Kane, and the Kane-La Touche banking and poplin business prospered.
The La Touches developed a wide range of interests, investing in property, urban land around the centre of Dublin and country estates. They became patrons of the arts, and brought  to Ireland continental artists and craftsmen to embellish the own five town houses and four country homes. "Marley" situated in Rathfarnham was one of the La Touches' country houses. Flemish artist, De Gree and Italian artists such as Bartolozzi, Marioni and Angelica Kaufman were among those favoured by the La Touche family.
David |La Touche III and his descendants continued to develop the estate. constructing lakes, waterfalls, bridges and walks. He also extended the original house and renames it Marley in 1764, having married Elizabeth Marley, the daughter of the Rt Rev. George Marley, Bishop of Dromore.
The La Touches were particularly interested in education and charitable works, and, assisted by their wives, helped establish and run schools for orphan and poor children. The La Touche family also funded and served on the boards of hospitals, such as St. James' Street ( St. James' Hospital) and Dr Mosse's Hospital (The Rotunda). Davisd Charles La Touche died in August 1877 and by this time the La Touche interest in Marley had ceased. On the 29th November 1864 Robert Tedcastle purchased the property at auction.
The Tedcastles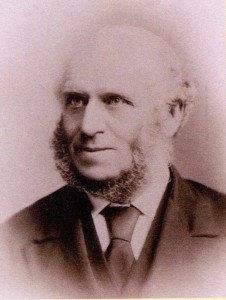 Robert Tedcastle was born 1825 in the south of Scotland. He left his Scottish home as a young man to join his uncle, John Tedcastle, who was already well established in business in Dublin.
He acquired Marley  Demesne from David La Touche in 1864 and he lived the3re for the rest of his life.
In 1872 Robert Tedcastle & Co. went into the Dublin – Liverpool passenger business. The company owned a fleet of sailing ships and steamers, which brought coal into Dublin. Tedcastle was a major shareholder in the City of Dublin Steam Company. He retired in 1905 and sold most of his interest in the firm. The company ceased all connection with the Tedcastle family in September 1919, when it was taken over by the British and Irish Steam Package Company.
A leading citizen of the 19th century Dublin, Robert Tedcastle served as Chairman of the Dublin Dock Board and was appointed a Justice of the Pearce for the city in November 1889 and for the county in May 1891.
Robert Tedcastle was twice married, firstly to Mary Ann Septima (1855-1880).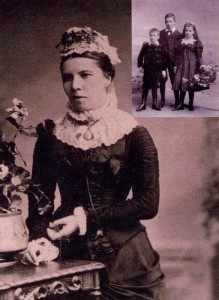 They  had two sons, Robert (1858-1895) & Joseph (1862-1908). He later married Margaret Calvert Black (1839-1896). Both wives are buried within th3e family grave at Whitechurch which is nearby.
Robert Tedcastle died in Marley on the 19th May 1919 and is also buried at Whitechurch. During the Tedcastles' time at Marley they sold part of the land surrounding the estate. The adjoining "Marley Grange" was built on the site by the Honorable Hercules Rowley. A portion of this property was later leased to the Grange Golf Club in July 1910.
The Loves 1925-1972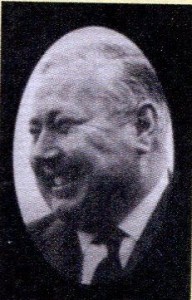 The property was sold to Robert Kenton-Love and the family remained in Marley for fifty years. Robert Love's son Philip was the last private owner of Marley Demesne. Philip Love was a market gardener and at one time, he was the largest tomato producer in Ireland. He was also a successful racehorse breeder. One of his more successful horses was "Larkspur" which won the 1962 Epson Derby and earned approximately £40,000 during his racing life.
1972 to present
Interior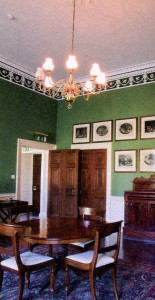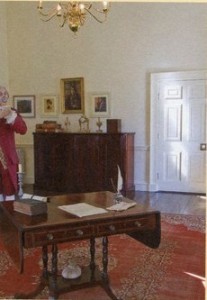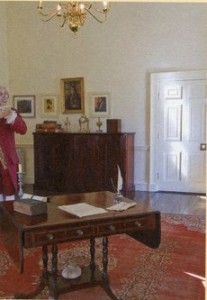 In 1972 Marley was acquired by the former Dublin County Council and developed as a regional park, as it remains today. In June 1975 the estate was officially opened and restoration of Marley House began in 1992.
In 1994 the ownership of Marley demesne passed to the newly formed Dun-Laoghaire Rathdown County Council. The main part of Marley House has been fully restored and work is ongoing on the restoration of the original 17tyh century house.
The house is used by the council for events such as country house concerts, council meetings, training courses and other functions such as the annual  craft fair hosted at Christmas.
The house is available for tours by arrangement and is open for visitors, free of charge, several times a year.
The Gardens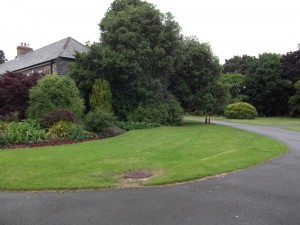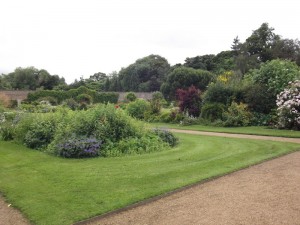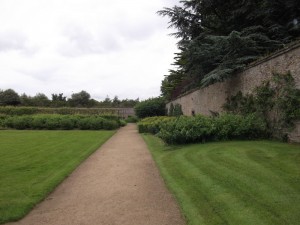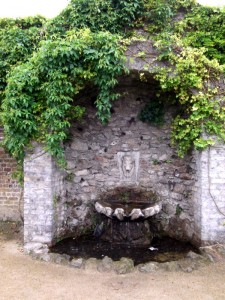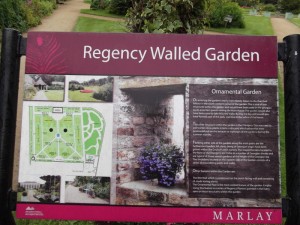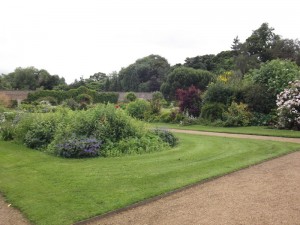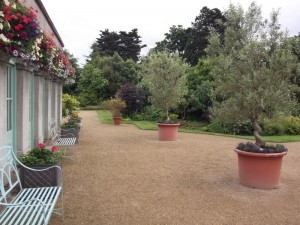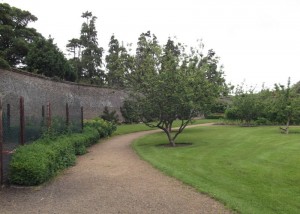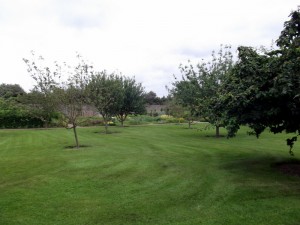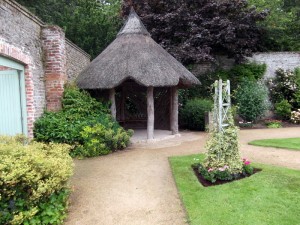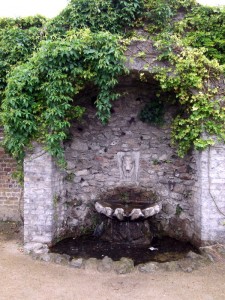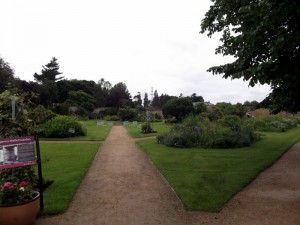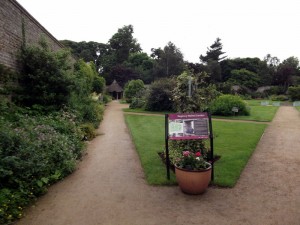 The Courtyard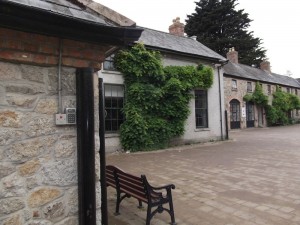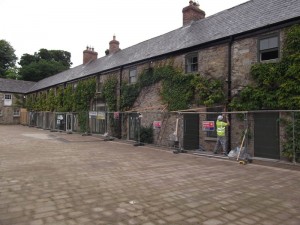 Contacts:
Tel: 353 1 2054700 Fax: 353 1 4951486
Email: parks@dlrcoco.ie Web: www.dlrcoco.ie/parks
For Tours contact 353 1 2054700 Ext 3851
Dublin Bus routes: Numbers 16, 116 and 161
After a number of years Bill moved to Australia, while Richard continued with the nursery and was the prime supplier of fruit trees in the Okanagan Valley, as well as exporting trees to China and Australia before the 2nd World War. After the 2nd World War, Stewart's Nurseries became a large supplier of fruit trees to Washington State and exported to South America, England, Spain and Italy.. In the early 1950s the nursery began growing shade trees. At the same time ownership of the nursery passed on to Richard's son Bill, who became the sole owner in the1960s.
In the mid 1970's the nursery discontinued growing fruit trees and concentrated solely on shade trees. Today, with growing fields in Midway, Grand Forks, and South Kelowna, Stewart Brothers Nurseries provide shade trees for retail, wholesale, landscaping and for export.
As a pioneering horticulturist, Richard was instrumental in establishing the family passion for agriculture as well as its strong dedication and commitment to the Okanagan Valley.
Stewart Brothers Nurseries
 An early picture of Stewarts Nurseries in Canada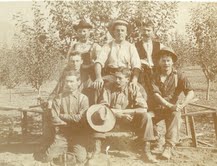 This picture shows Dick Stewart on far right with hat at the KLO Ranch
Oregaon coast 1939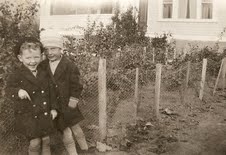 Dick Stewart Senoir working on the Gallatlery farm 1910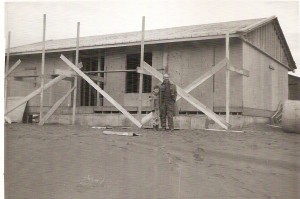 Pacific Vineyard – Oliver, Ben & Poppa 1965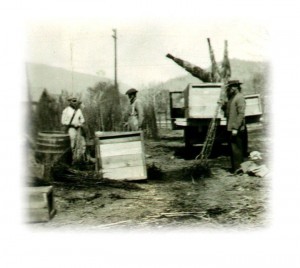 Loading at the Nursery 1958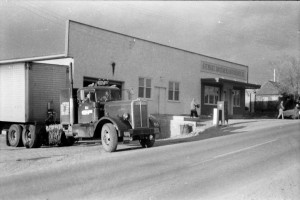 Nursery at Bernard Avenue
Old Photograph of the Nursery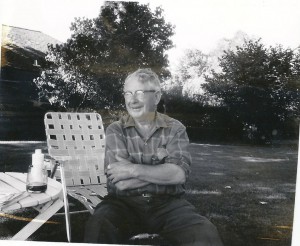 Poppa 1960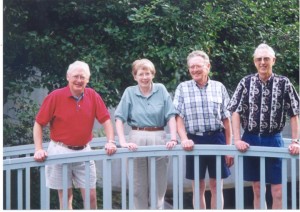 Stewart siblings in Canada 1980's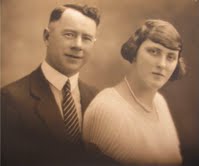 This picture shows Mr. & Mrs. Richard J. Stewart Sr.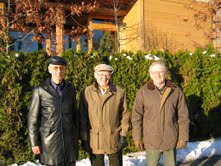 This picture shows Bill, Dick and Jim, known as the The Irish Rovers in 2007
QUAIL'S GATE
Inspired by Richard, his son Dick ventured out on his own in 1956 and purchased the site on the slopes of Mt. Boucherie, Kelowna, which is now the home of Quails' Gate Winery.
Dick planted the first vines on this site in 1961 and later built the family home to share with his wife Rosemary and their four children: Ben, Cynthia, Andrea and Tony.
Initially, the site was dominated by orchards of cherries, peaches, apples, pears and vineyards of table grapes.However, as the years went by, Dick realized that these lands were destined to become some of the most sought after vinifera vineyards in North America.
As Dick neared retirement, he called on his eldest son Ben to come home to the family farm.
Together over the next decade, Ben and Dick transformed the family estate from its diverse crops to the high density premium vinifera that currently make up the Quails' Gate vineyards.
 Vineyard
This move made it possible for both Dick and Ben to transform the family business from grape grower to wine producer. From the early 1990's to today, Ben and his brother Tony have changed Quails' Gate from a farm gate winery to one of the country's leading estate wineries.
The history of Quails' Gate is still short, but Ben and Tony, along with their sisters continue to carry forward the pursuit of excellence and hard work that their family has been committed to for over a century.
BEN STEWART
Ben, with the support of his wife Ruth, co-founded Quails' Gate in 1989. Ben devoted much of this time to pioneering the development of Pinot Noir in Canada. His passion was to see Pinot Noir developed in the Okanagan and to see it become the most critically acclaimed varietal in the region. As a result, Quails' Gate is one of the world's leading producers of Pinot Noir and has the greatest and one of the oldest selection of Pinot Noir clones in Canada. Ben currently acts as chairman and directs much of his energy towards work in the community.

Ben and Tony at work in the vineyards.
TONY STEWART:
Tony returned to the family business in 1992. As CEO of Quails' Gate, he directs much of his energy to creating an environment that will enable Quails' Gate to succeed as one of the world's best wine houses. Tony is passionate about ensuring that Quails' Gate visitors receive exceptional product and service. He and his team are confident and excited about leading the way in winery culinary tourism. In addition, Tony devotes much of this time to a variety of local, provincial and national associations.
OBITUARIES: BILL STEWART (2009-03-03).
WILLIAM WHITWORTH STEWART November 29, 1924 – March 3, 2009.
The family of Bill (WW) Stewart announce that he passed away peacefully at his home on March 3, 2009 at the age of 84. surrounded by love and his family.
Bill will be lovingly remembered by his wife. Jean (Ross), and their six children – Colleen (Paul) Mulvihill of Kelowna, Dan (Alexis) Stewart of Perth, Australia, Sandra (Mike) Bjarnason of Lake Country, Kate Stewart of West lowna, Jennifer (Misko) Antisin of Kelowna, Julie (Dave) Crawford of Kelowna: 15 grandchildren – Shannon (Alex) Lyons, Rebecca & Kelsey Mulvihill, Carter (James) Helliwell S Nathaniel Stewart, Harmony (Tom Stow), Devon & Amy Bjarnason, Sophia & Lili Stewart, Alisha & Dion Antisin, Janis, Monica & Nicole Crawford: 4 great grandchildren – Georgia, Harrison 81 Rupert Helliwell & Jocelyn Lyons.
He is also survived by his 2 brothers – Dick (Rosemary) Stewart and Jim (Doreen) Stewart and his sister-in-law, Gladys Ross, and 2 brother-in-laws – Don (Shirley) Ross and Ken (Barbie) Ross and many nieces and nephews as well as many dear friends and colleagues.
Bill was predeceased by his sister, Kathleen Burley (Stewart) in 1998. Bill's father, Richard John Stewart, arrived in the Okanagan in 1908 from Hortland, County Kildare, Ireland. He married Lucy Mary Whitworth from Vancouver in 1924. Bill, the eldest of their four children, was born later that year at Kelowna General Hospital.
Bill followed in his father's footsteps and became an orchardist and nurseryman at the family business, Stewart Brother Nurseries Ltd.
As an employer, he helped many families start a new life in Canada.
Bill was involved in numerous business ventures and was known to be quite a savvy businessman.
In his childhood, Bill loved hiking, swimming and skiing. He went on backcountry expeditions to Little White, skied at Black Mountain, and spent countless hours at the aquatic centre in the summer.
Dad instilled his love of the outdoors in his children. There were many family camping, hiking and fishing trips to Joe Rich when the family was young at least once or twice a year. Dad would load all the family into the station wagon for a road trip to Radium Hot Springs. In the winters, Dad loaded up the gang again for skiing at Crystal (Last) Mountain.
In the late 1950s, Dad and Mom took their first trip to Hawaii. They made very dear friends there and for many years they would travel to the islands with their friends and family. They loved travelling and took numerous trips to Ireland and England. Dad also loved his trips to Switzerland to cheer for his favourite hockey player.
Dad's lifelong hobby and passion was farming and he shared it with his family and dear friends by providing them with the very freshest of vegetables from his garden.
A very special thank you to all of Dad's caregivers and support staff that enabled Dad to stay in his home and lead a comfortable and dignified life until the end. Dr. Grant Chamberlain, we can never thank you enough for your patience and wonderful care for our father. A very special thank you to Dad's dear friend, Garth McDonald, who was always there for him.
A Celebration of Life was held on Monday, March 9th 2009 at 1 pm at Trinity Church at 1905 Springfield Road, Kelowna in the late 1950s.
Richard (Dick) Emigrated in 1908 to work in the orchard development business. In 1911 he and his brother Bill founded the Stewart Bros Nurseries Ltd in Kelowna BC, a business which is still flourishing under the slogan 'Born in 1911 – Still Growing'.
They supplied the major portion of the nursery stock for orchard plantations throughout Okanagan, the important fruit growing district of British Colombia (BC). Dick also founded Cascade Fruit Ltd in 1927. In 1953, he founded Pomona Orchards Ltd.
He was well known for his work in the community: he served as a school trustee and as a member of the Kelowna Parks board for a number of years. He was also a charter member of the Kelowna Gyro Group which was founded in 1924.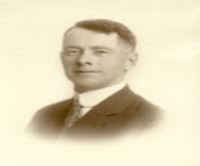 Fred Stewart 1880-1947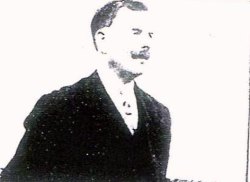 Frederick Stewart Born 1880 Clane RD Baptised probably in Ballinafagh Church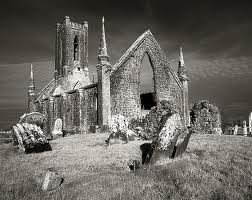 Ballinagfagh C of I
Married in St James's Church Dublin 1904 to Maud Grant.
Died 1947 Interred Dunmurraghill (Green Hills) Donadea Co Kildare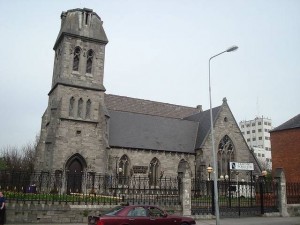 St James C of I Dublin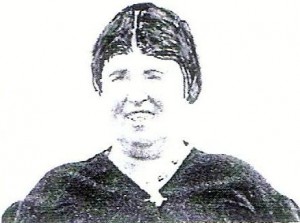 Maud Stewart nee Grant 1881-1944
Married Margaret Maud Grant Born 1881 Baptised St James's Church Dublin Died 1944 Interred Dunmurraghill (Green Hills)
Issue: 10 Children, Francis Margaret, Roseanna Deborah, Richard James, Frederick Thomas, Margaret Adeline, Florence Frederick lived in No 3 Mount Armstrong a town land near Donadea Co. Kildare.
Dorethea, Sarah Emily, William, James, Robert.
This is the grave of Frederick & Margaret plus Emily, Rose and James Stewart at Dunmurraghill (Green Hills) which was a replacement graveyard for the old Donadea graveyard. Both graveyards are now closed. Robert (Bob) Stewarts who died in December 2011 were interred in the grave in May 2012
Fleetwood Rynd held the town land of Mount Armstrong up until 1906.
That year a lot of land was transferred to various new tenants with new lot numbers being created.
Lot 5BA was half acre, house and garden to Frederick Stewart and was rated at £1,10.00, and in 1912 Peter Kidd took over the Stewart's holding of Lot 5BA. A note in the margin said 'Tenant Stewart 1/- (shilling) a week'.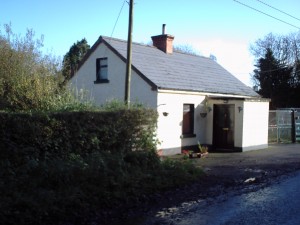 Fred's house at Mount Armstrong
He originally owned the house and garden but sold it and rented it back from Peter Kidd of Mount Armstrong on a 16 year lease.
One wonders why he sold the property to the Kidd family.
Frederick was the local postman
FRED STEWART (1880-1946) DONADEA DISTRICT POSTMAN
BY ROBERT (Bob) STEWART
My father, Fred Stewart was one of the best known characters in the Donadea district because of his close involvement with the community: even the children wending their way to Rathcoffey and Staplestown schools gave him a cheerful wave as he pedalled about on his early morning rounds.
He was born in Timahoe in June 1880, the eldest of twelve children, the issue of Richard and Francis (nee Dillon) Stewart: the family later moved to Hortland where the remains of the old family home can still be seen. He started work with the Post Office at the age of sixteen and retired on reaching his sixty fifth birthday. His first duty in the early morning after donning his heavy serge uniform and highly polished boots was to cycle to Donadea Post Office in time for the arrival of the mail from Dublin.
Before starting on his delivery rounds to lonely farms and isolated cottages, he had to assist in sorting the mail by delivery areas. Then, with a heavy canvas bag, filled with letters and parcels, he set out on his journey which took him through woods and fields, often wet and muddy, some tenanted by herds of cows and bullocks with, at times, uncertain tempers. They stared with bovine intensity as the lonely figure cautiously making his lawful way through their sacred territory.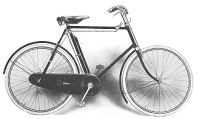 When new this bicycle would have cost £17.17shillings.
His delivery rounds included Cutstown, Mount Armstrong, where he called on mother for a refreshing cup of tea, Mount Sherlock, part of Staplestown Road and thence along the Rathcoffey Road to Painstown and Rathcoffey. He also delivered to the lower end of the Long Road between Rathcoffey and Boherhole before retracing his route to Baltracey Cross Roads, from there he moved along the Donadea Road to Loughtown House. By this time, he was ready for a break so he returned home to Mount Armstrong where he lived, for his midday meal. It was reliably reported that he also took the opportunity to polish his boots again during the break.
His evening (afternoon) duties included collecting the outgoing mail from Painstown Cross and taking it to the Post Office: his next port of call included Knockanally House, Hortland, Newtown and finally, Ballagh. When he handed over this mail at the Post Office at about 4pm, his work was finished for the day, that is, if his evening were spent toiling in his garden were regarded as labours of love. He took great pride in his well-ordered garden where he grew Kerr's Pinks potatoes, Ailsa Craig onions and a variety of brassicas. White butterflies, juicy caterpillars and snails were given shock treatment if they invaded his territory. Whatever weather conditions prevailed, the mail was always delivered even if it meant a long journey to a lonely home with an unimportant circular. At General Election time, he made an evening delivery of electioneering material rather than disrupt the normal mail deliveries.
Fred Stewart ranked with the mildest of men and was not given to the use of invective but he sometimes had a few surprising words to say about people who failed to control their mangy dogs with hostile jaws. His only form of self-defence against such animals was the solid brass P & T pump, which he carried and used to good effect whenever a serious confrontation arose.
When asked if he ever wearied of doing the same rounds day after day, he replied that he regarded his job as healthy exercise, which lessened life's stresses, improved sleep and gave an exhilarating feeling of wellbeing and freedom as he cycled from house to house. He was never bored with the people he met on his rounds. His transport was reliable provided he applied a squirt of oil on the working parts and kept his tyres at the correct pressure.
When my father retired from the Post Office in 1945, he had given over fifty years' service to the establishment. As a farewell gesture, the kindly people of the district gave him a wallet and a generous gift of money. It was obvious from the laudatory remarks made at his farewell function that the people were sorry he had reached retirement age: one gentleman was heard to say, 'Now that Fred has retired, we will have to set our clocks by the Wireless'. What the people didn't know was that he had a time piece which never let him down which is pictured here.
He was also presented with a certificate by the Minister for Post and Telegraphs, which read, 'I wish to convey to you, on your leaving the Department of Post and Telegraphs, my high esteem for you on account of your loyal service to the State for over fifty years'.
Fred, the Postman was laid to rest in Dunmurraghill on 21st December 1946. Afterwards, the Rector wrote, 'in shocked sorrow, the parish heard of the sudden death of Fred Stewart on 19th December'. For him it was a time of much loneliness, which he had suffered since the death of Margaret his wife in May 1944. Our parish will be poorer for his passing.
The remarkable size of his funeral cortege was a visible token of the regard in which he was held by friends and neighbours of all faiths.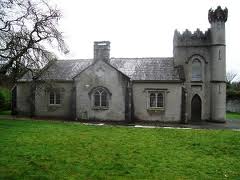 St Peters Church Donadea
Roseanna Jane Born 7th July 1885 Baptised in St Peters Church Donadea
Knockanally House
Roseanna was a servant for the Coats family of Knockanally House. She was married in St Peter's Church Donadea 12th April 1909 to James ffrench, RIC Constable of Tipperary.
Helena Martha Born March 1888 Baptised in St Peters Church Donadea
Francis Dorothea Born 1890 Died 1916.
George Dillon Born 1891 Died 1963
George and Albert were two great characters who devoted their lives to the Hortland Farm.
They often went for days without speaking to one another and they never took a holiday in their lives; it is doubtful that they ever travelled further than Dublin, 22 miles from home.
Though normally very cheerful fellows (except when they had a family tiff) they ploughed many a lonely furrow, with only their thoughts to keep them company. They found their work increasingly thankless and if the truth be known, they hankered for a less slavish life-style.
At the end of each day, they simply nodded off (there was no wireless in the Stewart's home) in their favourite chair or strolled along the bog road leading to nowhere. They were both teetotalers and regularly attended their parish church.
George died suddenly in 1963 and Albert joined him 9 years later.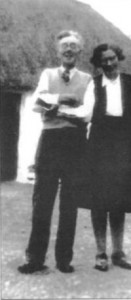 Harold & Lily (nee Hill) Stewart.
Harold Stanley Born 25th July 1896
Baptised in St Peter's Church Donadea.
Married 20th November 1957 Ballinafagh Church
Elizabeth Mary Hill Born 3rd September 1914 of Ballinafagh
Harold & Lilly lived in a house in Garravogue where the Hill family had lived for over 400 years. It is said that there is an apple tree still growing on the site which is over 350 years old.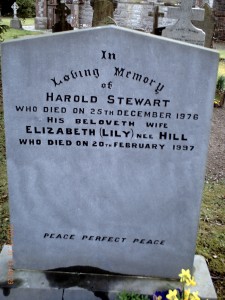 Harold & Lily are buried in St Michael's & All Angels Graveyard Millicent Co Kildare.
Administrators Note: Whilst searching through Church records in the RCB Dublin, I came across the following information regarding the Hill family of Garravogue Ballinafagh Co Kildare,
Joseph George Hill Baptised in Ballinafagh Church 3rd September 1817. Parents Joseph & Mary Hill Garrayvohue Ballinafagh Co Kildare
Jane Ann Hill, b c.1849 parents George Hill of Garrayvohue Ballinafagh married William Codd of Rathnagrew Hacketstown Co Carlow in Ballinafagh Church 10th May 1893
Elizabeth Hill, Parents George Hill of Garrayvohue Ballinafagh, married Henry Rogers of Coolcarrigan in Ballinafagh Church 20th July 1874
Elizabeth Hill b 3rd September 1914, Parents, Joseph & Mary (nee Kerr) Hill of Garrayvohue Ballinafagh, Married Harold Stanley Stewart b 29th June 1900, Parents Richard John & Francis (nee Dillon) Stewart of Timahoe in Ballinafagh Church 20 November 1957. This was the last marriage recorded in the Ballinafagh Timahoe Church as listed in the RCB Church Records Dublin.
Joseph Hill died July 1938 (97), Joseph George Hill died December 1956 (39), Mary Ann Hill Died January 1969 (81) all buried in Ballinafagh Cemetery.
Other records Marriages: Richard Dillon, Widower, Farmer of Timahoe, Father William Dillon Farmer, Married Anne Smith Spinster and servant, of Timahoe Father Stephen Smith Schoolteacher. Dated 21st April 1856
Ann Hill Widow & Servant of Ballinafagh Glebe Father Edward Delap Farmer Married Thomas Evans Pensioner of Ballinafagh Glebe Father Thomas Evans Gardener. Dated 7th December 1858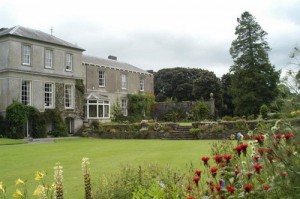 Coolcarrigan Estate of the Wilson-Wright family
Elizabeth Hill of Garryvogue, Spinster Father George Hill Farmer, Married Henry Rogers Bachelor, Herd, of Coolcarrigan Co Kildare. Father Philip Rogers Herdman. (No Date) Between 1858-1879
Jane Anne Hill of Garryvogue Father George Hill Married William Codd Bachelor Farmer of Rathnagrew Hacketstown Co Carlow, Father Thomas Codd Farmer Dated 10th May 1893.
Francis Caroline Born 27th January 1899 Baptised in St Peters Church Donadea
Robert Cecil Born 1901.
Herbert was an active member of St James Episcopal Church in San Francisco and was a member of the Amity Seal Rock Masonic Lodge.
Bob (Robert) and Herbert had similar careers. They too went to Canada, but later moved to San Francisco.
They continued a close relationship though it has been said that Bob was a reclusive character at times.
Their job and advancement prospects were severely limited by the general depression which swept the United States in the late twenties and thirties. They finished their careers in middle management posts in the support services of St Francis Hotel and St Luke's Hospital, respectively, in San Francisco.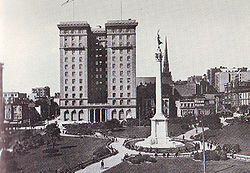 St Francis Hotel San Fransisco
St Luke's Hospital San Fransisco
Francis Margaret Born 1905. Died at 3 days old. Interred St. Peter's Church Donadea
Roseanna Deborah Born 1905 Died 1934.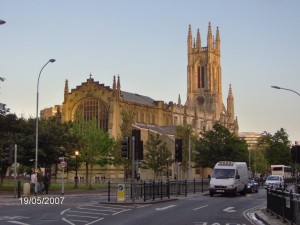 Married 1934 St Peter's Church Brighton England
Interred Mary's Church Slough England
Richard James Born 1908 Died 1909 at 3 Months Interred St. Peter's Church Donadea
Frederick Thomas Born 1910 Baptised St. Peter's Church Donadea. Died 1983 Ashes Portchester Crematorium England Death Register Southampton England.
Fred joined the Royal Navy in 1926 at the age of 16 years.
RAF Air Gunner
He transferred to the Fleet Air Arm in 1936 and qualified as a Telegraphist/Air Gunner (TAG).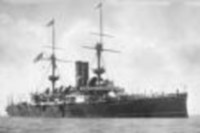 Picture of HMS Defiance.
He served on such eminent vessels as HMS Queen Elizabeth, Defiance, Norfolk, Furious, Dorsetshire, Victory, Glorious, Couragous and others. On his final active service he flew in support of the Russian convoys. He dispersed the Royal Navy in 1950, in the rank of Chief Petty Officer and took up a Civil Service appointment with the Ministry of Defence Procurement Executive. He retired in 1975 and lived in Fareham, Hampshire until his death.  Married Georgina Lillian Carpenter Born 1912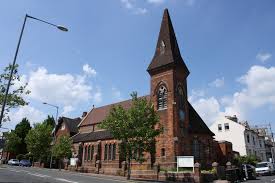 St. Luke's Church Brighton England
Baptised St Luke's Church Brighton England Died 1987 Ashes Portchester Crematorium England Death Register Southampton England
Issue: 2 Children, Gloria, Beverley Ian
Gloria Born 1941 Baptised
Married 1961 Holy Trinity Church Fareham England Married Peter John Herbert Born 1938 Baptised Holy Trinity Church Fareham England Issue: 3 children, Lynn Born 1963, Deborah 1966, Jonathan Stewart 1971
Beverley Ian Born 1946 Baptised 1946 Holy Trinity Church Fareham England. Married 1969 St Mary's Church Bishopstoke England Married Maureen Ann Rossiter Born 1946 Baptised St Mary's Church Bishopstoke England Issue: None
Margaret Adeline Born 1912 Baptised St Peter's Church Donadea. Married 1939 St Peter' Church Donadea.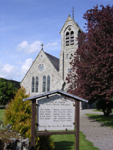 St. Mary's Church Blessington Co. Wicklow
Died 1990 Interred St Mary's Church Blessington Co Wicklow. Married Francis Richard Garland Born 1898 Baptised St Mary's Church Blessington Co Wicklow Died 1972 Interred St Mary's Church Blessington Co Wicklow. Issue: None
Florence Dorothea Born 1913 Baptised St Peters Church Donadea. Married 1937 St Peter's Church Donadea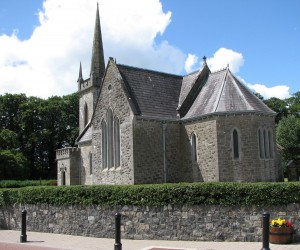 Straffan Church Co Kildare
Died 1952 Interred Straffan Parish Church. Married William Elliott Healy Born 1907 Baptised Bective Parish Church. Died 1972 Interred Straffan Parish Church. Issue: 3 children, Amelia Margaret Born 1940, James Christopher Born 1944.
Florence Daphne Born 1948
Amelia Margaret Born 1940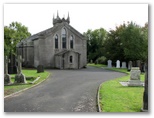 Inch Church Co Wexford
Baptised Inch Parish Church. Married in St Mary's Church Blessington Co Wicklow. Married William Malcolm Gobbett Born 1939 Baptised Rawalpindi
James Christopher Born 1944 Baptised Straffan Parish Church. Married in 1964 St John's Church Carisbrook. Married Jenifer Elaine Medley Born 1945. Baptised in St John's Church Carisbrooke.
Florence Daphne Born 1948 Baptised Straffan Parish Church. Marriedin  St Mary's Church Blessington Co Wicklow. Married William John Donohoe Born 1958. Issue: 2 children. Neasa, Nathan
Emily Sarah Born 1914 Baptised St Peter's Church Donadea. Died 1919 Interred St Peter's Church Donadea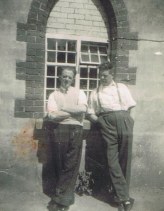 William (Billy) Stewart on right with Norman Fawcett brother – in – law at Millicent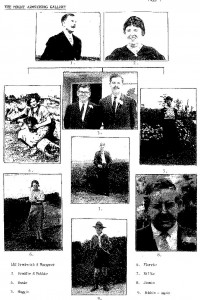 Stewart Gallery from Mount Armstrong
William (Billy) Born 1916
Baptised St Michael's & All Angels Church Millicent.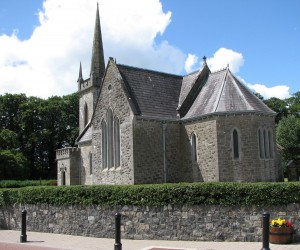 Married in 1942 Straffan Parish Church..
This picture shows the following: Front Row left to right, Bob Stewart (Billy's brother & Best Man), Phyllis Grant, Billy & Lillian, Inagh (nee Storey) Campbell ( Lillian's Bridesmaid, George Fawcetts Girlfriend, Freddie Stewart's God Mother), Mrs Kelly from Rathcoffey Co Kildare. Back Row George & Sarah Fawcett (Lillian's parents).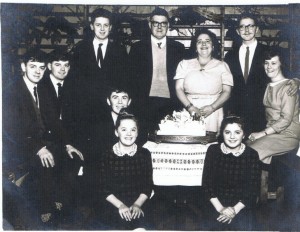 Pictured here on their 25th wedding anniversary with all of the family
Died 1974 Billy is interred St Michael's & All Angels Church Millicent.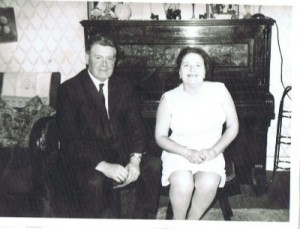 Lillian Stewart nee Fawcett 1918 – 1998
Married Lillian Fawcett Born 1918
Baptised  Church Ballynoe about 5 miles from Ballon Co. Carlow.
Died 1998 Interred St Michael's & All Angels Church Millicent Co Kildare.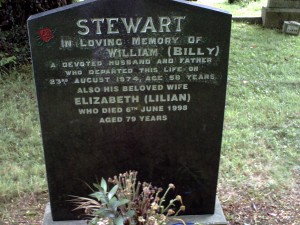 Billy and Lillians Grave and Head Stone
It's likely that George and Sarah Fawcett Lillian's parents attended this church as there was no Presbyterian church in this area.
House at Millicent home of the Stewart Family.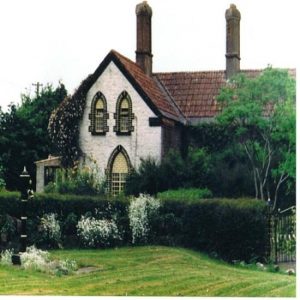 Billy & Lillian lived first in the outskirts of Clane Village, on the Blackhall side of the River Liffey, (the original house no longer exists), and moved to Millicent c. 1946. The house was rented and belonged to the Conway family and later the Brophy family. The second half of the house was known as the laundry, which was occupied by the O'Brien family.
The original house was built in c.1840 and was used by a Protestant convent of nuns from St Marys Sandymount Dublin as a holiday home in the 1840s for children from Dublin. The house was extended in 1868 with the original part being used as a laundry on behalf of the big house known locally as Millicent House, the house at that time was owned by the Cooke-Trench family along with the Millicent Demesne and lands in Millicent South and Millicent North. These lands extended on the Eastward side from Millicent Bridge along the boundary of the River Liffey to Clane, westward towards the Grand Canal of which Cooke Trench was a Director, and then northward via Millicent Cross back to Clane.
French Nun dressed with the Wimpol.
One evening in late 1980 Mrs Stewart was sitting at the fire entertaining a guest who happened to be a mystic when suddenly out through the walls from the former laundry came two nuns dress in black wearing the old style "Wimpols" and appeared to almost float across the room and departed out through the outer wall towards the garden.
Mrs Stewart was shocked but her friend said, don't be afraid, this was the site of a former convent and hedge school. Something bad happened here many years ago and the spirits are not at rest. In speaking with another family member she stated that there was a school on the site but just outside the entrance gate to the existing house where a hand pump use to sit. Some of the old wall stone can still be seen in front of the garden hedge.
In looking up old records, two references to a Millicent School are recorded in "Schools of Kildare & Leighlin 1775-1835 by Rev Martin Brennan M.A., B.D., Ph.D., Professor of Education, St Patrick's College Maynooth Co Kildare, published by M. H. Gill & Son Ltd 1935, where on page 209, Firmount Catholic School appointed a teacher Richard Colgan in the year 1810 who was educated at Millicent, and on page 218 under Christian Doctrine Schools Clane area, Sunday Catechism Classes, in the Parish Chapel 240, at Mrs Dease's Clane 25 and at Millicent 10. No other references have so far been found regarding this school. However, as children we were told that a school or a Hedge School and convent were sited nearby. As children we often found pieces of pottery in an area close to the outer garden wall. We never took much notice of the finds and just threw them away. This area was no use for growing food in, Billy used to say, under the clay was the foundations of an old building. This could be the site of the Millicent School which is referred to in the old records of the Schools of Kildare & Leighlin.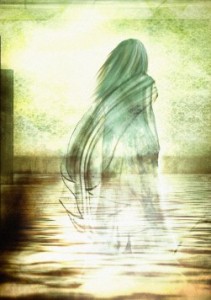 Banshee
It was often spoken of, that the Banshee appeared in the Millicent Scree, which is just a short distance further up the road and had been seen at a distance by some of the Stewart brothers. Not only that but in the field beside Blunden's river up until the late 1950's during the months of November and December on frosty clear nights the Willow the Wisp regularly appeared. It also appeared in the garden in the front of the Stewart's house. Sadly due to the field being drained by the Piggott family in the early 1960's, the marshy nature of the land disappeared and so has the Willow the Wisp. Today a large new house has been built on the sight and is owned by a retired senior Irish politician. I wonder does he ever see the light flashing at the far end of field said a member of the Stewart family? And wondered what it is.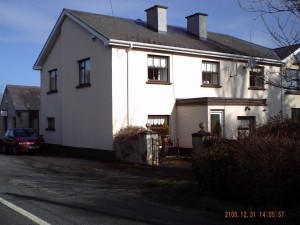 Fawcett House & Shop Ovidstown County Kildare
(Here is a picture of the Fawcett home and grocery shop that Lillian's father owner and lived in, which was some five miles away at Ovidestown near Straffan on the main Celbridge to Clane road, you can still see the remains of the old shop on the left hand side of the picture.
Lillian lived here from her early teens up until she the time she married Billy.

 Pram
One of the great stories about Lillian, was that she had no fear. After her father died, Lillian used to cycle down from Millicent, every Thursday to "do the books" for her mother who was now running the grocery shop which they owned.  But she had the twins, so she used to cycle along pulling the pram (similar to the picture here), with the twins in it along the main road, wet or dry, winter or summer she rode back and forth. On one occasion the local Garda Sergeant in Clane stopped her and threatened her with jail if she did not desist in this mad, cycling escapade. She told him where to get off and he did not bother her again. All of the bus & truck drivers knew her and also at about what time she would be on the road and were looking out for her.(Can you imagine anyone doing this on those roads today!!) That was Lillian.
Issue: Seven children, Frederick William Born 1943, Mervyn Robert Born 1944.
George Victor Born 1945, Leslie Herbert Born 1946, David Cyril Born 1948.
Ann Margaret Florence Born 1953, Violet Jane Elizabeth Born 1953 Twins.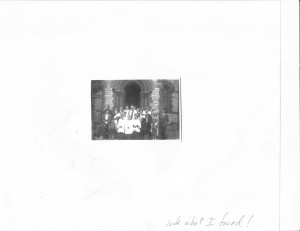 This is a picture of the Baptism of the twins, Ann & Violet with the rest of the Stewarts of the Millicent Clan, with Godparents, Mr and Mrs Foxton (Violet) on left (a family fried) and Agnes & Mervyn Fawcett (Ann) (Mervyn was one of Lilliam's brothers) on the right, in the front are the 5 boys, 3 of which are robed for the choir. (All of the children were in the choir at one time)
Billy applied to join the Royal Navy shortly after leaving school: he attended a recruitment interview in Liverpool. Medical standards were very demanding in peace-time and unfortunately he was judged to be partly colour blind and therefore unfit for service in the Royal Navy. Had he applied during World War II, he would have been welcomed with open arms since the medical standards were greatly relaxed in wartime.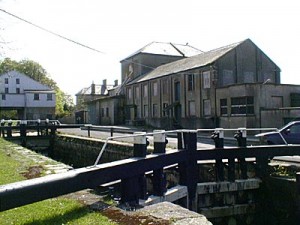 Leinster Mill Naas owned by the Odlum Flour Milling company
He found suitable employment in Odlum's flour mill in Naas and worked there until he retired through ill health. Sadly like many businesses, Oldums Mill in Naas has been closed for a number of years. No more flour milling on this site.
Billy lived in Millicent and was actively engaged in many local affairs and among his many pleasures was his garden, which was extensively cultivated in order that his family had enough to eat and he never failed. His other pleasure was in motor racing, especially motor bikes, many a Saturday was spend attending race meetings in different parts of Ireland both as a spectator and as a marshal.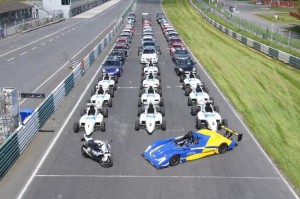 Mondello Park Motor Racing 
He was also track marshal at the Mondello Park racing circuit for many years, a role which he enjoyed.
His Parish Church was St Michael's and All Angels in Millicent and along with Lillian they both served on the Select Vestry for many years. As the children came of age they all took their places in the church choir, attending Sunday services, baptisms, wedding, funerals, in St Michael's and All Angels and at Choral Festivals in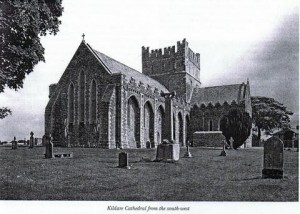 St Bridget's Cathedral Kildare.

St Michaels & All Angles Millicent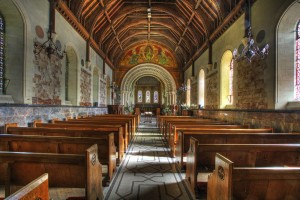 View of the Interior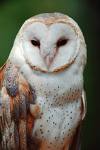 The Owl
It is said that various "birds and animals" follow families and their appearance can be an omen of a death occurring in the family, either immediately or in the near future. The owl followed the Stewart family and shortly before Billy's death, an owl hit his car one night as he was travelling home from a function. He remarked after as he drove home, "I wonder whose death that incident signified". Little did he know that it was to be his own!.

Pigeon
The same was true for Billy's wife Lillian. Her older brother George Fawcett was in the RAF (on a second tour during the Second World War) as a radio operator in a Hampden Aircraft, See below on the Fawcett section for details.
Believe it or believe it not.
If you have such a story to tell, then send it to the administrator for inclusion on the web page.
Frederick William Born 1943 Baptised St Michael's & All Angels Church Millicent.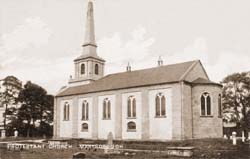 Married 1969 St Peter's Church Portlaoise
Married Marjorie Joyce Broomfield. Born 1944 Baptised in St Peter's Church Portlaoise.
Issue: 2 children, Lynda Jacqeline Born 1973, Brian William Born 1976.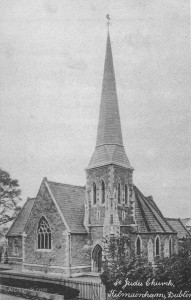 St Judes Church Inchicore Dublin            
Mervyn Robert Born 1944 Baptised St Michael's & All Angels Church Millicent Married 1965 St Jude's Church Kilmainham Dublin Married Florence Dorothy Whittle Born 1942 Baptised St Paul's Church Blackhall Place Dublin Issue: 2 children, Eimile Aine, William Robert
Guinea Pig The Fish Restaurant 17, Railway Road, Dalkey, Co. Dublin Tel: (01) 285 9055 Fax: (01) 285 8427
Mervyn is the owner of the Guinea Pig Restaurant in Dalkey Co Dublin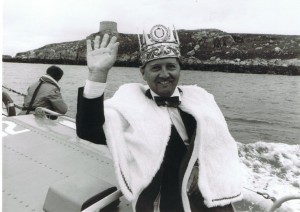 Some years ago was crowned King of Dalkey.
Mervyn & the Queen of England by Lucinda O'Sullivan, Originally published in the Sunday Independent, May 2011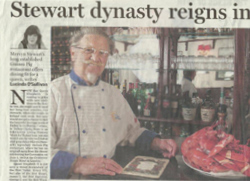 Stewart dynasty reigns in kitchen
Mervyn Stewart's long established Guinea Pig restaurant offers dining fit for a queen, writes Lucinda O'Sullivan
Now that Queen Elizabeth is coming to grips with new additions to the family tree, she might care to meet her long-lost cousins, the Stewarts, when she comes to Ireland. Not only would she get a chance to visit the beautiful heritage town of Dalkey in Co Dublin — where, in Dalkey Castle, there is an interactive Living History 'Meet the Tudors' tour, but she would also be very well fed at chef proprietor Mervyn Stewart's legendary Guinea Pig restaurant, where he has an original menu from the dinner celebrating her Coronation on June 2, 1953 at the Grosvenor House Hotel in London.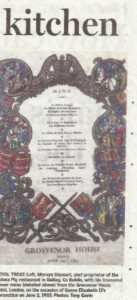 A picture of the original menu
Queen Elizabeth II is not only a direct descendant of the first Tudor, Henry VII, but also of the first Stuart, James I, the first Hanover, George I, and the first Windsor, George V.
The Stewarts originated in Brittany in the 11th century before moving to Scotland, where they ruled through the centuries. In 1745/46 the grandson of James II, Prince Charles Edward Stuart — 'Bonnie Prince Charlie' — led the last attempt to restore the Stuart dynasty to the British Crown and the slaughter of his army at the Battle of Culloden. Many Stewarts emigrated from Scotland to Ulster. It is from this family line, or clan, that Mervyn Stewart's family is descended.
Mervyn Stewart was born in Millicent, Clane, Co Kildare, in 1944. In the mid-19th century the Cooke-Trench family of Millicent House built St Michael & All Angels Church, which contains stunning art work including examples of cloisonne and scraffito, and many fine works from the arts and crafts movement.
Mervyn has many happy memories of singing in the choir. He was originally destined to go to St Patrick's Cathedral in Dublin
St Patrick's Cathedral in Dublin
to sing in the choir there, with the prospect of becoming a minister. However, as Mervyn says, "Like all best laid plans, that didn't work out."
Mrs Handy, the then minister's wife, knew the legendary Ken Besson of the old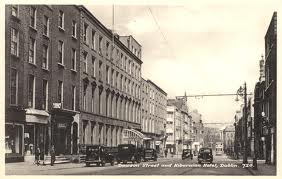 Hibernian Hotel on Dawson Street in Dublin,
and in 1956 the very young Mervyn was indentured into the Hibernian Hotel for five years to train as a chef. Mervyn recalls that during this post-war period, "Dublin was the Mecca for eating, as there was no real rationing in Ireland to the extent there was in England". The big hotels of the time —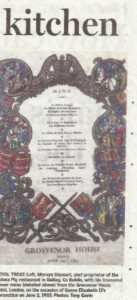 The Gresham 
were hotspots of good food. The Hibernian and the Russell brought over French chefs, while the Gresham brought in German chefs.
"Wealthy people used to fly in to Dublin, including American senior officials from Europe, specially to dine," Mervyn says.
On the dining scene there was also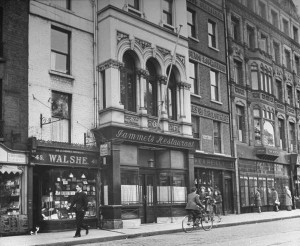 Jammet's restaurant in Nassau Street
Red Bank in D'Olier Street, which the wealthy frequented.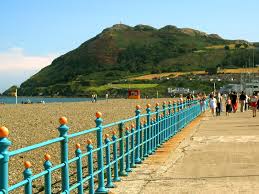 Ordinary English people used to come to Bray, in north Co Wicklow, in droves and enjoy the lack of restriction on cigarettes or drink in Ireland.
Having completed his indentures, Mervyn then went to work at the Metropole on O'Connell Street, where one day the head chef — who had worked in Grosvenor House Hotel in London — was doing a clear-out of his desk, and came across the Coronation night menu.
KINGS OF DALKEY (1787 to the present day)
The freemen of Dalkey inherited the right to elect this King through the boredom of young bloods back in the Dublin of 1787. They formed a club into which they roped wits, poets and thinkers. They summoned "Pimlico Parliament" – named after the Liberties area, and from an Assembly Room they hurled broadsides at the country's humbug and the pomposity of the
Castle (Dublin Castle) and its hacks.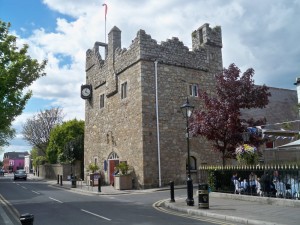 Dalkey Castle
The full title is most impressive "King of Dalkey, Emperor of the Muglins, Prince of the Holy Island of Magee, Baron of Bulloch, Seigneur of Sandycove, Defender of the Faith and Respector of All Others, Elector of Lambay and Ireland's Eye, and Sovereign of the Most Illustrious Order of the Lobster and Periwinkle."(Click the Loudspeaker Icon and hear it first hand for King Larry the First) During the years twenty knee-breeched courtiers in 18th century costume attended the King of Dalkey on Coronation Day. In later times the costumes were hired from a theatrical costumiers in Dublin. Fun was the royal order of the day for all concerned.(King of Dalkey Festival Programme 1983)
More than 20,000 attended the last regal procession, carnival and coronation anniversary on August 20,A photo of King Larry 1797 of Stephen Armitage-pawnbroker and printer- "King Stephen the First, King of Dalkey" Then came terrorismthe (1798 Rising) that wound up the strange and hilariously eventful history of this extra-territorial monarchy. However, the tradition was successfully revived in 1934, 1965 and again in 1983 and is unfortunately dormant at present. The following articles (collected by Alice Cullen) concern the "Royal goings on" make very interesting reading. They are a barometer of the times that were in it. The first mention of a Dalkey King is taken from 1780 Dublin Historical Record Vol. 1V No. 2. December 1941-February, 1942 Glimpses of Old Dalkey by F.M. O'Flanagan.
Local tradition says that Hugh Dempsey was crowned "King of Dalkey" about 1780. On the south side of the old church we find another stone which says: "This stone was erected by Mr. Murtagh Dempsey of the City of Dublin in Memory of his affectionate son Hugh Dempsey blockmake of said City who departed this Life April 7th 1790."
The following Articles are listed in chronological order, with a brief description and then a link to the full version.
1790 – When revolution threatened from Dalkey Island! Officials of the time were worried Dalkey might secede from the rest of the country and arrested the elected King O'Mara. O'Mara, a well-known solicitor was as famous for his wit as he was for his convivial hospitality gave a good account of himself Link
The King of Dalkey St Patrick's Day
Provided by Harry Latham from 18th Century Newspaper This is an account of Stephen Armitage and his encounter with Mr Merridew and the notorious Major Sirr.
1840 The Irish Penny Journal
This rather long but beautifully written article presents a very full account of the Sound and Island of Dalkey and a wonderful description of the annual King of Dalkey coronation in the 18th Century.
1940 Old Dublin Society to Visit Dalkey
"The visit will coincide with the anniversary of the coronation of the president of the society, Alderman T. Kelly, T.D."
9th March 2018
WHAT'S IN YOUR LIBRARY
My brother Mervyn Stewart former owner of the Guinea Pig Restaurant in Dalkey County Dublin was looking through his library collection and discovered that he had 4 very early editions of novels by Charles Dickens – Bleak House 1852, Dombey and Son 1846, Nicholas Nickleby1838  and Martin Chuzzlewit 1843.
3 of the books were signed by George Salmon, on researching his name Mervyn discovered that in the 1800's he was the Provost of Trinity College Dublin. With such provenance he contacted Stephanie Breen Assistant Librarian, Department of Early Printed Books and Special Collections Berkley Library Trinity College to see if the College was interested in acquiring them.. This week saw the donation by Mervyn of the 4 books to the College.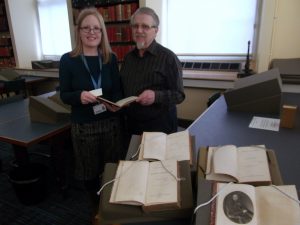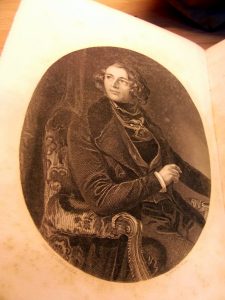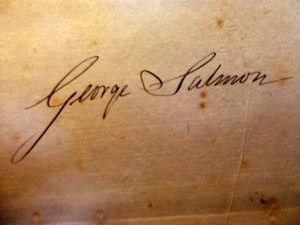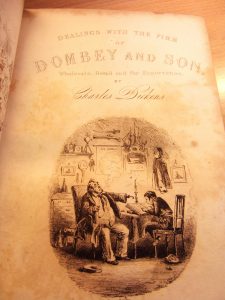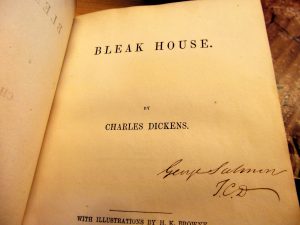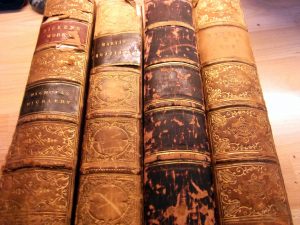 George Victor Born 1945. Baptised St Michael's & All Angels Church Millicent.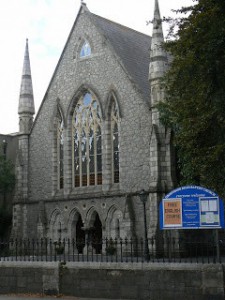 Married in 1968 Baptist Church Grosvenor Road Rathmines Dublin.
Married Lorraine Margaret Squire. Born 1946 Baptised Methodist Church Dun Laoghaire. Issue 3 children, Clifford Julian Born 1972, Tracey Louise Born 1975. Verena Marion Born 1977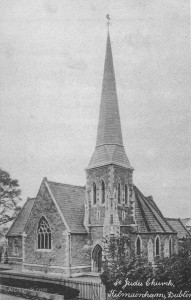 St Judes Church Inchicore Dublin
Leslie Herbert Born 1946 Baptised St Michael's & All Angels Church Millicent. Married 1968 St Jude's Church Kilmainham Dublin  Married Beatrice Alexandria Mary Clancy. Born 1950 Baptised St Jude's Church Kilmainham Dublin. Issue: 5 children, Stephen Leslie William Born 1970, Gillian Ellan Born 1971. Mark Charles Born 1972, Gavin Harold Born 1975, Robert Thomas Born 1980.
David Cyril Born 1948 Baptised St Michael's & All Angels Church Millicent.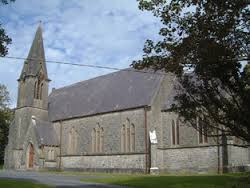 Married 1972 Lisadell Parish Church Co Sligo.
Married Myrtle Francis Henry Born 1944 Baptised Lisadell Parish Church Co Sligo. Issue 2 children, Susane Eleanor Born 1973, Yvonne Elizabeth Born 1977
Ann Margaret Florence Born 1953    Baptised St Michael's & All Angels Church Millicent. Married 1979 St Michael's & All Angels Church Millicent. Married Sotirios Magoufis Born 1959 Baptised Palmonstrion Tarikala Greece. Issue: 2 children, Kostas Christos Born 1986, Areti Ann Born 1988.
Violet Jane Elizabeth Born 1953 Baptised St Michael's & All Angels Church Millicent. Married 1973 St Michael's & All Angels Church Millicent. Married William Kemp Cuthbertson Born 1948 Baptised Scotland. Died 17th June 2004 as a result of an accident at work. Bill is buried in St Michael's & All Angels Church graveyard Millicent. Issue: 5 Children, Trevor William Born 1975, Aaron Kemp Born 1979,. Roy Henry Born 1981, Dale Andrew Born 1984, Alma Cecila Elizabeth Born 1989.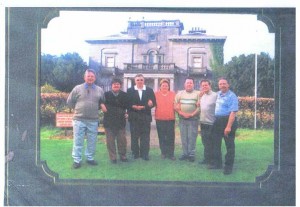 Family Golf Day Out at Knockanally Golf Course
Pictured from the left, Freddie, Ann, George, Violet, David, Leslie and Mervyn on a family golf day out at Knockanalla House, next door to the old Hortland estate.
James Born 1920. Baptised St Peter's Church Donadea.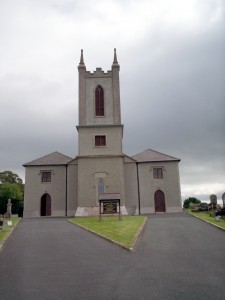 Married 1957 Mulabrack Church.
Died 1998 Cremated Ashes St Michael's & All Angels Church Bramhall. Married Emma Everton Wilson Born 1931 Toronto Baptised St Peter's Church Dalry
Issue 1 child, Brenda Alice Born 1960. Jimmie was first employed as a footman to the Marchioness of Waterford and later to Lord Powerscourt.
Being a fluky was not Jimmy's style. The male members of the Stewart family of that time had a strong sense of loyalty to the Crown, a loyalty which was fostered in the home and at Hewetson School. Like his brothers, Jimmy was determined to join the Armed forces and in 1943, he opted for the Royal Air Force. Much to his disappointment, he was discharged from the Service in 1944, on medical grounds. He immediately joined the Admiralty Constabulary (later the Ministry of Defence Constabulary) and served most of his time in Scotland.
Faslane Naval base Scotland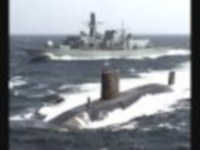 Submarine
He held many responsible positions including what was the most sensitive appointment of all – Chief Security Officer of the Royal Naval Atomic Submarine Base at Faslane. Not only did he have the unenviable task of base security, but he also had to contend with the activities – many unlawful – of the followers of the Campaign for Nuclear Disarnmenent (CND), who were a constant threat to the security of the base.
On relinquishing that post, he was engaged on staff and inspection duties until he retired in the rank of Chief Superintendent in 1983. He lived in Bramhall Cheshire, and was actively engage in voluntary work in his Parish Church.
Brenda Alice Born 1960 Baptised St Peter's Church Dalry. Married 1985 St Michael's & All Angels Church Bramhall. Married Stephen Nicholas Bingham Born 1963 Baptised St John's Church Bowden Canada. Issue 2 children, Christopher Andre Born 1990, Jennifer Rosemary Born 1993.
Robert (Bob) Stewart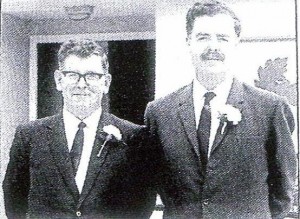 Bob (Robert) Stewart with Fred on the left
Robert Born 1922 Baptised St Peter's Church Donadea.
Married 1951 RAF Church Luneburg Germany.
Married Ethel Ada Ferris Born 1916. Baptised Christ Church Watford. Died 1994 Ashes Watford Crematorium Death Registered Watford. Issue 2 children, Rosemary Erika Born 1953, Jayne Astrid Born 1954.
Bob earned his first crusts as a gardener. It is impossible to imagine a greater misfit in any potting shed or cabbage patch??. His loyalty to King and Country was strengthened when he joined the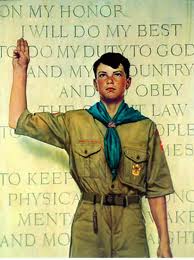 Boy Scouts
1st Co Kildare (Hewetson School) Troop of Baden-Powell Boy Scouts.
He joined the Royal Air Force in 1943. He was posted to Normandy shortly after D-Day (6th June 1944) and joined the Forward Tactical Air Force which supported the British Liberation Army through France, Belgium, Holland and into Germany. On the cessation of the war in Europe, he was posted to Australia to join the Pacific Campaign group. The operation was called off once the citizens of Nagasaki and Hiroshima were atom bombed by the United States Air Force.
Flight into Berlin after the end of WW2 1951
He served in Germany during the Berlin Airlift (1951): his next overseas posting was to the Royal Air Force Liaison Party with the French Air Force in Marseilles. Two further overseas postings followed – Singapore and Hong Kong. He retired from the Royal Air Force, in the rank of Squadron leader, in 1977 after 35 years' service, to settle in St Albans, Hertfordshire.
He spent the next ten years working for British Aerospace.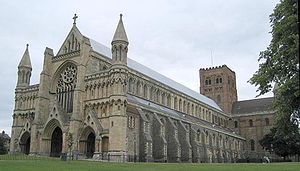 St Albans Cathedral England
In retirement, he is actively engaged in local politics and holds several voluntary appointments in St Albans Cathedral England
He was appointed to the Corps of Marshals (Lord Mayor of London's Escort) and was granted the Freedom of the City of London in 1980.
Robert (Bob) sadly died in December 2010 and his ashes were interred in Greenhills Graveyard Donadea.
(Administrators Notes: Bob has provided much of the information on the Stewarts of Hortland contained in this page and has been compiling information on the family for many years for which I am very grateful GVS).
The following details on family names was taken from Woulfs All Ireland surnames, and the frequency times are based on Telephone directories from the late 1980's
Terms: Very Rare 1-3 entries, Rare 4-10,Fairly rare 11-20,
Moderate numbers 21-55, Fairly numerous 56-100
Numerous 101-500, Very numerous 501 upwards
Stewart Very numerous, all area, least in Munster, Most in Ulster, Ireland, Stiobhard, a notable Scottish name, also Stuart and Steward
A second book worth reading is "Tracing your Irish Ancestors" by John Grenham. This book gives a fascinating insight in the records in Ireland or the lack of and the history that has made us the people we are today.
Tales of the Unexpected
Richard Stewart married Francis Dillon. Francis was a cousin of Robert Monteith who was the right hand man of Roger Casement. During the troubles an arrest warrant was issued for Monteith. He went missing and could not be found in spite of every RIC Officer in the country looking for him. Little did the authorities know that he was hiding in Richards house in a cellar under the floor boards of the sitting room. It was ironic that two of Richard's daughter were going out with RIC Officers at the time and the officers never new.
Recent renovation of the house discovered an underground tunnel with scraps of old army clothing in it.
During the trouble times often men would call to the house in the evening  and Richard would be told to take himself and the family up the fields, which he duly did. He never knew why and he never asked. The underground cellar was the storage for the arms for the rebels.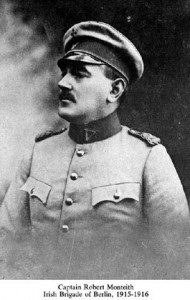 Robert Monteith was born in a farmhouse in the village of Newtownmountkennedy, Wicklow on March 1, 1879. His father Joseph had come down from County Cavan to marry Mary Dillon of Wicklow, and they had with nine children, four boys and five girls. Robert was their third son. He was baptised in the Church of Ireland parish church at Delgany, Diocese of Glendalough.
His eldest brother Jack left home to study to become an engineer; the next brother Dick ran off and joined the British Army. As Robert had been close to Dick, he too joined up in January 1895 when he was 16 – he gave his age as 18, and at 5ft 8inches, he was tall enough to be believed. His British Army Service Record exists, and is very informative. The youngest of the brothers, Joe, was left to help run the farm. Bob enlisted at the local recruiting office in Delgany. He chose the Royal Horse Artillery, and went off to England to do his training. His engagement was for 8 years overseas and 4 years in the reserve.
After basic training he was posted to "T" Battery RHA in India in Oct 1896, with which unit he qualified for the India General Service Medal 1895-1902 with two clasps. He loved everything about the East and soon was speaking Hindustani. He joined patrols in the Khyber Pass and on one of these patrols his horse stumbled, and he fell off, dislocating his right hip on landing. He convalesced for three weeks in a hospital at Umballa in the Punjab.
He was posted from India to South Arica in Jan 1900. There he became a bombardier, 8015, in the RHA there, being listed in A and in G Battery. He was part of the column led by Sir Redvers Buller that relieved Ladysmith. Bombardier Monteith, riding the lead horse of the six that pulled the gun carriage, was the second man to ride through the blockade for the "Relief of Ladysmith.".
A Battery arrived in Natal from India in time to assist at Vaal Krantz, 5th to 7th February 1900, and in the final operations for the relief of Ladysmith.  Accompanied General Buller in his northern advance, and their "excellent services" on the way to Laing's Nek, at Alleman's Nek, Bergendal, and other actions in the northern advance, were acknowledged by General Buller in his dispatches.  In the Paardeplatz-Lyden-burg district A Battery was constantly fighting and had many losses.  Three officers and 6 non-commissioned officers and men were mentioned in General Buller's final despatch of 9th November 1900.  The battery was present in Pretoria at the ceremony of the annexation on 25th October 1900, and shortly afterwards left South Africa for England. Monteith was transferred to G Battery on 15th October 1900.
The first party of the relief column, under Major Hubert Gough and which Churchill claims to have been a part of, rode in on the evening of 28 February 1900. His boer war medals show that he was at
1900 Feb 12. Tugela Heights. Buller ordered a fourth attempt to relieve Ladysmith. He hoped to exploit his ten-to-one superiority in artillery and four-to-one advantage in numbers. The British finally took this objective on 27 Feb 1900, and this opened the way for the relief of Ladysmith the following day.
1900 Feb 28. Relief of Ladysmith. On 28 October 1899, the Boers succeeding in entrapping Gen White and some 8,000 British regulars in Ladysmith. The remaining British forces withdrew south of the Tugela. It took 4 months and many casualties to break the siege.
1900 Jun 2 to 9. Laing's Nek
1900 Aug 7. Belfast last set-piece battle of the Second Anglo-Boer War. It lasted from 21–27 August 1900 and took place on the farm Bergendal near the town of Belfast. The 5,000 Boers were under the command of General Louis Botha and the 20,000 British Empire forces were led by General Sir Redvers Buller under the overall command of Lord Roberts. Unsurprisingly, the British won.
Served in 1901 and 1902, as he has the clasps for the Kings South Africa Medal
When the Boer War finished in 1900 and Bob stayed in South Africa with G Battery RHA. Two guns of G were with General Alderson's column in the Eastern Transvaal in January and February 1901.  The battery was brought to Cape Colony in February 1901 to pursue De Wet (Lord Kitchener's despatch of 8th March 1901).  Afterwards four guns were with Colonel Bethune in the Orange River Colony (despatch of 8th July).
He was posted to O Battery in Summer 1902 and to T Battery in Oct 1902. His discharge came through in South Africa on March 25, 1903, and he sailed back to Ireland arriving in early April 1903. He certainly never held the rank of Sergeant Major as the Germans believed, as there is neither reference to it in his biography, nor does his service record show any such rank. He was transferred to the British Army reserve on 18 April 1903, and continued with serve in the reserve until finally discharged from the reserve in Jan 1911, having renewed his commitment in Jan 1907 for an extra 4 years.
Arriving home from the wars, he weighed only one hundred pounds. He secured a position in the civil service, with the Ordnance Depot in Dundalk, Co. Louth. Bob found lodgings at the boardinghouse where some of his fellow workers lived. Out of his first pay, he bought a bicycle and joined the Clarion Cycling Club. Week ends he rode to Dublin and on to Wicklow to visit his parents and married sisters,.
He was introduced to Mollie McEvoy, a widow and now a dancer in the theatre, who already had three children. Her husband had been murdered in Canada when he had gone there to arrange the emigration of his family. Bob he married her in the autumn of 1909, she being a Catholic widow with 3 children, was something which did not please his own family.
He re-engaged in the British Army Reserve for 4 years in Jan 1907, and discharged from the reserve in Jan 1911. The highest rank he reached was Bombardier in RHA. When finally discharged he had served 16 years in the British Army.
When the five-year contract with the Ordnance in Dundalk came up for renewal, he did not sign, just closed his desk and moved to Dublin permanently. He took over the responsibility of three youngsters in the house Mollie had rented. This new life was the first real home he had since he was sixteen. He found work with an insurance company using his bicycle to make the rounds. Mollie gave up appearing in shows; she now had a position at the Theatre Royal Booking Office, where she managed to get a part-time evening job for her husband.
Their first daughter was born on May 17, 1910, the night Halley's Comet was closest to the earth. .
He eventually got an appointment as civil servant at the Ordnance Depot at Island Bridge in Dublin in 1912, situated close to Phoenix Park, and every day Florrie would take his lunch basket, board a tramcar for the few miles, then walk through the park to meet him under a designated tree.
There was a tram strike in Dublin When the Royal Irish Constabulary arrived from the neighbouring counties, they used their batons and night sticks, Florrie was returning from a shopping tour when the cry of "Baton Charge" rang out. She ducked into a doorway of a dairy shop, but a tall constabulary man pulled her out and let her have it on the top of the head. This made Bob so mad that he got into action himself. The Irish Transport and General Workers Union had their hands full.
The Irish Worker printed the details from Liberty Hall, where James Connolly was editor and was setting about forming the "Citizens Army." They met and drilled at Liberty Hall. Bob went to see Connolly about joining, but he referred Bob to Tom Clarke of the Irish Republican Brotherhood. Clarke asked him to wait for the formation of the Irish Volunteers, a separate unit of men all united for the freeing of Ireland. These two armies fought side by side in 1916.
While at Island Bridge Bob took up the cause of the government workers—they were the poorest paid servants of the Crown. A union had been formed on both sides of the Irish Sea. The small printing press he had brought from Dundalk came into use again; some evenings a man from the Ordnance would come to the house to set type. They printed handbills for meetings, turned out letterheads, cards, invitations, and even Christmas cards. Bob eventually won them a good raise.
The Irish Volunteers drew up their manifesto in November, 1913, and Bob joined. He was elected Captain of A Co., 1st Battalion of the Dublin Brigade, and was given the job of drill instructor. Both the Citizens Army and the Volunteers drilled openly in the streets. The men marched and drilled, led by a piper for each unit. Some of the men were in Volunteer uniform, others had just a Sam Browne belt to identify them. The men could pay weekly for their outfits, if they could not afford to buy them outright. They also had to buy their own rifle.
September 29, 1913, their next daughter was born Patricia Alice Monteith
With England's entrance into World War I, August, 1914, recruiting for the British Army became a high priority for the government. According to his family's writings, the "Irish Command" (all British Military men) sent for Monteith offering him a commission in their forces. The first offer was to rejoin a mounted regiment, the second was to train the "Pal's Battalion" of Trinity College in Dublin, an outfit for officers only. When he turned them down, they resorted to bribery, telling him that Mrs. Monteith could have her own car and chauffeur, and maids for her children, and all the things that go with this exalted job. But what was the job? He would be given the recruiting of all Ireland. Bob said, "No, I have thrown in my lot with these boys in their fight for Irish freedom, and I am not going back on my word, ever."
Next day, the story he tells, he was dismissed from his post at the Ordnance Depot. He was not allowed to go back to his desk for his coat or pipe. An orderly was sent to fetch them, and he was escorted out the gate. Later that night two men from the G Division came to his house and read him a deportation order which stated that R. Monteith, of 6 Palmerston Place, Broadstone, Dublin, shall not, except with permission in writing from me or other competent Naval or Military authority, reside after twelve o'clock noon, on the 14th day of November, 1914, within the Metropolitan Police District of Dublin. That gave him thirty-six hours to get out of Dublin. On Saturday morning The O'Rahilly came with his car to drive the deportee to the designated border of the exclusion zone, Athy, Co. Kildare. After that he would be on his own. From here he went on to Limerick, where the Volunteers there were waiting to greet him as their new instructor. Bob plunged into the work of organizing and drilling.
On Sunday 2 July 1915 he wrote to his wife in Dublin that Tom Clarke and the Irish Republican Brotherhood in New York were making plans to send someone to Germany to command and instruct the newly formed Irish Brigade of Berlin. Roger Casement had done the spade work, and was now ill in a German hotel. Tom Clarke made a trip to Limerick to talk to Bob about going on this mission. But the problem was to get him out of Ireland? They hit upon a ruse, which was to make the authorities believe that he and his family were emigrating to the USA. They knew their letter were censored, so it was easy to set the plan up.
Then Bob applied for permission to leave Ireland with his family. The request was granted and he was allowed to go back to Dublin to make the necessary arrangements.He said goodbye to his family and went via Liverpool to New York, and his wife and family followed a few weeks later..Bob met them off the boat and took them by elevated tram up through Manhattan to the Bronx flat on 137th Street, which Bob had furnished during the two weeks he had been there. Bob had an two more weeks with his family before going to Germany (John Devoy of the Gaelic American paper had made all the necessary arrangements).
Monteith's diary records his leaving New York on 7 Oct 1915. He leaves New York as a stowaway on a Scandanavian ship, in the care of Christensen, who had a second class ticket. The ship was stopped and searched by the British as a matter of course – it was part of the blockade of Germany, but Monteith avoided detection and was able to get through to Germany and meet Casement. His journey lasted from 6 Oct 1915 to reaching Berlin on 23 Oct 1915.
1915 Oct 28 Casement writes to Wedel "If only I had an officer to take command most of my difficulties would disappear – but Mr Monteith will do in most respects to keep the camp in order. I am appointing him "pro tem" Commanding Officer of the Irish Corps"
1915 Nov 27. The German Foreign Office finally agreed to assign the command of the Irish Brigade to Monteith. Basically Monteith was not, in German eyes, a senior enough man for them to deal with on level terms. They believed that he had been a Sergeant-Major in the British army, whereas he had in fact only been a Corporal. And his recognition by the Germans seems to have been to Feldwebel-Leutnant a rank in the german army for veteran NCOs, that was commissioned, but below the rank of Lieutenant.
The diary records his first meetings with Casement and his trips to Zossen and Limburg.
By January 1916 Casement had disappeared to hospital, leaving Monteith in charge, and Monteith clearly did not feel up to the challenge, noting in his diary on 14 Jan 1916 Letter from Sir Roger Casement who informs me that he intends to see specialist this day. Return to Zossen and await S.R.C's. return to Hotel Golden Lion. He arrives about 8 p.m. looks rested. The specialist Dr. Oppenheim has ordered him to a sanitarium. This means that all devolves upon me. I am not up to my job
The diary stops daily entries from 17 Jan 1916 onwards From last date things have gone so oddly I could not attempt to keep a diary, and as things are here (as far as I am concerned) seem at an end. I will try to summarize events to date
1916 Mar 1. Monteith was summoned to General Staff in Berlin and was told of the Easter Rising and the German arms that were to be sent by sea to Ireland. Monteith informed Casement, who was motivated to leave his sick bed for Berlin. The Germans wanted to send Casement and all his 56 man Brigade to Ireland with the weapons, so ridding themselves of both Casement and his men. There was a few weeks of bad tempered negotiations between Casement and the German General Staff, as Casement thought the proposed Rising in Ireland was futile and did not wish to send the Irish brigade. Finally, and it is not clear why, the Germans agreed to provide a submarine to take Casement, Monteith and Bailey ( a sergeant in the Irish brigade) to Ireland ahead of the ship, the Aud, carrying the arms
1916 Mar 3. Monteith writes to Casement in Munich hospital begging Casement to return to Berlin. Reason not specified.. Casement replied asking Monteith to come to Munich.
1916 Mar. Rahilly writes At the end of March one of our sergeant's. Bailey, left for a special course of training in Berlin. Monteith went with him.
1916 Mar 28. Casement leaves Munich and meets Monteith in Berlin and tells Monteith that he had decided not to take the men to Ireland
They set off in the U-20 bound for Ireland on 11 April 1916, but technical problems forced the submarine to return to port. They transferred to the U-20 and set off again on 15 April 1916. The submarine reached Tralee Bay in Kerry on 21 April The reception committee from the Irish failed to materialise. About 2 a.m., Robert Monteith, Daniel Bailey (calling himself Beverly), and Casement climbed into a small boat for the trip to shore. Their boat capsized before they reached Banna Strand, near Tralee. Monteith helped an exhausted Casement to safety on shore. Casement was convinced that the Rising could not work without a large number of German troops, and the best he had been able to obtain was one boatload of arms. Leaving Casement at the ruins of McKenna's Fort, Monteith and Bailey headed for Tralee. About 1:30 p.m., Casement was discovered by two Royal Irish Constabulary officers. He nearly talked his way out of being arrested, but a 12-year-old boy at the scene pointed out a piece of paper Casement had tossed away as the police approached. On that paper was a German code list.
Monteith avoided capture, unlike his two companions, and in December 1916 was finally able to make his escape from Ireland to Liverpool, and then on to New York. The transatlantic journey he made using the false papers of a stoker, and acted that role, for which he was not physically capable, with difficulty. Eventually he was put on lighter work, and managed to get ashore in New York undetected.
The local Y.M.C.A. offered an auto-mechanic's course for fifty dollars, and Bob enrolled. At night he got jobs washing down taxicabs. That winter was the very devil; the sponge would freeze before he could get the water on the cars. When he qualified for repair work he got placed in shops around the neighbourhood, but he did not last long in any shop. The boss could not give any reason for firing him, just that a man had called at the office and told him not to keep Monteith. This went on through the winter. No one would tell him what was happening, until he worked for George Loring who operated a small auto repair shop. He liked Bob and made a friend of him; they went out on jobs together. Then came the day when a man called and ordered Loring to fire Monteith, and when he refused he was threatened. The Vigilantes had been at work ever since Bob had tried to make a living. In defying the order George Loring soon found himself running out of auto parts; the factories would not sell to him. Bob quit rather than ruin a friend's chances of making a success. He was out hunting some kind of work again.
One afternoon when he was returning from downtown, two men stepped out from the corner building, identified themselves as government officials, and asked Bob to accompany them downtown again. "What for?" he asked. "To answer a few questions," one man said. Then Bob asked for permission to go into his house and tell his wife, but that was denied (was this an arrest or not?). Before boarding the subway he stepped into a booth and phoned Mollie, telling her that he was being taken downtown by two men, the kind he had in Dublin, but she was not to worry. Arriving at the old post office building in the city hall, he was escorted to the room of the U. S. Department of Justice. Colonel Burke, his interrogator, asked all about the trip to Germany and the Irish Rebellion. Bob told them all they wanted to know (which must be on file), then the Colonel brought out a box of cigars and someone served cold drinks. The investigation turned into a visit. Before leaving, Colonel Burke said, "Let me congratulate you. You entered this country legally, then slipped out and in again, and no one can prove a thing."
The Irish Bond Issue was launched in New York, so Bob applied to headquarters for work was not successful in getting a job. He had to find small paying jobs to keep the wolf from the door. Then after the drive had been running for two years, De Valera came back to the United States to make personal appearances. Bob applied again, this time to the chief himself. De Valera welcomed his old captain who had drilled him in Dublin in 1914. Bob was added to the payroll as a canvasser and given Staten Island as his territory. His best help came from members of the O'Donovan-Rossa family who were natives of the island. He had squeezed $48,000 out of the little borough. When he made his reports to headquarters, they asked if he had shaken down the trees to get so much. He sold bonds next at Albany, the capital of New York and next in Ohio.
While there he was asked to organize the new group known as "The American Association for the Recognition of the Irish Republic." This group was listed as the A.A.R.I.R. The drive for membership for the "American Association for the Recognition of the Irish Republic" came to a close in 1922. His health was failing from the arduous campaigns; the old wound in the intestines felt like an ulcer. After some month's rest in the mountains he was ready to look for work again. He decided to try the auto factories, starting work at the Maxwell Motor Company. On one side street named Fernhill Avenue Bob found a nearly finished bungalow, so, putting a small down payment on it, he sent for his family.
When the Maxwell plant closed down for all time, Bob worked for the Packard Motor Company, testing leaking radiators and repairing them. From there he ran the gamut of all the factories: Cadillac, Dodge, Chevrolet, finally winding up at the Ford Company in Highland Park. He had learned something new at each factory so at Ford's he could tackle a number of jobs without training. Ford could always stay open when the other companies had to close. Family life was running smoothly now and the children's schooling was uninterrupted. In 1923, Bob received word that his mother had passed away in Wicklow at the age of seventy-six, and his father followed her in 1927 at the age of eighty. Ford did close with the Sock market Crash. When the stock market in Wall Street was getting back on its feet, Ford reopened. Bob was rehired with thousands of auto workers. He worked himself up to become foreman of the rust-proofing department at the River Rouge Division.
When the automobile workers of Michigan organized and formed a union, the Ford Company held out against this new idea. The men struck and not until the strike had lasted more than fourteen days did the company give in. Coming to terms with the union they reopened the factory. Bob now fought for "Social Justice for the Worker," then communism started to creep in and through the C.I.O. (Committee of Industrial Organizations).Due to Monteith's activities on behalf of the workers he was in the limelight, the daily papers printing anything they could get hold of. An interrogation by the Federal Bureau of Investigation appeared in Social Justice on January 27, 1941, as is reprinted here. The continual summoning to the F.B.I, office made Bob angry. He was supposed to have information about anyone arriving in Detroit from Germany or Ireland.
The Social Security Bill had been passed by the government. It meant that at the age of sixty-five a worker could retire on a pension, getting back the money he and his employer had put into the fund. It would make them independent dent. Mollie felt that if they were to retire together they should do so away from the growing city. After many Sundays they found a little house in Goodells, in the thumb of Michigan. They all liked it because it had sixty acres of timberland around it and the wildness appealed to Mollie. The house had only two-and-a-half rooms so they got it cheap. It had pos- sibilities. Bob longed for the day he would reach sixty-five to share the beauty with his wife. At present he could only spend week ends there. But eventually Bob and Mollie settled down to enjoy retirement.
Monteith then decided to return to Ireland. Anyone could see he was a sick man and all wondered if he could stand the trip. When Sean O'Scanlainn phoned to tell Bob that they had been booked on the U.S. Shooting Star to sail late in April, they were delighted. It had taken six weeks to get them on a ship for London, where they could entrain for the boat across the channel and land in Dublin. The Shooting Star, one of the fleet of Liberty Ships, had seen service in the Second World War and was now being operated by the United States Lines. It carried cargo to England and Bremerhaven and could accommodate a limited number of passengers. It sailed from Staten Island (reminding Bob of his daily ferry trips in 1920). The eleven passengers sat around the dining lounge getting acquainted. The four men drew lots for their bunks in the cabin allotted to them. Bob got the top bunk in the middle of the floor. The seven women had two cabins between them. The trip was unexciting until the Shooting Star docked in London, where three men came up the gangplank and asked for Captain Monteith. On being presented one man showed his credentials from Scotland Yard, then introduced the second man as from the press. Bob asked who the third man was. On being told that he was a taxi driver, Bob said, "What do I want with a taxi?" The Scotland Yard official said, "Taxis are hard to get. I brought him along to insure your getting to Euston Station in time for your train to the channel boat. You are not to sleep in England tonight."
The Monteiths, carrying traveling bags which slowed them down, did not get on board the boat to Ireland until every bed and chair had been taken. It was a haggard couple that the photographer snapped for the Irish press that May morning of 1947. As the boat docked at Dun Laoghaire (Kingstown), Mollie's sister's daughter Florence Brown and her husband Matt was waiting with his car. Matt drove them to the Dolphin Hotel in Dublin where breakfast had been arranged. When the breakfast was over a message was delivered to Bob from Premier De Valera, requesting them to call at Leinster House where he could greet them in person. Matt Brown drove them to Leinster House where the Premier awaited them. Bob sank into an easy chair, exhausted. He closed his eyes and wondered what the visit entailed. Mollie and De Valera chatted about everything and nothing. Seeing how tired Bob was he terminated the visit. Mollie had wanted to ask Dev about the letter he had written to Bob about coming home, in which he had tried to dissuade them from making the trip. He had written, "It is hard to transplant the Oak at seventy," and "I can't see why you are coming over here, there is nothing for you." Bob had written back, saying, "I am coming home un der my own steam. I ask nothing of any man."
They bought a house on Sea Road in Kilcoole. It was a big, rambling, one-storied house, sitting far back from the front lawn, and there was a large vegetable garden in the back. When living in Kilcoole Bob was much in demand to speak. When the winter of 1949 had passed and 1950 was well on its way, they decided that another season by the sea would kill them. They looked for a house in the city
April, 1950, Mollie accompanied her sick husband to Banna Strand in Kerry, where a committee awaited them. Bob was to point out the spot where he had landed with Sir Roger Casement.
Finally Bob gave in, and agreed to Mollie that he would return to the USA. The sale of the furnished house was left to Mollie. They secured him a cabin for two on the Irish Pine. This freighter would dock in Maryland, but Mollie, being a poor sailor, could not face fifteen days tossing around on the Atlantic in November weather. She booked passage on the U.S. America, knowing that there were doctors and nurses on hand in case her heart became worse. The house had been sold to friends and Bob stayed on until the date for departure. Mollie sailed before him.
With the coming of spring, Mollie went off on her own to find a small place where they could be alone again. She found a little four-room bungalow on the "wrong side of the tracks." The large garden caught her attention—a garden meant more to Mollie than a house, and she pictured Bob sitting under the big tree when the weather got fine. After his second trip to Royal Oak hospital, Pat insisted that the doctor tell her how long her father had to live—that was in June, 1955. The doctor said, "Perhaps a year, but I think it will not be longer than six months." She did not advance this information to her mother, but informed the rest of the family, who made visits as often as possible. Bob himself did not know that a time limit had been placed on his life.
On February 15, Mollie came home with a virus and the grippe. Bob put her to bed and dosed her with medicine, attending to the house himself. On Friday he continued to wait on Mollie, keeping her in bed. That night when he was going to his room he tripped on the rug beside his bed and lay there. He had pulled down the desk lamp on top of himself. Mollie jumped out of bed and rushed to his side. She could not lift him up. He asked her to let him lie where he had fallen. She put pillows around him, tucking him in with blankets, then placed a hot-water bag at his feet. He slept there all night. Next morning Pat got a phone call from her . He said, "Where are you?" She said, "I'm right here by your pillow." He muttered, "You would be," then turned his head back toward the wall and closing his eyes went into that deep sleep of eternity. The man who made this last journey into eternity with him was Sir T. Humphreys, the judge who sentenced Roger Casement to hang in 1916. They both were called home on February 18, 1956.
February 22, the day set aside to honour the birthday of George Washington, was also the day of the funeral. The Ford Motor Company sent a Lincoln car and chauffeur to drive the Consul to and from the cemetery. It may have been a tribute to the twenty years Bob had served that company. The six honorary pallbearers were some old-timers of the Gaelic League: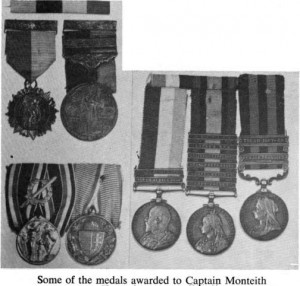 Monteith's medals were
Bottom left. Left hand of pair. The German Legion of Honour with Insignia for Combatant, these were unofficial awards bought by Prussian & Associated German States Veterans. It could be had by any German veteran who joined the Legion of Honour and met the criteria for award, non-Combatant versions had no insignia on the ribbon. Recipients had to pay for their medal themselves. I cannot see how Monteith qualified for this.
Bottom left, right hand of pair. Hungarian Commemorative Medal for Combatant in World War 1 issued under the Horthy Regime, this was issued upon meeting the similar criteria as the Hindenburg Cross for Germans, it was also issued to Germans, Bavarian's, Bulgarians etc..etc.. who had served on the Austro-Hungarian Front or with Austro-Hungarians on the Western Front. Note also the bayonets on the medal these are absent from the official non combatant version and the ribbon is different. I cannot see how Monteith qualified for this either.
Top left. left hand of pair. The Irish 1916 medal. This medal was created on 24th January 1941 and was presented to participants deemed to have taken part in the Rising in Dublin on Easter Monday 1916 and to members of Cumann na mBann who attended the casualties and also to rural units of the Irish Volunteers who were also involved and were later declared eligible for the award.
Top left, right hand of pair. On 21st January 1941, the Irish Government announced the creation of a medal for those who tool part in the War of Independence. Men with actual active and armed service such as the flying column's were issued with this medal with the additional 'Comrac' bar. Both versions are also known as the 'Black and Tan' medal or Irish War of Independence service medal.
Kings South Africa Medal with clasps for 1901 and 1902
Queen's South Africa Medal was awarded to military personnel who served in the Boer War in South Africa between 11 October 1899 and 31 May 1902. Monteith has with clasps for Cape Colony, Orange Free State, Relief of Ladysmith (28 February 1900), Tugela Heights (12-27 February 1900), Belfast (7 August 1900), Laing's Nek (12 June 1901),
India Medal with clasps for Punjab Frontier 1897/98, and Tirah 1897/98. The Tirah clasp was for all troops forming part of the Tirah Expeditionary Force, including Kurram Moveable Column and Peshawar Column.
1948 Dáil Éireann – Volume 110 – 05 May, 1948 Ceisteanna—Questions. Oral Answers. – Military Service Pensions Acts.
Mr. Keane asked the Minister for Defence whether he will introduce legislation amending the Military Service Pensions Acts to deal with the case of Captain Robert Monteith, who landed in Kerry with Sir Roger Casement in 1916, and who is debarred from enjoying full pension rights under the 1924 [1192] and 1934 Military Service Pensions Acts.
Dr. O'Higgins: Captain Robert Monteith is in receipt of a military service pension under the Military Service Pensions Act, 1934, based on the findings of the referee. The question of any amendments to that Act has not been fully considered.
Oddly Monteith never mentions meeting any of the Irish Brigade men after the war. Monteith was another man whom Zerhusen did not like. Zerhusen says Monteith did not contact him after the war, and adds that Monteith did not contact any of the Irish Brigade survivors after the war.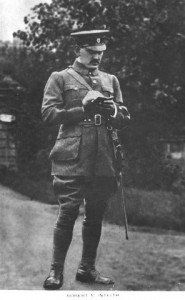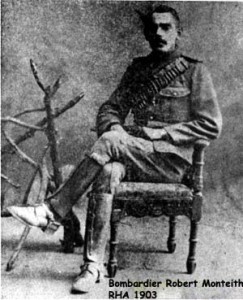 The Mystery Man on Banna Strand contains his diary and life written by his wife.
Administrators Note: Robert Monteith never referred to where he spent time in Co. Kildare or other locations whilst the authorities where looking for him, this was in order to protect those who kept him hidden and out of harms way.
Reading Material
Casements Last Adventure by Captain Robert Monteith
The Mystery Man of Banna Strand by Florence Monteith Lynch
Rebels – The Irish rising  of 1916 by Peter De Rosa.