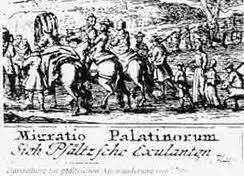 THE PALATINES
Prior to 1871, what is now Germany consisted of a number of separate states such as Wurttemberg, Prussia, Bavaria, etc., whose boundaries changed frequently as a
result of war and other causes. The Palantinate was one of these states, and was located along the Rhine, roughly corresponding to the modern German state of
Rhineland-Pfalz.
Palatines in Ireland
In 1709 several hundred Palatine families settled in Ireland. A combination of economic hardship causd by war and a severe winter led to the exodus. Queen Anne
received them in England and sent some to Ireland to the estates of sympathetic Protestant landlords. They established roots, mainly in the Rathkeale area of County
Limerick, Ireland, where about 1,200 of them settled on the estate of Thomas Southwell. Other colonies were set up in Old Ross and Gorey, County Wexford and in
Counties Cork and Dublin. Thought the Limerick Palatines spread out to other areas, particularly north Kerry and Tipperary, Rathkeale remained an important focal
point.
At Killaheen
The site of the old Wesleyan Chapel where the Palatines worshipped may be seen today, also some of the old Palatine houses. A most interesting item is an old
Palatine well. It consists of a trench cut into the ground deeper than the water table. The sides and the top are lined with stone and 18 stone steps lead down the clear
cold water. Several such wells are to be found in the locality but some have been partly filled in for safety purposes.
At Courtmatrix
The earliest of the original colonies, the present occupiers of a house built in the Palatine style – long and low – which once longed to the Teskey family can be found
with the interior which has been kept as close to its original condition as a modern lifestyle will permit. Behind the old Teskey home a carved stone cider press is
still in position under an old tree, an interesting validation of the fact that the Palatines brought stone-cutting and winemaking skills with them from Germany.
Ballingrane
The third of the parent colonies, ,is the place where the most famous Irish Palatines lived. Barbara Heck and Philip Embury were the founders of Methodism in the
USA, a denomination which now has a following of several million. Barbara Heck's old home is (1996) occupied by the family of Walter Ruttle, a Palatine
descendant and a member of the Irish Palatine Association. Nearby can be found a pear tree under which John Wesley used to preach and a plaque marking the site of
Philip Embury's home, long since demolished. A visit to Embury and Heck memorial church contains a horn blown by the burgermeister or Palatine leader to summon
general meetings in the early days of the colony.
Castle Matrix is the home of Thomas Southwell, the landlord who brought the Palatines to Limerick. This ancient Fitzgerald castle has been completely restored and
is occupied by the O'Driscoll family.
Some of the German-speaking people that came to North America did not come directly. Some Palatines spent time (from a few months to a few generations) in other
countries, including Ireland.
There is an Irish Palatine Heritage Centre in Rathkeale, (near Limerick and Adare),Co. Limerick, with extensive displays of artifacts, photographs, etc. associated
with the Palatine families Irish Palatine Museum and Heritage Centre
Palatines in North America
In 1710, three large groups of Palatines sailed from London. The first went to Ireland, the second to Carolina and the third to New York with the new Governor,
Robert Hunter. There were 3 000 Palatines on 10 ships that sailed for NY and approximately 470 died on the voyage or shortly after their arrival.
In NY, the Palatines were expected to work for the British authorities, producing naval stores [tar and pitch] for the navy in return for their passage to NY. They were
also expected to act as a buffer between the French and Natives on the northern frontier and the English colonies to the south and east.
Palatine family names
Altimes/Alton, Armentrout/Armantrout/Ermentraudt, Baker, Barkman/Bartman, Barraban, Benner, Bickerin, Bonus, Bovenizer, Bowen, Bower, Bredhour, Brough,
Cave, Cole, Cooke, Corneille, Cripps, Cronsberry, Delmege, Doupe, Drollinger/Trollinger/Trolinger/Trulinger/Drullinger, Embury, Everett, Filme, Fitzelle, Folker,
Grouse, Guier, Hartwick, Heavenor, Heck, Hibler, Hifle, Hoffman, Hoopf, Hoost, Laurence, Legear, Lodwick/Ludwig, Lowe, Lower, Lowes, Mick, Miller, Modler,
Neazor, Piper, Poff, Richardt, Rodenbecker, Ruttle, Rynard, Ryner, Schmidt/Smyth, Shallas, Sheafer, Shearman, Shimmel, Shire/Shier, Shoemaker, Shoneweiss,
Shouldice, Siebert, Singer, Smeltzer, Sparlng/Sparling, St. John, Steevell, Steepe, Stork/Stark, Stroud, Switzer, Teskey, Tettler/Detlor, Ushelbaugh, Young and Zigler.
Altimus/Altimes, Ashbagh, Baker/Becker, Barklotine, Beever, Berg/Berge, Berner/Bearney, Bisherne, Boller, Crouse, Crow/Crowe, Fock/Fought, Fugenacht,
Glazier/Gleasure, Golliday, Green, Hartwick/ Hartrick, Hess, Hoffman, Holbach, Hornick/Horn, Jacobus/Jacob, Jekyll/Jeakle, Johan, Kirkhover, Klein/Kline,
Konig/Koning, Kough/Cooke, Lambert, Long, Ludolf/Ludolt, Meyer/Myers, Miller, Nichburne, Paul, Poole, Rapple, Real/Ruhl, Reessnagh/Rufenacht, Reuling,
Rhinehart, Richardt/Richard, Rosine/Rosen, Ross/Rose, Ryling, Schmidt/Smyth, Schultz/Sultz, Sheafer, Snitzerling, Staler, Steeble, Stengel/Stingill, Strosser, Swartz,
Tyse/Twiss, Walter/Weiss, Wise, Wentz, Wolf, Writer/Rieter, and Young.
The Invisible Irish Woman and Methodism
Augusta township Canada 1804
Barbara Heck came to via England from the Rhine river Palatinate along with 1000 other to avoid persecution of Protestants mainly Lutherans'. The group became known as Palatines. Many came in to England and the United Stated but two hundred families settled in the Adare and Ballingran areas of County Limerick in Ireland. Even today in 2014 descendants still live, work and worship in the Methodist church in Adare with Ballingran.
It was during John Wesley's visit in 1748 Barbara Heck converted to Methodism which included most of the group. She and her family immigrated to the United States where she is seen as the mother of Methodism in that county. She hated the tag that was attached to her, she was of course a catalyst for the Methodist church being established in both America and Canada.
For an insight into the Irish Palatines read People make places by Patrick J O'Connor
The name "Barkman" came to England when the ancestors of the Barkman family arriverd in 1066 at the Norman Conquest.
The mainly lived in several places of the name in the counties Middlesex and Kent in England. Having derived from the Old English word boerg, meaning hill, and ham, meaning homestead.
Spelling variations are as follows: Barham, Bareham, Barrham, Braham, Bearham, Bereham and many more. The name is fist found in Kent, where Barham is a village and civil parish of Canterbury. It was listed as Biorham iun 799 and later Bercdham in the Domesday Book.
The first recorded of the surname was Warine de Berham as holding lands in Kent in 1203.
To escape th political & religious uncertainty found in England, many English families boarded ships to sail for the colonies of Britian. Those that survived the journey were rewarded with land, opportunity and social environment less prone to religious and political persecution. Many of the families went to Canada and the United States.
However other Barkman families came from Germany.
Updated Civil Lists March 2017
Barkham Anna Maria 1837 1918 1918  Deaths 1864 – 1958 Larne  Antrim
Barkman Amelia  1846   Marriages 1619-1898 Limerick
Barkman Amelia  1846  Marriages 1845-1958 Rathkeale
Barkman Amy Florence  1918  Marriages 1845-1958 Dublin South
Barkman Amy Florence 1891 — 1891  Births 1864-1958 Croom  Limerick
Barkman Ann Rebecca  1882  Marriages 1845-1958 Croom
Barkman Anna Mary 1893 — 1893  Births 1864-1958 Croom  Limerick
Barkman Anne Rebekah 1857 — 1857    Non-Conformist Births & Baptisms Limerick
Barkman Beatrice Jane 1912 — 1912  Births 1864-1958 Croom  Limerick
Barkman Beatrice  1933  Marriages 1845-1958 Croom
Barkman Bessie Marion 1895 — 1895  Births 1864-1958 Croom  Limerick
Barkman Bessie Marrion  1922  Marriages 1845-1958 Croom
Barkman Charlotte Hilda  1915  Marriages 1845-1958 Croom
Barkman Charlotte Hilda 1886 — 1886  Births 1864-1958 Croom  Limerick
Barkman Charlotte  1846   Marriages 1619-1898 Limerick
Barkman Charlotte  1846  Marriages 1845-1958 Rathkeale
Barkman Charlotte 1865 1952 1952  Deaths 1864 – 1958 Croom  Limerick
Barkman Denise F 1945 — 1945  Births 1864-1958 Limerick  Clare
Barkman Doris 1938 — 1938  Births 1864-1958 Cork
Barkman Easter Florence 1860 — 1860    Non-Conformist Births & Baptisms Limerick
Barkman Eliza  1834   Marriages 1619-1898 Limerick
Barkman Elizabeth  1882  Marriages 1845-1958 Kilmallock
Barkman Elizabeth 1846 — 1846    Non-Conformist Births & Baptisms Limerick
Barkman Eric N 1948 — 1948  Births 1864-1958 Limerick  Clare
Barkman Esther Florence  1881  Marriages 1845-1958 Cork
Barkman Esther Florence 1901 — 1901  Births 1864-1958 Croom  Limerick
Barkman Ethel Florence  1925  Marriages 1845-1958 Dublin South
Barkman Ethel Florence 1894 — 1894  Births 1864-1958 Croom  Limerick
Barkman Florence E  1955  Marriages 1845-1958 Dublin South
Barkman Florence Elizabeth 1919 — 1919  Births 1864-1958 Croom  Limerick
Barkman Frederick Marshal 1905 — 1905  Births 1864-1958 Croom  Limerick
Barkman Frederick Marshall  1937  Marriages 1845-1958 Tralee
Barkman Frederick W 1864 1954 1954  Deaths 1864 – 1958 Croom  Limerick
Barkman Frederick William  1883  Marriages 1845-1958 Croom
Barkman George  1837   Marriages 1619-1898 Limerick
Barkman Gulielmus  1842   R.C. Parish Baptisms Kilfinane  Limerick
Barkman Gwendoline A 1950 — 1950  Births 1864-1958 Limerick  Clare
Barkman Harold P  1949  Marriages 1845-1958 Tralee
Barkman Harold Peter 1909 — 1909  Births 1864-1958 Croom  Limerick
Barkman Jacob  1852   Marriages 1619-1898 Cork
Barkman Jacob  1852  Marriages 1845-1958 Kinsale
Barkman James Leskey 1871 — 1871  Births 1864-1958 Croom  Limerick
Barkman James Teskey 1872 1943 1943  Deaths 1864 – 1958 Cork
Barkman James Teskey 1888 1898 1898  Deaths 1864 – 1958 Croom  Limerick
Barkman Jane 1883 1953 1953  Deaths 1864 – 1958 Rathdown  Dublin
Barkman Johana  1843   R.C. Parish Baptisms Kilfinane  Limerick
Barkman John James 1857 1878 1878  Deaths 1864 – 1958 Limerick  Clare
Barkman John Thomas 1850 — 1850    Non-Conformist Births & Baptisms Limerick
Barkman John  1840   Marriages 1619-1898 Limerick
Barkman John  1856    Non-Conformist Births & Baptisms Limerick
Barkman Julius 1848 — 1848    Non-Conformist Births & Baptisms Limerick
Barkman Kenneth J 1939 — 1939  Births 1864-1958 Croom  Limerick
Barkman Lilian Marie  1918  Marriages 1845-1958 Croom
Barkman Lillian Marie 1898 — 1898  Births 1864-1958 Croom  Limerick
Barkman Lucinda 1831 1907 1907  Deaths 1864 – 1958 Croom  Limerick
Barkman Marianne 1861 — 1862    Non-Conformist Births & Baptisms Limerick
Barkman Martha 1827 1902 1902  Deaths 1864 – 1958 Croom  Limerick
Barkman Mary  1867   R.C. Parish Marriages Youghal  Cloyne  Cork
Barkman Maude Teskey 1885 — 1885  Births 1864-1958 Croom  Limerick
Barkman Mervyn R 1953 — 1953  Births 1864-1958 Limerick  Clare
Barkman Pamela M 1936 — 1936  Births 1864-1958 Croom  Limerick
Barkman Peter D 1941 — 1941  Births 1864-1958 Limerick  Clare
Barkman Peter James 1846 — 1846    Non-Conformist Births & Baptisms Limerick
Barkman Peter  1783   Marriages 1619-1898 Limerick
Barkman Peter  1855   Marriages 1619-1898 Limerick
Barkman Peter  1855  Marriages 1845-1958 Rathkeale
Barkman Peter 1785 1869 1869  Deaths 1864 – 1958 Croom  Limerick
Barkman Peter 1829 1905 1905  Deaths 1864 – 1958 Croom  Limerick
Barkman Rebecca 1787 1865 1865  Deaths 1864 – 1958 Croom  Limerick
Barkman Richard  1845   Marriages 1619-1898 Limerick
Barkman Richard  1854   R.C. Parish Baptisms Tralee  Kerry
Barkman Richard  1908  Marriages 1845-1958 Listowel
Barkman Richard 1865 — 1865  Births 1864-1958 Croom  Limerick
Barkman Richard 1866 1952 1952  Deaths 1864 – 1958 Croom  Limerick
Barkman Robert James 1910 — 1910  Births 1864-1958 Croom  Limerick
Barkman Robert James 1911 1919 1919  Deaths 1864 – 1958 Limerick  Clare
Barkman Robert 1869 — 1869  Births 1864-1958 Croom  Limerick
Barkman Robert 1869 1877 1877  Deaths 1864 – 1958 Croom  Limerick
Barkman Stanley R 1916 — 1916  Births 1864-1958 Croom  Limerick
Barkman Stanley Richard  1948  Marriages 1845-1958 Croom
Barkman Valerie M 1939 — 1939  Births 1864-1958 Limerick  Clare
Barkman William Henry  1889  Marriages 1845-1958 Rathkeale
Barkman William Henry 1858 — 1858    Non-Conformist Births & Baptisms Limerick
Barkman William John  1935  Marriages 1845-1958 Newcastle
Barkman William  1840   Marriages 1619-1898 Limerick
Barkman William 1904 — 1904  Births 1864-1958 Croom  Limerick
Barkman Records from Civil Record Lists
Note Letter b = birth year Letter d = death year
Town address show denotes Registration District Office
Irish Petty Sessions Court Registers 1828 1912 Cork
Barkman Anne 1874
Barkman Anne 1875
Cork
Births from Civil Lists
Doris Barkman in 1938 ID 5184453 Cork Mother's Birth Surname Kennedy
Ellis Nicola on 24 July 1970 ID 3369559 Bantry Mother's Birth Surname Barkman
Thorpe Brian in 1931 ID 5376236 Cork Mother's Birth Surname Barkman
Thorpe Derek in 1930 ID 5450340 Cork Mother's Birth Surname Barkman
Marriages from Civil Lists
Esther Florence Barkman in 1881 Cork Page No 53
Jacob Barkman in 1852 Kinsale
Deaths from Civil Lists
Esther Florence Barkman in 1881 Cork Page No 53
James Barkman in 1943 ID 2239868 Cork Died aged 71
James Teskey Barkman b 1872 d 1943 Cork
Dublin
Births from Civil Lists
Cameron Amy on 14 October 1918 ID 1552265 Dublin Mother's Birth Surname Barkman
Cameron William on 02 September 1920 ID 1744761 Dublin Mother's Birth Surname Barkman
McCrum Audrey on 29 January 1924 ID 1999493 Dublin Mother's Birth Surname Barkman
McCrum Leslie on 23 April 1916 ID 1331153 Dublin Mother's Birth Surname Barkman
McCrum Unknown on 18 March 1920 ID 1744038 Dublin Mother's Birth Surname Barkman
Dublin
Marriages from Civil Lists
Amy Barkman & William Cameron on 12 September 1918 ID 1801405 Dublin North
Eric Barkman and Suzanne Cockram on 01 May 2004 ID 997380 Dublin
Ethel Barkman and David Thorpe on 18 August 1925 ID 1278593 Dublin
Ethel Barkman and David Thorpe on 18 August 1925 ID 1278638 Dublin
Ethel Barkman and David Thorpe on 18 August 1925 ID 1278593 Dublin
Ethel Barkman and David Thorpe on 18 August 1925 ID 1278638 Dublin
Ethel Florence Barkman 1925 Dublin South
Florence Barkman and Herbert Lewis on 05 July 1955 ID 909266 Dublin
Florence E Barkman 1955 Dublin South
Pamela Barkman & Arthur Probert on 27 August 1960 ID 821996 Dublin
Deaths from Civil Lists
Jane Barkman in 1953 ID 1981294 Rathdown Died aged 70
Co Kerry Parish Church Records 
Baptism of
William Barkman of Tralee on 19 April 1852 Tralee Kerry (COI) Y
Jane Barkman of Tralee on 7 February 1851 Tralee Kerry (COI)
Anna Rebecca Barkman of Listowel on 7 May 1861 Listowel Kerry (COI)
Richard Barkman of Blennerville on 5 August 1854 Tralee Kerry (RC)
Marriages from Civil Lists
Frederick Barkman and Susan Blennerhassett on 07 September 1937 ID 1405436 Tralee
Harold P Barkman and Katherine Pollard on 23 February 1949 ID 1117141 Tralee
Peter Barkman & Irene Hoffman on 20 April 1968 ID 104837 Tralee
Richard Barkman and Jane Fitzell on 22 September 1908 ID 2056175 Tralee
Griffith's Valuation 1847-1864 Tralee Kerry
Barkman William 1853
Irish Petty Sessions Court Registers 1828-1912 Kerry
Barkman William 1855
Barkman Wm 1859
Barkman Wm 1860
Co Limerick
Griffith's Valuation 1847-864
Barkman Catherine 1852 Kilfinnane
Barkman Charles 1852 Kilflyn
Barkman George 1852 Kilflyn
Barkman Henry 1852 Kilfinnane
Barkman John 1850 Adare
Barkman Peter 1851 Adare
Barkman Samuel 1852 Kilfinnane
Barkman Samuel Henry 1852 Kilfinnane
Barkman Richard 1850 Adare
Guy's Directory of Munster 1893 Limerick
Barkman F W 1893
Barkman Peter 1893
Slater's Royal National Directory of (1894) Limerick
Barkman Fredk 1894
Barkman John 1846
Barkman Peter 1870
Barkman Peter 1881
Barkman Peter 1894
Irish Petty Sessions Court Registers 1828-1912 Limerick
Barkman Fredrick 1908
Barkman Peter 1863
Barkman Peter 1869
Barkman Richard 1909
Barkman Richard 1910
Barkman Richd 1910
Barkman Wm 1908
The William Smith O'Brien Petition 1848-49 Limerick
Barkman John 1848
Barkman Samuel 1848
Limerick
Births from Civil Lists
Alison Barkman on 09 October 1974 ID 3588038 Limerick Mother's Birth Surname Hoffman
Amy Florence Barkman in 1891 ID 10566921 Croom
Anna Mary Barkman in 1893 ID 10526760 Croom
Beatrice Barkman on 19 November 1912 ID 1025275 Croom Mother's Birth Surname Fitzell
Bessie Marion Barkman in 1895 ID 10184878 Croom
Charlotte Hilda Barkman in 1886 ID 11098263 Croom
David Barkman on 25 January 1980 ID 3800284 Limerick Mother's Birth Surname McSweeney
Denise F Barkman in 1945 ID 5962888 Limerick Mother's Birth Surname Blennerhassett
Dermot Barkman on 06 May 1979 ID 3726691 Limerick Mother's Birth Surname Hoffman
Eric Barkman on 26 May 1975 ID 4404105 Limerick Mother's Birth Surname McSweeney
Eric N Barkman in 1948 ID 6161338 Limerick Mother's Birth Surname Blennerhassett
Esther Florence Barkman on 05 May 1901 ID 145653 Croom Mother's Birth Surname Shire
Ethel Florence Barkman in 1894 ID 11439704 Croom
Florence Elizabeth Barkman on 03 July 1919 ID 1685589 Croom Mother's Birth Surname Fitzell
Frederick Barkman on 08 May 1905 ID 460155 Croom Mother's Birth Surname Hill
Frederick Marshall Barkman on 08 May 1905 ID 460155 Croom Mother's Birth Surname Hill
Gwendoline A Barkman in 1950 ID 5995174 Limerick Mother's Birth Surname Pollard
Harold Peter Barkman on 14 August 1909 ID 878790 Croom Mother's Birth Surname Fitzell
James Leskey Barkman in 1871 ID 11688715 Croom
Jennifer Barkman on 23 April 1971 ID 3234726 Limerick Mother's Birth Surname Hoffman
Kenneth J Barkman in 1939 ID 4843883 Croom Mother's Birth Surname Kennedy
Lilian Marie Barkman in 1898 ID 11267328 Croom
Lucinda Barkman in 1890 ID 9687873 Croom
Lynn Barkman on 03 March 1969 ID 3096812 Limerick Mother's Birth Surname Hoffman
Maude Teskey Barkman in 1885 ID 10959283 Croom
Mervyn R Barkman in 1953 ID 6193755 Limerick Mother's Birth Surname Pollard
Pamela M Barkman in 1936 ID 5282980 Croom Mother's Birth Surname Kennedy
Peter D Barkman in 1941 ID 5566912 Limerick Mother's Birth Surname Blennerhassett
Richard Barkman in 1865 ID 7436793 Croom
Robert Barkman in 1869 ID 7864550 Croom
Robert James Barkman on 16 August 1910 ID 816878 Croom Mother's Birth Surname Fitzell
Sarah Barkman on 03 September 1978 ID 3656586 Limerick Mother's Birth Surname McSweeney
Stanley R Barkman on 19 September 1916 ID 1391130 Croom Mother's Birth Surname Fitzell
Valarie M Barkman in 1939 ID 5117005 Limerick Mother's Birth Surname Blennerhassett
William Barkman on 13 March 1904 ID 4744045 Croom Mother's Birth Surname Shine
Cox Lily on 21 November 1918 ID 1558518 Limerick Mother's Birth Surname Barkman
Wakefield Doris on 07 August 1922 ID 1849648 Croom Mother's Birth Surname Barkman
Wakefield Violet on 07 August 1922 ID 1849758 Croom Mother's Birth Surname Barkman
Marriages from Civil Lists
Alison Barkman & James McSweeney on 05 September 2002 ID 140601Limerick
Amelia Barkman 1846 Rathkeale
Amelia Barkman in 1846 Rathkeale
Ann Rebecca 1882 Croom
Ann Rebecca Barkman in 1882 Croom
Ann Rebecca Barkman in 1882 Croom Page No 127
Beatrice Barkman 1933 Croom
Beatrice Barkman 1933 Croom
Beatrice Barkman and Edwin Squire on 05 September 1933 ID 1165500 Croom
Beatrice Barkman and Edwin Squire on 05 September 1933 ID 1210278 Croom
Bessie Marion Barkman and Herbert Cox on 04 March 1922 ID 1282449 Croom
Charlotte 1846 Barkman Rathkeale
Charlotte Hilda Barkman Samuel McCrum on 23 June 1915 ID 1733084 Croom
Charlotte Hilda Barkman 1915 Croom
Elizabeth 1882 Barkman Kilmallock
Eric Barkman & Juliette McSweeney on 23 September 1973 ID 369828 Limerick
Frederick William Barkman in 1883 Croom Page No 129
Jennifer Barkman & Harvey Lister on 16 October 1999 ID 231244 Limerick
Jennifer Barkman & Harvey Lister on 16 October 1999 ID 231323 Limerick
Liliian Marie Barkman & Herbert Cox on 03 July 1918 ID 1801406 Croom
Lynn Barkman Jonothan Boyle on 04 October 1996 ID 225646 Limerick
Peter Barkman in 1855 Rathkeale
Stanley Barkman & Josephine Clarke on 05 January 1948 ID 1024810 Croom
Stanley Richard Barkman 1889 Rathkeale
Valerie Barkman & William Ellis on 21 May 1967 ID 259712 Croom
William Henry Barkman in 1889 Rathkeale Page No 249
William John Barkman 1935 Newcastle
Deaths from Civil Lists
Charlotte Barkman b 1865 d 1952 Croom
Charlotte Barkman in 1952 ID 1987797 Croom Age at Deaths from Civil Lists87
Denise Barkman in 2011 ID 3154321 Limerick Age at Deaths from Civil Lists66 Single
Eric Barkman in 1988 ID 1040408 Rathkeale Age at Deaths from Civil Lists83 Widowed
Eric Barkman in 1996 ID 842141 Limerick Age at Deaths from Civil Lists47 Married
Frederick Barkman in 1954 ID 2600316 Croom Age at Deaths from Civil Lists90
Frederick W Barkman b 1864 d 1954 Croom
Irene Barkman in 1992 ID 712622 Croom Age at Deaths from Civil Lists53 Married
James Teskey Barkman b 1888 d 1898 Croom
James Teskey Barkman in 1898 Croom Age at Deaths from Civil Lists10
John James Barkman in 1878 Limerick Age at Deaths from Civil Lists21
John James Barkman b 1857 d 1878 Limerick
Lucinda Barkman b 1831 d 1907 Croom
Lucinda Barkman in 1907 District Croom Age at Deaths from Civil Lists76
Martha Barkman b 1827 d 1902 Croom
Martha Barkman in 1902 District Croom Age at Deaths from Civil Lists75
Peter Barkman b 1785 d 1869 Croom
Peter Barkman b 1829 d 1905 Croom
Peter Barkman in 1869 Croom Age at Deaths from Civil Lists84
Peter Barkman in 1905 Croom Age at Deaths from Civil Lists76
Rebecca Barkman b 1787 d 1865 Croom
Rebecca Barkman in 1865 Croom Age at Deaths from Civil Lists78
Richard Barkman b 1866 d 1952 Croom
Richard Barkman in 1952 ID 1885246 Croom Age at Deaths from Civil Lists86
Richard Barkman in 1952 ID 1987304 Croom Age at Deaths from Civil Lists86
Robert Barkman b 1869 d 1877 Croom
Robert Barkman in 1877 Croom Age at Deaths from Civil Lists8
Robert James Barkman b 1911 d 1919 Limerick
Robert James Barkman in 1919 Limerick Age at Deaths from Civil ListsN/R
Stanley Barkman in 2009 ID 3085783 Limerick Age at Deaths from Civil Lists92 Married
Susan Barkman in 1986 ID 1181274 Croom Age at Deaths from Civil Lists83 Married
George Bassett Limerick City and County and Principal Towns in the Counties of Clare Tipperary and Kerry (1881) Limerick
Peter Barkman 1880
Tipperary
Marriages from Civil Lists
Peter Barkman & Margaret Stepleton on 09 September 1997 ID 263807 Thurles