THORNHILL RECORDS – FROM CIVIL LISTS,  
PARISH CHURCH RECORDS
PRISON RECORDS,
GRIFFITHS VALUATIONS,
                                                      PETTY COURTS.                                                        
 LANDED ESTATES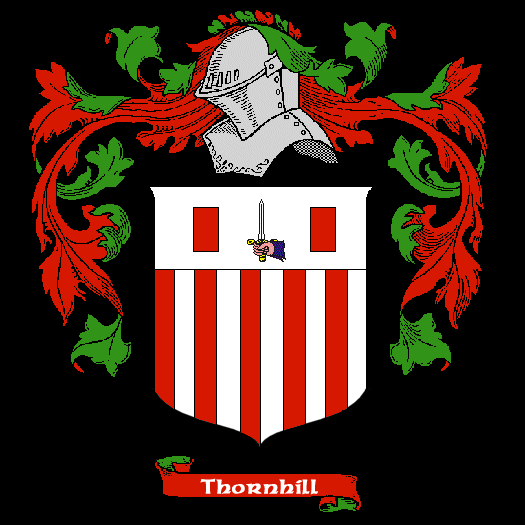 THORNHILL
The name Thornhill in Ireland is usually of immigrant origin and is most often found in Counties Cork and Limerick. This name was also introduced by settlers from England into Ulster Province, especially during the seventeenth century.
Meaning of Symbols & Colors on the Thornhill Coat of Arms
Argent/White or Silver Denotes Peace and Sincerity.
Gules/Red 'The Martyr's colour', signifies Military Fortitude and Magnanimity.
Chief Dominion, authority, wisdom, achievement in battle
Sword Symbol of Government and Justice
Records from Civil Lists for Births, Marriages & Deaths updated March 2017
Adam Thornhill 1797 1880 1880 Deaths 1864 – 1958 Croom Limerick
Adam Thornhill 1876  Original Will Registers 1858-1920
Adelaide Barham Thornhill 1861 Marriages 1845-1958 Strabane
Adelaide Okthbert Thornhill 1866 R.C. Baptisms St. Finbarr's (South) Cork City Cork and Ross Cork
Adelaide Thornhill 1863 R.C. Baptisms Rathmines Dublin City Dublin
Aine Thornhill 1951 Births 1864-1958 Limerick Clare
Aldworth Thornhill 1754 Diocesan And Prerogative Marriage Licence Bonds Indexes 1623-1866
Alexander Thornhill 1846 1906 1906 Deaths 1864 – 1958 Limerick Clare
Alice A Thornhill 1951 Births 1864-1958 Cork
Alice Thornhill 1820 Diocesan And Prerogative Marriage Licence Bonds Indexes 1623-1866
Alice Thornhill 1845 Diocesan And Prerogative Marriage Licence Bonds Indexes 1623-1866
Alice Thornhill 1845 Marriages 1845-1958 Fermoy
Alice Thornhill 1853 1876 1876 Deaths 1864 – 1958 Dublin North Dublin
Alicia Thornhill 1833 Diocesan And Prerogative Wills & Administrations Indexes 1595-1858
Alicia Thornhill 1833 Index Of Wills 1484-1858
Amelia Thornhill 1864 Births 1864-1958 Cork
Amelia Thornhill 1882 Marriages 1845-1958 Cork
Anastasia Thornhill 1860 R.C. Marriages Glanworth and Ballindangan Cloyne Cork
Ann Mary Thornhill 1886 Births 1864-1958 Kilmallock Cork
Ann Thornhill 1792 Diocesan And Prerogative Wills & Administrations Indexes 1595-1858
Ann Thornhill 1795 Diocesan And Prerogative Marriage Licence Bonds Indexes 1623-1866
Ann Thornhill 1833 Diocesan And Prerogative Marriage Licence Bonds Indexes 1623-1866
Ann Thornhill 1834 Diocesan And Prerogative Marriage Licence Bonds Indexes 1623-1866
Ann Thornhill 1838 Diocesan And Prerogative Marriage Licence Bonds Indexes 1623-1866
Ann Thornhill 1839 R.C. Baptisms Glanworth and Ballindangan Cloyne Cork
Ann Thornhill 1844 Diocesan And Prerogative Marriage Licence Bonds Indexes 1623-1866
Anna J Thornhill 1936 Marriages 1845-1958 Fermoy
Anna Maria Thornhill 1834 1917 1917 Deaths 1864 – 1958 Ardee Louth
Anna Thornhill 1871 R.C. Baptisms Kilfinane Limerick
Anna Thornhill 1879 R.C. Baptisms Kilfinane Limerick
Anne E Thornhill 1952 Births 1864-1958 Dublin South Dublin
Anne F Thornhill 1937 Births 1864-1958 Limerick Clare
Anne Marjory Thornhill 1883 Births 1864-1958 Dublin South Dublin
Anne Mary Thornhill 1883 R.C. Baptisms St. Mary's (Pro-Cathedral) Dublin City Dublin
Anne Thornhill 1771 Tipperary Clans Archive Cork
Anne Thornhill 1774 1874 1874 Deaths 1864 – 1958 Kilmallock Cork
Anne Thornhill 1792 Sir Arthur Vicars Index To The Prerogative Wills Of  1536-1810 And Supplement (1914)
Anne Thornhill 1797 1875 1875 Deaths 1864 – 1958 Mitchelstown Cork
Anne Thornhill 1807 Diocesan And Prerogative Marriage Licence Bonds Indexes 1623-1866
Anne Thornhill 1812 R.C. Marriages Kilnamartyra Cloyne Cork
Anne Thornhill 1833 R.C. Marriages St. Michael's Limerick City Limerick
Anne Thornhill 1848 1881 1881 Deaths 1864 – 1958 Claremorris Mayo
Anne Thornhill 1871 Births 1864-1958 Kilmallock Cork
Anne Thornhill 1914 Births 1864-1958 Fermoy Cork
Annie Thornhill 1859 1883 1883 Deaths 1864 – 1958 Dublin North Dublin
Annie Thornhill 1865 1939 1939 Deaths 1864 – 1958 Cork
Annie Thornhill 1881 Marriages 1845-1958 Limerick
Annie Thornhill 1883 Births 1864-1958 Dublin North Dublin
Annie Thornhill 1899 Marriages 1845-1958 Limerick
Annie Thornhill 1909 Marriages 1845-1958 Dublin South
Annie Thornhill 1931 Marriages 1845-1958 Fermoy
Anthony Dyer Thornhill 1846 Marriages 1845-1958 Middleton
Anthony Thornhill 1850 Marriages 1619-1898 Cork
Arabella Thornhill 1835 Diocesan And Prerogative Marriage Licence Bonds Indexes 1623-1866
Arthur Thornhill 1832 Diocesan And Prerogative Wills & Administrations Indexes 1595-1858
Arthur Thornhill 1832 Index Of Wills 1484-1858
Arthur Thornhill 1872 Births 1864-1958 Fermoy Cork
Arthur Thornhill 1878 Births 1864-1958 Kilmallock Cork
Arthur Thornhill 1924 Births 1864-1958 Fermoy Cork
Arthurus Thornhill 1878 R.C. Baptisms Kilfinane Limerick
Barbara Thornhill 1839 Diocesan And Prerogative Marriage Licence Bonds Indexes 1623-1866
Barbara Thornhill 1849 Diocesan And Prerogative Wills & Administrations Indexes 1595-1858
Barry Badham Thornhill 1917 Births 1864-1958 Dublin South Dublin
Barry Badham-Thornhill 1917 Births 1864-1958 Dublin South Dublin
Bartholomew Thornhill 1911 Births 1864-1958 Kinsale Cork
Bartholomew Thornhill 1954 Marriages 1845-1958 Cork
Bartholomew Thornhill 1957 Births 1864-1958 Mallow Cork
Bernadette O Thornhill 1958 Births 1864-1958 Skibbereen Cork
Bertridge Badham Thornhill 1832 Tipperary Clans Archive
Bertridge Badhm Thornhill 1839 Index Of Wills 1484-1858
Betridge B Thornhill 1840 Diocesan And Prerogative Wills & Administrations Indexes 1595-1858
Breeda M Thornhill 1944 Marriages 1845-1958 Kilmallock
Bridget M Thornhill 1945 Births 1864-1958 Cork
Bridget M Thornhill 1948 Births 1864-1958 Fermoy Cork
Bridget Thornhill 1850 1905 1905 Deaths 1864 – 1958 Mallow Cork
Bridget Thornhill 1851 1927 1927 Deaths 1864 – 1958 Kilmallock Cork
Bridget Thornhill 1866 Births 1864-1958 Mitchelstown Cork
Bridget Thornhill 1881 1927 1927 Deaths 1864 – 1958 Kilmallock Cork
Bridget Thornhill 1889 Births 1864-1958 Mallow Cork
Bridget Thornhill 1890 1914 1914 Deaths 1864 – 1958 Limerick Clare
Bridget Thornhill 1890 1926 1926 Deaths 1864 – 1958 Kilmallock Cork
Bridget Thornhill 1890 1940 1940 Deaths 1864 – 1958 Mallow Cork
Bridget Thornhill 1891 Births 1864-1958 Skibbereen Cork
Bridget Thornhill 1911 Births 1864-1958 Mallow Cork
Bridget Thornhill 1914 Births 1864-1958 Mallow Cork
Bridget Thornhill 1918 Births 1864-1958 Belmullet Mayo
Bridget Thornhill 1920 Births 1864-1958 Cork
Bridget Thornhill 1926 Births 1864-1958 Kilmallock Cork
Bridget Thornhill 1944 Marriages 1845-1958 Belmullet
Bridgid A Thornhill 1955 Births 1864-1958 Cork
Brigid F Thornhill 1951 Births 1864-1958 Dungarvan Waterford
C M M Thornhill 1904 Births 1864-1958 Mitchelstown Cork
Thornhill 1836 Index Of Wills 1484-1858
Carey J Thornhill 1887 Marriages 1845-1958 Cork
Carey J Thornhill 1941 Births 1864-1958 Fermoy Cork
Carey Thornhill 1860 1949 1949 Deaths 1864 – 1958 Fermoy Cork
Carey Thornhill 1895 Births 1864-1958 Mitchelstown Cork
Carey V Thornhill 1928 Marriages 1845-1958 Fermoy
Caroline B Thornhill 1799 Diocesan And Prerogative Marriage Licence Bonds Indexes 1623-1866
Cate Thornhill 1825 R.C. Baptisms Annakissy Cloyne Cork
Cath Thornhill 1832 R.C. Baptisms Boherlahan Cashel and Emly Tipperary
Cath Thornhill 1869 R.C. Marriages Glanworth and Ballindangan Cloyne Cork
Catharina Thornhill 1839 R.C. Baptisms Croom Limerick
Catharina Thornhill 1847 R.C. Baptisms Glanworth and Ballindangan Cloyne Cork
Catharina Thornhill 1870 R.C. Baptisms Kilfinane Limerick
Catharinam Thornhill 1865 R.C. Marriages Kilfinane Limerick
Catharine Thornhill 1839 R.C. Baptisms Kildorrery Cloyne Cork
Catharine Thornhill 1864 Births 1864-1958 Kilmallock Cork
Catharine Thornhill 1865 Marriages 1619-1898 Limerick
Cathe Thornhill 1832 Diocesan And Prerogative Wills & Administrations Indexes 1595-1858
Catherine B Thornhill 1920 Marriages 1845-1958 Fermoy
Catherine C Thornhill 1949 Births 1864-1958 Skibbereen Cork
Catherine Caroline Thornhill 1838 Diocesan And Prerogative Marriage Licence Bonds Indexes 1623-1866
Catherine M M Thornhill 1938 Marriages 1845-1958 Dublin South
Catherine M Thornhill 1957 Marriages 1845-1958 Fermoy
Catherine T Thornhill 1897 Births 1864-1958 Mitchelstown Cork
Catherine Teresa Thornhill 1873 1873 1873 Deaths 1864 – 1958 Mitchelstown Cork
Catherine Teresa Thornhill 1873 Births 1864-1958 Mitchelstown Cork
Catherine Thornhill 1753 Diocesan And Prerogative Marriage Licence Bonds Indexes 1623-1866
Catherine Thornhill 1805 R.C. Baptisms Kilnamartyra Cloyne Cork
Catherine Thornhill 1807 Diocesan And Prerogative Marriage Licence Bonds Indexes 1623-1866
Catherine Thornhill 1817 1883 1883 Deaths 1864 – 1958 Kilmallock Cork
Catherine Thornhill 1818 1883 1883 Deaths 1864 – 1958 Cork
Catherine Thornhill 1819 1879 1879 Deaths 1864 – 1958 Mitchelstown Cork
Catherine Thornhill 1827 Deputy Keeper Of  Index To The Act Or Grant Books And To Original Wills Of The Diocese Of Dublin 1272-1858 (26th 30th And 31st Reports 1894 1899) Dublin
Catherine Thornhill 1830 R.C. Baptisms St. Michan's Dublin City Dublin
Catherine Thornhill 1830 Tipperary Clans Archive Cork
Catherine Thornhill 1831 1885 1885 Deaths 1864 – 1958 Cork
Catherine Thornhill 1832 Index Of Wills 1484-1858
Catherine Thornhill 1833 1883 1883 Deaths 1864 – 1958 Limerick Clare
Catherine Thornhill 1854 R.C. Baptisms Glanworth and Ballindangan Cloyne Cork
Catherine Thornhill 1859 R.C. Marriages St. Finbarr's (South) Cork City Cork and Ross Cork
Catherine Thornhill 1865 Marriages 1845-1958 Kilmallock
Catherine Thornhill 1869 Marriages 1845-1958 Fermoy
Catherine Thornhill 1875 Births 1864-1958 Kilmallock Cork
Catherine Thornhill 1876 Births 1864-1958 Mallow Cork
Catherine Thornhill 1876 R.C. Baptisms Buttevant Cloyne Cork
Catherine Thornhill 1886 Marriages 1845-1958 Kilmallock
Catherine Thornhill 1887 Births 1864-1958 Mallow Cork
Catherine Thornhill 1888 Births 1864-1958 Fermoy Cork
Catherine Thornhill 1890 Births 1864-1958 Mitchelstown Cork
Catherine Thornhill 1900 Marriages 1845-1958 Kilmallock
Catherine Thornhill 1902 Births 1864-1958 Fermoy Cork
Catherine Thornhill 1904 Marriages 1845-1958 Mallow
Catherine Thornhill 1906 1943 1943 Deaths 1864 – 1958 Cork
Catherine Thornhill 1910 Marriages 1845-1958 Kilmallock
Catherine Thornhill 1911 1948 1948 Deaths 1864 – 1958 Mallow Cork
Catherine Thornhill 1937 Births 1864-1958 Fermoy Cork
Cecils Thornhill 1878  Original Will Registers 1858-1920
Charles A Badham-Thornhill 1888 Births 1864-1958 Ballinasloe Galway
Charles Albert B Thornhill 1888 Births 1864-1958 Ballinasloe Galway
Charles John Thornhill 1905 Marriages 1845-1958 Dundalk
Charles Thornhill 1813 1881 1881 Deaths 1864 – 1958 Ardee Louth
Charles Thornhill 1838 Diocesan And Prerogative Marriage Licence Bonds Indexes 1623-1866
Charles Thornhill 1838 Marriages 1619-1898 Louth
Charles Thornhill 1839 1900 1900 Deaths 1864 – 1958 Ardee Louth
Charles Thornhill 1850 1903 1903 Deaths 1864 – 1958 Dublin North Dublin
Charles Thornhill 1873  Original Will Registers 1858-1920
Charles Thornhill 1883 Marriages 1845-1958 Dublin North
Charles Thornhill 1894 1896 1896 Deaths 1864 – 1958 Skibbereen Cork
Charles Thornhill 1894 Births 1864-1958 Skibbereen Cork
Charles Thornhill 1903 Marriages 1845-1958 Dublin North
Charlotte Thornhill 1811 Diocesan And Prerogative Wills & Administrations Indexes 1595-1858
Charlotte Thornhill 1811 Sir Arthur Vicars Index To The Prerogative Wills Of  1536-1810 And Supplement (1914)
Charlotte Thornhill 1826 1916 1916 Deaths 1864 – 1958 Dublin South Dublin
Charlotte Thornhill 1839 Index Of Wills 1484-1858
Charlotte Thornhill 1840 Diocesan And Prerogative Wills & Administrations Indexes 1595-1858
Christina Thornhill 1863 1927 1927 Deaths 1864 – 1958 Limerick Clare
Christina Thornhill 1863 Tipperary Clans Archive
Christina Thornhill 1937 Births 1864-1958 Limerick Clare
Christopher C Thornhill 1877 Marriages 1845-1958 Skibbereen
Christopher G Thornhill 1947 Births 1864-1958 Skibbereen Cork
Christopher Thornhill 1824 R.C. Baptisms Annakissy Cloyne Cork
Christopher Thornhill 1831 1896 1896 Deaths 1864 – 1958 Mallow Cork
Christopher Thornhill 1844 Tipperary Clans Archive
Christopher Thornhill 1857 1919 1919 Deaths 1864 – 1958 Skibbereen Cork
Christopher Thornhill 1857 R.C. Baptisms Annakissy Cloyne Cork
Christopher Thornhill 1891 1918 1918 Deaths 1864 – 1958 Skibbereen Cork
Christopher Thornhill 1891 Births 1864-1958 Skibbereen Cork
Christopher Thornhill 1906 Births 1864-1958 Skibbereen Cork
Christopher Thornhill 1913 Marriages 1845-1958 Skibbereen
Christopherus C Thornhill 1877 R.C. Marriages Skibbereen Cork and Ross Cork
Conr Thornhill 1844 R.C. Baptisms Macroom Cloyne Cork
Corey Thornhill 1895 1951 1951 Deaths 1864 – 1958 Fermoy Cork
Courthrop Thornhill 1817 Diocesan And Prerogative Marriage Licence Bonds Indexes 1623-1866
Daniel J Thornhill 1947 Births 1864-1958 Cork
Daniel Thornhill 1885 1888 1888 Deaths 1864 – 1958 Skibbereen Cork
Daniel Thornhill 1885 Births 1864-1958 Skibbereen Cork
Daniel Thornhill 1912 Births 1864-1958 Kinsale Cork
Daniel Thornhill 1915 Births 1864-1958 Fermoy Cork
Daniel Thornhill 1946 Births 1864-1958 Cork
David Thornhill 1875 1875 1875 Deaths 1864 – 1958 Mallow Cork
David Thornhill 1875 Births 1864-1958 Mallow Cork
David Thornhill 1875 R.C. Baptisms Liscarroll Cloyne Cork
David Thornhill 1883 Births 1864-1958 Mallow Cork
David Thornhill 1917 1917 1917 Deaths 1864 – 1958 Mallow Cork
David Thornhill 1917 Births 1864-1958 Mallow Cork
Denis J Thornhill 1955 Births 1864-1958 Kanturk Cork
Denis Thornhill 1842 R.C. Baptisms Glanworth and Ballindangan Cloyne Cork
Denis Thornhill 1913 1931 1931 Deaths 1864 – 1958 Mallow Cork
Desmond George B Badham-Thornhill 1948 Marriages 1845-1958 Dublin South
Desmond George B Thornhill 1948 Marriages 1845-1958 Dublin South
Diones Margaret Thornhill 1905 Marriages 1845-1958 Balrothery
Dora Thornhill 1851 R.C. Marriages St. Finbarr's (South) Cork City Cork and Ross Cork
E Badham Thornhill 1810 1893 1893 Deaths 1864 – 1958 Dublin South Dublin
Eddie Thornhill Of Belleek 1920 Memorial And Burial Register 1618-2005 Fermanagh
Edmond J Thornhill 1935 Births 1864-1958 Dublin South Dublin
Edmond Thornhill 1811 1896 1896 Deaths 1864 – 1958 Mallow Cork
Edmond Thornhill 1821 R.C. Baptisms Annakissy Cloyne Cork
Edmond Thornhill 1832 1888 1888 Deaths 1864 – 1958 Mallow Cork
Edmond Thornhill 1856 1926 1926 Deaths 1864 – 1958 Mallow Cork
Edmond Thornhill 1876 1879 1879 Deaths 1864 – 1958 Killarney Kerry
Edmond Thornhill 1884 Marriages 1845-1958 Mallow
Edmond Thornhill 1886 Births 1864-1958 Mallow Cork
Edmond Thornhill 1893 Marriages 1845-1958 Mallow
Edmond Thornhill 1895 Births 1864-1958 Mallow Cork
Edmund Thornhill 1847 R.C. Baptisms Kildorrery Cloyne Cork
Edmund Thornhill 1922 Births 1864-1958 Mallow Cork
Edward B Thornhill 1847 1903 1903 Deaths 1864 – 1958 Dublin South Dublin
Edward Badham Thornhill 1768 Diocesan And Prerogative Marriage Licence Bonds Indexes 1623-1866
Edward Badham Thornhill 1808 1881 1881 Deaths 1864 – 1958 Dublin South Dublin
Edward James Thornhill 1890 Births 1864-1958 Ballinasloe Galway
Edward Patrick Thornhill 1909 Marriages 1845-1958 Kinsale
Edward Thornhill 1706 Diocesan And Prerogative Marriage Licence Bonds Indexes 1623-1866
Edward Thornhill 1727 Diocesan And Prerogative Marriage Licence Bonds Indexes 1623-1866
Edward Thornhill 1752 Diocesan And Prerogative Wills & Administrations Indexes 1595-1858
Edward Thornhill 1769 Diocesan And Prerogative Wills & Administrations Indexes 1595-1858
Edward Thornhill 1785 Diocesan And Prerogative Marriage Licence Bonds Indexes 1623-1866
Edward Thornhill 1797 W.P.W. Phillimore & Gertrude Thrift Indexes To Wills 1536-1858 5 Vols (1909-1920) Cork
Edward Thornhill 1800 Diocesan And Prerogative Wills & Administrations Indexes 1595-1858
Edward Thornhill 1800 Sir Arthur Vicars Index To The Prerogative Wills Of  1536-1810 And Supplement (1914)
Edward Thornhill 1800 Sir Arthur Vicars Index To The Prerogative Wills Of  1536-1810 And Supplement (1914)
Edward Thornhill 1804 Diocesan And Prerogative Marriage Licence Bonds Indexes 1623-1866
Edward Thornhill 1811 Diocesan And Prerogative Marriage Licence Bonds Indexes 1623-1866
Edward Thornhill 1824 1897 1897 Deaths 1864 – 1958 Macroom Cork
Edward Thornhill 1824 Diocesan And Prerogative Wills & Administrations Indexes 1595-1858
Edward Thornhill 1843 R.C. Baptisms Macroom Cloyne Cork
Edward Thornhill 1850 1922 1922 Deaths 1864 – 1958 Macroom Cork
Edward Thornhill 1860 1919 1919 Deaths 1864 – 1958 Ballyshannon Donegal
Edward Thornhill 1868 R.C. Baptisms Macroom Cloyne Cork
Edward Thornhill 1876 R.C. Baptisms Macroom Cloyne Cork
Edward Thornhill 1878 1923 1923 Deaths 1864 – 1958 Cork
Edward Thornhill 1894 Marriages 1845-1958 Macroom
Edward Thornhill 1913 Marriages 1845-1958 Kinsale
Edward Thornhill 1922 Births 1864-1958 Kilmallock Cork
Edward Thornhill Diocesan And Prerogative Wills & Administrations Indexes 1595-1858
Edward Wilfred Thornhill 1863 Marriages 1845-1958 Dublin South
Edwardus Thornhill 1816 R.C. Baptisms Macroom Cloyne Cork
Eileen M Thornhill 1954 Births 1864-1958 Kanturk Cork
Eileen Thornhill 1930 Births 1864-1958 Mallow Cork
Eileen Thornhill 1944 Marriages 1845-1958 Mallow
Elanor Thornhill 1936 Births 1864-1958 Mallow Cork
Eleanor Georgina Thornhill 1884 1885 1885 Deaths 1864 – 1958 Ballinasloe Galway
Eleanor Laura Thornhill 1872 Marriages 1845-1958 Dublin South
Eleanor Thornhill 1955 Marriages 1845-1958 Mallow
Elinor Thornhill 1753 Deputy Keeper Of  Index To The Act Or Grant Books And To Original Wills Of The Diocese Of Dublin 1272-1858 (26th 30th And 31st Reports 1894 1899) Dublin
Elisabeth Thornhill 1937 Marriages 1845-1958 Fermoy
Eliza Badham Thornhill 1814 Diocesan And Prerogative Marriage Licence Bonds Indexes 1623-1866
Eliza Susan Thornhill 1854 Tipperary Clans Archive Cork
Eliza Thornhill 1798 1873 1873 Deaths 1864 – 1958 Fermoy Cork
Eliza Thornhill 1819 Deputy Keeper Of  Index To The Act Or Grant Books And To Original Wills Of The Diocese Of Dublin 1272-1858 (26th 30th And 31st Reports 1894 1899) Dublin
Eliza Thornhill 1832 Diocesan And Prerogative Marriage Licence Bonds Indexes 1623-1866
Eliza Thornhill 1840 R.C. Baptisms St. Mary's Cork City Cork and Ross Cork
Eliza Thornhill 1843 R.C. Baptisms Castlemagner Cloyne Cork
Eliza Thornhill 1844 R.C. Baptisms St. Mary's Cork City Cork and Ross Cork
Eliza Thornhill 1850 Marriages 1845-1958 Clonmel
Eliza Thornhill 1851 R.C. Marriages St. Mary's Cork City Cork and Ross Cork
Eliza Thornhill 1852 1900 1900 Deaths 1864 – 1958 Mallow Cork
Eliza Thornhill 1861 1864 1864 Deaths 1864 – 1958 Cork
Eliza Thornhill 1864 1866 1866 Deaths 1864 – 1958 Mitchelstown Cork
Eliza Thornhill 1864 Births 1864-1958 Mitchelstown Cork
Eliza Thornhill 1864 R.C. Marriages Liscarroll Cloyne Cork
Eliza Thornhill 1867 Marriages 1845-1958 Kilmallock
Eliza Thornhill 1868 Births 1864-1958 Mitchelstown Cork
Eliza Thornhill 1879 R.C. Baptisms Annakissy Cloyne Cork
Eliza Thornhill 1918 Births 1864-1958 Fermoy Cork
Eliza Thornhill or Warren Diocesan And Prerogative Wills & Administrations Indexes 1595-1858
Elizabeth B Thornhill 1810 1893 1893 Deaths 1864 – 1958 Dublin South Dublin
Elizabeth C Thornhill 1952 Births 1864-1958 Mallow Cork
Elizabeth M Thornhill 1899 Births 1864-1958 Mitchelstown Cork
Elizabeth S O 'N B Thornhill 1889 Marriages 1845-1958 Downpatrick
Elizabeth Thornhill 1743 Diocesan And Prerogative Marriage Licence Bonds Indexes 1623-1866
Elizabeth Thornhill 1743 T. George H. Green Index To The Marriage Licence Bonds Of The Diocese Of Cloyne 1630-1800 1899-1900 Cloyne
Elizabeth Thornhill 1787 1865 1865 Deaths 1864 – 1958 Rathdown Dublin
Elizabeth Thornhill 1797 1888 1888 Deaths 1864 – 1958 Mitchelstown Cork
Elizabeth Thornhill 1807 Sir Arthur Vicars Index To The Prerogative Wills Of  1536-1810 And Supplement (1914)
Elizabeth Thornhill 1828 1885 1885 Deaths 1864 – 1958 Belfast Antrim
Elizabeth Thornhill 1832 Marriages 1619-1898 Limerick
Elizabeth Thornhill 1834 R.C. Baptisms Kildorrery Cloyne Cork
Elizabeth Thornhill 1835 Tipperary Clans Archive Cork
Elizabeth Thornhill 1836 Tipperary Clans Archive Cork
Elizabeth Thornhill 1843 Deputy Keeper Of  Index To The Act Or Grant Books And To Original Wills Of The Diocese Of Dublin 1272-1858 (26th 30th And 31st Reports 1894 1899) Dublin
Elizabeth Thornhill 1864 Marriages 1845-1958 Mallow
Elizabeth Thornhill 1865  Original Will Registers 1858-1920
Elizabeth Thornhill 1867 R.C. Marriages Kilfinane Limerick
Elizabeth Thornhill 1870 Marriages 1845-1958 Croom
Elizabeth Thornhill 1879 Births 1864-1958 Mallow Cork
Elizabeth Thornhill 1885 Births 1864-1958 Newry Armagh
Elizabeth Thornhill 1893 Marriages 1845-1958 Cork
Elizabeth Thornhill 1894 Births 1864-1958 Killarney Kerry
Elizabeth Thornhill 1908 Births 1864-1958 Mallow Cork
Elizabeth Thornhill 1913 Marriages 1845-1958 Cork
Elizabeth Thornhill 1929 Births 1864-1958 Cork
Elizabeth Thornhill 1940 1942 1942 Deaths 1864 – 1958 Fermoy Cork
Elizabeth Thornhill 1940 Births 1864-1958 Fermoy Cork
Elizabeth Thornhill 1943 Marriages 1845-1958 Mallow
Elizabeth Thornhill r Ryan 1753 Diocesan And Prerogative Wills & Administrations Indexes 1595-1858
Elizabetha Thornhill 1844 R.C. Baptisms Croom Limerick
Elleanor Georgina Thornhill 1884 Births 1864-1958 Ballinasloe Galway
Ellen Christina Thornhill 1888 Births 1864-1958 Kilmallock Cork
Ellen J Thornhill 1956 Births 1864-1958 Cork
Ellen Mary Thornhill 1919 1919 1919 Deaths 1864 – 1958 Mallow Cork
Ellen P Thornhill 1940 Births 1864-1958 Croom Limerick
Ellen T Thornhill 1944 Births 1864-1958 Skibbereen Cork
Ellen Thornhill 1790 1866 1866 Deaths 1864 – 1958 Killarney Kerry
Ellen Thornhill 1815 1883 1883 Deaths 1864 – 1958 Larne Antrim
Ellen Thornhill 1821 1895 1895 Deaths 1864 – 1958 Dublin South Dublin
Ellen Thornhill 1824 Diocesan And Prerogative Marriage Licence Bonds Indexes 1623-1866
Ellen Thornhill 1828 1883 1883 Deaths 1864 – 1958 Macroom Cork
Ellen Thornhill 1837 1897 1897 Deaths 1864 – 1958 Dublin South Dublin
Ellen Thornhill 1845 Marriages 1845-1958 Cork
Ellen Thornhill 1846 R.C. Baptisms Kildorrery Cloyne Cork
Ellen Thornhill 1854 1868 1868 Deaths 1864 – 1958 Killarney Kerry
Ellen Thornhill 1857 1914 1914 Deaths 1864 – 1958 Skibbereen Cork
Ellen Thornhill 1859 1934 1934 Deaths 1864 – 1958 Mallow Cork
Ellen Thornhill 1859 R.C. Baptisms Macroom Cloyne Cork
Ellen Thornhill 1864 1929 1929 Deaths 1864 – 1958 Macroom Cork
Ellen Thornhill 1866 R.C. Baptisms Macroom Cloyne Cork
Ellen Thornhill 1867 1867 1867 Deaths 1864 – 1958 Mitchelstown Cork
Ellen Thornhill 1867 Births 1864-1958 Mitchelstown Cork
Ellen Thornhill 1875 Births 1864-1958 Lurgan Antrim
Ellen Thornhill 1876 Births 1864-1958 Kilmallock Cork
Ellen Thornhill 1879 Marriages 1845-1958 Macroom
Ellen Thornhill 1879 R.C. Marriages Macroom Cloyne Cork
Ellen Thornhill 1884 Births 1864-1958 Fermoy Cork
Ellen Thornhill 1885 1885 1885 Deaths 1864 – 1958 Skibbereen Cork
Ellen Thornhill 1885 Births 1864-1958 Skibbereen Cork
Ellen Thornhill 1900 1919 1919 Deaths 1864 – 1958 Fermoy Cork
Ellen Thornhill 1900 Births 1864-1958 Fermoy Cork
Ellen Thornhill 1905 1905 1905 Deaths 1864 – 1958 Fermoy Cork
Ellen Thornhill 1905 Births 1864-1958 Fermoy Cork
Ellen Thornhill 1906 Marriages 1845-1958 Fermoy
Ellen Thornhill 1910 Births 1864-1958 Fermoy Cork
Ellen Thornhill 1917 Births 1864-1958 Mallow Cork
Ellen Thornhill 1924 Births 1864-1958 Kilmallock Cork
Ellen Thornhill 1951 1951 1951 Deaths 1864 – 1958 Cork
Ellen Thornhill 1951 Births 1864-1958 Cork
Ellen Thornhill 1955 Births 1864-1958 Cork
Ellena Thornhill 1876 R.C. Baptisms Kilfinane Limerick
Ellenum Thornhill 1854 R.C. Baptisms Killarney Kerry
Emily Ethel Thornhill 1920 Marriages 1845-1958 Dublin North
Emily G B Thornhill 1907 Marriages 1845-1958 Ballinasloe
Emily G Badham-Thornhill 1851 1900 1900 Deaths 1864 – 1958 Cork
Emily Geraldine B Thornhill 1851 1900 1900 Deaths 1864 – 1958 Cork
Emily Geraldine Thornhill 1879 Births 1864-1958 Ballinasloe Galway
Emily Jane Thornhill 1865 Births 1864-1958 Cork
Emily Mary Thornhill 1866 R.C. Baptisms St. Mary's Cork City Cork and Ross Cork
Emily Thornhill 1852 1892 1892 Deaths 1864 – 1958 Croom Limerick
Eva Thornhill 1829 1908 1908 Deaths 1864 – 1958 Cork
Eva Thornhill 1874 1875  Original Will Registers 1858-1920
Eva Thornhill 1878 Births 1864-1958 Cork
Eva Thornhill 1879 1951 1951 Deaths 1864 – 1958 Cork
Fanny Thornhill 1851 Diocesan And Prerogative Marriage Licence Bonds Indexes 1623-1866
Fanny Thornhill 1877 Marriages 1845-1958 Limerick
Frances Thornhill 1682 T. George H. Green Index To The Marriage Licence Bonds Of The Diocese Of Cloyne 1630-1800 1899-1900 Cloyne
Frances Thornhill 1750 Diocesan And Prerogative Marriage Licence Bonds Indexes 1623-1866
Frances Thornhill 1750 T. George H. Green Index To The Marriage Licence Bonds Of The Diocese Of Cloyne 1630-1800 1899-1900 Cloyne
Frances Thornhill 1773 1867 1867 Deaths 1864 – 1958 Cork
Frances Thornhill 1774 Diocesan And Prerogative Marriage Licence Bonds Indexes 1623-1866
Frances Thornhill 1781 Diocesan And Prerogative Marriage Licence Bonds Indexes 1623-1866
Frances Thornhill 1781 T. George H. Green Index To The Marriage Licence Bonds Of The Diocese Of Cloyne 1630-1800 1899-1900 Cloyne
Frances Thornhill 1790 Diocesan And Prerogative Marriage Licence Bonds Indexes 1623-1866
Frances Thornhill 1790 T. George H. Green Index To The Marriage Licence Bonds Of The Diocese Of Cloyne 1630-1800 1899-1900 Cloyne
Frances Thornhill 1835 Diocesan And Prerogative Marriage Licence Bonds Indexes 1623-1866
Frances Thornhill 1851 Marriages 1845-1958 Fermoy
Frances Thornhill 1867 Births 1864-1958 Kilmallock Cork
Frances Thornhill 1871 1939 1939 Deaths 1864 – 1958 Dublin South Dublin
Francesca Thornhill 1867 R.C. Baptisms Kilfinane Limerick
Franciescam Thornhill 1849 R.C. Baptisms Killarney Kerry
Francis Evelyn Thornhill 1879 Marriages 1845-1958 Balrothery
Francis Thornhill 1723 Diocesan And Prerogative Marriage Licence Bonds Indexes 1623-1866
Francis Thornhill 1723 T. George H. Green Index To The Marriage Licence Bonds Of The Diocese Of Cloyne 1630-1800 1899-1900 Cloyne
Francis Thornhill 1784 Diocesan And Prerogative Marriage Licence Bonds Indexes 1623-1866
Francis Thornhill 1811 1871 1871 Deaths 1864 – 1958 Dublin South Dublin
Francis Thornhill 1813 1877 1877 Deaths 1864 – 1958 Kenmare Kerry
Francis Thornhill 1847 Deputy Keeper Of  Index To The Act Or Grant Books And To Original Wills Of The Diocese Of Dublin 1272-1858 (26th 30th And 31st Reports 1894 1899) Dublin
Francis Thornhill 1847 Marriages 1845-1958 Dublin South
Francis Thornhill 1860 Marriages 1845-1958 Cork
Francis Thornhill 1863 R.C. Baptisms Fermoy Cloyne Cork
Francis Thornhill 1866 Marriages 1845-1958 Killarney
Francis Thornhill 1868 1953 1953 Deaths 1864 – 1958 Limerick Clare
Francis Thornhill 1882 Marriages 1845-1958 Killarney
Francis Thornhill 1888 1890 1890 Deaths 1864 – 1958 Ballyshannon Donegal
Francis Thornhill 1888 Births 1864-1958 Ballyshannon Donegal
Francis Thornhill 1904 Births 1864-1958 Killarney Kerry
Francisca Thornhill 1856 R.C. Marriages St. Michael and John's Dublin City Dublin
Franciscam Thornhill 1844 R.C. Marriages Kildorrery Cloyne Cork
Franciscum Thornhill 1842 R.C. Baptisms Kilmallock Limerick
Franciscum Thornhill 1860 R.C. Marriages Ss Peter and Paul's Cork City Cork and Ross Cork
Frank Thornhill 1842 1908 1908 Deaths 1864 – 1958 Killarney Kerry
Frank Thornhill 1875 1932 1932 Deaths 1864 – 1958 Cork
Frank Thornhill 1898 1938 1938 Deaths 1864 – 1958 Killarney Kerry
Frank Thornhill 1926 Births 1864-1958 Fermoy Cork
Fras. Thornhill 1790 Marriages 1619-1898 Cork
Frederick James Thornhill 1923 Marriages 1845-1958 Dublin North
Frederick Thornhill 1892 Births 1864-1958 Dublin North Dublin
M. Thornhill 1832 Index Of Wills 1484-1858
M. Thornhill 1836 Index Of Wills 1484-1858
Geo Thornhill 1799 Farrar's Index To Marriages 1771-1812
Georgas Thornhill 1874 R.C. Marriages Templenoe Kerry
George Badham Thornhill 1877 Births 1864-1958 Ballinasloe Galway
George Badham Thornhill 1913 Marriages 1845-1958 Dublin South
George Badham-Thornhill 1913 Marriages 1845-1958 Dublin South
George Francis Thornhill 1892 Births 1864-1958 Cork
George Joseph Thornhill 1881 1881 1881 Deaths 1864 – 1958 Claremorris Mayo
George Joseph Thornhill 1881 Births 1864-1958 Claremorris Mayo
George Nicholas Thornhill 1888 Marriages 1845-1958 Dublin North
George Thornhill 1792 Farrar's Index To Marriages 1771-1812
George Thornhill 1799 Farrar's Index To Marriages 1771-1812
George Thornhill 1800 Diocesan And Prerogative Marriage Licence Bonds Indexes 1623-1866
George Thornhill 1800 T. George H. Green Index To The Marriage Licence Bonds Of The Diocese Of Cloyne 1630-1800 1899-1900 Cloyne
George Thornhill 1815 Diocesan And Prerogative Marriage Licence Bonds Indexes 1623-1866
George Thornhill 1832 1893 1893 Deaths 1864 – 1958 Ballyshannon Donegal
George Thornhill 1839 R.C. Baptisms Macroom Cloyne Cork
George Thornhill 1842 Tipperary Clans Archive
George Thornhill 1845 1915 1915 Deaths 1864 – 1958 Kenmare Kerry
George Thornhill 1847 R.C. Baptisms Macroom Cloyne Cork
George Thornhill 1854 Marriages 1845-1958 Clonmel
George Thornhill 1856 Marriages 1845-1958 Dublin North
George Thornhill 1860 1910 1910 Deaths 1864 – 1958 Ballyshannon Donegal
George Thornhill 1862 Marriages 1845-1958 Lisburn
George Thornhill 1864 1920 1920 Deaths 1864 – 1958 Dublin North Dublin
George Thornhill 1871 1872 1872 Deaths 1864 – 1958 Macroom Cork
George Thornhill 1871 Births 1864-1958 Macroom Cork
George Thornhill 1874 Marriages 1845-1958 Kenmare
George Thornhill 1890 Births 1864-1958 Dublin North Dublin
George Thornhill 1893 1897 1897 Deaths 1864 – 1958 Cork
Georgina Badham Thornhill 1875 Births 1864-1958 Ballinasloe Galway
Georgina Cathleen Thornhill 1876 1882 1882 Deaths 1864 – 1958 Ballinasloe Galway
Georgins Thornhill 1826 R.C. Baptisms Macroom Cloyne Cork
Georgium Thornhill 1789 R.C. Marriages Macroom Cloyne Cork
Georgius Thornhill 1804 R.C. Marriages Macroom Cloyne Cork
Gerald J Thornhill 1947 Births 1864-1958 Cork
Gerald P Thornhill 1953 Births 1864-1958 Cork
Gerald Thornhill 1882 Births 1864-1958 Mallow Cork
Gerald Thornhill 1884 1917 1917 Deaths 1864 – 1958 Mallow Cork
Gerald Thornhill 1905 1913 1913 Deaths 1864 – 1958 Kilmallock Cork
Gerald Thornhill 1905 Births 1864-1958 Kilmallock Cork
Gerald Thornhill 1915 Births 1864-1958 Mallow Cork
Gerald Thornhill 1941 Marriages 1845-1958 Cork
Gerard B. Thornhill 1839 Index Of Wills 1484-1858
Gulielmum Thornhill 1843 R.C. Marriages Kildorrery Cloyne Cork
Gulielmum Thornhill 1851 R.C. Baptisms Templetenny Waterford and Lismore Tipperary
Gulielmus Thornhill 1757 R.C. Marriages Mallow Cloyne Cork
Gulielmus Thornhill 1859 R.C. Baptisms Killarney Kerry
Hanna Thornhill 1873 1939 1939 Deaths 1864 – 1958 Killarney Kerry
Hannah Mary Thornhill 1854 R.C. Baptisms St. Michael and John's Dublin City Dublin
Hannah Thornhill 1818 1868 1868 Deaths 1864 – 1958 Fermoy Cork
Hannah Thornhill 1870 R.C. Baptisms Glanworth and Ballindangan Cloyne Cork
Hannah Thornhill 1879 1896 1896 Deaths 1864 – 1958 Mallow Cork
Hannah Thornhill 1881 Births 1864-1958 Mitchelstown Cork
Hannah Thornhill 1882 Births 1864-1958 Macroom Cork
Hannah Thornhill 1913 Births 1864-1958 Mallow Cork
Hannah Thornhill 1927 Marriages 1845-1958 Cork
Hannah Thornhill 1939 1939 1939 Deaths 1864 – 1958 Fermoy Cork
Hannah Thornhill 1939 Births 1864-1958 Fermoy Cork
Hannah Thornhill 1947 Marriages 1845-1958 Mallow
Hannorah Thornhill 1870 Births 1864-1958 Fermoy Cork
Hanora P Thornhill 1942 Births 1864-1958 Kilmallock Cork
Hanora Thornhill 1886 Marriages 1845-1958 Fermoy
Hanorah Thornhill 1882 1882 1882 Deaths 1864 – 1958 Macroom Cork
Harold Arthur Thornhill 1905 Births 1864-1958 Belfast Antrim
Harriett Thornhill 1836 Diocesan And Prerogative Marriage Licence Bonds Indexes 1623-1866
Harry Thornhill 1874 1924 1924 Deaths 1864 – 1958 Limerick Clare
Helen Francis B Thornhill 1906 Marriages 1845-1958 Ardee
Helen J Thornhill 1820 1908 1908 Deaths 1864 – 1958 Ardee Louth
Helen Thornhill 1951 Marriages 1845-1958 Macroom
Helena M Thornhill 1938 Births 1864-1958 Limerick Clare
Helena Thornhill 1845 1910 1910 Deaths 1864 – 1958 Limerick Clare
Helena Thornhill 1855 R.C. Marriages Kilfinane Limerick
Helena Thornhill 1874 Births 1864-1958 Limerick Clare
Helena Thornhill 1896 Births 1864-1958 Ballyshannon Donegal
Helena Thornhill 1899 Marriages 1845-1958 Limerick
Henrry Thornhill 1825 Diocesan And Prerogative Marriage Licence Bonds Indexes 1623-1866
Henry B Thornhill 1811 1869 1869 Deaths 1864 – 1958 Cork
Henry B Thornhill 1824 Diocesan And Prerogative Wills & Administrations Indexes 1595-1858
Henry Badham Thornhill 1802 Diocesan And Prerogative Marriage Licence Bonds Indexes 1623-1866
Henry Badham Thornhill 1802 Marriages 1619-1898 Cork
Henry Badham Thornhill 1821 Tipperary Clans Archive Cork
Henry Badham Thornhill 1858 Marriages 1845-1958 Carrick-On-Shannon
Henry Badham Thornhill 1861 Tipperary Clans Archive Tyrone
Henry Bashane Thornhill Diocesan And Prerogative Wills & Administrations Indexes 1595-1858
Henry F Thornhill 1876 1953 1953 Deaths 1864 – 1958 Dublin South Dublin
Henry Frederick Thornhill 1880 Births 1864-1958 Ballinasloe Galway
Henry James Thornhill 1878 Births 1864-1958 Skibbereen Cork
Henry James Thornhill 1878 R.C. Baptisms Skibbereen Cork and Ross Cork
Henry James Thornhill 1902 Marriages 1845-1958 Skibbereen
Henry James Thornhill 1910 1911 1911 Deaths 1864 – 1958 Skibbereen Cork
Henry James Thornhill 1910 Births 1864-1958 Skibbereen Cork
Henry James Thornhill 1914 Births 1864-1958 Skibbereen Cork
Henry James Thornhill 1944 Marriages 1845-1958 Schull
Henry Jno Thornhill 1868 R.C. Baptisms St. Michael's Limerick City Limerick
Henry John Thornhill 1868 Births 1864-1958 Limerick Clare
Henry Thornhill 1809 1877 1877 Deaths 1864 – 1958 Cork
Henry Thornhill 1827 R.C. Baptisms St. Mary's Cork City Cork and Ross Cork
Henry Thornhill 1829 Diocesan And Prerogative Marriage Licence Bonds Indexes 1623-1866
Henry Thornhill 1839 1894 1894 Deaths 1864 – 1958 Dublin North Dublin
Henry Thornhill 1841 1901 1901 Deaths 1864 – 1958 Tipperary Limerick
Henry Thornhill 1844 Diocesan And Prerogative Marriage Licence Bonds Indexes 1623-1866
Henry Thornhill 1872 Marriages 1845-1958 Cork
Henry Thornhill 1872 R.C. Marriages Ss Peter and Paul's Cork City Cork and Ross Cork
Henry Thornhill 1881 1943 1943 Deaths 1864 – 1958 Skibbereen Cork
Henry Thornhill 1882 Marriages 1845-1958 Croom
Henry Thornhill 1887 1887 1887 Deaths 1864 – 1958 Ballyshannon Donegal
Henry Thornhill 1887 Births 1864-1958 Ballyshannon Donegal
Henry Thornhill 1891 1899 1899 Deaths 1864 – 1958 Cork
Henry Thornhill 1891 Births 1864-1958 Cork
Hester Frances Thornhill 1869 Marriages 1845-1958 Ardee
Hilary A Thornhill 1952 Births 1864-1958 Dublin North Dublin
Honora Thornhill 1820 R.C. Baptisms Doneraile Cloyne Cork
Honora Thornhill 1824 1874 1874 Deaths 1864 – 1958 Mallow Cork
Humphry O'Brien Thornhill 1895 Births 1864-1958 Ardee Louth
Isabella B Thornhill 1836 Diocesan And Prerogative Wills & Administrations Indexes 1595-1858
Isabella B. Thornhill 1836 Index Of Wills 1484-1858
Isabella Babham Thornhill 1854 Marriages 1845-1958 Boyle
Isabella Thornhill 1802 1887 1887 Deaths 1864 – 1958 Ballyshannon Donegal
Isabella Thornhill 1840 Tipperary Clans Archive Cork
Isabella Thornhill 1865 Marriages 1619-1898 Fermanagh
Isabella Thornhill 1865 Marriages 1845-1958 Ballyshannon
Isabella Thornhill 1869 Marriages 1845-1958 Kanturk
Isabella Thornhill 1891 Births 1864-1958 Ballyshannon Donegal
Isabella Thornhill 1915 Marriages 1845-1958 Cork
Isabella Thornhill Diocesan And Prerogative Wills & Administrations Indexes 1595-1858
Isabelle Thornhill 1840 Tipperary Clans Archive Cork
Ita Thornhill 1888 Births 1864-1958 Killarney Kerry
James B Thornhill 1845 Tipperary Clans Archive
James Badham Thornhill 1796 Diocesan And Prerogative Wills & Administrations Indexes 1595-1858
James Badham Thornhill 1813 Diocesan And Prerogative Wills & Administrations Indexes 1595-1858
James Badham Thornhill 1813 Index Of Wills 1484-1858 Limerick
James Constantine Thornhill 1913 Births 1864-1958 Kilmallock Cork
James Frederick P Thornhill 1900 Births 1864-1958 Cork
James M Thornhill 1956 Births 1864-1958 Kanturk Cork
James Thornhill 1818 Diocesan And Prerogative Marriage Licence Bonds Indexes 1623-1866
James Thornhill 1853 R.C. Baptisms Macroom Cloyne Cork
James Thornhill 1865 1940 1940 Deaths 1864 – 1958 Mallow Cork
James Thornhill 1866 R.C. Baptisms Liscarroll Cloyne Cork
James Thornhill 1880 Births 1864-1958 Kilmallock Cork
James Thornhill 1918 Marriages 1845-1958 Limerick
James Thornhill 1927 Births 1864-1958 Mallow Cork
James Thornhill 1932 Marriages 1845-1958 Kilmallock
James Thornhill 1948 Marriages 1845-1958 Kanturk
Jane Eliza Thornhill 1862 Tipperary Clans Archive
Jane Thornhill 1711 Diocesan And Prerogative Marriage Licence Bonds Indexes 1623-1866
Jane Thornhill 1760 Diocesan And Prerogative Marriage Licence Bonds Indexes 1623-1866
Jane Thornhill 1760 T. George H. Green Index To The Marriage Licence Bonds Of The Diocese Of Cloyne 1630-1800 1899-1900 Cloyne
Jane Thornhill 1795 Diocesan And Prerogative Marriage Licence Bonds Indexes 1623-1866
Jane Thornhill 1795 T. George H. Green Index To The Marriage Licence Bonds Of The Diocese Of Cloyne 1630-1800 1899-1900 Cloyne
Jane Thornhill 1820 Marriages 1619-1898 Waterford
Jane Thornhill 1821 1879 1879 Deaths 1864 – 1958 Killarney Kerry
Jane Thornhill 1824 Deputy Keeper Of  Index To The Act Or Grant Books And To Original Wills Of The Diocese Of Dublin 1272-1858 (26th 30th And 31st Reports 1894 1899) Dublin
Jane Thornhill 1825 1864 1864 Deaths 1864 – 1958 Dublin North Dublin
Jane Thornhill 1840 Diocesan And Prerogative Marriage Licence Bonds Indexes 1623-1866
Jane Thornhill 1858 Marriages 1845-1958 Larne
Jane Thornhill 1901 Births 1864-1958 Killarney Kerry
Janet Isabella Thornhill 1887 Births 1864-1958 Dublin South Dublin
Janet Sheelah Thornhill 1907 Births 1864-1958 Drogheda Louth
Janice E Thornhill 1957 Births 1864-1958 Dublin North Dublin
Jas B Thornhill 1813 Diocesan And Prerogative Wills & Administrations Indexes 1595-1858
Jemimah Thornhill 1771 T. George H. Green Index To The Marriage Licence Bonds Of The Diocese Of Cloyne 1630-1800 1899-1900 Cloyne
Jemimiah Thornhill 1771 Diocesan And Prerogative Marriage Licence Bonds Indexes 1623-1866
Jeremiah Thornhill 1912 Births 1864-1958 Fermoy Cork
Jeremiah Thornhill 1951 Marriages 1845-1958 Fermoy
Jerome Thornhill 1925 Births 1864-1958 Mallow Cork
Jno Thornhill 1861 1862  Original Will Registers 1858-1920
Joan P Badham-Thornhill 1949 Births 1864-1958 Dublin South Dublin
Joan P Thornhill 1949 Births 1864-1958 Dublin South Dublin
Joan Thornhill 1796 R.C. Marriages Macroom Cloyne Cork
Joanna Thornhill 1844 R.C. Baptisms Glanworth and Ballindangan Cloyne Cork
Joannes Thornhill 1874 R.C. Baptisms Glanworth and Ballindangan Cloyne Cork
Joannes Thornhill 1875 R.C. Baptisms Kilfinane Limerick
Joe Thornhill 1910 1929 1929 Deaths 1864 – 1958 Mallow Cork
Johana Thornhill 1878 Births 1864-1958 Mallow Cork
Johanna M C Thornhill 1921 Births 1864-1958 Kilmallock Cork
Johanna M J Thornhill 1898 Births 1864-1958 Mitchelstown Cork
Johanna M Thornhill 1946 Births 1864-1958 Skibbereen Cork
Johanna Mary Thornhill 1907 Births 1864-1958 Kilmallock Cork
Johanna Thornhill 1804 1878 1878 Deaths 1864 – 1958 Omagh Tyrone
Johanna Thornhill 1844 R.C. Baptisms Doneraile Cloyne Cork
Johanna Thornhill 1851 1914 1914 Deaths 1864 – 1958 Kilmallock Cork
Johanna Thornhill 1852 1907 1907 Deaths 1864 – 1958 Tipperary Limerick
Johanna Thornhill 1864 Marriages 1845-1958 Mallow
Johanna Thornhill 1878 R.C. Baptisms Buttevant Cloyne Cork
Johanna Thornhill 1885 Births 1864-1958 Kilmallock Cork
Johanna Thornhill 1917 Marriages 1845-1958 Kilmallock
Johannah M Thornhill 1942 Births 1864-1958 Cork
Johannes Thornhill 1858 R.C. Marriages Effin and Gamenderk Limerick
John A Thornhill 1951 Births 1864-1958 Cork
John A Thornhill 1954 Births 1864-1958 Dublin North Dublin
John Alexander Thornhill 1859 Marriages 1845-1958 Dublin North
John Badham Thornhill 1820 1876 1876 Deaths 1864 – 1958 Rathdown Dublin
John C Thornhill 1938 Births 1864-1958 Fermoy Cork
John F M Thornhill 1917 Births 1864-1958 Dublin North Dublin
John George Thornhill 1905 Births 1864-1958 Mitchelstown Cork
John Gerald T Thornhill 1899 Births 1864-1958 Kilmallock Cork
John Gerard Thornhill 1900 1922 1922 Deaths 1864 – 1958 Kilmallock Cork
John Joseph Thornhill 1879 Births 1864-1958 Claremorris Mayo
John Joseph Thornhill 1886 Births 1864-1958 Killarney Kerry
John Joseph Thornhill 1893 Births 1864-1958 Mitchelstown Cork
John Joseph Thornhill 1894 1894 1894 Deaths 1864 – 1958 Mitchelstown Cork
John Joseph Thornhill 1920 Births 1864-1958 Kilmallock Cork
John Joseph Thornhill 1946 Marriages 1845-1958 Cork
John Thornhill   1861 1862  Original Will Registers 1858-1920
John Thornhill   1874 1875  Original Will Registers 1858-1920
John Thornhill 1756 Diocesan And Prerogative Marriage Licence Bonds Indexes 1623-1866
John Thornhill 1791 R.C. Baptisms St. Finbarr's (South) Cork City Cork and Ross Cork
John Thornhill 1795 1887 1887 Deaths 1864 – 1958 Mallow Cork
John Thornhill 1802 1890 1890 Deaths 1864 – 1958 Kilmallock Cork
John Thornhill 1810 R.C. Baptisms St. Finbarr's (South) Cork City Cork and Ross Cork
John Thornhill 1811 1874 1874 Deaths 1864 – 1958 Cork
John Thornhill 1816 R.C. Baptisms Doneraile Cloyne Cork
John Thornhill 1817 Marriages 1619-1898 Cork
John Thornhill 1819 1890 1890 Deaths 1864 – 1958 Killarney Kerry
John Thornhill 1820 Diocesan And Prerogative Marriage Licence Bonds Indexes 1623-1866
John Thornhill 1827 1895 1895 Deaths 1864 – 1958 Mitchelstown Cork
John Thornhill 1829 R.C. Marriages Cashel Cashel and Emly Tipperary
John Thornhill 1832 Deputy Keeper Of  Index To The Act Or Grant Books And To Original Wills Of The Diocese Of Dublin 1272-1858 (26th 30th And 31st Reports 1894 1899) Dublin
John Thornhill 1834 R.C. Marriages Mallow Cloyne Cork
John Thornhill 1837 Tipperary Clans Archive
John Thornhill 1841 1915 1915 Deaths 1864 – 1958 Kilmallock Cork
John Thornhill 1845 Diocesan And Prerogative Marriage Licence Bonds Indexes 1623-1866
John Thornhill 1845 Marriages 1845-1958 Mallow
John Thornhill 1845 R.C. Marriages Annakissy Cloyne Cork
John Thornhill 1849 Marriages 1845-1958 Dublin North
John Thornhill 1850 1920 1920 Deaths 1864 – 1958 Cork
John Thornhill 1855 Marriages 1845-1958 Cork
John Thornhill 1857 R.C. Baptisms Annakissy Cloyne Cork
John Thornhill 1859 1915 1915 Deaths 1864 – 1958 Killarney Kerry
John Thornhill 1864 Births 1864-1958 Fermoy Cork
John Thornhill 1864 R.C. Baptisms Glanworth and Ballindangan Cloyne Cork
John Thornhill 1867 1897 1897 Deaths 1864 – 1958 Cork
John Thornhill 1869 1870 1870 Deaths 1864 – 1958 Kilmallock Cork
John Thornhill 1870 1870 1870 Deaths 1864-1870 Limerick
John Thornhill 1870 Marriages 1845-1958 Mitchelstown
John Thornhill 1871 R.C. Marriages Castletownroche Cloyne Cork
John Thornhill 1873  Original Will Registers 1858-1920
John Thornhill 1874 Births 1864-1958 Fermoy Cork
John Thornhill 1874 Births 1864-1958 Kilmallock Cork
John Thornhill 1875 1878 1878 Deaths 1864 – 1958 Mitchelstown Cork
John Thornhill 1875 1899 1899 Deaths 1864 – 1958 Kilmallock Cork
John Thornhill 1875 1939 1939 Deaths 1864 – 1958 Fermoy Cork
John Thornhill 1878 Births 1864-1958 Ardee Louth
John Thornhill 1882  Original Will Registers 1858-1920
John Thornhill 1883 Marriages 1845-1958 Killarney
John Thornhill 1884 Marriages 1845-1958 Waterford
John Thornhill 1885 Births 1864-1958 Kilmallock Cork
John Thornhill 1887 1899 1899 Deaths 1864 – 1958 Cork
John Thornhill 1899 Marriages 1845-1958 Fermoy
John Thornhill 1901 1954 1954 Deaths 1864 – 1958 Cork
John Thornhill 1901 Births 1864-1958 Mitchelstown Cork
John Thornhill 1905 Marriages 1845-1958 Balrothery
John Thornhill 1907 Births 1864-1958 Fermoy Cork
John Thornhill 1908 Births 1864-1958 Kilmallock Cork
John Thornhill 1918 Marriages 1845-1958 Mallow
John Thornhill 1919 Births 1864-1958 Cork
John Thornhill 1935 Births 1864-1958 Limerick Clare
John Thornhill Marriage Notices In American Newspapers New York United States
Johnathan Thornhill 1865 Marriages 1619-1898 Dublin
Jonathan Thornhill  1832 Deputy Keeper Of  Index To The Act Or Grant Books And To Original Wills Of The Diocese Of Dublin 1272-1858 (26th 30th And 31st Reports 1894 1899) Dublin
Jonathan Thornhill 1865 Marriages 1845-1958 Dublin South
Joseph Helen Thornhill 1850 1906 1906 Deaths 1864 – 1958 Cork
Joseph Thornhill 1887 1887 1887 Deaths 1864 – 1958 Kilmallock Cork
Joseph Thornhill 1887 Births 1864-1958 Kilmallock Cork
Josephine Thornhill 1882 1929 1929 Deaths 1864 – 1958 Kilmallock Cork
Julia Thornhill 1835 1886 1886 Deaths 1864 – 1958 Mallow Cork
Julia Thornhill 1871 Marriages 1845-1958 Kilmallock
Julia Thornhill 1896 Births 1864-1958 Mallow Cork
Julianam Thornhill 1871 R.C. Marriages Kilfinane Limerick
Kate Thornhill 1803 1873 1873 Deaths 1864 – 1958 Mallow Cork
Kate Thornhill 1836 Tipperary Clans Archive Cork
Kate Thornhill 1846 1904 1904 Deaths 1864 – 1958 Kenmare Kerry
Kate Thornhill 1862 1922 1922 Deaths 1864 – 1958 Killarney Kerry
Kate Thornhill 1870 Births 1864-1958 Kilmallock Cork
Kate Thornhill 1883 1945 1945 Deaths 1864 – 1958 Fermoy Cork
Kate Thornhill 1916 Births 1864-1958 Fermoy Cork
Kate Thornhill 1951 Marriages 1845-1958 Fermoy
Katherine M Thornhill 1938 Births 1864-1958 Kilmallock Cork
Katherine T Thornhill 1898 1909 1909 Deaths 1864 – 1958 Mitchelstown Cork
Katherine Thornhill 1775 Diocesan And Prerogative Marriage Licence Bonds Indexes 1623-1866
Katherine Thornhill 1775 T. George H. Green Index To The Marriage Licence Bonds Of The Diocese Of Cloyne 1630-1800 1899-1900 Cloyne
Katherine Thornhill 1831 1916 1916 Deaths 1864 – 1958 Mitchelstown Cork
Katherine Thornhill 1898 1934 1934 Deaths 1864 – 1958 Mallow Cork
Katherine Thornhill 1910 Births 1864-1958 Mallow Cork
Katherine Thornhill 1920 Births 1864-1958 Mallow Cork
Kathleen Alice Thornhill 1893 Births 1864-1958 Ardee Louth
Kathleen G Thornhill 1945 Births 1864-1958 Cork
Kathleen M T Thornhill 1933 Births 1864-1958 Mallow Cork
Kathleen Thornhill 1905 Births 1864-1958 Skibbereen Cork
Kathleen Thornhill 1920 1956 1956 Deaths 1864 – 1958 Fermoy Cork
Katie P Thornhill 1940 Births 1864-1958 Limerick Clare
Katie Thornhill 1906 Marriages 1845-1958 Fermoy
R. Thornhill 1838 Index Of Wills 1484-1858
Laurence J B Thornhill 1837 1916 1916 Deaths 1864 – 1958 Dublin South Dublin
Laurence John Badham Thornhill 1872 Marriages 1845-1958 Dublin South
Laurence John Thornhill 1875 Births 1864-1958 Dublin North Dublin
Laurence John Thornhill 1878 Births 1864-1958 Ballinasloe Galway
Laurence Thornhill  1857 R.C. Baptisms Macroom Cloyne Cork
Laurence Thornhill 1875 1875 1875 Deaths 1864 – 1958 Dublin North Dublin
Lawrence J B Thornhill 1877 1899 1899 Deaths 1864 – 1958 Cork
Leonard Thornhill 1789 1871 1871 Deaths 1864 – 1958 Rathdown Dublin
Leonard Thornhill 1789 Diocesan And Prerogative Marriage Licence Bonds Indexes 1623-1866
Leonard Thornhill 1812 Deputy Keeper Of  Index To The Act Or Grant Books And To Original Wills Of The Diocese Of Dublin 1272-1858 (26th 30th And 31st Reports 1894 1899) Dublin
Leonard Thornhill 1861 1903 1903 Deaths 1864 – 1958 Rathdown Dublin
Letitia Sophia Thornhill 1836 Diocesan And Prerogative Marriage Licence Bonds Indexes 1623-1866
Liam E Thornhill 1954 Births 1864-1958 Limerick Clare
Linnard Thornhill 1797 1867 1867 Deaths 1864 – 1958 Lismore Waterford
Louisa A G Thornhill 1828 1915 1915 Deaths 1864 – 1958 Rathdown Dublin
Louisa Badham Thornhill 1855 1917 1917 Deaths 1864 – 1958 Dublin South Dublin
Lucinda M Thornhill 1836 1889 1889 Deaths 1864 – 1958 Dublin South Dublin
Lucinda Robena Thornhill 1807 1879 1879 Deaths 1864 – 1958 Dublin South Dublin
Lucy R Thornhill 1809 1875 1875 Deaths 1864 – 1958 Dublin South Dublin
Majella Thornhill 1908 1933 1933 Deaths 1864 – 1958 Dublin North Dublin
Malisa M Thornhill 1955 Births 1864-1958 Mallow Cork
Manne Thornhill 1873 R.C. Baptisms Annakissy Cloyne Cork
Margaret Anne Thornhill 1888 1888 1888 Deaths 1864 – 1958 Skibbereen Cork
Margaret Helena Thornhill 1889 1889 1889 Deaths 1864 – 1958 Croom Limerick
Margaret J Thornhill 1951 Births 1864-1958 Skibbereen Cork
Margaret Jane Thornhill 1879 Marriages 1845-1958 Cork
Margaret Josephine Thornhill 1847 1913 1913 Deaths 1864 – 1958 Cork
Margaret M Thornhill 1950 Births 1864-1958 Mallow Cork
Margaret Mary Thornhill 1923 Births 1864-1958 Overseas Multan India
Margaret P Thornhill 1826 Diocesan And Prerogative Marriage Licence Bonds Indexes 1623-1866
Margaret Thornhill 1788 1872 1872 Deaths 1864 – 1958 Mallow Cork
Margaret Thornhill 1802 Diocesan And Prerogative Marriage Licence Bonds Indexes 1623-1866
Margaret Thornhill 1811 1876 1876 Deaths 1864 – 1958 Mallow Cork
Margaret Thornhill 1818 1878 1878 Deaths 1864 – 1958 Ardee Louth
Margaret Thornhill 1822 R.C. Baptisms Annakissy Cloyne Cork
Margaret Thornhill 1826 1889 1889 Deaths 1864 – 1958 Clonmel Tipperary
Margaret Thornhill 1827 Tipperary Clans Archive Waterford
Margaret Thornhill 1834 1899 1899 Deaths 1864 – 1958 Cork
Margaret Thornhill 1851 Diocesan And Prerogative Wills & Administrations Indexes 1595-1858
Margaret Thornhill 1864 1941 1941 Deaths 1864 – 1958 Fermoy Cork
Margaret Thornhill 1872 Marriages 1845-1958 Mallow
Margaret Thornhill 1872 R.C. Marriages Doneraile Cloyne Cork
Margaret Thornhill 1877 1946 1946 Deaths 1864 – 1958 Dublin South Dublin
Margaret Thornhill 1877 Births 1864-1958 Mallow Cork
Margaret Thornhill 1877 R.C. Baptisms Annakissy Cloyne Cork
Margaret Thornhill 1878 1882 1882 Deaths 1864 – 1958 Mitchelstown Cork
Margaret Thornhill 1879 Births 1864-1958 Mallow Cork
Margaret Thornhill 1879 R.C. Baptisms Annakissy Cloyne Cork
Margaret Thornhill 1888 1902 1902 Deaths 1864 – 1958 Mallow Cork
Margaret Thornhill 1888 Births 1864-1958 Kilmallock Cork
Margaret Thornhill 1892 1892 1892 Deaths 1864 – 1958 Skibbereen Cork
Margaret Thornhill 1892 Births 1864-1958 Skibbereen Cork
Margaret Thornhill 1893 Births 1864-1958 Mallow Cork
Margaret Thornhill 1900 Births 1864-1958 Killarney Kerry
Margaret Thornhill 1901 1905 1905 Deaths 1864 – 1958 Killarney Kerry
Margaret Thornhill 1905 Births 1864-1958 Fermoy Cork
Margaret Thornhill 1912 Births 1864-1958 Fermoy Cork
Margaret Thornhill 1922 Marriages 1845-1958 Mallow
Margaret Thornhill 1937 Births 1864-1958 Mallow Cork
Margaret Thornhill 1943 Marriages 1845-1958 Fermoy
Margaret Thornhill 1957 Births 1864-1958 Cork
Margorie A Thornhill 1857 1950 1950 Deaths 1864 – 1958 Balrothery Dublin
Margt Thornhill 1817 R.C. Marriages Mallow Cloyne Cork
Maria Anna Thornhill 1865 R.C. Baptisms Kilfinane Limerick
Maria Thornhill 1812 Diocesan And Prerogative Marriage Licence Bonds Indexes 1623-1866
Maria Thornhill 1828 R.C. Marriages Macroom Cloyne Cork
Maria Thornhill 1862 Marriages 1619-1898 Donegal
Maria Thornhill 1862 Marriages 1845-1958 Ballyshannon
Maria Thornhill 1874 R.C. Baptisms Kilfinane Limerick
Maria Thornhill 1903 Marriages 1845-1958 Fermoy
Maria Thornhill 1926 Births 1864-1958 Mallow Cork
Mariam Thornhill 1838 R.C. Marriages Kildorrery Cloyne Cork
Mariam Thornhill 1853 R.C. Baptisms Killarney Kerry
Mariam Thornhill 1853 R.C. Marriages Croom Limerick
Mariam Thornhill 1861 R.C. Marriages Kilfinane Limerick
Marian J Thornhill 1954 Births 1864-1958 Cork
Marianne Thornhill 1810 1870 1870 Deaths 1864 – 1958 Celbridge Dublin
Mary A Thornhill 1856 1932 1932 Deaths 1864 – 1958 Cork
Mary Anne Thornhill 1844 Diocesan And Prerogative Marriage Licence Bonds Indexes 1623-1866
Mary Anne Thornhill 1855 1871 1871 Deaths 1864 – 1958 Rathdown Dublin
Mary Anne Thornhill 1860 R.C. Baptisms St. Michan's Dublin City Dublin
Mary Anne Thornhill 1865 Births 1864-1958 Kilmallock Cork
Mary Anne Thornhill 1881 Births 1864-1958 Kilmallock Cork
Mary Anne Thornhill 1894 Births 1864-1958 Ballyshannon Donegal
Mary Anne Thornhill 1931 Marriages 1845-1958 Ballyshannon
Mary B Thornhill 1820 Diocesan And Prerogative Marriage Licence Bonds Indexes 1623-1866
Mary Badham Thornhill 1808 Diocesan And Prerogative Wills & Administrations Indexes 1595-1858
Mary Badham Thornhill 1869 Marriages 1845-1958 Dublin South
Mary Bridget Thornhill 1889 Births 1864-1958 Mallow Cork
Mary C Thornhill 1953 Births 1864-1958 Cork
Mary Catharine Thornhill 1879 Marriages 1845-1958 Celbridge
Mary E Thornhill 1863 1944 1944 Deaths 1864 – 1958 Dublin South Dublin
Mary Elizabeth Thornhill 1894 Births 1864-1958 Dublin North Dublin
Mary Elizabeth Thornhill 1895 Marriages 1845-1958 Abbeyleix
Mary Ellen Thornhill 1904 Births 1864-1958 Skibbereen Cork
Mary Ethel Thornhill 1895 Births 1864-1958 Dublin North Dublin
Mary G Thornhill 1954 Births 1864-1958 Skibbereen Cork
Mary Jane Thornhill 1874 Births 1864-1958 Newport Mayo
Mary Jane Thornhill 1884 Births 1864-1958 Killarney Kerry
Mary Jane Thornhill 1901 Marriages 1845-1958 Ballinrobe
Mary Josephine A Thornhill 1902 Births 1864-1958 Kilmallock Cork
Mary K Thornhill 1929 Births 1864-1958 Mallow Cork
Mary Kate  Thornhill 1920 Births 1864-1958 Kilmallock Cork
Mary Kate Thornhill 1882 Births 1864-1958 Skibbereen Cork
Mary Kate Thornhill 1907 Marriages 1845-1958 Skibbereen
Mary L Thornhill 1958 Births 1864-1958 Skibbereen Cork
Mary Louisa Thornhill 1846 1865 1865 Deaths 1864 – 1958 Larne Antrim
Mary P Thornhill 1942 Births 1864-1958 Mallow Cork
Mary Thornhill 1765 Diocesan And Prerogative Marriage Licence Bonds Indexes 1623-1866
Mary Thornhill 1765 T. George H. Green Index To The Marriage Licence Bonds Of The Diocese Of Cloyne 1630-1800 1899-1900 Cloyne
Mary Thornhill 1781 1871 1871 Deaths 1864 – 1958 Mitchelstown Cork
Mary Thornhill 1785 1864 1864 Deaths 1864 – 1958 Lismore Waterford
Mary Thornhill 1805 R.C. Baptisms Kilnamartyra Cloyne Cork
Mary Thornhill 1806 1865 1865 Deaths 1864-1870 Sligo
Mary Thornhill 1807 1875 1875 Deaths 1864 – 1958 Croom Limerick
Mary Thornhill 1808 R.C. Marriages Kilnamartyra Cloyne Cork
Mary Thornhill 1808 Sir Arthur Vicars Index To The Prerogative Wills Of  1536-1810 And Supplement (1914)
Mary Thornhill 1816 R.C. Baptisms St. Finbarr's (South) Cork City Cork and Ross Cork
Mary Thornhill 1820 1895 1895 Deaths 1864 – 1958 Mallow Cork
Mary Thornhill 1823 R.C. Baptisms Doneraile Cloyne Cork
Mary Thornhill 1823 R.C. Baptisms St. Mary's Cork City Cork and Ross Cork
Mary Thornhill 1824 1909 1909 Deaths 1864 – 1958 Dublin South Dublin
Mary Thornhill 1830 R.C. Baptisms Boherlahan Cashel and Emly Tipperary
Mary Thornhill 1831 R.C. Baptisms Boherlahan Cashel and Emly Tipperary
Mary Thornhill 1839 Diocesan And Prerogative Marriage Licence Bonds Indexes 1623-1866
Mary Thornhill 1841 R.C. Baptisms Mallow Cloyne Cork
Mary Thornhill 1845 R.C. Baptisms Liscarroll Cloyne Cork
Mary Thornhill 1847 1912 1912 Deaths 1864 – 1958 Cork
Mary Thornhill 1849 R.C. Baptisms Macroom Cloyne Cork
Mary Thornhill 1850 1918 1918 Deaths 1864 – 1958 Ballyshannon Donegal
Mary Thornhill 1853 1890 1890 Deaths 1864 – 1958 Mallow Cork
Mary Thornhill 1853 Marriages 1845-1958 Rathkeale
Mary Thornhill 1856 R.C. Marriages Doneraile Cloyne Cork
Mary Thornhill 1857 Marriages 1845-1958 Fermoy
Mary Thornhill 1858 R.C. Baptisms Fermoy Cloyne Cork
Mary Thornhill 1863 R.C. Baptisms Annakissy Cloyne Cork
Mary Thornhill 1865 1926 1926 Deaths 1864 – 1958 Limerick Clare
Mary Thornhill 1866 Births 1864-1958 Mitchelstown Cork
Mary Thornhill 1871 1914 1914 Deaths 1864 – 1958 Limerick Clare
Mary Thornhill 1873 1957 1957 Deaths 1864 – 1958 Fermoy Cork
Mary Thornhill 1874 Births 1864-1958 Kilmallock Cork
Mary Thornhill 1876 1938 1938 Deaths 1864 – 1958 Mallow Cork
Mary Thornhill 1879 R.C. Baptisms Buttevant Cloyne Cork
Mary Thornhill 1882 1908 1908 Deaths 1864 – 1958 Mallow Cork
Mary Thornhill 1885 1911 1911 Deaths 1864 – 1958 Mallow Cork
Mary Thornhill 1885 1945 1945 Deaths 1864 – 1958 Limerick Clare
Mary Thornhill 1886 Births 1864-1958 Fermoy Cork
Mary Thornhill 1887 Births 1864-1958 Croom Limerick
Mary Thornhill 1897 1949 1949 Deaths 1864 – 1958 Fermoy Cork
Mary Thornhill 1902 Births 1864-1958 Mallow Cork
Mary Thornhill 1907 Marriages 1845-1958 Mallow
Mary Thornhill 1910 Marriages 1845-1958 Fermoy
Mary Thornhill 1912 Marriages 1845-1958 Croom
Mary Thornhill 1912 Marriages 1845-1958 Kanturk
Mary Thornhill 1919 Births 1864-1958 Cork
Mary Thornhill 1922 Births 1864-1958 Mallow Cork
Mary Thornhill 1934 Births 1864-1958 Limerick Clare
Mary Thornhill 1940 1940 1940 Deaths 1864 – 1958 Mallow Cork
Mary Thornhill 1940 Births 1864-1958 Mallow Cork
Mary Thornhill 1942 Marriages 1845-1958 Mallow
Mary Thornhill 1948 Marriages 1845-1958 Mallow
Mary Thornhill 1958 Marriages 1845-1958 Mallow
Matilda Thornhill 1886 Marriages 1845-1958 Dublin North
Maurice P Thornhill 1948 Births 1864-1958 Cork
Maurice Patrick Thornhill 1923 Births 1864-1958 Mallow Cork
Maurice Patrick Thornhill 1948 1948 1948 Deaths 1864 – 1958 Cork
Maurice Thornhill 1887 1942 1942 Deaths 1864 – 1958 Mallow Cork
Maurice Thornhill 1887 Births 1864-1958 Mallow Cork
Maurice Thornhill 1890 Births 1864-1958 Dublin South Dublin
Maurice Thornhill 1939 Marriages 1845-1958 Mallow
Maurice Thornhill 1944 Marriages 1845-1958 Cork
Maurice Thornhill 1949 Births 1864-1958 Cork
Michael Francis Thornhill 1895 Births 1864-1958 Mitchelstown Cork
Michael Francis Thornhill 1930 Marriages 1845-1958 Cork
Michael George Thornhill 1876 Births 1864-1958 Claremorris Mayo
Michael George Thornhill 1877 1878 1878 Deaths 1864 – 1958 Claremorris Mayo
Michael J Thornhill 1933 Births 1864-1958 Kilmallock Cork
Michael J Thornhill 1956 Births 1864-1958 Skibbereen Cork
Michael M Thornhill 1949 Births 1864-1958 Mallow Cork
Michael Thornhill 1830 1899 1899 Deaths 1864 – 1958 Mallow Cork
Michael Thornhill 1844 R.C. Baptisms Glanworth and Ballindangan Cloyne Cork
Michael Thornhill 1847 Diocesan And Prerogative Wills & Administrations Indexes 1595-1858
Michael Thornhill 1848 Marriages 1845-1958 Cork
Michael Thornhill 1868 Births 1864-1958 Mallow Cork
Michael Thornhill 1868 R.C. Baptisms Annakissy Cloyne Cork
Michael Thornhill 1871 Births 1864-1958 Kilmallock Cork
Michael Thornhill 1871 R.C. Baptisms Kilfinane Limerick
Michael Thornhill 1873 1926 1926 Deaths 1864 – 1958 Kilmallock Cork
Michael Thornhill 1873 Births 1864-1958 Kilmallock Cork
Michael Thornhill 1873 R.C. Baptisms Kilfinane Limerick
Michael Thornhill 1874 1874 1874 Deaths 1864 – 1958 Kilmallock Cork
Michael Thornhill 1874 1957 1957 Deaths 1864 – 1958 Mallow Cork
Michael Thornhill 1875 Births 1864-1958 Mallow Cork
Michael Thornhill 1875 R.C. Baptisms Annakissy Cloyne Cork
Michael Thornhill 1879 Births 1864-1958 Kilmallock Cork
Michael Thornhill 1882 1882 1882 Deaths 1864 – 1958 Fermoy Cork
Michael Thornhill 1882 Births 1864-1958 Fermoy Cork
Michael Thornhill 1894 Marriages 1845-1958 Mallow
Michael Thornhill 1904 Marriages 1845-1958 Kilmallock
Michael Thornhill 1906 1958 1958 Deaths 1864 – 1958 Cork
Michael Thornhill 1906 Births 1864-1958 Mallow Cork
Michael Thornhill 1917 Births 1864-1958 Mallow Cork
Michael Thornhill 1917 Marriages 1845-1958 Limerick
Michael Thornhill 1927 Tipperary Clans Archive Limerick
Michael Thornhill 1931 Births 1864-1958 Cork
Michael Thornhill 1952 Births 1864-1958 Cork
Michaelem Thornhill 1879 R.C. Baptisms Effin and Gamenderk Limerick
Minnie May Thornhill 1882 Births 1864-1958 Cork
Minnie May Thornhill 1883 1888 1888 Deaths 1864 – 1958 Cork
Minnie Thornhill 1879 Births 1864-1958 Mallow Cork
Nellie Thornhill 1891 1913 1913 Deaths 1864 – 1958 Kilmallock Cork
Nellie Thornhill 1947 Marriages 1845-1958 Tipperary
Nicholas Thornhill 1821 R.C. Baptisms St. Mary's Cork City Cork and Ross Cork
No Name Female Thornhill 1864 Births 1864-1958 Dublin North Dublin
No Name Female Thornhill 1881 Births 1864-1958 Dublin South Dublin
No Name Female Thornhill 1884 Births 1864-1958 Balrothery Dublin
No Name Female Thornhill 1885 Births 1864-1958 Dublin North Dublin
No Name Female Thornhill 1908 Births 1864-1958 Ardee Louth
No Name Female Thornhill 1935 1935 1935 Deaths 1864 – 1958 Kilmallock Cork
No Name Female Thornhill 1935 Births 1864-1958 Kilmallock Cork
No Name Frances Thornhill 1682 Diocesan And Prerogative Marriage Licence Bonds Indexes 1623-1866
No Name Male Thornhill 1866 Births 1864-1958 Dublin South Dublin
No Name Male Thornhill 1868 Births 1864-1958 Clonmel Tipperary
No Name Male Thornhill 1880 Births 1864-1958 Dublin South Dublin
No Name Male Thornhill 1880 Births 1864-1958 Mallow Cork
No Name Male Thornhill 1881 Births 1864-1958 Dublin South Dublin
No Name Male Thornhill 1885 Births 1864-1958 Ardee Louth
No Name Male Thornhill 1889 Births 1864-1958 Edenderry Kildare
No Name Thornhill  1794 Farrar's Index To Marriages 1771-1812 – Deaths
No Name Thornhill  Memorial Inscriptions
No Name Thornhill 1859 R.C. Baptisms Abbeyleix and Ballyroan Kildare and Leighlin Kilkenny
No Name Thornhill 1867 R.C. Baptisms Annakissy Cloyne Cork
Nora M Thornhill 1941 Births 1864-1958 Dublin South Dublin
Nora Thornhill 1873 1926 1926 Deaths 1864 – 1958 Limerick Clare
Nora Thornhill 1934 Births 1864-1958 Fermoy Cork
Norah Thornhill 1894 Births 1864-1958 Mallow Cork
Norah Thornhill 1895 1895 1895 Deaths 1864 – 1958 Mallow Cork
Norry Thornhill 1779 1869 1869 Deaths 1864 – 1958 Mallow Cork
Nory Thornhill 1857 R.C. Marriages Doneraile Cloyne Cork
Pat Thornhill 1861 R.C. Marriages Annakissy Cloyne Cork
Patricius Joanne Joseph Thornhill 1876 R.C. Baptisms St. Mary's (Pro-Cathedral) Dublin City Dublin
Patrick C Thornhill 1948 Births 1864-1958 Kanturk Cork
Patrick C Thornhill 1957 Births 1864-1958 Cork
Patrick J Thornhill 1878 1948 1948 Deaths 1864 – 1958 Dublin North Dublin
Patrick J Thornhill 1898 Marriages 1845-1958 Limerick
Patrick J Thornhill 1933 Births 1864-1958 Dublin South Dublin
Patrick John Thornhill 1876 1914 1914 Deaths 1864 – 1958 Kilmallock Cork
Patrick John Thornhill 1923 Births 1864-1958 Mallow Cork
Patrick Joseph Thornhill 1901 Births 1864-1958 Kilmallock Cork
Patrick Joseph Thornhill 1909 Births 1864-1958 Kinsale Cork
Patrick Joseph Thornhill 1932 Marriages 1845-1958 Dublin North
Patrick Thornhill 1839 1914 1914 Deaths 1864 – 1958 Kilmallock Cork
Patrick Thornhill 1840 1912 1912 Deaths 1864 – 1958 Fermoy Cork
Patrick Thornhill 1856 1927 1927 Deaths 1864 – 1958 Mallow Cork
Patrick Thornhill 1867 1867 1867 Deaths 1864 – 1958 Mallow Cork
Patrick Thornhill 1867 Births 1864-1958 Mallow Cork
Patrick Thornhill 1873 Births 1864-1958 Kilmallock Cork
Patrick Thornhill 1874 Births 1864-1958 Mallow Cork
Patrick Thornhill 1875 Marriages 1845-1958 Mallow
Patrick Thornhill 1875 R.C. Marriages Liscarroll Cloyne Cork
Patrick Thornhill 1876 1904 1904 Deaths 1864 – 1958 Cork
Patrick Thornhill 1876 Births 1864-1958 Kilmallock Cork
Patrick Thornhill 1878 Births 1864-1958 Kilmallock Cork
Patrick Thornhill 1879 1935 1935 Deaths 1864 – 1958 Dublin North Dublin
Patrick Thornhill 1880 R.C. Baptisms Skibbereen Cork and Ross Cork
Patrick Thornhill 1883 1886 1886 Deaths 1864 – 1958 Kilmallock Cork
Patrick Thornhill 1883 Births 1864-1958 Mallow Cork
Patrick Thornhill 1885 1886 1886 Deaths 1864 – 1958 Mallow Cork
Patrick Thornhill 1885 Births 1864-1958 Mallow Cork
Patrick Thornhill 1886 1886 1886 Deaths 1864 – 1958 Mallow Cork
Patrick Thornhill 1886 Births 1864-1958 Mallow Cork
Patrick Thornhill 1892 Births 1864-1958 Mallow Cork
Patrick Thornhill 1894 1957 1957 Deaths 1864 – 1958 Mallow Cork
Patrick Thornhill 1894 Births 1864-1958 Mallow Cork
Patrick Thornhill 1898 1930 1930 Deaths 1864 – 1958 Mallow Cork
Patrick Thornhill 1904 Births 1864-1958 Fermoy Cork
Patrick Thornhill 1909 Births 1864-1958 Killarney Kerry
Patrick Thornhill 1910 1910 1910 Deaths 1864 – 1958 Killarney Kerry
Patrick Thornhill 1911 1911 1911 Deaths 1864 – 1958 Mallow Cork
Patrick Thornhill 1911 Births 1864-1958 Mallow Cork
Patrick Thornhill 1917 Marriages 1845-1958 Belmullet
Patrick Thornhill 1922 Marriages 1845-1958 Mallow
Patrick Thornhill 1937 Births 1864-1958 Cork
Patrick Thornhill 1940 Marriages 1845-1958 Mallow
Patrick Thornhill 1947 Marriages 1845-1958 Cork
Patrick Thornhill 1949 Marriages 1845-1958 Cork
Patritius Thornhill 1836 R.C. Baptisms Ss Peter and Paul Clonmel Waterford and Lismore Tipperary
Patritius Thornhill 1873 R.C. Baptisms Kilfinane Limerick
Patt Thornhill 1874 R.C. Baptisms Annakissy Cloyne Cork
Patt Thornhill 1892 Births 1864-1958 Mallow Cork
Percium Thornhill 1850 R.C. Baptisms Killarney Kerry
Peter John Thornhill 1912 Births 1864-1958 Drogheda Louth
Peter L Thornhill 1915 Births 1864-1958 Dublin South Dublin
Peter L Thornhill 1929 Births 1864-1958 Dublin South Dublin
Peter Thornhill 1849 R.C. Baptisms Castlemagner Cloyne Cork
Philip Thornhill 1832 R.C. Baptisms Boherlahan Cashel and Emly Tipperary
Philip Thornhill 1933 Births 1864-1958 Cork
Phillis Irene Cecil Thornhill 1902 Births 1864-1958 Drogheda Louth
Pierce Francis Thornhill 1881 1881 1881 Deaths 1864 – 1958 Claremorris Mayo
Pierce Francis Thornhill 1881 Births 1864-1958 Claremorris Mayo
Quagle Thornhill 1865 R.C. Marriages Kilmallock Limerick
Quail Thornhill 1836 R.C. Baptisms Kildorrery Cloyne Cork
Quayle Thornhill 1778 Diocesan And Prerogative Marriage Licence Bonds Indexes 1623-1866
Quayle Thornhill 1778 T. George H. Green Index To The Marriage Licence Bonds Of The Diocese Of Cloyne 1630-1800 1899-1900 Cloyne
Quayle Thornhill 1801 Diocesan And Prerogative Marriage Licence Bonds Indexes 1623-1866
Quayle Thornhill 1805 Diocesan And Prerogative Marriage Licence Bonds Indexes 1623-1866
Quayle Thornhill 1865 Marriages 1845-1958 Kilmallock
Ralph Thornhill   R.C. Baptisms Harrington St. Dublin City Dublin
Rebecca Elizabeth Thornhill  1878 1878  Original Will Registers 1858-1920
Rebecca Sarah Thornhill 1840 1879 1879 Deaths 1864 – 1958 Rathdown Dublin
Rebecca Sarah Thornhill  1878 1878  Original Will Registers 1858-1920
Rebecca Thornhill 1807 R.C. Baptisms Macroom Cloyne Cork
Rebecca Thornhill 1814 Diocesan And Prerogative Marriage Licence Bonds Indexes 1623-1866
Rebecca Thornhill 1825 R.C. Baptisms Kilmurry Cork and Ross Cork
Rebecca Thornhill 1870 Births 1864-1958 Limerick Clare
Rebecca Thornhill 1894 Marriages 1845-1958 Limerick
Richard F Thornhill 1943 Births 1864-1958 Fermoy Cork
Richard J Thornhill 1930 Births 1864-1958 Fermoy Cork
Richard Junr Thornhill 1709 Diocesan And Prerogative Marriage Licence Bonds Indexes 1623-1866
Richard R J Lieut Thornhill 1801 Diocesan And Prerogative Wills & Administrations Indexes 1595-1858
Richard Thornhill 1682 Diocesan And Prerogative Marriage Licence Bonds Indexes 1623-1866
Richard Thornhill 1682 T. George H. Green Index To The Marriage Licence Bonds Of The Diocese Of Cloyne 1630-1800 1899-1900 Cloyne
Richard Thornhill 1704 Diocesan And Prerogative Marriage Licence Bonds Indexes 1623-1866
Richard Thornhill 1766 Diocesan And Prerogative Wills & Administrations Indexes 1595-1858
Richard Thornhill 1766 Sir Arthur Vicars Index To The Prerogative Wills Of  1536-1810 And Supplement (1914)
Richard Thornhill 1768 Diocesan And Prerogative Marriage Licence Bonds Indexes 1623-1866
Richard Thornhill 1781 Diocesan And Prerogative Marriage Licence Bonds Indexes 1623-1866
Richard Thornhill 1792 Diocesan And Prerogative Marriage Licence Bonds Indexes 1623-1866
Richard Thornhill 1792 T. George H. Green Index To The Marriage Licence Bonds Of The Diocese Of Cloyne 1630-1800 1899-1900 Cloyne
Richard Thornhill 1797 Diocesan And Prerogative Marriage Licence Bonds Indexes 1623-1866
Richard Thornhill 1797 T. George H. Green Index To The Marriage Licence Bonds Of The Diocese Of Cloyne 1630-1800 1899-1900 Cloyne
Richard Thornhill 1801 Sir Arthur Vicars Index To The Prerogative Wills Of  1536-1810 And Supplement (1914)
Richard Thornhill 1809 R.C. Marriages Kildorrery Cloyne Cork
Richard Thornhill 1811 R.C. Baptisms Annakissy Cloyne Cork
Richard Thornhill 1813 Diocesan And Prerogative Marriage Licence Bonds Indexes 1623-1866
Richard Thornhill 1813 Tipperary Clans Archive Cork
Richard Thornhill 1814 Deputy Keeper Of  Index To The Act Or Grant Books And To Original Wills Of The Diocese Of Dublin 1272-1858 (26th 30th And 31st Reports 1894 1899) Dublin
Richard Thornhill 1818 R.C. Baptisms Annakissy Cloyne Cork
Richard Thornhill 1842 Diocesan And Prerogative Marriage Licence Bonds Indexes 1623-1866
Richard Thornhill 1842 R.C. Marriages St. Finbarr's (South) Cork City Cork and Ross Cork
Richard Thornhill 1852 R.C. Baptisms Kildorrery Cloyne Cork
Richard Thornhill 1854 1925 1925 Deaths 1864 – 1958 Waterford Kilkenny
Richard Thornhill 1862 R.C. Baptisms Macroom Cloyne Cork
Richard Thornhill 1864 1866 1866 Deaths 1864 – 1958 Mitchelstown Cork
Richard Thornhill 1864 Births 1864-1958 Mitchelstown Cork
Richard Thornhill 1865 Births 1864-1958 Mallow Cork
Richard Thornhill 1865 R.C. Baptisms Annakissy Cloyne Cork
Richard Thornhill 1877 Births 1864-1958 Fermoy Cork
Richard Thornhill 1877 R.C. Baptisms Glanworth and Ballindangan Cloyne Cork
Richard Thornhill 1882 1911 1911 Deaths 1864 – 1958 Fermoy Cork
Richard Thornhill 1888 Births 1864-1958 Skibbereen Cork
Richard Thornhill 1891 Births 1864-1958 Mitchelstown Cork
Richard Thornhill 1895 Births 1864-1958 Mallow Cork
Richard Thornhill 1908 Births 1864-1958 Skibbereen Cork
Richard Thornhill 1909 Births 1864-1958 Fermoy Cork
Richard Thornhill 1911 Births 1864-1958 Fermoy Cork
Richard Thornhill 1918 Marriages 1845-1958 Cork
Richard Thornhill 1933 Marriages 1845-1958 Fermoy
Richard Thornhill Lieutenant 1801 Diocesan And Prerogative Wills & Administrations Indexes 1595-1858
Robert Francis Thornhill 1857 1918 1918 Deaths 1864 – 1958 Cork
Robert Francis Thornhill  1874 1875  Original Will Registers 1858-1920
Robert Henry Thornhill 1915 Marriages 1845-1958 Belfast
Robert Spencer Thornhill 1897 1930 1930 Deaths 1864 – 1958 Cork
Robert Thornhill 1695 Diocesan And Prerogative Wills & Administrations Indexes 1595-1858
Robert Thornhill 1695 Sir Arthur Vicars Index To The Prerogative Wills Of  1536-1810 And Supplement (1914)
Robert Thornhill 1779 Diocesan And Prerogative Marriage Licence Bonds Indexes 1623-1866
Robert Thornhill 1779 T. George H. Green Index To The Marriage Licence Bonds Of The Diocese Of Cloyne 1630-1800 1899-1900 Cloyne
Robert Thornhill 1812 Diocesan And Prerogative Marriage Licence Bonds Indexes 1623-1866
Robert Thornhill 1812 R.C. Baptisms Macroom Cloyne Cork
Robert Thornhill 1838 Tipperary Clans Archive Cork
Robert Thornhill 1840 R.C. Baptisms Macroom Cloyne Cork
Robert Thornhill 1865 R.C. Marriages Macroom Cloyne Cork
Robert Thornhill 1873 R.C. Baptisms Macroom Cloyne Cork
Robert Thornhill 1889 Births 1864-1958 Dublin North Dublin
Robertina Thornhill 1827 R.C. Baptisms St. Andrew's Dublin City Dublin
Rosa Thornhill 1919 R.C. Marriages Haddington Road Dublin
Rose Anna Thornhill 1912 Marriages 1845-1958 Cork
Rose Thornhill 1887 1887 1887 Deaths 1864 – 1958 Rathdown Dublin
Rupert Thornhill 1870 1870 1870 Deaths 1864 – 1958 Omagh Tyrone
Sarah Josephine Thornhill 1881 Births 1864-1958 Cork
Sarah Josephine Thornhill 1905 Marriages 1845-1958 Cork
Sarah Thornhill 1748 Diocesan And Prerogative Marriage Licence Bonds Indexes 1623-1866
Sarah Thornhill 1748 T. George H. Green Index To The Marriage Licence Bonds Of The Diocese Of Cloyne 1630-1800 1899-1900 Cloyne
Sarah Thornhill 1794 Deputy Keeper Of  Index To The Act Or Grant Books And To Original Wills Of The Diocese Of Dublin 1272-1858 (26th 30th And 31st Reports 1894 1899) Dublin
Sarah Thornhill 1822 Deputy Keeper Of  Index To The Act Or Grant Books And To Original Wills Of The Diocese Of Dublin 1272-1858 (26th 30th And 31st Reports 1894 1899) Dublin
Sarah Thornhill 1864 Births 1864-1958 Ballyshannon Donegal
Saram Thornhill 1775 R.C. Marriages Mallow Cloyne Cork
Sidney Thornhill 1822 1896 1896 Deaths 1864 – 1958 Dublin South Dublin
Sophia Christiana Thornhill 1830 Tipperary Clans Archive
Sophia Thornhill 1752 Diocesan And Prerogative Marriage Licence Bonds Indexes 1623-1866
Sophia Thornhill 1778 Diocesan And Prerogative Marriage Licence Bonds Indexes 1623-1866
Sophia Thornhill 1788 Diocesan And Prerogative Marriage Licence Bonds Indexes 1623-1866
Sophia Thornhill 1801 Deputy Keeper Of  Index To The Act Or Grant Books And To Original Wills Of The Diocese Of Dublin 1272-1858 (26th 30th And 31st Reports 1894 1899) Dublin
Sophia Thornhill 1809 Sir Arthur Vicars Index To The Prerogative Wills Of  1536-1810 And Supplement (1914)
St John Thornhill 1798 1873 1873 Deaths 1864 – 1958 Mitchelstown Cork
St John Thornhill 1844 R.C. Baptisms Kildorrery Cloyne Cork
St John Thornhill 1874 Births 1864-1958 Mitchelstown Cork
St John Thornhill 1893 Births 1864-1958 Mitchelstown Cork
St John Thornhill 1895 1948 1948 Deaths 1864 – 1958 Cork
St John Thornhill 1929 Births 1864-1958 Fermoy Cork
Stella Majella Thornhill 1925 Births 1864-1958 Dublin North Dublin
Stella Majella Thornhill 1949 Marriages 1845-1958 Dublin North
Susan M Thornhill 1934 Births 1864-1958 Fermoy Cork
Susan Thornhill 1836 Diocesan And Prerogative Marriage Licence Bonds Indexes 1623-1866
Susan Thornhill 1857 1933 1933 Deaths 1864 – 1958 Fermoy Cork
Susan Thornhill 1933 Births 1864-1958 Fermoy Cork
Susan Thornhill or Lewis 1853 Marriages 1845-1958 Fermoy
Susan Thornhill or Lewis 1853 Marriages 1845-1958 Fermoy
Teresa Thornhill 1935 Births 1864-1958 Cork
Theresa T Thornhill 1934 Births 1864-1958 Fermoy Cork
Thomam Joseph Thornhill 1877 R.C. Baptisms Effin and Gamenderk Limerick
Thomas B Thornhill 1859 1917 1917 Deaths 1864 – 1958 Fermoy Cork
Thomas B Thornhill 1891 Marriages 1845-1958 Clogheen
Thomas B Thornhill 1931 Births 1864-1958 Mallow Cork
Thomas John Thornhill 1814 1891 1891 Deaths 1864 – 1958 Dublin South Dublin
Thomas Thornhill 1796 1864 1864 Deaths 1864 – 1958 Dublin North Dublin
Thomas Thornhill 1824 Deputy Keeper Of  Index To The Act Or Grant Books And To Original Wills Of The Diocese Of Dublin 1272-1858 (26th 30th And 31st Reports 1894 1899) Dublin
Thomas Thornhill 1836 Tipperary Clans Archive Cork
Thomas Thornhill 1838 Tipperary Clans Archive
Thomas Thornhill 1847 R.C. Marriages Ballycahill and Holy-Cross Cashel and Emly Tipperary
Thomas Thornhill 1868 Births 1864-1958 Omagh Tyrone
Thomas Thornhill 1878 1898 1898 Deaths 1864 – 1958 Kilmallock Cork
Thomas Thornhill 1883 Births 1864-1958 Kilmallock Cork
Thomas Thornhill 1919 Marriages 1845-1958 Fermoy
Thomas Thornhill 1931 1949 1949 Deaths 1864 – 1958 Cork
Thomas Thornhill 1934 Marriages 1845-1958 Kilmallock
Thomas Thornhill 1934 Marriages 1845-1958 Mallow
Thornhill Richd 1857 R.C. Marriages Kilworth Cloyne Waterford
Timothy A Thornhill 1956 Births 1864-1958 Skibbereen Cork
Timothy Thornhill 1852 R.C. Baptisms Kildorrery Cloyne Cork
Timothy Thornhill 1884 Births 1864-1958 Macroom Cork
Timothy Thornhill 1916 Births 1864-1958 Skibbereen Cork
Timothy Thornhill 1952 Marriages 1845-1958 Cork
Valentine M Thornhill 1950 Births 1864-1958 Cork
Vincent R H Thornhill 1950 Marriages 1845-1958 Dublin South
Vincent Thornhill 1942 Births 1864-1958 Fermoy Cork
W C Badham-Thornhill 1908 Marriages 1845-1958 Ballinasloe
W Thornhill 1823 Tipperary Clans Archive Cork
J. Thornhill Marriage Notices In American Newspapers Louisiana United States
Walter Thornhill 1804 Diocesan And Prerogative Marriage Licence Bonds Indexes 1623-1866
Walter Thornhill 1826 Diocesan And Prerogative Wills & Administrations Indexes 1595-1858
Walter Thornhill 1826 Tipperary Clans Archive Cork
Walter Thornhill 1829 1896 1896 Deaths 1864 – 1958 Lismore Waterford
Walter Thornhill 1837 R.C. Marriages Ss Peter and Paul's Cork City Cork and Ross Cork
Walter Thornhill 1844 1868 1868 Deaths 1864 – 1958 Kenmare Kerry
Walter Thornhill 1846 R.C. Baptisms Annakissy Cloyne Cork
Walter Thornhill 1848 1925 1925 Deaths 1864 – 1958 Cork
Walter Thornhill 1854 1899 1899 Deaths 1864 – 1958 Tralee Kerry
Walter Thornhill 1871 Marriages 1845-1958 Cork
Walter Thornhill 1872  Original Will Registers 1858-1920
Walter Thornhill 1874 1875  Original Will Registers 1858-1920
Walter Thornhill 1876 1945 1945 Deaths 1864 – 1958 Cork
Walter Thornhill 1876 Births 1864-1958 Cork
Walter Thornhill 1907 Births 1864-1958 Killarney Kerry
William Blundell Thornhill 1858 1909 1909 Deaths 1864 – 1958 Ardee Louth
William Busteed Thornhill 1834 Diocesan And Prerogative Marriage Licence Bonds Indexes 1623-1866
William C B Thornhill 1908 Marriages 1845-1958 Ballinasloe
William Cecil Thornhill 1922 Births 1864-1958 Dublin North Dublin
William Claud Thornhill 1886 Births 1864-1958 Rathdown Dublin
William Edward Thornhill 1856 Tipperary Clans Archive Antrim
William F Thornhill 1936 Births 1864-1958 Fermoy Cork
William G Thornhill 1950 Marriages 1845-1958 Rathdown
William Henry Thornhill 1890 1890 1890 Deaths 1864 – 1958 Balrothery Dublin
William Johnston Thornhill 1812 1888 1888 Deaths 1864 – 1958 Dublin South Dublin
William Joseph Thornhill 1905 Births 1864-1958 Kilmallock Cork
William Patrick Thornhill 1898 Births 1864-1958 Carrick-On-Suir Kilkenny
William Quaile Thornhill 1903 Marriages 1845-1958 Cork
William Quayle Thornhill 1870 Births 1864-1958 Mitchelstown Cork
William R Thornhill 1930 Marriages 1845-1958 Mallow
William Richard Thornhill 1888 Births 1864-1958 Mitchelstown Cork
William Thornhill 1682 Diocesan And Prerogative Marriage Licence Bonds Indexes 1623-1866
William Thornhill 1802 1868 1868 Deaths 1864 – 1958 Fermoy Cork
William Thornhill 1802 R.C. Baptisms St. Mary's Cork City Cork and Ross Cork
William Thornhill 1805 1875 1875 Deaths 1864 – 1958 Nenagh Tipperary
William Thornhill 1821 1872 1872 Deaths 1864 – 1958 Ardee Louth
William Thornhill 1821 Diocesan And Prerogative Marriage Licence Bonds Indexes 1623-1866
William Thornhill 1833 Deputy Keeper Of  Index To The Act Or Grant Books And To Original Wills Of The Diocese Of Dublin 1272-1858 (26th 30th And 31st Reports 1894 1899) Dublin
William Thornhill 1833 R.C. Marriages Kingstown Dublin
William Thornhill 1838 Deputy Keeper Of  Index To The Act Or Grant Books And To Original Wills Of The Diocese Of Dublin 1272-1858 (26th 30th And 31st Reports 1894 1899) Dublin
William Thornhill 1838 Index Of Wills 1484-1858
William Thornhill 1841 1915 1915 Deaths 1864 – 1958 Kilmallock Cork
William Thornhill 1842 R.C. Baptisms Kildorrery Cloyne Cork
William Thornhill 1844 Diocesan And Prerogative Marriage Licence Bonds Indexes 1623-1866
William Thornhill 1847 1921 1921 Deaths 1864 – 1958 Fermoy Cork
William Thornhill 1849 1865 1865 Deaths 1864 – 1958 Carlow
William Thornhill 1850 1910 1910 Deaths 1864 – 1958 Killarney Kerry
William Thornhill 1855 R.C. Baptisms Macroom Cloyne Cork
William Thornhill 1856 Marriages 1619-1898 Louth
William Thornhill 1856 Marriages 1845-1958 Ardee
William Thornhill 1856 R.C. Baptisms Ss Peter and Paul's Cork City Cork and Ross Cork
William Thornhill 1861 1866 1866 Deaths 1864 – 1958 Mitchelstown Cork
William Thornhill 1869 Marriages 1845-1958 Fermoy
William Thornhill 1872 Births 1864-1958 Limerick Clare
William Thornhill 1872 Births 1864-1958 Mallow Cork
William Thornhill 1872 R.C. Baptisms Mallow Cloyne Cork
William Thornhill 1875 1928 1928 Deaths 1864 – 1958 Limerick Clare
William Thornhill 1876 1928 1928 Deaths 1864 – 1958 Limerick Clare
William Thornhill 1876 1948 1948 Deaths 1864 – 1958 Fermoy Cork
William Thornhill 1882 Births 1864-1958 Kilmallock Cork
William Thornhill 1883 Births 1864-1958 Kilmallock Cork
William Thornhill 1886 Births 1864-1958 Clonmel Tipperary
William Thornhill 1888 Births 1864-1958 Ballyshannon Donegal
William Thornhill 1891 1891 1891 Deaths 1864 – 1958 Kilmallock Cork
William Thornhill 1891 Births 1864-1958 Kilmallock Cork
William Thornhill 1898 1899 1899 Deaths 1864 – 1958 Kilmallock Cork
William Thornhill 1899 Marriages 1845-1958 Killarney
William Thornhill 1903 Marriages 1845-1958 Fermoy
William Thornhill 1904 Births 1864-1958 Fermoy Cork
William Thornhill 1909 Births 1864-1958 Fermoy Cork
William Thornhill 1913 Marriages 1845-1958 Limerick
William Thornhill 1915 1946 1946 Deaths 1864 – 1958 Cork
William Thornhill 1915 Births 1864-1958 Mallow Cork
William Thornhill 1918 Marriages 1845-1958 Limerick
William Thornhill 1928 Marriages 1845-1958 Limerick
William Thornhill 1935 Marriages 1845-1958 Fermoy
William Thornhill 1950 Marriages 1845-1958 Mountbellew
William W Thornhill 1873 1957 1957 Deaths 1864 – 1958 Cork
William Wheeler Thornhill 1872 Births 1864-1958 Cork
Willm. Thornhill 1741 Marriages 1619-1898 Limerick
Winifred Thornhill 1939 Marriages 1845-1958 Scarriff
Wm Johnson Thornhill 1871 Marriages 1845-1958 Dublin South
Wm Thornhill 1814 R.C. Marriages Mallow Cloyne Cork
Wm Thornhill 1830 R.C. Baptisms Abbeyleix and Ballyroan Kildare and Leighlin Kilkenny
Wm Thornhill 1842 R.C. Marriages Glanworth and Ballindangan Cloyne Cork
Wm Thornhill 1869 R.C. Marriages Glanworth and Ballindangan Cloyne Cork
Wm Thornhill 1872 R.C. Baptisms St. Michael's Limerick City Limerick
Records by County
BDM's – Births, Deaths, Marriages from Civil Lists
Co Antrim BDM's
Elizabeth Thornhill birth: 1828 death: April / June 1885 Belfast,
Ellen Thornhill birth: 1815 death: April / June 1883 Larne,
Harold Arthur Thornhill birth: October 1905 / December 1905 Belfast,
Mary Louisa Thornhill birth: 1846 death: 1865 Larne,
Robert Henry Thornhill marriage: July 1915 / September 1915 Belfast,
Co Armagh BDM's
Elizabeth Thornhill birth: April 1885 / June 1885 Newry,
Ellen Thornhill birth: 1875 Lurgan,
George Thornhill marriage: 1862 Lisburn,
Jane Thornhill marriage: 1858 Larne,
Co Carlow BDM's
William Thornhill birth: 1849 death: 1865 Carlow,
Co Cavan Ireland Prison Registers, 1790-1924
Pally Thornhill birth: 1853 Cavan other: 1876 Grangegorman Female Prison, Dublin
Polly Heally Thornhill birth: 1853 Cavan other: 1877 Richmond, Dublin
Polly Monroe Thornhill birth: 1853 Cavan other: 1878 Grangegorman Female Prison, Dublin
Polly Rourke Monroe Thornhill birth: 1853 Cavan other: 1878 Grangegorman Female Prison, Dublin
Polly Thornhill birth: 1852 Cavan other: 1879 Grangegorman Female Prison, Dublin
Polly Thornhill birth: 1853 Cavan other: 1877 Grangegorman Female Prison, Dublin
Polly Thornhill birth: 1853 Cavan other: 1877 Richmond, Dublin
Polly Thornhill birth: 1853 Cavan other: 1878 Grangegorman Female Prison, Dublin
Polly Thornhill Munroe birth: 1853 Cavan other: 1878 Grangegorman Female Prison, Dublin
Polly Thornhill Rourke Monroe birth: 1853 Cavan other: 1878 Grangegorman Female Prison, Dublin
Co Cavan Ireland, Petty Sessions Court Registers, 1828-1912
John Turnell court: 26 March 1852 Cavan,
Co Clare BDM's
Winifred Thornhill marriage: October 1939 / December 1939 Scarriff,
Thornhill Roman Catholic Records by County
Co Cork Roman Catholic Baptisms
First name(s)  Last name  Baptism year  Parish County Father's first name(s) Mother's first name(s)
Adelaide Okthbert Thornhill 1866 St. Finbarr's (South), Cork city Cork Edward Adelaid
Ann Thornhill 1839 Glanworth and Ballindangan Cork John Ellen
Cate Thornhill 1825 Annakissy Cork Richard Margaret
Catharina Thornhill 1847 Glanworth and Ballindangan Cork John Ellen
Catharine  Thornhill 1839 Kildorrery Cork St John Elizabeth
Catherine  Thornhill 1805 Kilnamartyra Cork Robert Catherine
Catherine Thornhill 1854 Glanworth and Ballindangan Cork Wm Norry
Catherine Thornhill 1876 Buttevant Cork Patrick Bridget
Christopher Thornhill 1824 Annakissy Cork Will Mary
Christopher Thornhill 1857 Annakissy Cork Wm Hanora
Conr Thornhill 1844 Macroom Cork Ed  Ellen
David  Thornhill 1875 Liscarroll Cork Patrick Bridget
Denis  Thornhill 1842 Glanworth and Ballindangan Cork John Ellen
Edmond Thornhill 1821 Annakissy Cork Wm Mary
Edmund Thornhill 1847 Kildorrery Cork William Mary
Edward Thornhill 1843 Macroom Cork Ed  Ellen
Edward Thornhill 1868 Macroom Cork Robert Anne
Edward Thornhill 1876 Macroom Cork Robert Honora
Edwardus Thornhill 1816 Macroom Cork Georgei Marie
Eliza Thornhill 1840 St. Mary's, Cork city Cork John Mary
Eliza Thornhill 1843 Castlemagner Cork Edwd  Cath
Eliza Thornhill 1844 St. Mary's, Cork city Cork H  Magt
Eliza Thornhill 1879 Annakissy Cork Jno Eliza
Elizabeth Thornhill 1834 Kildorrery Cork St John Eliz
Ellen Thornhill 1846 Kildorrery Cork William Mary
Ellen Thornhill 1859 Macroom Cork Ed  Ellen
Ellen Thornhill 1866 Macroom Cork Robert Honora
Emily Mary Thornhill 1866 St. Mary's, Cork city Cork Edward Adelaide
Francis Thornhill 1863 Fermoy Cork Francis Elizabeth
Franciscum Thornhill 1842 Kilmallock  Limerick, Cork Joanne Catharina
George Thornhill 1839 Macroom Cork Edmond Ellen
George Thornhill 1847 Macroom Cork Ed  Ellen
Georgins Thornhill  1826 Macroom Cork Georgie Maria
Hannah Thornhill 1870 Glanworth and Ballindangan Cork Wm Kate
Henry James Thornhill 1878 Skibbereen Cork Christopher Ellen
Henry Thornhill 1827 St. Mary's, Cork city Cork John Catherine
Honora Thornhill 1820 Doneraile Cork William Mary
James Thornhill 1853 Macroom Cork Ed  Ellen
James Thornhill 1866 Liscarroll Cork —  Mary
Joanna Thornhill
Joannes Thornhill 1874 Glanworth and Ballindangan Cork Gulielmi Catharine
Johanna Thornhill 1844 Doneraile Cork Arthur Mary
Johanna Thornhill 1878 Buttevant Cork Patrick Bridget
John Thornhill 1791 St. Finbarr's (South), Cork city Cork Francis Honor
John Thornhill 1810 St. Finbarr's (South), Cork city Cork Edward Hannah
John Thornhill 1816 Doneraile Cork William Mary
John Thornhill 1857 Annakissy Cork Wm Hanora
John Thornhill 1864 Glanworth and Ballindangan Cork WilliamHanora
Laurence  Thornhill 1857 Macroom Cork Ed  Ellen
Manne Thornhill 1873 Annakissy Cork John Bessy
Margaret Thornhill 1822 Annakissy Cork Ricd Margaret
Margaret  Thornhill 1877 Annakissy Cork Jno Bessy
Margaret  Thornhill 1879 Annakissy Cork Patt Julia
Mary  Thornhill 1805 Kilnamartyra Cork Robert Catherine
Mary  Thornhill  1816 St. Finbarr's (South), Cork city Cork Edmd Mary
Mary  Thornhill 1823 Doneraile Cork Wm Mary
Mary  Thornhill 1823 St. Mary's, Cork city Cork John Catherine
Mary  Thornhill 1841 Mallow Cork John Mary
Mary  Thornhill 1845 Liscarroll Cork Edmd Cathe
Mary  Thornhill 1849 Macroom Cork Ed  Ellen
Mary  Thornhill 1858 Fermoy Cork Henry Helen
Mary  Thornhill 1863 Annakissy Cork Patrick Julia
Mary  Thornhill 1879 Buttevant Cork Patrick Bridget
Michael  Thornhill 1844 Glanworth and Ballindangan Cork John Ellen
Michael Thornhill 1868 Annakissy Cork Patt Julia
Michael Thornhill 1875 Annakissy Cork Jno Bessy
Nicholas Thornhill 1821 St. Mary's, Cork city Cork John Cathe
Patrick Thornhill 1880 Skibbereen Cork Christopher Ellen
Patt Thornhill 1874 Annakissy Cork Patt Julia
Peter  Thornhill 1849 Castlemagner Cork Peter  Julia
Quail Thornhill 1836 Kildorrery Cork St John Elizabeth
Rebecca Thornhill 1807 Macroom Cork George Mary
Rebecca Thornhill 1825 Kilmurry Cork Will Cath
Richard Thornhill 1811 Annakissy Cork Rd  Cate
Richard Thornhill 1818 Annakissy Cork Wm Mary
Richard Thornhill 1852 Kildorrery Cork William Mary
Richard Thornhill 1862 Macroom Cork Edward Ellen
Richard Thornhill 1865 Annakissy Cork Pat Julia
Richard Thornhill 1877 Glanworth and Ballindangan Cork W Catherine
Robert Thornhill 1812 Macroom Cork George Mary
Robert Thornhill 1840 Macroom Cork Edwd  Ellen
Robert Thornhill 1873 Macroom Cork Robert Honora
St John Thornhill 1844 Kildorrery Cork William Mary
Thornhill 1867 Annakissy Cork Patk Julia
Timothy Thornhill 1852 Kildorrery Cork WilliamHonora
Walter Thornhill 1846 Annakissy Cork John Jane
William Thornhill 1802 St. Mary's, Cork city Cork Cors Cathe
William Thornhill 1842 Kildorrery Cork WilliamHonora
William Thornhill 1855 Macroom Cork Ed  Ellen
William Thornhill 1856 Ss Peter and Paul's, Cork John Margaret
William Thornhill 1872 Mallow Cork William Kate
Co Cork Roman Catholic Marriages
First name(s)  Last name  Marriage year Parish County Father's first name(s) Mother's first name(s)
Anastasia Thornhill 1860 Glanworth and Ballindangan Cork John
Anne  Thornhill 1812 Kilnamartyra Cork William
Cath Thornhill 1869 Glanworth and Ballindangan Cork Wm
Catherine Thornhill 1859 St. Finbarr's (South), Cork city Cork William
Christopherus C Thornhill 1877 Skibbereen Cork Ellenam
Dora Thornhill 1851 St. Finbarr's (South), Cork city Cork Michl
Eliza Thornhill 1851 St. Mary's, Cork city Cork Patrick
Eliza Thornhill 1864 Liscarroll Cork Charles
Ellen Thornhill 1879 Macroom Cork Eugene
Franciscam Thornhill 1844 Kildorrery Cork Jacobum
Franciscum Thornhill 1860  Ss Peter and Paul's, Cork Elizabetham
Georgium Thornhill 1789 Macroom Cork Helenam
Georgius Thornhill 1804 Macroom Cork Maria
Gulielmum Thornhill 1843 Kildorrery Cork Mariam
Gulielmus Thornhill 1757 Mallow Cork Ellena
Henry Thornhill 1872 Ss Peter and Paul's, Cork city Cork Mary Ann
Joan Thornhill 1796 Macroom Cork Robert
John Thornhill 1834 Mallow Cork Mary
John Thornhill 1845 Annakissy Cork Jane
John Thornhill 1871 Castletownroche  Cork Elizabeth
Margaret  Thornhill 1872 Doneraile Cork Edmond
Margt Thornhill 1817 Mallow Cork Michl
Maria Thornhill 1828 Macroom Cork Gulielmum
Mariam Thornhill 1838 Kildorrery Cork Michaelem
Mary  Thornhill 1808 Kilnamartyra Cork Thomas
Mary  Thornhill 1856 Doneraile Cork John
Nory Thornhill 1857 Doneraile Cork John
Pat Thornhill 1861 Annakissy Cork Julia
Patrick Thornhill 1875 Liscarroll Cork Bridget
Quagle Thornhill 1865 Kilmallock Limerick, Cork Elizeth
Richard Thornhill 1809 Kildorrery Cork Margt
Richard Thornhill 1842 St. Finbarr's (South), Cork city Cork Cathn
Richd  Thornhill 1857 Kilworth Waterford, Cork Kate
Robert Thornhill 1865 Macroom Cork Honora
Saram Thornhill 1775 Mallow Cork Danielem
Walter Thornhill 1837 Ss Peter and Paul's, Cork city Cork Rosanna
Wm Thornhill 1814 Mallow Cork Mary
Wm Thornhill 1842 Glanworth and Ballindangan Cork Honora
Wm Thornhill 1869 Glanworth and Ballindangan Cork Cath
Buttervant R C Parish Church Records from NLI Micro Film No 4998
Baptisms
Catherine of Patrick Thornhill & Bridget Fitzgibbon p 238 10th April 1876
Edward of Edmond Thornhill & Catherine Sheehan p 200 18th May 1855
Johanna of Patrick Thornhill & Bridget Fitzgibbon p 243 19th February 1878
Mary of Patrick Thornhill & Bridget Fitzgibbon p 247 3rd August 1879
Castlemagner R C Parish Church Records from NLI Micro Film No 5009
Baptism
Peter of Peter Thornhill & Juliet Twoomey of Bluepool p 68 13th May 1849
Macroom R C Parish Church Records from NLI Micro Film No 5004/5
Baptisms
George of Edmund Thornhill & Ellen Murphy of Bysoreen p 150 17th November 1839
William of Robert Thornhill & Ylamoria Creedon (Witness Margaret Thornhill) p 79 23rd March 1879
Marriage
Georginis Thornhill to Maria Sullivan p 87 13th May 1804
Edwardum Thornhill to Ellenam Murphy p 53 11nd January 1839
Part??? Thornhill to R Murray p 42 26th June 1834
Mallow R C Parish Church Records from NLI Micro Film No 4997
Baptisms
Galliamious Thjornhill to Ellane Sullivan p 4 28th august 1757
Marriage
William of William & Kate Thornhill p 287 11th April 1871
Co Cork Burials No burials listed
Co Cork BDM's
Adelaide Cuthbert Thornhill birth: 1866 Cork,
Alice A Thornhill birth: July 1951 / September 1951 Cork,  mother: Andrews
Alice Thornhill marriage: 1845 Fermoy,
Amelia Thornhill birth: 1864 Cork,
Amelia Thornhill marriage:  July 1882 / September 1882 Cork,
Anna J Thornhill marriage: April 1936 / June 1936 Fermoy,
Anne Thornhill birth: 1797 death: 1875 Mitchelstown,
Anne Thornhill birth: January 1914 / March 1914  Fermoy,
Annie Thornhill birth:  1865 death: July 1939 / September 1939 Cork,
Annie Thornhill marriage:  July 1931 / September 1931 Fermoy,
Anthony Dyer Thornhill marriage:  1846 Middleton,
Anthony Thornhill marriage: 1850 Cork,
Arthur Thornhill birth: 1872 Fermoy,
Arthur Thornhill birth: October 1924 / December 1924 Fermoy,
Bartholomew Thornhill birth: April 1957 / June 1957 Mallow, mother: Johnson
Bartholomew Thornhill birth: January 1911 / March 1911  Kinsale,
Bartholomew Thornhill marriage:  July 1954 / September 1954 Cork,
Bernadette G Thornhill birth: April 1958 / June 1958 Cork,  mother: Mcgrath
Bernadette O Thornhill birth: July 1958 / September 1958 Skibbereen,mother: O'Driscoll
Bridget M Thornhill birth:  January 1945 / March 1945  Cork,  mother: Andrews
Bridget M Thornhill birth:  January 1948 / March 1948  Fermoy, mother:  Mccarthy
Bridget Thornhill birth: 1850 death: October 1905 / December 1905 Mallow,
Bridget Thornhill birth: 1866 Mitchelstown,
Bridget Thornhill birth: 1890 death: January 1940 / March 1940  Mallow,
Bridget Thornhill birth: April 1889 / June 1889 Mallow,
Bridget Thornhill birth: January 1891 / March 1891  Skibbereen,
Bridget Thornhill birth: July 1911 / September 1911 Mallow,
Bridget Thornhill birth: July 1914 / September 1914 Mallow,
Bridget Thornhill birth: July 1920 / September 1920 Cork,
Bridgid A Thornhill birth: 1955 Cork,  mother: O'Callaghan
C M M Thornhill birth: July 1904 / September 1904 Mitchelstown,
Carey J Thornhill birth: January 1941 / March 1941  Fermoy, mother: Fitzpatrick
Carey J Thornhill marriage:  July 1887 / September 1887 Cork,
Carey Thornhill birth: 1860 death: April 1949 / June 1949 Fermoy,
Carey Thornhill birth: July 1895 / September 1895 Mitchelstown,
Carey V Thornhill marriage: January 1928 / March 1928  Fermoy,
Catherine B Thornhill marriage: January 1920 / March 1920  Fermoy,
Catherine C Thornhill birth: January 1949 / March 1949  Skibbereen, mother: O'Driscoll
Catherine M Thornhill marriage: April 1957 / June 1957 Fermoy,
Catherine T Thornhill birth: January 1897 / March 1897  Mitchelstown,
Catherine Teresa Thornhill birth: 1873 death: 1873 Mitchelstown,
Catherine Teresa Thornhill birth: 1873 Mitchelstown,
Catherine Thornhill birth:  1818 death: July 1883 / September 1883 Cork,
Catherine Thornhill birth:  1819 death: April 1879 / June 1879 Mitchelstown,
Catherine Thornhill birth:  1831 death: April 1885 / June 1885 Cork,
Catherine Thornhill birth:  1876 Mallow,
Catherine Thornhill birth:  1906 death: July 1943 / September 1943 Cork,
Catherine Thornhill birth:  1911 death: January 1948 / March 1948  Mallow,
Catherine Thornhill birth:  April 1888 / June 1888 Fermoy,
Catherine Thornhill birth:  April 1937 / June 1937 Fermoy, mother: O'Keeffe
Catherine Thornhill birth:  January 1887 / March 1887  Mallow,
Catherine Thornhill birth:  January 1890 / March 1890  Mitchelstown,
Catherine Thornhill birth:  July 1902 / September 1902 Fermoy,
Catherine Thornhill marriage:  1869 Fermoy,
Catherine Thornhill marriage:  April 1904 / June 1904 Mallow,
Charles Thornhill birth: 1894 death: October 1896 / December 1896 Skibbereen,
Charles Thornhill birth: October 1894 / December 1894 Skibbereen,
Christopher C Thornhill marriage:  1877 Skibbereen,
Christopher G Thornhill birth:  July 1947 / September 1947 Skibbereen, mother: O'Driscoll
Christopher Thornhill birth: 1831 death: January 1896 / March 1896  Mallow,
Christopher Thornhill birth: 1857 death: July 1919 / September 1919 Skibbereen,
Christopher Thornhill birth: 1891 death: October 1918 / December 1918 Skibbereen,
Christopher Thornhill birth: January 1891 / March 1891  Skibbereen,
Christopher Thornhill birth: January 1919 / March 1919  Skibbereen,
Christopher Thornhill birth: July 1906 / September 1906 Skibbereen,
Christopher Thornhill marriage: July 1913 / September 1913 Skibbereen,
Corey Thornhill birth:  1895 death: April 1951 / June 1951 Fermoy,
Daniel J Thornhill birth: July 1947 / September 1947 Cork,  mother: Aherne
Daniel Thornhill birth:  1885 death: April 1888 / June 1888 Skibbereen,
Daniel Thornhill birth:  July 1885 / September 1885 Skibbereen,
Daniel Thornhill birth:  July 1915 / September 1915 Fermoy,
Daniel Thornhill birth:  July 1946 / September 1946 Cork,  mother: O'Callaghan
Daniel Thornhill birth:  October 1912 / December 1912 Kinsale,
David Thornhill birth: 1875 death: 1875 Mallow,
David Thornhill birth: 1875 Mallow,
David Thornhill birth: 1917 death: July 1917 / September 1917 Mallow,
David Thornhill birth: April 1917 / June 1917 Mallow,
David Thornhill birth: October 1883 / December 1883 Mallow,
Denis J Thornhill birth: 1955 Kanturk, mother: O'Callaghan
Denis Thornhill birth: 1913 death: July 1931 / September 1931 Mallow,
Edmond Thornhill birth: 1811 death: January 1896 / March 1896  Mallow,
Edmond Thornhill birth: 1832 death: January 1888 / March 1888  Mallow,
Edmond Thornhill birth: 1856 death: July 1926 / September 1926 Mallow,
Edmond Thornhill birth: April 1895 / June 1895 Mallow,
Edmond Thornhill birth: January 1886 / March 1886  Mallow,
Edmond Thornhill marriage: October 1884 / December 1884 Mallow,
Edmond Thornhill marriage: October 1893 / December 1893 Mallow,
Edmund Thornhill birth: April 1922 / June 1922 Mallow,
Edward Patrick Thornhill marriage:  January 1909 / March 1909  Kinsale,
Edward Thornhil marriage: October 1913 / December 1913 Kinsale,
Edward Thornhill birth: 1824 death: January 1897 / March 1897  Macroom,
Edward Thornhill birth: 1850 death: April 1922 / June 1922 Macroom,
Edward Thornhill birth: 1878 death: October 1923 / December 1923 Cork,
Edward Thornhill marriage: October 1894 / December 1894 Macroom,
Eileen M Thornhill birth: January 1954 / March 1954  Kanturk,mother: O'Connor
Eileen Thornhill birth:  October 1930 / December 1930 Mallow, mother: Kelleher
Eileen Thornhill marriage:  January 1944 / March 1944  Mallow,
Elanor Thornhill birth:  January 1936 / March 1936  Mallow, mother: Flynn
Eleanor Thornhill marriage: January 1955 / March 1955  Mallow,
Elisabeth Thornhill marriage: April 1937 / June 1937 Fermoy,
Eliza Thornhill birth: 1798 death: 1873 Fermoy,
Eliza Thornhill birth: 1852 death: April 1900 / June 1900 Mallow,
Eliza Thornhill birth: 1861 death: 1864 Cork,
Eliza Thornhill birth: 1864 death: 1866 Mitchelstown,
Eliza Thornhill birth: 1864 Mitchelstown,
Eliza Thornhill birth: 1868 Mitchelstown,
Eliza Thornhill birth: October 1918 / December 1918 Fermoy,
Eliza Thornhill marriage: 1851 Cork,
Elizabeth C Thornhill birth:  January 1952 / March 1952  Mallow,mother: Mccarth
Elizabeth M Thornhill birth: April 1899 / June 1899 Mitchelstown,
Elizabeth Thornhill birth: January 1929 / March 1929 Cork,mother: Callaghan
Elizabeth Thornhill birth: 1797 death: January 1888 / March 1888  Mitchelstown,
Elizabeth Thornhill birth: 1940 death: April 1942 / June 1942 Fermoy,
Elizabeth Thornhill birth: April 1908 / June 1908 Mallow,
Elizabeth Thornhill birth: January 1879 / March 1879  Mallow,
Elizabeth Thornhill birth: January 1940 / March 1940  Fermoy, mother:  O'Keeffe
Elizabeth Thornhill marriage: 1864 Mallow,
Elizabeth Thornhill marriage: July 1893 / September 1893 Cork,
Elizabeth Thornhill marriage: July 1913 / September 1913 Cork,
Elizabeth Thornhill marriage: July 1943 / September 1943 Mallow,
Ellen J Thornhill birth:  April 1956 / June 1956 Cork,  mother: O'Callaghan
Ellen Mary Thornhill birth: 1919 death: January 1919 / March 1919  Mallow,
Ellen T Thornhill birth: October 1944 / December 1944 Skibbereen, mother: O'Driscoll
Ellen Thornhill birth: 1828 death: October 1883 / December 1883 Macroom,
Ellen Thornhill birth: 1857 death: April 1914 / June 1914 Skibbereen,
Ellen Thornhill birth: 1859 death: April 1934 / June 1934 Mallow,
Ellen Thornhill birth: 1864 death: January 1929 / March 1929  Macroom,
Ellen Thornhill birth: 1867 death: 1867 Mitchelstown,
Ellen Thornhill birth: 1867 Mitchelstown,
Ellen Thornhill birth: 1885 death: July 1885 / September 1885 Skibbereen,
Ellen Thornhill birth: 1900 death: January 1919 / March 1919  Fermoy,
Ellen Thornhill birth: 1905 death: July 1905 / September 1905 Fermoy,
Ellen Thornhill birth: 1951 death: April 1951 / June 1951 Cork,
Ellen Thornhill birth: 1955 Cork,  mother: Mcgrath
Ellen Thornhill birth: April 1900 / June 1900 Fermoy,
Ellen Thornhill birth: January 1884 / March 1884  Fermoy,
Ellen Thornhill birth: January 1951 / March 1951  Cork,  mother: O'Callaghan
Ellen Thornhill birth: July 1885 / September 1885 Skibbereen,
Ellen Thornhill birth: July 1905 / September 1905 Fermoy,
Ellen Thornhill birth: July 1910 / September 1910 Fermoy,
Ellen Thornhill birth: October 1917 / December 1917 Mallow,
Ellen Thornhill marriage: 1845 Cork,
Ellen Thornhill marriage: July 1906 / September 1906 Fermoy,
Ellen Thornhill marriage: October 1879 / December 1879 Macroom,
Emily G Badham-Thornhill birth: 1851 death: April 1900 / June 1900 Cork,
Emily Geraldine B Thornhill birth: 1851 death: April 1900 / June 1900 Cork,
Emily Jane Thornhill birth: 1865 Cork,
Eva Thornhill birth: 1829 death: January 1908 / March 1908  Cork,
Eva Thornhill birth: 1879 death: January 1951 / March 1951  Cork,
Eva Thornhill birth: July 1878 / September 1878 Cork,
Frances Thornhill birth: 1773 death: 1867 Cork,
Frances Thornhill marriage: 1851 Fermoy,
Francis Thornhill marriage:  1860 Cork,
Frank Thornhill birth: 1875 death: January 1932 / March 1932  Cork,
Frank Thornhill birth: October 1926 / December 1926 Fermoy,
George Francis Thornhill birth: July 1892 / September 1892 Cork,
George Thornhill birth: 1871 death: 1872 Macroom,
George Thornhill birth: 1871 Macroom,
George Thornhill birth: 1893 death: April 1897 / June 1897 Cork,
Gerald J Thornhill birth: April 1947 / June 1947 Cork,  mother: Andrews
Gerald P Thornhill birth: April 1953 / June 1953 Cork,  mother: Mcgrath
Gerald Thornhill birth: 1884 death: April 1917 / June 1917 Mallow,
Gerald Thornhill birth: January 1915 / March 1915  Mallow,,
Gerald Thornhill birth: October 1882 / December 1882 Mallow,
Gerald Thornhill marriage:  July 1941 / September 1941 Cork,
Hannah Thornhill birth: 1818 death: 1868 Fermoy,
Hannah Thornhill birth: 1879 death: January 1896 / March 1896  Mallow,
Hannah Thornhill birth: 1939 death: July 1939 / September 1939 Fermoy,
Hannah Thornhill birth: April 1881 / June 1881 Mitchelstown,
Hannah Thornhill birth: April 1882 / June 1882 Macroom,
Hannah Thornhill birth: January 1913 / March 1913  Mallow,
Hannah Thornhill birth: July 1939 / September 1939 Fermoy, mother: Fitzpatrick
Hannah Thornhill marriage: April 1927 / June 1927 Cork,
Hannah Thornhill marriage: January 1947 / March 1947  Mallow,
Hannorah Thornhill birth:  1870 Fermoy,
Hanora Thornhill marriage: October 1886 / December 1886 Fermoy,
Hanorah Thornhill birth: 1882 death: April 1882 / June 1882 Macroom,
Helen Thornhill marriage:  January 1951 / March 1951  Macroom,
Henry B Thornhill birth: 1811 death: 1869 Cork,
Henry James Thornhill birth: 1910 death: January 1911 / March 1911  Skibbereen,
Henry James Thornhill birth: April 1878 / June 1878 Skibbereen,
Henry James Thornhill birth: January 1910 / March 1910  Skibbereen,
Henry James Thornhill marriage: January 1902 / March 1902  Skibbereen,
Henry James Thornhill marriage: January 1944 / March 1944  Skull,
Henry Thornhill birth:  1809 death: 1877 Cork,
Henry Thornhill birth:  1881 death: January 1943 / March 1943  Skibbereen,
Henry Thornhill birth:  1891 death: July 1899 / September 1899 Cork,
Henry Thornhill birth:  April 1891 / June 1891 Cork,
Henry Thornhill marriage:  1872 Cork,
Honora Thornhill birth: 1824 death: 1874 Mallow,
Isabella Thornhill marriage: 1869 Kanturk,
Isabella Thornhill marriage: April 1915 / June 1915 Cork,
James Frederick P Thornhill birth:  October 1900 / December 1900 Cork,
James M Thornhill birth: October 1956 / December 1956 Kanturk,mother: O'Callaghan
James Thornhill birth:  1865 death: July 1940 / September 1940 Mallow,
James Thornhill birth:  January 1927 / March 1927  Mallow,
James Thornhill marriage: January 1948 / March 1948  Kanturk,
Jeremiah Thornhill birth: October 1912 / December 1912 Fermoy,
Jeremiah Thornhill marriage: July 1951 / September 1951 Fermoy,
Jerome Thornhill birth: January 1925 / March 1925  Mallow,
Joe Thornhill birth: 1910 death: July 1929 / September 1929 Mallow,
Johana Thornhill birth: January 1878 / March 1878  Mallow,
Johanna M J Thornhill birth: January 1898 / March 1898  Mitchelstown,
Johanna M Thornhill birth:  April 1946 / June 1946 Skibbereen, mother: Driscoll
Johanna Thornhill marriage: 1864 Mallow,
Johannah M Thornhill birth: April 1942 / June 1942 Cork,  mother: Andrews
John A Thornhill birth: October 1951 / December 1951 Cork,  mother: Mcgrath
John C Thornhill birth: January 1938 / March 1938  Fermoy, mother:  Fitzpatrick
John George Thornhill birth: April 1905 / June 1905 Mitchelstown,
John Joseph Thornhill birth: 1894 death: April 1894 / June 1894 Mitchelstown,
John Joseph Thornhill birth: October 1893 / December 1893 Mitchelstown,
John Joseph Thornhill marriage: October 1946 / December 1946 Cork,
John Thornhill birth: 1795 death: January 1887 / March 1887  Mallow,
John Thornhill birth: 1811 death: 1874 Cork,
John Thornhill birth: 1827 death: April 1895 / June 1895 Mitchelstown,
John Thornhill birth: 1850 death: April 1920 / June 1920 Cork,
John Thornhill birth: 1864 Fermoy,
John Thornhill birth: 1867 death: April 1897 / June 1897 Cork,
John Thornhill birth: 1874 Fermoy,
John Thornhill birth: 1875 death: January 1878 / March 1878  Mitchelstown,
John Thornhill birth: 1875 death: January 1939 / March 1939  Fermoy,
John Thornhill birth: 1887 death: April 1899 / June 1899 Cork,
John Thornhill birth: 1901 death: October 1954 / December 1954 Cork,
John Thornhill birth: April 1901 / June 1901 Mitchelstown,
John Thornhill birth: January 1907 / March 1907  Fermoy,
John Thornhill birth: October 1907 / December 1907 Fermoy,
John Thornhill birth: October 1919 / December 1919 Cork,
John Thornhill marriage: 1845 Mallow,
John Thornhill marriage: 1846 Cork,
John Thornhill marriage: 1855 Cork,
John Thornhill marriage: 1870 Mitchelstown,
John Thornhill marriage: April 1918 / June 1918 Mallow
John Thornhill marriage: July 1899 / September 1899 Fermoy,
Joseph Helen Thornhill birth:  1850 death: July 1906 / September 1906 Cork
Julia Thornhill birth: 1835 death: October 1886 / December 1886 Mallow,
Julia Thornhill birth: January 1896 / March 1896  Mallow,
Kate Thornhill birth: 1803 death: 1873 Mallow,
Kate Thornhill birth: 1883 death: July 1945 / September 1945 Fermoy,
Kate Thornhill birth: January 1916 / March 1916  Fermoy,
Kate Thornhill marriage: January 1951 / March 1951  Fermoy,
Katherine T Thornhill birth: 1898 death: January 1909 / March 1909  Mitchelstown, Cork
Katherine Thornhill birth:  1831 death: April 1916 / June 1916 Mitchelstown,
Katherine Thornhill birth:  1898 death: October 1934 / December 1934 Mallow,
Katherine Thornhill birth:  April 1920 / June 1920 Mallow,
Katherine Thornhill birth:  July 1910 / September 1910 Mallow,
Kathleen G Thornhill birth:  January 1945 / March 1945  Cork,  mother: O'Callaghan
Kathleen M T Thornhill birth: July 1933 / September 1933 Mallow,
Kathleen Thornhill birth: 1920 death: July 1956 / September 1956 Fermoy,
Kathleen Thornhill birth: April 1905 / June 1905 Skibbereen,
Katie Thornhill marriage: July 1906 / September 1906 Fermoy,
Lawrence J B Thornhill birth: 1877 death: January 1900 / March 1900  Cork,
Male Thornhill birth: October 1880 / December 1880 Mallow,
Malisa M Thornhill birth: 1955 Mallow, mother: Johnson
Margaret Anne Thornhill birth: 1888 death: October 1888 / December 1888 Skibbereen
Margaret J Thornhill birth: October 1951 / December 1951 Skibbereen, mother: O'Driscoll
Margaret Jane Thornhill marriage: July 1879 / September 1879 Cork,
Margaret Josephine Thornhill birth: 1847 death: July 1913 / September 1913 Cork,
Margaret M Thornhill birth: January 1950 / March 1950  Mallow, mother: Callaghan
Margaret Mary Thornhill birth: October 1923 / December 1923
Margaret Thornhill birth: 1788 death: 1872 Mallow,
Margaret Thornhill birth: 1811 death: 1876 Mallow,
Margaret Thornhill birth: 1834 death: July 1899 / September 1899 Cork,
Margaret Thornhill birth: 1864 death: January 1941 / March 1941  Fermoy,
Margaret Thornhill birth: 1877 Mallow,
Margaret Thornhill birth: 1878 death: January 1882 / March 1882  Mitchelstown,
Margaret Thornhill birth: 1888 death: October 1902 / December 1902 Mallow,
Margaret Thornhill birth: 1892 death: July 1892 / September 1892 Skibbereen,
Margaret Thornhill birth: April 1879 / June 1879 Mallow,
Margaret Thornhill birth: April 1937 / June 1937 Mallow, mother: Hickey
Margaret Thornhill birth: January 1888 / March 1888  Kilmallock,
Margaret Thornhill birth: July 1892 / September 1892 Skibbereen,
Margaret Thornhill birth: July 1905 / September 1905 Fermoy,
Margaret Thornhill birth: July 1957 / September 1957 Cork,  mother: O'Callaghan
Margaret Thornhill birth: October 1893 / December 1893 Mallow,
Margaret Thornhill birth: October 1912 / December 1912 Fermoy,
Margaret Thornhill marriage: 1872 Mallow,
Margaret Thornhill marriage: April 1922 / June 1922 Mallow,
Margaret Thornhill marriage: October 1943 / December 1943 Fermoy,
Maria Thornhill birth: October 1926 / December 1926 Mallow,
Maria Thornhill marriage:  July 1903 / September 1903 Fermoy,
Marian J Thornhill birth: July 1954 / September 1954 Cork,  mother: Mcgrath
Mary A Thornhill birth: 1856 death: April 1932 / June 1932 Cork,
Mary Bridget Thornhill birth: January 1889 / March 1889  Mallow,
Mary C Thornhill birth: July 1953 / September 1953 Cork,  mother: O'Callaghan
Mary Ellen Thornhill birth: January 1904 / March 1904  Skibbereen,
Mary G Thornhill birth: January 1954 / March 1954  Skibbereen, mother: O'Driscoll
Mary K Thornhill birth: January 1929 / March 1929  Mallow, mother: Kelleher
Mary Kate Thornhill birth: April 1882 / June 1882 Skibbereen,
Mary Kate Thornhill marriage: April 1907 / June 1907 Skibbereen,
Mary L Thornhill birth: July 1958 / September 1958 Skibbereen, mother: Collins
Mary P Thornhill birth: July 1942 / September 1942 Mallow, mother: Lenihan
Mary Thornhil birth: 1853 death: January 1890 / March 1890  Mallow,
Mary Thornhill birth: 1781 death: 1871 Mitchelstown,
Mary Thornhill birth: 1820 death: April 1895 / June 1895 Mallow,
Mary Thornhill birth: 1847 death: April 1912 / June 1912 Cork,
Mary Thornhill birth: 1866 Mitchelstown,
Mary Thornhill birth: 1873 death: July 1957 / September 1957 Fermoy,
Mary Thornhill birth: 1876 death: July 1938 / September 1938 Mallow,
Mary Thornhill birth: 1882 death: April 1908 / June 1908 Mallow,
Mary Thornhill birth: 1885 death: October 1911 / December 1911 Mallow,
Mary Thornhill birth: 1897 death: April 1949 / June 1949 Fermoy,
Mary Thornhill birth: 1940 death: January 1940 / March 1940  Mallow,
Mary Thornhill birth: January 1886 / March 1886  Fermoy,
Mary Thornhill birth: January 1919 / March 1919  Cork,
Mary Thornhill birth: January 1940 / March 1940  Mallow, mother: Flynn
Mary Thornhill birth: July 1902 / September 1902 Mallow,
Mary Thornhill birth: October 1922 / December 1922 Mallow,
Mary Thornhill marriage: 1857 Fermoy,
Mary Thornhill marriage: April 1910 / June 1910 Fermoy,
Mary Thornhill marriage: April 1912 / June 1912 Kanturk,
Mary Thornhill marriage: April 1942 / June 1942 Mallow,
Mary Thornhill marriage: July 1942 / September 1942 Mallow,
Mary Thornhill marriage: July 1948 / September 1948 Mallow,
Mary Thornhill marriage: July 1958 / September 1958 Mallow,
Mary Thornhill marriage: October 1907 / December 1907 Mallow,
Maurice P Thornhill birth:  January 1948 / March 1948  Cork,  mother: O'Callaghan
Maurice Patrick Thornhill birth: 1948 death: January 1948 / March 1948  Cork,
Maurice Patrick Thornhill birth: April 1923 / June 1923 Mallow,
Maurice Thornhill birth: 1887 death: April 1942 / June 1942 Mallow,
Maurice Thornhill birth: January 1887 / March 1887  Mallow,
Maurice Thornhill birth: July 1949 / September 1949 Cork,  mother: O'Callaghan
Maurice Thornhill marriage: July 1944 / September 1944 Cork,
Maurice Thornhill marriage: October 1939 / December 1939 Mallow,
Michael Francis Thornhill birth: July 1895 / September 1895 Mitchelstown,
Michael Francis Thornhill marriage: July 1930 / September 1930 Cork,
Michael J Thornhill birth: April 1956 / June 1956 Skibbereen, mother: O'Driscoll
Michael M Thornhill birth: October 1949 / December 1949 Mallow,mother: Mccarthy
Michael T[hornhill birth: 1874 death: January 1955 / March 1955  Mallow,
Michael Thornhill birth: 1830 death: October 1899 / December 1899 Mallow,
Michael Thornhill birth: 1868 Mallow,
Michael Thornhill birth: 1875 Mallow,
Michael Thornhill birth: 1882 death: October 1882 / December 1882 Fermoy,
Michael Thornhill birth: 1906 death: April 1958 / June 1958 Cork,
Michael Thornhill birth: April 1906 / June 1906 Mallow,
Michael Thornhill birth: April 1931 / June 1931 Cork,  mother: Callaghan
Michael Thornhill birth: July 1917 / September 1917 Mallow,
Michael Thornhill birth: July 1952 / September 1952 Cork,  mother: O'Callaghan
Michael Thornhill birth: October 1882 / December 1882 Fermoy,
Michael Thornhill marriage: 1848 Cork,
Michael Thornhill marriage: April 1894 / June 1894 Mallow,
Michael Thornhill marriage: January 1904 / March 1904  Cork
Minnie May Thornhill birth: 1883 death: January 1888 / March 1888  Cork,
Minnie May Thornhill birth: April 1882 / June 1882 Cork,
Minnie Thornhill birth: July 1879 / September 1879 Mallow,
Nora Thornhill birth: April 1934 / June 1934 Fermoy, mother: O'Keeffe
Norah Thornhill birth:  1895 death: April 1895 / June 1895 Mallow,
Norah Thornhill birth:  April 1894 / June 1894 Mallow,
Norry Thornhill birth: 1779 death: 1869 Mallow,
Patrick C Thornhill birth: January 1957 / March 1957  Cork,  mother: Mcgrath
Patrick C Thornhill birth: October 1948 / December 1948 Kanturk, mother:  O'Callaghan
Patrick John Thornhill birth: October 1923 / December 1923 Mallow,
Patrick Joseph Thornhill birth: October 1909 / December 1909 Kinsale,
Patrick Thornehill birth: 1874 death: April 1881 / June 1881 Skibbereen,
Patrick Thornhill birth: 1839 death: April 1914 / June 1914 Kilmallock,
Patrick Thornhill birth: 1840 death: January 1912 / March 1912  Fermoy,
Patrick Thornhill birth: 1856 death: October 1927 / December 1927 Mallow,
Patrick Thornhill birth: 1867 death: 1867 Mallow,
Patrick Thornhill birth: 1867 Mallow,
Patrick Thornhill birth: 1874 Mallow,
Patrick Thornhill birth: 1876 death: January 1904 / March 1904  Cork,
Patrick Thornhill birth: 1885 death: October 1886 / December 1886 Mallow,
Patrick Thornhill birth: 1886 death: January 1886 / March 1886  Mallow,
Patrick Thornhill birth: 1894 death: July 1957 / September 1957 Mallow,
Patrick Thornhill birth: 1898 death: July 1930 / September 1930 Mallow,
Patrick Thornhill birth: 1911 death: October 1911 / December 1911 Mallow,
Patrick Thornhill birth: April 1883 / June 1883 Mallow,
Patrick Thornhill birth: April 1885 / June 1885 Mallow,
Patrick Thornhill birth: April 1892 / June 1892 Mallow,
Patrick Thornhill birth: April 1937 / June 1937 Cork,  mother: Callaghan
Patrick Thornhill birth: January 1886 / March 1886  Mallow,
Patrick Thornhill birth: January 1894 / March 1894  Mallow,
Patrick Thornhill birth: July 1904 / September 1904 Fermoy,
Patrick Thornhill birth: October 1911 / December 1911 Mallow,
Patrick Thornhill marriage:  1875 Mallow,
Patrick Thornhill marriage:  January 1922 / March 1922  Mallow,
Patrick Thornhill marriage:  January 1940 / March 1940  Mallow,
Patrick Thornhill marriage:  October 1949 / December 1949 Cork,
Patrick Thornhill marriage: January 1947 / March 1947  Cork,
Patt Thornhill birth: April 1892 / June 1892 Mallow,
Philip Thornhill birth: October 1933 / December 1933 Cork,
Richard F Thornhill birth: April 1943 / June 1943 Fermoy, mother: Taylor
Richard J Thornhill birth:July 1930 / September 1930 Fermoy, mother: O'Keeffe
Richard Thornhill birth: 1864 death: 1866 Mitchelstown,
Richard Thornhill birth: 1864 Mitchelstown,
Richard Thornhill birth: 1865 Mallow,
Richard Thornhill birth: 1877 Fermoy,
Richard Thornhill birth: 1882 death: October 1911 / December 1911 Fermoy,
Richard Thornhill birth: April 1891 / June 1891 Mitchelstown,
Richard Thornhill birth: April 1909 / June 1909 Fermoy,
Richard Thornhill birth: January 1895 / March 1895  Mallow,
Richard Thornhill birth: July 1888 / September 1888 Skibbereen,
Richard Thornhill birth: July 1911 / September 1911 Fermoy,
Richard Thornhill birth: October 1908 / December 1908 Skibbereen,
Richard Thornhill marriage: July 1933 / September 1933 Fermoy,
Richard Thornhill marriage: October 1918 / December 1918 Cork,
Robert Francis Thornhill birth: 1857 death: October 1918 / December 1918 Cork,
Robert Spencer Thornhill birth: 1897 death: July 1930 / September 1930 Cork,
Rose Anna Thornhill marriage: July 1912 / September 1912 Cork,
Sarah Josephine Thornhill birth: July 1881 / September 1881 Cork,
Sarah Josephine Thornhill marriage: April 1905 / June 1905 Cork,
St John Thornhill birth: 1798 death: 1873 Mitchelstown,
St John Thornhill birth: 1874 Mitchelstown,
St John Thornhill birth: 1895 death: April 1948 / June 1948 Cork,
St John Thornhill birth: April 1893 / June 1893 Mitchelstown,
St John Thornhill birth: January 1929 / March 1929  Fermoy, mother: O'Keeff
Susan Lewis Or Thornhill marriage:  1853 Fermoy,
Susan M Thornhill birth: July 1934 / September 1934 Fermoy, mother: Fitzpatrick
Susan Thornhill birth:  1857 death: October 1933 / December 1933 Fermoy,
Susan Thornhill birth:  January 1933 / March 1933  Fermoy,
Susan Thornhill Ors Lewis marriage: 1853 Fermoy,
Teresa Thornhill birth: October 1935 / December 1935 Cork,  mother: O'Callaghan
Theresa T Thornhill birth:January 1934 / March 1934 Fermoy, mother:  Taylor
Thomas B Thornhill birth: 1859 death: October 1917 / December 1917 Fermoy,
Thomas B Thornhill birth: July 1931 / September 1931 Mallow, mother: Hickey
Thomas Thornhill birth: 1931 death: October 1949 / December 1949 Cork,
Thomas Thornhill marriage: July 1919 / September 1919 Fermoy,
Thomas Thornhill marriage: July 1934 / September 1934 Mallow,
Timothy A Thornhill birth:  April 1956 / June 1956 Skibbereen, mother: Collins
Timothy Thornhill birth: January 1884 / March 1884  Macroom,
Timothy Thornhill birth: January 1916 / March 1916  Skibbereen,
Timothy Thornhill marriage: October 1952 / December 1952 Cork,
Valentine M Thornhill birth: April 1950 / June 1950 Cork,  mother: Mcgrath
Vincent Thornhill birth: January 1942 / March 1942  Fermoy, mother: O'Callaghan
Walter Thornhill birth: 1848 death: October 1925 / December 1925 Cork,
Walter Thornhill birth: 1876 Cork,
Walter Thornhill birth: 1876 death: October 1945 / December 1945 Cork,
Walter Thornhill marriage:  1871 Cork,
William F Thornhill birth: January 1936 / March 1936  Fermoy, mother:  Taylor
William Quaile Thornhill marriage: July 1903 / September 1903 Cork,
William Quayle Thornhill birth: 1870 Mitchelstown,
William R Thornhill marriage: April 1930 / June 1930 Mallow,
William Richard Thornhill birth: April 1888 / June 1888 Mitchelstown,
William Thornhill birth: 1802 death: 1868 Fermoy,
William Thornhill birth: 1847 death: July 1921 / September 1921 Fermoy,
William Thornhill birth: 1861 death: 1866 Mitchelstown,
William Thornhill birth: 1872 Mallow,
William Thornhill birth: 1876 death: July 1948 / September 1948 Fermoy,
William Thornhill birth: 1915 death: April 1946 / June 1946 Cork,
William Thornhill birth: April 1909 / June 1909 Fermoy,
William Thornhill birth: April 1915 / June 1915 Mallow,
William Thornhill birth: July 1904 / September 1904 Fermoy,
William Thornhill marriage: 1869 Fermoy,
William Thornhill marriage: January 1903 / March 1903  Fermoy,
William Thornhill marriage: January 1935 / March 1935  Fermoy,
William W Thornhill birth:  1873 death: January 1957 / March 1957  Cork,
William Wheeler Thornhill birth: 1872 Cork,
Co Cork Census 1911
Surname Forename  Townland/Street  DED County Age
Anna Mary Josephine Thornhill Fermoy Road  Killdorrery  Cork 13
Annie Thornhill Blarney Street Cork 45
Annie Thornhill Railway Street Monkstown Cork 24
Bartholomen Thornhill Carrigaline Liscle Mary Cork 0
Bridget Thornhill Buttervant Cork 22
Catherine Thornhill 98 Street Skibbereen Cork 35
Catherine Thornhill Kilcanway Carrig Cork 0
Christopher Thornhill 98 Street Skibbereen Cork 5
Christopher Thornhill C Upper Bridge Street Skibbereen Cork 50
Christopher Thornhill Upper Bridge Street Skibbereen Cork 20
Edmond Thornhill Sallypark Liscarroll Cork 57
Edward Thornhill Carrigaline Liscle Mary Cork 37
Edward Thornhill Down Street Macroom Cork 60
Elizabeth Mary Thornhill Fermoy Road  Killdorrery  Cork 12
Elizabeth Thornhill Kilcanway Carrig Cork 3
Elizabeth Thornhill Railway Street Monkstown Cork 26
Ellen Thornhill Down Street Macroom Cork 58
Ellen Thornhill Sallypark Liscarroll Cork 57
Ellen Thornhill Sheepwalk East Castlehyde Cork 0
Ellen Thornhill Upper Bridge Street Skibbereen Cork 55
Ellie Thornhill Ballynamongaree  Glanworth West Cork 11
Eva Thornhill Knockrea  Blackrock  Cork 32
Gerald Thornhill Buttevant Cork 27
Gerald Thornhill Liscarroll Cork 30
Isabella Thornhill Blarney Street Cork 19
John George Thornhill Baldwin Street itchelstown Cork 5
John Thornhill Ballynamongaree  Glanworth Cork 36
John Thornhill Ballynamongaree  Glanworth West Cork 4
John Thornhill Fermoy Road  Killdorrery  Cork 10
John Thornhill Glanmire Road Middle  Cork 67
John Thornhill Richardstown Doneraile Cork 27
John Thornhill Sheepwalk East Castlehyde Cork 3
Kate Thornhill Glanworth Glanworth West Cork 65
Kate Thornhill Sheepwalk East Castlehyde Cork 28
Kathleen Thornhill 98 Street Skibbereen Cork 6
Kathleen W Thornhill Baldwin Street Mitchelstown Cork 6
Katie Thornhill Ballynamongaree  Glanworth Cork 9
Katie Thornhill Sallypark Liscarroll Cork 24
Margaret Josephine Thornhill Knockrea  Blackrock  Cork 62
Margaret Thornhill Baldwin Street Mitchelstown Cork 31
Margaret Thornhill Carrigaline Town, Liscle Mary Cork 30
Margaret Thornhill Fermoy Road  Killdorrery  Cork 48
Margaret Thornhill Kilcanway Carrig Cork 10
Mary Ellen Thornhill 98 Street Skibbereen Cork 7
Mary Thornhill  Ballynamongaree  Glanworth West Cork 37
Mary Thornhill  Great Georges Street West Cork 52
Mary Thornhill  Kilcanway Carrig Cork 36
Mary Thornhill  Kilcanway Carrig Cork 8
Mary Thornhill Buttervant Cork 29
Maurice Thornhill Buttevant Cork 24
Michael Thornhill  Kilcanway Carrig Cork 43
Michael Thornhill Kilcanway Carrig Cork 4
Nora Thornhill Castletownroche  Castletownroche  Cork 7
Patrick Thornhill Ballybahallagh Knocktemple  Cork 17
Patrick Thornhill Buttervant Cork 68
Patrick Thornhill Buttevant Cork 19
Patrick Thornhill Carrigaline Town, Liscle Mary Cork 1
Patrick Thornhill Kilcanway Carrig Cork 6
Richard Thornhill 98 Street Skibbereen Cork 2
Richard Thornhill Ballygriffin  Monanimy Cork 15
Richard Thornhill Ballynamongaree  Glanworth Cork 2
Richard Thornhill Glanworth Glanworth Cork 27
Robert Francis Thornhill Ballintemple Blackrock  Cork 55
Rose Thornhill Blarney Street Cork 24
Thomas R Thornhill Fermoy Road  Killdorrery  Cork 58
Thomas Thornhill Kilcanway  Carrig Cork 13
Thornhill John Thornhill Julia Kilcanway Carrig Cork 15
Walter Thornhill Knockrea  Blackrock  Cork 34
Walter Thornhill Knockrea  Blackrock  Cork 62
William George Joseph Thornhill Baldwin Street Mitchelstown Cork 0
William Thornhill Glanworth Glanworth West Cork 66
William Thornhill Knockanevin Templemologa Cork 14
William Thornhill Sheepwalk East Castlehyde Cork 2
William Thornhill Sheepwalk East Castlehyde Cork 39
William Thornhill Wheeler Knockrea  Blackrock  Cork 38
Wm Thornhill Quayle Baldwin Street Mitchelstown Cork 41
Co Cork 1901 Census
Anna I Thornhill Kildarrery Cork 3
Annie Thornhill Grattan Street Cork 33
Badham Charles A  Thornhill   School Land Midleton  Cork 12
Badham William C Thornhill   School Land Midleton  Cork 15
Bridget Thornhill Coronea, Bridge Street Upper Skibbereen Cork 8
Bridget Thornhill Main Street Buttevant Cork 13
Bridget Thornhill Main Street Buttevant Cork 45
Carey Thornhill Oldcastle  Kildorrery Cork 41
Carey Vincent Thornhill Oldcastle  Kildorrery Cork 5
Catherie Thornhill Main Street Doneraile Cork 11
Catherine Thornhill Glanworth Cork 12
Catherine Thornhill Glanworth Cork 48
Catherine Thornhill T Kildarrery Cork 4
Christopher Thornhill C Coronea, Bridge Street Upper Skibbereen Cork 43
Christopher Thornhill Coronea, Bridge Street Upper Skibbereen Cork 8
David Thornhill  Main Street Buttevant Cork 17
Edmond Thornhill Liscarroll Liscarroll Cork 40
Edmond Thornhill Liscarroll Liscarroll Cork 5
Edward Thornhill ain Street Macroom Cork 49
Edward Thornhill Main Street Buttevant Cork 20
Elizabeth Thornhill Kildarrery Cork 1
Ellen Thornhill Ballinmongree Glanworth Cork 0
Ellen Thornhill Ballyhooly South Ballyhooly  Cork 18
Ellen Thornhill Coronea, Bridge Street Upper Skibbereen Cork 42
Ellen Thornhill Liscarroll Liscarroll Cork 40
Ellen Thornhill Main Street Macroom Cork 40
Ernest Thornhill Cripps  King's Terrace Queenstown  Cork 35
Eva Thornhill Wellington Place Cork 73
Gerald Thornhill Main Street Buttevant Cork 18
Hanna Thornhill Kilcolman Middle  Imphuck Cork 18
Henry Jas Thornhill Coronea, Bridge Street Upper Skibbereen Cork 22
Isabella Thornhill Grattan Street Cork 10
James Frederick Patrick Thornhill King's Terrace Queenstown  Cork 0
James I Thornhill Kildarrery Cork 35
John Thornhill Ballinmongree Glanworth Cork 26
John Thornhill Kilcolman Middle  Imphuck Cork 15
John Thornhill Kilcolman Middle  Imphuck Cork 52
John Thornhill Oldcastle Kildorrery Cork 8
Joseph H Thornhill Wellington Place Cork 51
Julia Thornhill Kilcanway Carraig Cork 5
Kate Thornhill Oldcastle  Kildorrery Cork 72
Kate Thornhill Sundays Well Road  Cork 20
Katie Thornhill Liscarroll Liscarroll Cork 14
Laura Thornhill King's Terrace Queenstown  Cork 32
Lizzie Thornhill Kilcolman Middle  Imphuck Cork 20
Maggie Thornhill Ballygriffin  Monanimy Cork 21
Maggie Thornhill Kilcolman Middle  Imphuck Cork 12
Margaret Thornhill Carrignaveigh Cork 14
Margaret Thornhill Kildarrery Cork 35
Margret Thornhill Kilcanway Carraig Cork 0
Margret Thornhill Main Street Buttevant Cork 7
Mary Thornhill Ballinmongree Glanworth Cork 26
Mary Thornhill Fallon Mallow North Cork 18
Mary Thornhill Glanworth  Cork 14
Mary Thornhill Kilcanway Carraig Cork 26
Mary Thornhill Liscarroll Liscarroll Cork 12
Mary Thornhill Monfieldstown Douglas  Cork 24
Maurice Thornhill Main Street Buttevant Cork 16
Michael T   Thornhill Kildarrery Cork 5
Michael Thornhill Kilcanway Carraig Cork 33
Minnie Thornhill Main Street Buttevant Cork 19
Patrick Thornhill Ballygriffin  Monanimy Cork 65
Patrick Thornhill Kilcolman Middle  Imphuck Cork 7
Patrick Thornhill Liscarroll Liscarroll Cork 6
Patrick Thornhill Main Street Buttevant Cork 12
Patrick Thornhill Main Street Buttevant Cork 50
Patrick Thornhill Patrick Street  Fermoy Cork
Richard Thornhill Coronea, Bridge Street Upper Skibbereen Cork 10
Richard Thornhill Glanworth Cork 25
Richard Thornhill Kilcanway Carraig Cork 6
Richard Thornhill Kildarrery Cork 34
Richard Thornhill Oldcastle  Kildorrery Cork 10
Robert Thornhill Wellington Place Cork 44
Rosanna Thornhill Grattan Street Cork 15
Susan Thornhill Oldcastle Town, Kildorrery  Cork 41
Thomas B Thornhill Kildarrery Cork 40
Thomas Thornhill Kilcanway Carraig Cork 3
William Thornhill Glanworth Cork 56
William Thornhill Glanworth  Cork 27
William Thornhill Knockanevin Templemologa Cork 4
Wm Thornhill Quayle Kildarrery Cork 30
Co Cork Griffiths Valuations 1850's
Ary Thornhill  Cork   Brigown
Eada. B  Thornhill . Cork   Clenor
Edond Thornhill  Cork   Churchtown
Edw. B  Thornhill . Cork   Castletownroche
Edw. B  Thornhill . Cork   Clenor
Edward  Thornhill  Cork   Castleagner
Edward  Thornhill  Cork   St Inbar
Edwd Thornhill  . Cork   Brigown
John Thornhill Cork   Churchtown
John Thornhill Cork   Doneraile
John Thornhill Cork   Glanworth
Margaret Thornhill  Cork   Clenor
Peter Thornhill Cork   Dasoneraile
Quail Thornhill  Cork  Brigown
Rances Thornhill  Cork  Brigown
Richard Thornhill  Cork  Brigown
St John Thornhill Cork   Arahy
St John Thornhill Cork   Kildorry
William Thornhill  Cork   Arahy
William Thornhill  Cork   Kildorry
Co Cork Ireland Tithe Applotment Books, 1814-1855
E B Thornhill tax assessment: 1832 Clenor, Castlekevin, Cork,
E B Thornhill tax assessment: 1832 Clenor, Currandy, Cork,
E B Thornhill tax assessment: 1832 Clenor, Killura, Cork,
Edmd Thornhill tax assessment: 1833 Castlemagner, Cecilstown, Cork,
Edmd Thornhill tax assessment: 1833 Castlemagner, Cecilstown, Cork,
Edmond Thornhill tax assessment:  1833 Knockmourne, Kilcoran, Cork,
Edwd B Thornhill tax assessment:  1832 Clenor, Gurraneackael, Cork,
Geo Thornhill tax assessment: 1826 Ahacrosse, Knockaneevan, Cork,
Thornhill tax assessment:  1823 Inishannon, Bellmount, Cork,
Thornhill tax assessment:  1829 Templeroan, Shanballymore, Village, Cork,
Willm Thornhill tax assessment: 1834 Kildorrery, Kildorrery, Cork,
Willm Thornhill tax assessment: 1834 Kildorrery, Kildorrery, Cork,
Co Cork Ireland Prison Registers, 1790-1924
Anthony Thornhill other:  1848 Co Cork
Bridget Thornhill birth: 1783 other: 1823 Cork, Cork
Edmond Thornhill birth: 1817 other: 1837 Co Cork
Edmond Thornhill birth: 1817 other: 1837 Cork City Co Cork
Edmond Thornhill other: 1837 Co Cork
Edmond Thornhill other: 1837 Cork City Co Cork
Emily Thornhill birth: 1850 Cork other: 1873 Grangegorman Female Prison, Dublin,
Henry F Thornhill birth: 1850 other: 1872 Cork City Co Cork
Henry T Thornhill birth: 1850 other: 1872 Cork City Co Cork
Henry Thornhill other: 1849 Co Cork
Henry Thornhill other: 1849 Co Cork
Henry Thornhill birth:  1811 other: 1851 Co Cork
Henry Thornhill birth:  1811 other: 1851 Cork City Co Cork
Henry Thornhill birth:  1814 other: 1849 Cork, Cork
Henry Thornhill birth:  1815 other: 1849 Cork, Cork
Henry Thornhill birth:  1815 other: 1849 Cork, Cork
Henry Thornhill other: 1849 Co Cork
Henry Thornhill other: 1851 Co Cork
Henry Thornhill other: 1851 Cork City Co Cork
John Thornhill other:  1849 Cork, Cork
John Thornhill birth: 1836 Cork other: 1861 Richmond (Bridewell), Dublin
John Thornhill other: 1863 Cork City Co Cork
Kate Thornhill other: 1903 Co Cork
Kate Thornhill residence: 1873 Rockvale other: 1873 Co Cork
Patk Thornhill birth: 1895 Butterant other: 1924 Co Cork
Patk Thornhill[Bridget Thornhill] birth: 1894 Ballevant Co Cork residence: 1919 Bee Mullet Co Mayo other: 1919 Sligo,
Patrick Thornhill [Bridget Thornhill birth: 1897 Butterant residence: 1919 Belmullet other: 1919 Castlebar, Mayo,
Patrick Thornhill[Bridget Thornhill] birth: 1895  Buttevant residence:  1924 54 Nth Main St Cork other: 1924 Co Cork
Patrk Thornhill other:  1871 Cork City Co Cork
Quail Thornhill birth: 1778 other: 1830 Cork City Co Cork
Quail Thornhill other:  1830 Cork City Co Cork
Quaile Thornhill birth: 1781 other: 1831 Cork City Co Cork
Quayle Thornhill birth: 1777 other: 1826 Cork, Cork
Quayle Thornhill birth: 1781 other: 1831 Cork, Cork
Quayle Thornhill other: 1829 Co Cork
Quayle Thornhill other: 1830 Co Cork
Quayle Thornhill other: 1831 Co Cork
Richard Thornhill other: 1903 Fermoy (Bridewell), Cork
Richd Thornhill other:  1858 Co Cork
W W Thornhill birth: 1849 Killroullen residence: 1882 Killavullen other: 1882 Cork County, Cork,
W Wm Thornhill other: 1882 Co Cork
Walter Thornhill birth: 1834 other: 1884 Co Cork
Walter Thornhill birth: 1846 other: 1896 Co Cork
Walter Thornhill birth: 1846 Waterford other:  1896 Co Cork
Walter Thornhill birth: 1846 Waterford residence: 1896 Horpe Killarney other: 1896 Co Cork
Walter Thornhill birth: 1848 other: 1884 Co Cork
Walter Thornhill birth: 1848 other: 1891 Co Cork
Walter Thornhill birth: 1849 Mallow other: 1893 Co Cork
Walter Thornhill birth: 1849 Mallow residence:  1893 No Fixed other: 1893 Co Cork
William Thornhill [Kate Thornhill] birth: 1844 Kildorrery residence:  1873 Rockvale other: 1873 Co Cork
William Thornhill birth: 1808 other: 1837 Co Cork
William Thornhill birth: 1844 other: 1873 Co Cork
William Thornhill birth: 1844 Kildorrery other: 1866 Cork, Cork
William Thornhill other: 1873 Co Cork
Wm Thornhill other: 1837 Co Cork
Co Cork Ireland, Petty Sessions Court Registers, 1828-1912
Arthur Thornhill court: 29 March 1880 Cork,
Arthur Thornhill court: 9 January 1893 Cork,
B Thornhill court: 15 February 1882 Cork,
B Thornhill court: 6 March 1889  Cork,
C C Thornhill court: 1 September 1909  Cork,
C C Thornhill court: 15 January 1913 Cork,
C C Thornhill court: 16 June 1909 Cork,
C C Thornhill court: 2 December 1908  Cork,
C C Thornhill court: 22 July 1914 Cork,
C Thornhill court: 17 November 1909 Cork,
C Thornhill court: 18 November 1914 Cork,
C Thornhill court: 20 August 1913 Cork,
C Thornhill court: 4 April 1888 Cork,
C Thornhill court: 7 October 1908 Cork,
Carey Thornhill court:  10 May 1882 Cork,
Carey Thornhill court:  21 August 1889 Cork,
Carey Thornhill court:  27 December 1899  Cork,
Carey Thornhill court:  7 June 1882 Cork,
Carry Thornhill court: 12 August 1896 Cork,
Casey Thornhill court: 2 December 1887  Cork,
Casey Thornhill court: 2 December 1887  Cork,
Cath Thornhill court: 4 April 1888 Cork,
Catherine Thornhill court: 1 August 1881 Cork,
Catherine Thornhill court: 10 June 1903 Cork,
Catherine Thornhill court: 11 April 1883 Cork,
Catherine Thornhill court: 11 August 1875 Cork,
Catherine Thornhill court: 15 January 1874 Cork,
Catherine Thornhill court: 20 January 1896 Cork,
Catherine Thornhill court: 20 July 1881 Cork,
Chas Thornhill court: 8 April 1896 Cork,
Chris Thornhill court: 26 May 1873 Cork,
Christ Thornhill court:  2 August 1875 Cork,
Christ Thornhill court:  26 March 1877 Cork,
Christopher C Thornhill court:  15 January 1913 Cork,  ,
Christopher C Thornhill court:  15 July 1914 Cork,
Christopher Thornhill court: 23 May 1898 Cork,
Christopher Thornhill court: 25 April 1898 Cork,
Dudley Thornhill court: 27 July 1910 Cork,
Edwd Thornhill court:  23 October 1876 Cork,
Eliza Thornhill court: 1 March 1882  Cork,
Eliza Thornhill court: 12 July 1878 Cork,
Eliza Thornhill court: 13 September 1882 Cork,
Eliza Thornhill court: 15 February 1893 Cork,
Eliza Thornhill court: 15 March 1893 Cork,
Eliza Thornhill court: 19 November 1874 Cork,
Eliza Thornhill court: 19 October 1866 Cork,
Eliza Thornhill court: 31 October 1888 Cork,
Eliza Thornhill court: 4 May 1866 Cork,
Elizabeth Thornhill court: 1 November 1876 Cork,
Henry Thornhill court: 24 December 1860  Cork,
J Thornhill court: 13 June 1888 Cork,
J Thornhill court: 13 October 1893 Cork,
J Thornhill court: 17 February 1893 Cork,
J Thornhill court: 19 February 1890 Cork,
J Thornhill court: 25 February 1887 Cork,
Jno Thornhill court: 1 February 1882 Cork,
Jno Thornhill court: 12 October 1881 Cork,
Jno Thornhill court: 17 February 1893 Cork,
Jno Thornhill court: 3 February 1893 Cork,
Jno Thornhill court: 8 August 1906 Cork,
John Margt Thornhill court: 14 June 1905 Cork,
John Thornhil court: 19 February 1892 Cork,
John Thornhill court: 13 October 1893 Cork,
John Thornhill court: 25 October 1893 Cork,
John Thornhill court: 1 February 1882 Cork,
John Thornhill court: 1 May 1889 Cork,
John Thornhill court: 1 November 1876 Cork,
John Thornhill court: 1 October 1905 Cork,
John Thornhill court: 11 December 1893  Cork,
John Thornhill court: 11 January 1888 Cork,
John Thornhill court: 12 June 1890 Cork,
John Thornhill court: 12 November 1906 Cork,
John Thornhill court: 13 January 1888 Cork,
John Thornhill court: 13 June 1892 Cork,
John Thornhill court: 13 October 1893 Cork,
John Thornhill court: 14 April 1884 Cork,
John Thornhill court: 14 December 1908  Cork,
John Thornhill court: 14 February 1859 Cork,
John Thornhill court: 15 February 1882 Cork,
John Thornhill court: 15 May 1889 Cork,
John Thornhill court: 15 November 1876 Cork,
John Thornhill court: 17 February 1893 Cork,
John Thornhill court: 17 January 1883 Cork,
John Thornhill court: 18 April 1888 Cork,
John Thornhill court: 18 January 1882 Cork,
John Thornhill court: 18 March 1892 Cork,
John Thornhill court: 19 February 1890 Cork,
John Thornhill court: 2 February 1894 Cork,
John Thornhill court: 2 March 1892  Cork,
John Thornhill court: 20 December 1897  Cork,
John Thornhill court: 20 January 1892 Cork,
John Thornhill court: 20 March 1889 Cork,
John Thornhill court: 21 December 1892  Cork,
John Thornhill court: 21 January 1870 Cork,
John Thornhill court: 22 April 1887 Cork,
John Thornhill court: 22 March 1889 Cork,
John Thornhill court: 23 January 1889 Cork,
John Thornhill court: 23 March 1888 Cork,
John Thornhill court: 24 December 1869  Cork,
John Thornhill court: 24 January 1877 Cork,
John Thornhill court: 24 July 1879 Cork,
John Thornhill court: 25 February 1887 Cork,
John Thornhill court: 25 October 1893 Cork,
John Thornhill court: 26 January 1866 Cork,
John Thornhill court: 26 October 1881 Cork,
John Thornhill court: 26 October 1894 Cork,
John Thornhill court: 27 February 1899 Cork,
John Thornhill court: 27 November 1905 Cork,
John Thornhill court: 27 October 1893 Cork,
John Thornhill court: 29 December 1875  Cork,
John Thornhill court: 29 October 1869 Cork,
John Thornhill court: 3 February 1871 Cork,
John Thornhill court: 3 February 1873 Cork,
John Thornhill court: 3 February 1892 Cork,
John Thornhill court: 3 February 1893 Cork,
John Thornhill court: 3 January 1859 Cork,
John Thornhill court: 3 March 1893  Cork,
John Thornhill court: 31 August 1881 Cork,
John Thornhill court: 31 January 1894 Cork,
John Thornhill court: 4 January 1893 Cork,
John Thornhill court: 4 October 1858 Cork,
John Thornhill court: 4 October 1878 Cork,
John Thornhill court: 5 April 1889 Cork,
John Thornhill court: 5 February 1869 Cork,
John Thornhill court: 5 February 1892 Cork,
John Thornhill court: 6 April 1888 Cork,
John Thornhill court: 6 December 1893  Cork,
John Thornhill court: 6 February 1889 Cork,
John Thornhill court: 6 May 1887 Cork,
John Thornhill court: 7 December 1892  Cork,
John Thornhill court: 7 December 1893  Cork,
John Thornhill court: 7 January 1870 Cork,
John Thornhill court: 7 January 1895 Cork,
John Thornhill court: 7 March 1888  Cork,
John Thornhill court: 7 May 1855 Cork,
John Thornhill court: 8 December 1893  Cork,
John Thornhill court: 8 February 1889 Cork,
John Thornhill court: 8 November 1872 Cork,
John Thornhill court: 9 January 1880 Cork,
John Thornhill court: 9 January 1889 Cork,
John Thornhill court: 9 March 1888  Cork,
John Thornhill court: 9 November 1908 Cork,
Julia Thornhill court: 22 August 1867 Cork,
Julia Thornhill court: 29 September 1881 Cork,
Kate Thornhill court: 19 November 1874 Cork,
Kate Thornhill court: 24 August 1903 Cork,
Kate Thornhill court: 25 June 1880 Cork,
Kate Thornhill court: 7 September 1903  Cork,
Kate Thornhill court: 8 June 1908 Cork,
M Thornhill court: 13 October 1893 Cork,
M Thornhill court: 18 October 1907 Cork,
M Thornhill court: 24 March 1897 Cork,
Margaret Thornhill court:  13 November 1901 Cork,
Margaret Thornhill court:  14 June 1905 Cork,
Margaret Thornhill court:  2 April 1901 Cork,
Margaret Thornhill court:  9 October 1901 Cork,
Mary B Thornhill court: 4 December 1869  Cork,
Mary Thornhill court: 10 December 1869  Cork,
Michael Thornhill court: 18 October 1869 Cork,
Michael Thornhill court: 2 March 1871  Cork,
Michael Thornhill court: 2 November 1899 Cork,
Michael Thornhill court: 21 September 1868 Cork,
Michael Thornhill court: 6 February 1893 Cork,
P Thornhill court: 30 April 1903 Cork,
Patk Thornhill court: 16 July 1880 Cork,
Patk Thornhill court: 7 June 1897 Cork,
Patrick Thornhill court: 10 December 1914  Cork,
Patrick Thornhill court: 10 July 1890 Cork,
Patrick Thornhill court: 10 June 1880 Cork,
Patrick Thornhill court: 11 July 1878 Cork,
Patrick Thornhill court: 12 October 1882 Cork,
Patrick Thornhill court: 13 November 1902 Cork,
Patrick Thornhill court: 14 May 1903 Cork,
Patrick Thornhill court: 15 February 1897 Cork,
Patrick Thornhill court: 15 September 1881 Cork,
Patrick Thornhill court: 16 August 1897 Cork,
Patrick Thornhill court: 17 April 1902 Cork,
Patrick Thornhill court: 17 August 1894 Cork,
Patrick Thornhill court: 18 September 1902 Cork,
Patrick Thornhill court: 21 March 1878 Cork,
Patrick Thornhill court: 21 September 1883 Cork,
Patrick Thornhill court: 23 July 1903 Cork,
Patrick Thornhill court: 23 March 1876 Cork,
Patrick Thornhill court: 24 July 1879 Cork,
Patrick Thornhill court: 26 April 1894 Cork,
Patrick Thornhill court: 28 August 1873 Cork,
Patrick Thornhill court: 29 September 1881 Cork,
Patrick Thornhill court: 30 April 1903 Cork,
Patrick Thornhill court: 30 March 1871 Cork,
Patrick Thornhill court: 6 August 1903 Cork,
Ricd Thornhill court: 14 September 1910 Cork,
Richard Thornhill court: 15 February 1858 Cork,
Richard Thornhill court: 15 July 1896 Cork,
Richard Thornhill court: 16 November 1903 Cork,
Richard Thornhill court: 17 November 1897 Cork,
Richard Thornhill court: 19 October 1903 Cork,
Richard Thornhill court: 21 September 1903 Cork,
Richard Thornhill court: 23 November 1892 Cork,
Richard Thornhill court: 25 October 1858 Cork,
Richard Thornhill court: 26 August 1896 Cork,
Richard Thornhill court: 27 January 1854 Cork,
Richard Thornhill court: 29 July 1896 Cork,
Richard Thornhill court: 4 October 1858 Cork,
Richard Thornhill court: 5 October 1903 Cork,
Richard Thornhill court: 5 October 1910 Cork,
Richard Thornhill court: 7 September 1903  Cork,
Richd Thornhill court:  1 July 1896  Cork,
Richd Thornhill court:  10 October 1910 Cork,
Richd Thornhill court:  18 November 1896 Cork,
Richd Thornhill court:  23 September 1896 Cork,
Richd Thornhill court:  24 February 1897 Cork,
Richd Thornhill court:  24 October 1910 Cork,
Richd Thornhill court:  26 August 1896 Cork,
Richd Thornhill court:  4 November 1896 Cork,
Richd Thornhill court:  7 September 1903  Cork,
S C Thornhill court: 18 April 1876 Cork,
T B Thornhill court: 12 October 1904 Cork,
T B Thornhill court: 13 July 1904 Cork,
T B Thornhill court: 17 February 1905 Cork,
T Thornhill court: 19 February 1890 Cork,
Tho D Thornhill court:  11 February 1903 Cork,
Thomas B Thornhill court:  1 November 1899 Cork,
Thomas B Thornhill court:  10 August 1904 Cork,
Thomas B Thornhill court:  11 October 1893 Cork,
Thomas B Thornhill court:  12 December 1897  Cork,
Thomas B Thornhill court:  13 July 1904 Cork,
Thomas B Thornhill court:  13 July 1904 Cork,
Thomas B Thornhill court:  13 November 1889 Cork,
Thomas B Thornhill court:  13 November 1889 Cork,
Thomas B Thornhill court:  15 December 1897  Cork,
Thomas B Thornhill court:  16 October 1889 Cork,
Thomas B Thornhill court:  17 February 1905 Cork,
Thomas B Thornhill court:  18 September 1889 Cork,
Thomas B Thornhill court:  2 October 1889 Cork,
Thomas B Thornhill court:  22 June 1881 Cork,
Thomas B Thornhill court:  27 November 1889 Cork,
Thomas B Thornhill court:  30 August 1893 Cork,
Thomas B Thornhill court:  30 October 1889 Cork,
Thomas B Thornhill court:  31 August 1881 Cork,
Thomas B Thornhill court:  8 November 1893 Cork,
Thomas Thornhill court: 12 January 1876 Cork,
Thomas Thornhill court: 17 November 1897 Cork,
Thomas Thornhill court: 18 September 1889 Cork,
Thomas Thornhill court: 19 February 1890 Cork,
Thomas Thornhill court: 22 March 1876 Cork,
Thomas Thornhill court: 26 January 1876 Cork,
Thomas Thornhill court: 26 October 1881 Cork,
Thomas Thornhill court: 31 October 1888 Cork,
Thomas Thornhill court: 6 July 1892  Cork,
Thomas Thornhill court: 9 February 1876 Cork,
Thos B Thornhill court: 11 October 1893 Cork,
Thos B Thornhill court: 13 November 1889 Cork,
Thos B Thornhill court: 14 May 1880 Cork,
Thos B Thornhill court: 14 September 1904 Cork,
Thos B Thornhill court: 16 August 1893 Cork,
Thos B Thornhill court: 16 October 1889 Cork,
Thos B Thornhill court: 19 February 1890 Cork,
Thos B Thornhill court: 19 July 1893 Cork,
Thos B Thornhill court: 2 December 1887  Cork,
Thos B Thornhill court: 21 December 1881  Cork,
Thos B Thornhill court: 27 November 1889 Cork,
Thos B Thornhill court: 5 March 1880  Cork,
Thos B Thornhill court: 6 March 1889  Cork,
Thos F Thornhill court: 13 November 1889 Cork,
Thos Thornhill court: 1 January 1896 Cork,
Thos Thornhill court: 1 July 1896  Cork,
Thos Thornhill court: 10 May 1882 Cork,
Thos Thornhill court: 11 April 1883 Cork,
Thos Thornhill court: 11 February 1903 Cork,
Thos Thornhill court: 14 June 1905 Cork,
Thos Thornhill court: 14 September 1904 Cork,
Thos Thornhill court: 15 February 1893 Cork,
Thos Thornhill court: 15 July 1896 Cork,
Thos Thornhill court: 18 January 1893 Cork,
Thos Thornhill court: 23 October 1895 Cork,
Thos Thornhill court: 24 March 1897 Cork,
Thos Thornhill court: 28 May 1881 Cork,
Thos Thornhill court: 29 July 1896 Cork,
Thos Thornhill court: 31 January 1894 Cork,
Thos Thornhill court: 6 July 1892  Cork,
Thos Thornhill court: 8 November 1893 Cork,
W A Thornhill court: 8 August 1906 Cork,
W D Thornhill court: 23 September 1910 Cork,
W D Thornhill court: 11 March 1910 Cork,
W D Thornhill court: 14 September 1904 Cork,
W D Thornhill court: 23 September 1910 Cork,
W D Thornhill court: 7 October 1910 Cork,
W D Thornhill court: 8 September 1911  Cork,
W O Thornhill court: 24 March 1897 Cork,
W O Thornhill court: 7 April 1897 Cork,
W Q Thornhill court: 8 August 1906 Cork,
W Q Thornhill court: 10 April 1908 Cork,
W Q Thornhill court: 11 April 1906 Cork,
W Q Thornhill court: 11 March 1903 Cork,
W Q Thornhill court: 11 March 1908 Cork,
W Q Thornhill court: 11 November 1904 Cork,
W Q Thornhill court: 11 September 1907 Cork,
W Q Thornhill court: 12 April 1905 Cork,
W Q Thornhill court: 12 February 1908 Cork,
W Q Thornhill court: 13 February 1907 Cork,
W Q Thornhill court: 13 March 1907 Cork,
W Q Thornhill court: 13 May 1904 Cork,
W Q Thornhill court: 14 April 1905 Cork,
W Q Thornhill court: 14 April 1906 Cork,
W Q Thornhill court: 14 March 1906 Cork,
W Q Thornhill court: 14 October 1904 Cork,
W Q Thornhill court: 14 September 1904 Cork,
W Q Thornhill court: 16 March 1906 Cork,
W Q Thornhill court: 17 May 1901 Cork,
W Q Thornhill court: 17 October 1900 Cork,
W Q Thornhill court: 2 March 1906  Cork,
W Q Thornhill court: 2 May 1900 Cork,
W Q Thornhill court: 20 April 1900 Cork,
W Q Thornhill court: 20 February 1903 Cork,
W Q Thornhill court: 28 October 1904 Cork,
W Q Thornhill court: 30 September 1904 Cork,
W Q Thornhill court: 4 April 1902 Cork,
W Q Thornhill court: 4 September 1903  Cork,
W Q Thornhill court: 6 March 1903  Cork,
W Q Thornhill court: 8 August 1906 Cork,
W Thornhill court: 10 November 1905 Cork,
W Thornhill court: 11 June 1894 Cork,
W Thornhill court: 13 March 1907 Cork,
William Q Thornhill court:  11 May 1905 Cork,
William Q Thornhill court:  17 May 1901 Cork,
William Q Thornhill court:  29 April 1904 Cork,  ,
William Thornhill court: 1 June 1875 Cork,
William Thornhill court: 11 April 1859 Cork,
William Thornhill court: 11 April 1859 Cork,
William Thornhill court: 11 June 1894 Cork,
William Thornhill court: 11 May 1868 Cork,
William Thornhill court: 11 November 1867 Cork,
William Thornhill court: 12 December 1864  Cork,
William Thornhill court: 12 January 1900 Cork,
William Thornhill court: 13 August 1900 Cork,
William Thornhill court: 13 February 1865 Cork,
William Thornhill court: 14 August 1854 Cork,
William Thornhill court: 14 March 1859 Cork,
William Thornhill court: 15 January 1852 Cork,
William Thornhill court: 15 January 1857 Cork,
William Thornhill court: 15 July 1901 Cork,
William Thornhill court: 16 January 1854 Cork,
William Thornhill court: 16 July 1900 Cork,
William Thornhill court: 16 May 1876 Cork,
William Thornhill court: 16 May 1904 Cork,
William Thornhill court: 17 August 1868 Cork,
William Thornhill court: 19 June 1873 Cork,
William Thornhill court: 19 May 1874 Cork,
William Thornhill court: 20 April 1903 Cork,
William Thornhill court: 20 December 1858  Cork,
William Thornhill court: 20 January 1896 Cork,
William Thornhill court: 20 June 1898 Cork,
William Thornhill court: 21 April 1874 Cork,
William Thornhill court: 21 May 1866 Cork,
William Thornhill court: 22 March 1858 Cork,
William Thornhill court: 22 November 1858 Cork,
William Thornhill court: 23 April 1866 Cork,
William Thornhill court: 23 February 1889 Cork,
William Thornhill court: 23 October 1854 Cork,
William Thornhill court: 24 April 1865 Cork,
William Thornhill court: 24 August 1903 Cork,
William Thornhill court: 24 February 1874 Cork,
William Thornhill court: 24 March 1874 Cork,
William Thornhill court: 26 April 1858 Cork,
William Thornhill court: 26 March 1866 Cork,
William Thornhill court: 27 August 1866 Cork,
William Thornhill court: 28 January 1867 Cork,
William Thornhill court: 28 March 1859 Cork,
William Thornhill court: 28 November 1864 Cork,
William Thornhill court: 29 August 1898 Cork,
William Thornhill court: 29 July 1896 Cork,
William Thornhill court: 29 October 1894 Cork,
William Thornhill court: 3 July 1873  Cork,
William Thornhill court: 3 June 1901 Cork,
William Thornhill court: 3 November 1866 Cork,
William Thornhill court: 6 January 1896 Cork,
William Thornhill court: 9 October 1854 Cork,
Willm Thornhill court:  15 January 1852 Cork,
Willm Thornhill court:  19 June 1873 Cork,
Wm D Thornhill court: 11 March 1910 Cork,
Wm J Thornhill court:  17 October 1900 Cork,
Wm O Thornhill court: 10 February 1896 Cork,
Wm O Thornhill court: 22 September 1897 Cork,
Wm O Thronhill court: 10 February 1896 Cork,
Wm P Thornhill court: 22 April 1910 Cork,
Wm Q Thornhill court: 10 November 1905 Cork,
Wm Q Thornhill court: 11 March 1903 Cork,
Wm Q Thornhill court: 11 November 1904 Cork,
Wm Q Thornhill court: 13 March 1907 Cork,
Wm Q Thornhill court: 14 October 1904 Cork,
Wm Q Thornhill court: 14 September 1904 Cork,
Wm Q Thornhill court: 15 March 1895 Cork,
Wm Q Thornhill court: 15 May 1903 Cork,
Wm Q Thornhill court: 16 February 1906 Cork,
Wm Q Thornhill court: 17 April 1903 Cork,
Wm Q Thornhill court: 17 October 1900 Cork,
Wm Q Thornhill court: 17 October 1902 Cork,
Wm Q Thornhill court: 2 May 1900 Cork,
Wm Q Thornhill court: 20 February 1903 Cork,
Wm Q Thornhill court: 20 March 1903 Cork,
Wm Q Thornhill court: 27 October 1905 Cork,
Wm Q Thornhill court: 29 April 1904 Cork,
Wm Q Thornhill court: 30 September 1904 Cork,
Wm Q Thornhill court: 31 May 1901 Cork,
Wm Q Thornhill court: 4 April 1902 Cork,
Wm Q Thornhill court: 4 May 1900 Cork,
Wm Q Thornhill court: 4 November 1896 Cork,
Wm Q Thornhill court: 4 September 1903  Cork,
Wm Q Thornhill court: 6 March 1903  Cork,
Wm Q Thornhill court: 8 August 1906 Cork,
Wm Q Thornhill court: 9 September 1903  Cork,
Wm Quaile Thornhill court: 4 September 1903  Cork,
Wm Quayle Thornhill court: 11 September 1901 Cork,
Wm Quayle Thornhill court: 9 October 1901 Cork,
Wm Thornhill court: 1 June 1875 Cork,
Wm Thornhill court: 12 January 1900 Cork,
Wm Thornhill court: 16 May 1876 Cork,
Wm Thornhill court: 17 October 1902 Cork,
Wm Thornhill court: 19 October 1900 Cork,
Wm Thornhill court: 2 May 1900 Cork,
Wm Thornhill court: 2 November 1900 Cork,
Wm Thornhill court: 20 January 1896 Cork,
Wm Thornhill court: 20 June 1898 Cork,
Wm Thornhill court: 24 February 1874 Cork,
Wm Thornhill court: 24 June 1911 Cork,
Wm Thornhill court: 24 March 1874 Cork,
Wm Thornhill court: 28 August 1911 Cork,
Wm Thornhill court: 30 September 1904 Cork,
Wm Thornhill court: 4 November 1896 Cork,
Wm Thornhill court: 6 March 1903  Cork,
Co Cork Ireland Landed Estate Court Files, 1850-1885
Edward B Thornhill probate: 1851 Cork,
Edward Badham Thornhill probate: 1851 Cork,
Elizabeth Thornhill probate: 1851 Cork,
James Badham Thornhill probate: 1857 Cork,
John Thornhill probate: 1799 Cork,
John Thornhill probate: 1842 Cork,
John Thornhill probate: 1799 Limerick,
John Thornhill probate: 1855 Cork,
Reeves V Thornhill probate: 1851 Cork,
Richard Thornhill probate: 1855 Cork,
Thomas Badham Thornhill probate: 1857 Cork,
Thornhill probate: 1851 Cork,
Walter Thornhill probate:  1782 Cork,
Walter Thornhill probate:  1875 Cork,
William Thornhill probate: 1855 Cork,
Co Cork Baptisms
Adelaide Cuthbert Thornhill 30 Aug 1866 Cork South Parish Cork & Ross (RC)
Henry James Thornhill Brisge St 12 Jan 1878 Skibbereen (Creagh & Sullon) Cork & Ross (RC)
John Thornhill 11 Jun 1810 Cork South Parish Cork & Ross (RC)
John Thornhill 18 Apr 1791 Cork South Parish Cork & Ross (RC)
Mary Thornhil 23 Mar 1816 Cork South Parish Cork & Ross (RC)
Patrick Thornhill Mardyke 14 Mar 1880 Skibbereen (Creagh & Sullon) Cork & Ross (RC)
William Thornhill 4 May 1856 Cork – SS. Peter & Paul Cork & Ross (RC)
Wm Thornhill 31 May 1850 Cork South Parish Cork & Ross (RC)
William son of Wiulliam & Kate Thornhill p 287 11th Apr 1871 (NLI Microfilm 4997) (RC)
Mariages
Catherine Thornhill & William McCarthy 22 Jan 1859 Cork South Parish Cork & Ross (RC)
Christopherus C Thornhill & Ellenam Nagle 13 Feb 1877 Skibbereen & Rath Cork & Ross (RC)
Dora Thornhill & Michl McCarthy 28 Sep 1851 Cork South Parish Cork & Ross (RC)
Franciscum Thornhill of Corcagia & Elizabetham Parkinson 21 Feb 1860 Cork – SS. Peter & Paul Cork & Ross (RC)
Gahianous Thornhill & Ellen Sullivan Mallow p4 28th Aug 1787 (NLI Microfilm 4997) (RC)
Henricum Thornhill of 11 Tobin St & Mariam Anne Gorman of 14 Tobin St 11 Cork – SS. Peter & Paul Cork & Ross (RC)
Richard Thornhill & Cathn Desmond 6 Feb 1842 Cork South Parish Cork & Ross (RC)
Walter Thornhill & Rosanna Lynch 4 Nov 1837 Cork – SS. Peter & Paul Cork & Ross (RC)
Co Donegal BDM's
Edward Thornhill birth: 1860 death: January 1919 / March 1919  Ballyshannon,
Francis Thornhill birth: 1888 death: July 1890 / September 1890 Ballyshannon,
Francis Thornhill birth: April 1888 / June 1888 Ballyshannon,
George Thornhill birth: 1860 death: January 1910 / March 1910  Ballyshannon, Donegal
George Thornhill birth: 1832 death: April 1893 / June 1893 Ballyshannon,
Helena Thornhill birth: October 1896 / December 1896 Ballyshannon,
Henry Thornhill birth:  1887 death: January 1887 / March 1887  Ballyshannon,
Henry Thornhill birth:  January 1887 / March 1887  Ballyshannon,
Isabella Thornhill birth: 1802 death: October 1887 / December 1887 Ballyshannon,
Isabella Thornhill birth: July 1891 / September 1891 Ballyshannon,
Isabella Thornhill marriage: 1865 Ballyshannon,
Maria Thornhill marriage:  1862 Ballyshannon,
Mary Anne Thornhill birth:  January 1894 / March 1894  Ballyshannon,
Mary Anne Thornhill marriage: January 1931 / March 1931  Ballyshannon,
Mary Thornhill birth: 1850 death: April 1918 / June 1918 Ballyshannon,
Sarah Thornhill birth: 1864 Ballyshannon,
William Thornhill birth: April 1888 / June 1888 Ballyshannon,
Co Donegal Ireland, Petty Sessions Court Registers, 1828-1912
George Thornhill court: 30 August 1900 Donegal,
George Thornhill court: 11 October 1888 Donegal,
Maria Thornhill court:  17 October 1861 Donegal,
Co Donegal Ireland Landed Estate Court Files, 1850-1885
George Thornhill probate:  1876 Donegal,
Co Down BDM's
Elizabeth S O 'N B Thornhill marriage: January 1889 / March 1889  Downpatrick,
Co Down 1901 Census
Thornhill Mary Kate Albertbridge Road  Pottinger  Down 18
Co  Dublin BDM's
Alice Thornhill birth: 1853 death: 1876  Dublin North,
Anne E Thornhill birth: January 1952 / March 1952   Dublin South,  mother: Moran
Anne Marjory Thornhill birth:  January 1883 / March 1883   Dublin South,
Annie Thornhill birth:  1859 death: April 1883 / June 1883  Dublin North,
Annie Thornhill birth:  April 1883 / June 1883  Dublin North,
Annie Thornhill marriage:  July 1909 / September 1909  Dublin South,
Barry Badham Thornhill birth:  October 1917 / December 1917  Dublin South,
Catherine M M Thornhill marriage: January 1938 / March 1938   Dublin South,
Charles Thornhill birth: 1850 death: January 1903 / March 1903   Dublin North,
Charles Thornhill marriage: April 1903 / June 1903  Dublin North,
Charles Thornhill marriage: January 1883 / March 1883   Dublin North,
Charlotte Thornhill birth: 1826 death: January 1916 / March 1916   Dublin South,
Desmond George B Badham-Thornhill marriage: October 1948 / December 1948  Dublin South,
Desmond George B Thornhill marriage: October 1948 / December 1948  Dublin South,
Diones Margaret Thornhill marriage: October 1905 / December 1905 Balrothery,
E Badham Thornhill birth:  1810 death: April 1893 / June 1893  Dublin South,
Edmond J Thornhill birth: July 1935 / September 1935   Dublin South,mother: Connery
Edward B Thornhill birth: 1847 death: January 1903 / March 1903   Dublin South,
Edward Badham Thornhill birth: 1808 death: April 1881 / June 1881  Dublin South,
Edward Wilfred Thornhill marriage: 1863  Dublin South,
Eleanor Laura Thornhill marriage: 1872  Dublin South,
Elizabeth B Thornhill birth:  1810 death: April 1893 / June 1893  Dublin South,
Elizabeth Thornhill birth: 1787 death: 1865 Rathdown,
Ellen Thornhill birth: 1821 death: January 1895 / March 1895   Dublin South,
Ellen Thornhill birth: 1837 death: April 1897 / June 1897  Dublin South,
Emily Ethel Thornhill marriage: April 1920 / June 1920  Dublin North,
Emily Ethel Thornhill marriage: July 1920 / September 1920  Dublin North,
Frances Thornhill birth: 1871 death: January 1939 / March 1939   Dublin South,
Francis Evelyn Thornhill marriage:  April 1879 / June 1879 Balrothery,
Francis Thornhill birth: 1811 death: 1871  Dublin South,
Francis Thornhill marriage:  1847  Dublin South,
Frederick James Thornhill marriage: October 1923 / December 1923  Dublin North,
Frederick Thornhill birth: October 1892 / December 1892  Dublin North
George Badham Thornhill marriage: July 1913 / September 1913  Dublin South,
George Nicholas Thornhill marriage: July 1888 / September 1888  Dublin North,
George Nicholls Thornhill marriage: January 1888 / March 1888   Dublin North,
George Thornhill birth: 1864 death: January 1920 / March 1920   Dublin North,
George Thornhill birth: July 1890 / September 1890  Dublin North,
George Thornhill marriage: 1856  Dublin North,
Henry F Thornhill birth: 1876 death: October 1953 / December 1953  Dublin South,
Henry Thornhill birth:  1839 death: October 1894 / December 1894  Dublin North,
Hil Mary A Thornhill birth: January 1952 / March 1952  Dublin North,  mother:Sparrow
Jane Thornhill birth: 1825 death: 1864  Dublin North,
Janet Isabella Thornhill birth: July 1887 / September 1887  Dublin South,
Janice E Thornhill birth: April 1957 / June 1957  Dublin North,  mother: Sparrow
Jo Laurence J B Thornhill birth: 1837 death: January 1916 / March 1916   Dublin South,
Joan P Badham-Thornhill birth: July 1949 / September 1949  Dublin South,  mother: Browett
Joan P Thornhill birth: July 1949 / September 1949  Dublin South,  mother: Browett
John A Thornhill birth: January 1954 / March 1954   Dublin North,  mother: Sparrow
John Alexander Thornhill marriage: 1859  Dublin North,
John Badham Thornhill birth: 1820 death: 1876 Rathdown,
John F M Thornhill birth: October 1917 / December 1917  Dublin North,
John Thornhill marriage: 1849  Dublin North,
John Thornhill marriage: July 1905 / September 1905 Balrothery,
Laurence John Badham Thornhill marriage: 1872  Dublin South,
Laurence John Thornhill birth: 1875  Dublin North,
Laurence Thornhill birth: 1875 death: 1875  Dublin North,
Leonard Thornhill birth: 1789 death: 1871 Rathdown,
Leonard Thornhill birth: 1861 death: July 1903 / September 1903 Rathdown,
Louisa A G Thornhill birth: 1828 death: July 1915 / September 1915 Rathdown,
Louisa Badham Thornhill birth: 1855 death: January 1917 / March 1917   Dublin South,
Lucinda M Thornhill birth:  1836 death: July 1889 / September 1889  Dublin South,
Lucinda Robena Thornhill birth: 1807 death: January 1879 / March 1879   Dublin South
Lucy R Thornhill birth:  1809 death: 1875  Dublin South,
Majella Thornhill birth: 1908 death: October 1933 / December 1933  Dublin North,
Margaret Thornhill birth: 1877 death: January 1946 / March 1946   Dublin South,
Margorie A Thornhill birth:  1857 death: April 1950 / June 1950 Balrothery,
Mary Anne Thornhill birth:  1855 death: 1871 Rathdown,
Mary Badham Thornhill marriage:  1869  Dublin South,
Mary E Thornhill birth: 1863 death: October 1944 / December 1944  Dublin South,
Mary Elizabeth Thornhill birth: January 1894 / March 1894   Dublin North,
Mary Ethel Thornhill birth:  July 1895 / September 1895  Dublin North,
Mary Thornhill birth: 1824 death: April 1909 / June 1909 Dublin
Matilda Thornhill marriage: April 1886 / June 1886  Dublin North,
Maurice Thornhill birth: October 1890 / December 1890  Dublin South,
Nathan Thornhill marriage: 1865  Dublin South,
No Name Female Thornhill birth: 1864  Dublin North,
No Name Female Thornhill birth: April 1884 / June 1884 Balrothery,
No Name Female Thornhill birth: October 1881 / December 1881  Dublin South,
No Name Female Thornhill birth: October 1885 / December 1885  Dublin North,
No Name Male Thornhill birth: 1866  Dublin South,
No Name Male Thornhill birth: April 1880 / June 1880  Dublin South,
No Name Male Thornhill birth: October 1881 / December 1881  Dublin South,
Nora M Thornhill birth: April 1941 / June 1941  Dublin South,  mother: Connery
Nora Thornhill birth: 1873 death: January 1926 / March 1926  Limerick,
Patrick J Thornhill birth: 1878 death: July 1948 / September 1948  Dublin North,
Patrick J Thornhill birth: July 1933 / September 1933  Dublin South,
Patrick Joseph Thornhill marriage: April 1932 / June 1932  Dublin North,
Patrick Thornhill birth: 1879 death: October 1935 / December 1935  Dublin North,
Peter L 1915 Thornhill birth: October 1929 / December 1929  Dublin South,mother:  Mann
Peter L Thornhill birth: October 1915 / December 1915  Dublin South,
Rebecca Sarah Thornhill birth: 1840 death: January 1879 / March 1879  Rathdown,
Robert Thornhill birth: January 1889 / March 1889   Dublin North,
Rose Thornhill birth: 1887 death: July 1887 / September 1887 Rathdown,
Sidney Thornhill birth: 1822 death: January 1896 / March 1896   Dublin South,
Stella Majella Thornhill birth: January 1925 / March 1925   Dublin North,
Stella Majella Thornhill marriage: July 1949 / September 1949  Dublin North,
Thomas John Thornhill birth: 1814 death: April 1891 / June 1891  Dublin South,
Thomas Thornhill birth: 1796 death: 1864  Dublin North,
Vincent R H Thornhill marriage: April 1950 / June 1950  Dublin South,
William Cecil Thornhill birth: January 1922 / March 1922   Dublin North,
William Claud Thornhill birth: April 1886 / June 1886 Rathdown,
William G Thornhill marriage: October 1950 / December 1950 Rathdown,
William Henry Thornhill birth:  1890 death: January 1890 / March 1890  Balrothery,
William Johnston Thornhill birth: 1812  death: July 1888 / September 1888  Dublin South
Wm Johnson Thornhill marriage: 1871  Dublin South,
Co  Dublin Griffiths Valuations 1850's
Leonard Thornhill  Dublin Monkstown
Margaret Thornhill  Dublin St John
Thomas Thornhill  Dublin Cruagh
Thomas Thornhill  Dublin St Peter
Thornhill Dublin Baldongan
Thornhill Dublin Holpatrick
William Thornhill  Dublin Coolock
Co  Dublin 1911 Census
Annie Thornhill Cabragh Castleknock  Dublin 23
Charlotte Gray Thornhill Malahide – St. James's Terrace Malahide   Dublin 32
Elliott Blundell Thornhill Ship Street, East Side Great Royal Exchange  Dublin 23
Ethel E Thornhill Addison Road Clontarf  Dublin 13
Frederic Thornhill Addison Road Clontarf  Dublin 16
George W   Thornhill Addison Road Clontarf  Dublin 20
Louisa Thornhill Claremont Villas Kingstown   Dublin 71
Louisa Thornhill Tivoli Avenue  Rathmines  Dublin 50
Margaret Thornhill Beechwood Avenue Upper. Rathmines  Dublin 22
Marjory Anne Thornhill Saint Doolaghs Coolock  Dublin 54
Mary E Thornhill Addison Road Clontarf  Dublin 14
Mary Elizabeth Thornhill Addison Road Clontarf  Dublin 45
Patrick Thornhill Oaklands Park Pembroke East  Dublin 34
Robert H Thornhill Addison Road Clontarf  Dublin 22
Co  Dublin 1901 Census
Annie Thornhill Brighton Road Rathmines  Dublin 18
Charlotte Thornhill York Street Mansion House  Dublin 80
Emma Thornhill Grafton Street Royal Exchange  Dublin 30
George Thornhill Hawthorn Terrace   Dublin 9
Louisa C Thornhill Grove Spencer Villas Glasthule   Dublin 50
Margaret Thornhill Darcystown Balbriggan   Dublin 64
Mary Thornhill Brighton Road Rathmines  Dublin 76
Patrick Thornhill South George's Street Royal Exchange  Dublin 25
Thomas Thornhill Leeson Street Lower Mansion House  Dublin 32
Co  Dublin Ireland Prison Registers, 1790-1924
Ellen Thornhill birth: 1765 other: 1839 Grangegorman Female Prison, Dublin
Emily Thornhill other:  1873 Grangegorman Female Prison, Dublin,
Mary Thornhill birth: 1803 other: 1853 Grangegorman Female Prison, Dublin
Co  Dublin Ireland, Petty Sessions Court Registers, 1828-1912
W J Thornhill court: 8 September 1865  Dublin
Co  Dublin Ireland Landed Estate Court Files, 1850-1885
John B Thornhill probate:  1844 Dublin,
Co  Dublin Baptism
Adelaida C Thornhill Portobello 21 Jun 1863 Rathmines  Dublin (RC)
Anne Mary Thornhill 16 Fitzgibbon St 5 Apr 1883 ST. Mary Pro-Cathedral  Dublin (RC)
Catherine Thornhill 13 Nov 1830 ST. Michan  Dublin (RC)
Cecily Thornhill Castle Cox Castlebellingham 8 Aug 1889 ST. Stephen  Dublin (COI)
Christopher Thornhill 3 Jan 1847 ST. Audeon  Dublin (COI)
Edvardus Joannes Joseph Thornhill 27 October 1876 ST. Mary Pro-Cathedral  Dublin (RC)
Eleanor Thornhill Cole Alley 22 Jul 1792 ST. Werburgh  Dublin (COI)
Elizabeth Thornhill 21 Shaw St 10 Mar 1861 ST. Mark  Dublin (COI)
Elizabeth Thornhill 5 Clare St 14 Mark 1862 ST. Mark  Dublin (COI)
Elizabeth Thornhill Copper Alley 12 Jul 1790 ST. Werburgh  Dublin (COI)
Emily Ethel Thornhill of 70 Seville Place 28 Jul 1895 ST. Barnabas as  Dublin (COI)
Frederick James Thornhill 30 Hawthorn Terrace 1 Jan 1893 ST. Barnabas as  Dublin (COI)
Geo Thornhill Exchange St 17 Feb 1788 ST. Werburgh  Dublin (COI)
George Thomas Thornhill 5 Clare St 14 Dec 1862 ST. Mark  Dublin (COI)
George Thornhill 189 Townsend St 20 Jan 1854 ST. Mark  Dublin (COI)
George William Thornhill Northcourt House 27 Jul 1890 ST. Barnabas as  Dublin (COI)
Georgina Thornhill 21 Shaw St 10 Mar 1861 ST. Mark  Dublin (COI)
Hanna Mary Thornhill 16 Mar 1854 SS. Michael & John  Dublin (RC)
Harriette Anna Maria Thornhill Spring Park Ballyboder 25 Nov 1849 ST. Peter  Dublin (COI)
Isabel Badham Thornhill 11 Mountjoy Sq North 18 Mar 1829 ST. George  Dublin (COI)
John Thornhill 1844 Rathfarnham  Dublin (RC)
Margaret Arabella Thornhill 145 Victoria Terrace Rathmines 20 October 1849 ST. Peter  Dublin (COI)
Margaret Thornhill 10 Jul 1738 ST. Paul  Dublin (COI)
Mary Anne Thornhill 4 Wellington St 21 Sep 1860 ST. Michan  Dublin (RC)
Mary Elizabeth Thornhill 70 Seville Place 18 Feb 1894 ST. Barnabas as  Dublin (COI)
Mary Thornhill 12 Lr Temple St 15 Jun 1856 ST. George  Dublin (COI)
Matilda Thornhill 21 Shaw St 30 Dec 1859 ST. Mark  Dublin (COI)
Muriel Thornhill Castlefellingham Co Louth 30 Dec 1890 ST. Anne  Dublin (COI)
Noel Thornhill Maple's Hotel Castle Cellingham 18 Jan 1882 ST. Anne  Dublin (COI)
Ralph Joseph Thornhill 36 Lr Clanbrassil St 22 Sep 1878  Dublin (RC)
Richard Thornhill 189 Townesend St 20 Jan 1854 ST. Mark  Dublin (COI)
Robert Henry Thornhill 16 Hawthorn Terrace 17 Feb 1889 ST. Barnabas  Dublin (COI)
Robertum Thornhill 1827 ST. Andrew  Dublin (RC)
?? Thornhill Copper Alley 12 Jul 1790 ST. Werburgh  Dublin (COI)
William Francis Thornhill Adelaide Road 7 Apr 1848 ST. Peter  Dublin (COI)
William Thornhill 95 Leeson St 6 Nov 1854 ST. Peter  Dublin (COI)
Marriage
Ann Thornhill & Edw Hallon 1 Feb 1794 ST. Peter  Dublin (COI)
Edward Wilfred Thornhill of 7 Synge St & Adelaide Forbes Cuthbert of 7 Synge St 9 Feb 1863 ST. Peter  Dublin (COI)
Elizabeth Thornhill of ST Peters & James Coleman of Belfast 25 Sep 1819 ST. Peter  Dublin (COI)
Francis Thornhill of Grantham St & Lucy Reaves Lane of Grantham St 20 Mar 1847 ST. Peter  Dublin (COI)
George Nicholls Thornhill of 82 Seville Place & Mary Elizabeth Rowe of 16 Hawthorn Tce 30 Jan 1888 ST. Barnabas  Dublin (COI)
George Thornhill of 26 Abbey St & Martha Gumley of 6 Bush Walk 11 Aug 1856 ST. Mary  Dublin (COI)
Jane Thornhill & Joseph Vance of Cuffe St 2 Nov 1824 ST. Peter  Dublin (COI)
John Thornhill of 17 Whites Lane & Ellen Higgins of 56 Upper Dorset St 26 Feb 1849 ST. George  Dublin (COI)
Johnathan Thornhill of Newtownbutler Co Fermanagh & Christina Leech of 71 Leinster Rd 2 Aug 1865 Rathmines  Dublin (COI)
Laurence John Badham Thornhill of Rathgar Road & Emily Geraldine Braddle of Leinster Sq Rathmines 11 Apr 1872 ST. Mark  Dublin (COI)
Leonard Thornhill & Elizabeth Carey 13 May 1812 ST. Andrew  Dublin (COI)
Mary Badham Thornhill of Cheltenham Pl & John Wybrants Olpherts of Lurgan 5 Jul 1869 ST. Peter  Dublin (COI)
Mary Catherine Thornhill of Rathcoole & Beresford Robery Hamilton of Rathcoole 3 Dec 1879 Rathcoole  Dublin (COI)
Matilda Thornhill of 16 Hawthorn Tce Church Rd & George Albert Keating of 82 Seville Place 6 Apr 1886 ST. Barnabas  Dublin (COI)
Sophia Thornhill & John Barnwell 26 May 1801 ST. Mary  Dublin (COI)
Thomas Thornhill of Ranelagh & Eliza O'Brien 24 Nov 1824 ST. Peter  Dublin (COI)
Wm JohnSson Thornhill of Clenent Club College Green & Louisa Augusta Grove Annesley of Wallstown Rectory South Shanballymore Co Cork 6 Sep 1871 ST. Andrew  Dublin (COI)
Burial
Anne Thornhill of Percy Place on 11 Sep 1844 ST. Peter  Dublin (COI)
Charles Thornhill 20 Jul 1768 ST. Peter  Dublin (COI)
Eliza Thornhill 29 Jun 1796 ST. Catherine  Dublin (COI)
Elizabeth Thornhill 3 Mar 1714 ST. Mary  Dublin (COI)
Elizth Thornhill of Holly Bank Drumcondra on 28 October 1863 ST. George  Dublin (COI)
Elly Thornhill of Pidgeon House on 15 Feb 1820 ST. Peter  Dublin (COI)
Georgina Thornhill of Gardiners Row on 6 Feb 1863 ST. George  Dublin (COI)
John Thornhill of 139 Townesend St on 6 Jan 1854 ST. Mark  Dublin (COI)
John Thornhill of Grafton St on 11 Feb 1792 ST. Peter  Dublin (COI)
Marey Thornhill of Sackville St on 23 Dec 1798 ST. Catherine  Dublin (COI)
Mary Thornhill 23 Dec 1798 ST. Catherine  Dublin (COI)
Mary Thornhill of Bray on 23 Jan 1805 ST. Peter  Dublin (COI)
Robert Thornhill 14 Feb 1802 Glasnevin  Dublin (COI)
Robert Thornhill of 1 Fleece Alley on 20 Aug 1825 ST. John  Dublin (COI)
Robt Thornhill 24 October 1727 ST. Catherine  Dublin (COI)
?? Thornhill 2 May 1735 ST. Paul  Dublin (COI)
Co  Dublin Roman Catholic Baptisms
First name(s)  Last name  Baptism year  Parish County Father's first name(s) Mother's first name(s)
Adelaide Thornhill 1863 Rathmines,  Dublin Edwardi Adelaida
Anne Mary Thornhill 1883 St. Mary's (Pro-Cathedral),  Dublin Charles Anne
Catherine Thornhill 1830 St. Michan's,  Dublin William Mary
Hannah Mary Thornhill 1854 St. Michael and John's,  Dublin William Hannah
Mary Anne Thornhill 1860 St. Michan's,  Dublin Alexander  Margaret
Patricius Joanne Joseph Thornhill 1876 St. Mary's (Pro-Cathedral),  Dublin Joannes Louisa
Ralph  Thornhill Harrington St., Dublin
Robertina Thornhill 1827 St. Andrew's,  Dublin Christopher Helena
Co  Dublin Roman Catholic Marriages
First name(s)  Last name  Marriage year Parish County Spouse's first name(s)
Francisca Thornhill 1856 St. Michael and John's,  Dublin Thomas
Rosa Thornhill 1919 Haddington Road   Dublin Franciscus Joseph
William Thornhill 1833 Kingstown   Dublin Lucenda Robina
Co  Dublin Burials
No Burials listed
Co Fermanagh 1911 Census
Bella Thornhill Belleek Fermanagh 19
Lena Thornhill Belleek Fermanagh 14
Mary Anne Thornhill Belleek  Fermanagh 53
Mary Anne Thornhill Belleek Fermanagh 17
Co Fermanagh 1901 Census
Annie Thornhill Belleek  Fermanagh 7
Bella Thornhill Belleek Fermanagh 9
Edward Thornhill Belleek  Fermanagh 56
Elena Thornhill  Belleek Fermanagh 4
George Thornhill Belleek Fermanagh 39
Mary Ann Thornhill Belleek Fermanagh 38
Mary Thornhill Belleek Fermanagh 40
William Thornhill Belleek Fermanagh 12
Co Fermanagh Ireland Landed Estate Court Files, 1850-1885
George Thornhill probate:  1876 Fermanagh,
Co Fermanagh Ireland Landed Estate Court Files, 1850-1885
George Thornhill probate:  1877 Fermanagh
Co Galway BDM's
Charles A Badham-Thornhill birth: October 1888 / December 1888 Ballinasloe,
Charles Albert B Thornhill birth: October 1888 / December 1888 Ballinasloe,
Edward James Thornhill birth: January 1890 / March 1890  Ballinasloe,
Eleanor Georgina Thornhill birth: 1884 death: January 1885 / March 1885  Ballinasloe,
Elleanor Georgina Thornhill birth: January 1884 / March 1884  Ballinasloe,
Emily G B Thornhill marriage: April 1907 / June 1907 Ballinasloe,
Emily Geraldine Thornhill birth: October 1879 / December 1879 Ballinasloe,
George Badham Thornhill birth: 1877 Ballinasloe,
Georgina Badham Thornhill birth:  1875 Ballinasloe,
Georgina Cathleen Thornhill birth:  1876 death: April 1882 / June 1882 Ballinasloe
Henry Frederick Thornhill birth: July 1880 / September 1880 Ballinasloe,
Laurence John Thornhill birth: April 1878 / June 1878 Ballinasloe,
W C Badham-Thornhill marriage: January 1908 / March 1908  Ballinasloe,
William C B Thornhill marriage: January 1908 / March 1908  Ballinasloe,
William Thornhill marriage: January 1950 / March 1950  Mountbellew,
Co Galway 1911 Census
Budham Thornhill Laurence  Cleaghmore Ballinasloe  Galway 61
Harry Thornhill  Bowlingreen Galway North Galway 34
Richard Thornhill  Bowlingreen Galway 24
Co Galway Ireland, Petty Sessions Court Registers, 1828-1912
Badham Thornhill court: 7 December 1912  Galway,
Emily G Thornhill court: 1 January 1881 Galway,
L B Thornhill court:  1 December 1888  Galway,
L B Thornhill court:  11 August 1888 Galway,
L B Thornhill court:  29 September 1888 Galway,
L B Thornhill court:  3 May 1902 Galway,
Laurence B Thornhill court: 11 August 1883 Galway,
Laurence B Thornhill court: 25 August 1883 Galway,
Laurence B Thornhill court: 8 September 1883  Galway,
Laurence Badhan ? Thornhill court: 25 August 1883 Galway
Co Kerry BDM's
Edmond Thornhill birth: 1876 death: July 1879 / September 1879 Killarney
Elizabeth Thornhill birth: July 1894 / September 1894 Killarney,
Ellen Thornhill birth: 1790 death: 1866 Killarney,
Ellen Thornhill birth: 1854 death: 1868 Killarney,
Francis Thornhill birth: 1813 death: 1877 Kenmare,
Francis Thornhill birth: April 1904 / June 1904 Killarney,
Francis Thornhill marriage:  1866 Killarney,
Francis Thornhill marriage:  January 1882 / March 1882  Killarney,
Frank Thornhill birth:  1842 death: July 1908 / September 1908 Killarney
Frank Thornhill birth: 1898 death: April 1938 / June 1938 Killarney,
George Thornhill birth: 1845 death: October 1915 / December 1915 Kenmare,
George Thornhill marriage: 1874 Kenmare,
Ita Thornhill birth: April 1888 / June 1888 Killarney,
Jane Thornhill birth: 1821 death: January 1879 / March 1879  Killarney,
Jane Thornhill birth: April 1901 / June 1901 Killarney,
John Joseph Thornhill birth: October 1886 / December 1886 Killarney,
John Thornhill birth: 1819 death: July 1890 / September 1890 Killarney,
John Thornhill birth: 1859 death: April 1915 / June 1915 Killarney,
John Thornhill marriage: October 1883 / December 1883 Killarney,
Kate Thornhill birth: 1846 death: October 1904 / December 1904 Kenmare,
Kate Thornhill birth: 1862 death: October 1922 / December 1922 Killarney,
Margaret Thornhill birth: 1901 death: January 1905 / March 1905  Killarney,
Margaret Thornhill birth: April 1900 / June 1900 Killarney,
Mary Jane Thornhill birth: July 1884 / September 1884 Killarney,
Patrick Thornhill birth: 1910 death: January 1910 / March 1910  Killarney,
Patrick Thornhill birth: April 1909 / June 1909 Killarney,
Walter Thornhill birth: 1844 death: 1868 Kenmare,
Walter Thornhill birth: 1854 death: January 1899 / March 1899  Tralee,
Walter Thornhill birth: January 1907 / March 1907  Killarney,
William Thornhill birth: 1850 death: April 1910 / June 1910 Killarney,
William Thornhill marriage: October 1899 / December 1899 Killarney,
Co Kerry 1911 Census
Elizabeth Thornhill New Street (Lower) Killarney Kerry  14
Elizabeth Thornhill New Street (Lower) Killarney Kerry  41
Ita   Thornhill New Street (Lower) Killarney Kerry  17
John Thornhill New Street (Lower) Killarney Kerry  22
John Thornhill New Street (Lower) Killarney Kerry 47
Mary Jane  Thornhill New Street (Lower) Killarney Kerry  24
Co Kerry 1901 Census
Catherine Thornhill New Street (Lower) Killarney Kerry  48
Elizabeth Thornhill New Street (Lower) Killarney Kerry  33
Francis W   Thornhill New Street (Lower) Killarney Kerry  48
George Thornhill Henry Street Kenmare  Kerry  51
Ita Thornhill New Street (Lower) Killarney Kerry  11
John Joseph Thornhill New Street (Lower) Killarney Kerry  14
John Thornhill New Street (Lower) Killarney Kerry  39
Lillie Thornhill New Street (Lower) Killarney Kerry  6
Mary Jane Thornhill New Street (Lower) Killarney Kerry  16
Co Kerry Roman Catholic Baptisms
First name(s)  Last name  Baptism year  Parish County Father's first name(s) Mother's first name(s)
Ellenum Thornhill  1854 Killarney Kerry  Joannes Jane
Franciescam Thornhill 1849 Killarney Kerry  Joanni Jonata
Gulielmus Thornhill 1859 Killarney Kerry  Joanne Janeta
Mariam Thornhill 1853 Killarney Kerry  Joannis
Percium Thornhill 1850 Killarney Kerry  Joanni Janate
Co Kerry Roman Catholic Marriages
First name(s)  Last name  Marriage year Parish County Spouse's first name(s)
Georgas Thornhill 1874 Templenoe Kerry  Catharina
Co Kerry Ireland Prison Registers, 1790-1924
Bridget Thornhill residence: 1919 Belmullet Co Mayo other: 1919 Sligo
Walter Thornhill birth: 1846 Waterford residence: 1896 Killarney other: 1896 Tralee, Kerry,
Walter Thornhill birth: 1848 other: 1884 Tralee, Kerry
Walter Thornhill birth: 1848 Waterford residence: 1891 Killarny other: 1891 Tralee, Kerry
William Thornhill birth: 1862 Killarney residence: 1902 Killarney other: 1902 Tralee, Kerry
Wm Thornhill birth: 1862 other: 1902 Tralee, Kerry
Co Kerry Ireland, Petty Sessions Court Registers, 1828-1912
A C Thornhill court: 31 January 1860 Kerry,
Conl Thornhill court: 31 January 1860 Kerry,
Francis Thornhill court: 12 August 1863 Kerry,
Francis Thornhill court: 26 August 1879 Kerry,
Francis Thornhill court: 31 January 1860 Kerry,
Francis Thornhill court: 8 May 1860 Kerry,
Jane Thornhill court: 31 May 1910 Kerry,
Jane Thornhill court: 5 July 1910  Kerry,
John Thornhill court: 23 June 1896 Kerry,
John Thornhill court: 11 November 1879 Kerry,
John Thornhill court: 15 September 1908 Kerry,
John Thornhill court: 17 January 1871 Kerry,
John Thornhill court: 20 September 1870 Kerry,
John Thornhill court: 21 April 1896 Kerry,
John Thornhill court: 25 February 1908 Kerry,
John Thornhill court: 26 May 1896 Kerry,
John Thornhill court: 26 November 1907 Kerry,
John Thornhill court: 31 May 1870 Kerry,
John Thornhill court: 4 April 1905 Kerry,
Pierce Thornhill court: 20 June 1866 Kerry,
Pierce Thornhill court: 30 September 1873 Kerry,
S C Thornhill court: 31 January 1860 Kerry,
Walter Thornhill court: 11 August 1884 Kerry,
Walter Thornhill court: 12 March 1888 Kerry,
Walter Thornhill court: 2 January 1883 Kerry,
Walter Thornhill court: 25 March 1879 Kerry,
Walter Thornhill court: 6 May 1884 Kerry,
Walton Thornhill court: 16 March 1880 Kerry,
William Thornhill court: 26 January 1904 Kerry,
Wm Thornhill court: 19 January 1904 Kerry,
Co Kerry Baptisms
Catherine Thornhil Killaha 1 Apr 1849 Glenflesk Kerry (RC)
Elizabeth Thornhill Main St 15 Jul 1894 Killarney Kerry (RC)
Ellen Thornhill Killarney 29 Sep 1854 Killarney Kerry (RC)
Francis William Thornhill Killarney 5 Feb 1849 Killarney Kerry (RC)
Ita Thornhill Main St 29 Apr 1888 Killarney Kerry (RC)
Jane Thornhill Killaha 8 Jun 1850 Glenflesk Kerry (RC)
John Joseph Thornhill Main St 12 Dec 1886 Killarney Kerry (RC)
Margaret Thornhill Workhouse 18 Apr 1900 Killarney Kerry (RC)
Mary Jane Thornhill Killarney 23 Feb 1853 Killarney Kerry (RC)
Mary Jane Thornhill Main St 14 Sep 1884 Killarney Kerry (RC)
Michael Thornhill 18 Jan 1796 Tralee Kerry (COI)
Michael Thornhill 4 Jan 1796 Tralee Kerry (COI)
Michael Thornhill Tipperary 18 Jan 1796 Tralee Kerry (COI)
Pierce Thornhill Killarney 17 Sep 1850 Killarney Kerry (RC)
Richard Thornhill 12 Jun 1792 Tralee Kerry (COI)
Richard Thornhill Tipperary 12 Jun 1792 Tralee Kerry (COI)
William Thornhill Killarney 23 Jul 1859 Killarney Kerry (RC)
Marriages
Francis Thornhill & Margaret Lane 15 Nov 1840 Kilgarvan Kerry (COI)
Francis Thornhill of Killarney & Catherine Healy of High St 21 Feb 1882 Killarney Kerry (RC)
Francis Thornhill of Kenmare & Charlotte Roberts of Killarney 16 October 1866 Killarney Kerry (COI)
John Thornhill of Killarney & Elizabeth Hayes of Killarney 4 October 1883 Killarney Kerry (RC)
William Thornhill of Killarney & Johanna Prendergast of Killarney 31 October 1899 Killarney Kerry (RC)
Co Kildare BDM's
Marianne Thornhill birth: 1810 death: 1870 Celbridge,
Mary Catharine Thornhill marriage: October 1879 / December 1879 Celbridge,
Co Kildare 1911 Census
John Thornhill  Collegeland Maynooth  Kildare 17
Co Kildare 1901 Census
Patrick Thornhill Collegeland Maynooth  Kildare 23
Co Kildare Ireland, Petty Sessions Court Registers, 1828-1912
F E Thornhill court:  1 January 1894 Kildare,
F E Thornhill court:  1 July 1895  Kildare,
F E Thornhill court:  10 November 1884 Kildare,
F E Thornhill court:  16 January 1888 Kildare,
F E Thornhill court:  2 April 1894 Kildare,
F E Thornhill court:  2 December 1895  Kildare,
F E Thornhill court:  2 January 1899 Kildare,
F E Thornhill court:  2 March 1891  Kildare,
F E Thornhill court:  25 February 1889 Kildare,
F E Thornhill court:  28 January 1889 Kildare,
F E Thornhill court:  30 January 1888 Kildare,
F E Thornhill court:  5 May 1899 Kildare,
F E Thornhill court:  6 June 1887 Kildare,
F E Thornhill court:  7 December 1891  Kildare,
F E Thornhill court:  7 May 1894 Kildare,
F E Thornhill court:  7 October 1889 Kildare,
F Evelyn Thornhill court: 21 June 1886 Kildare,
F Evelyn Thornhill court: 6 August 1886 Kildare
Henry Thornhill court: 19 March 1863 Kildare,
John Thomas Thornhill court:  28 December 1875  Kildare,
T E Thornhill court:  2 March 1891  Kildare,
T E Thornhill court:  2 March 1891  Kildare,
Thos Thornhill court: 1 April 1895 Kildare,
Co Laois BDM's
Mary Elizabeth Thornhill marriage:  April 1895 / June 1895 Abbeyleix,
Co Laois Roman Catholic Baptisms
First name(s)  Last name  Baptism year  Parish County Father's first name(s) Mother's first name(s)
Thornhill 1859 Abbeyleix and Ballyroan Kilkenny, Laois  Sally
Wm Thornhill 1830 Abbeyleix and Ballyroan Kilkenny, Laois Wm Sally
Co Limerick BDM's
Adam Thornhill birth:  1797 death: April 1880 / June 1880 Croom,
Aine Thornhill birth: July 1951 / September 1951 Limerick, mother: Lally
Alexander Thornhill birth:  1846 death: October 1906 / December 1906 Limerick
Ann Mary Thornhill birth:  April 1886 / June 1886 Kilmallock,
Anne F Thornhill birth: April 1937 / June 1937 Limerick, mother: Tobin
Anne Thornhill birth: 1774 death: 1874 Kilmallock,
Anne Thornhill birth: 1871 Kilmallock,
Anne Thornhill birth: April 1879 / June 1879 Kilmallock,
Annie Thornhill marriage:  January 1881 / March 1881  Limerick,
Annie Thornhill marriage:  July 1899 / September 1899 Limerick,
Arthur Thornhill birth: January 1878 / March 1878  Kilmallock,
Breeda M Thornhill marriage:  July 1944 / September 1944 Kilmallock,
Bridget Thornhill birth: 1851 death: January 1927 / March 1927  Kilmallock,
Bridget Thornhill birth: 1881 death: January 1927 / March 1927  Kilmallock,
Bridget Thornhill birth: 1890 death: January 1914 / March 1914  Limerick,
Bridget Thornhill birth: 1890 death: July 1926 / September 1926 Kilmallock,
Bridget Thornhill birth: July 1926 / September 1926 Kilmallock,
Catharine Thornhill birth: 1864 Kilmallock,
Catherine Thornhill birth:  1817 death: April 1883 / June 1883 Kilmallock,
Catherine Thornhill birth:  1833 death: October 1883 / December 1883 Limerick,
Catherine Thornhill birth:  1875 Kilmallock,
Catherine Thornhill marriage:  1865 Kilmallock,
Catherine Thornhill marriage:  April 1900 / June 1900 Kilmallock,
Catherine Thornhill marriage:  October 1886 / December 1886 Kilmallock,
Catherine Thornhill marriage:  October 1910 / December 1910 Kilmallock,
Christina Thornhill birth: 1863 death: October 1927 / December 1927 Limerick,
Christina Thornhill birth: January 1937 / March 1937  Limerick, mother: Walsh
Edward Thornhill birth: October 1922 / December 1922 Kilmallock,
Eliza Thornhill marriage: 1867 Kilmallock,
Elizabeth Thornhill marriage: 1870 Croom,
Ellen Christina Thornhill birth:  January 1888 / March 1888  Kilmallock,
Ellen P Thornhill birth: July 1940 / September 1940 Croom, mother: Walsh
Ellen Thornhill birth: 1876 Kilmallock,
Ellen Thornhill birth: October 1924 / December 1924 Kilmallock,
Emily Thornhill birth: 1852 death: October 1892 / December 1892Croom,
Fanny Thornhill marriage:  1877 Limerick,
Frances Thornhill birth: 1867 Kilmallock,
Francis Thornhill birth: 1868 death: January 1953 / March 1953  Limerick,
Gerald Thornhill birth: 1905 death: January 1913 / March 1913  Kilmallock,
Gerald Thornhill birth: January 1905 / March 1905  Kilmallock,
Hanora P Thornhill birth: July 1942 / September 1942 Kilmallock,  mother: Fox
Hanora P Thornhill birth: July 1942 / September 1942 Kilmallock, mother: Tobin
Harry Thornhill birth: 1874 death: October 1924 / December 1924 Limerick,
Helena M Thornhill birth: July 1938 / September 1938 Limerick, mother: Walshe
Helena Thornhill birth: 1845 death: January 1910 / March 1910  Limerick,
Helena Thornhill birth: 1874 Limerick,
Helena Thornhill marriage:  January 1900 / March 1900  Limerick,
Henry John Thornhill birth: 1868 Limerick,
Henry Thornhill marriage:  July 1882 / September 1882 Croom,
James Constantine Thornhill birth:  July 1913 / September 1913 Kilmallock,
James Thornhill birth:  April 1880 / June 1880 Kilmallock,
James Thornhill marriage: January 1918 / March 1918  Limerick,
James Thornhill marriage: January 1932 / March 1932  Kilmallock,
Johanna M C Thornhill birth: July 1921 / September 1921 Kilmallock,
Johanna Mary Thornhill birth:  October 1907 / December 1907 Kilmallock,
Johanna Thornhill birth: 1851 death: October 1914 / December 1914 Kilmallock,
Johanna Thornhill birth: October 1885 / December 1885 Kilmallock,
Johanna Thornhill marriage: October 1917 / December 1917 Kilmallock,
John Gerald T Thornhill birth: July 1899 / September 1899 Kilmallock,
John Gerard Thornhill birth: 1900 death: July 1922 / September 1922 Kilmallock,
John Joseph Thornhill birth: October 1920 / December 1920 Kilmallock,
John Thornhill birth: 1802 death: January 1890 / March 1890  Kilmallock,
John Thornhill birth: 1841 death: January 1915 / March 1915  Kilmallock,
John Thornhill birth: 1869 death: 1870 Kilmallock,
John Thornhill birth: 1874 Kilmallock,
John Thornhill birth: 1875 death: April 1899 / June 1899 Kilmallock,
John Thornhill birth: 1875 Kilmallock,
John Thornhill birth: April 1885 / June 1885 Kilmallock,
John Thornhill birth: April 1935 / June 1935 Limerick, mother: Walsh
John Thornhill birth: October 1908 / December 1908 Kilmallock,
Joseph Thornhill birth: 1887 death: October 1887 / December 1887 Kilmallock,
Joseph Thornhill birth: July 1887 / September 1887 Kilmallock,
Josephine Thornhill birth:  1882 death: October 1929 / December 1929 Kilmallock,
Julia Thornhill marriage: 1871 Kilmallock,
Kate Thornhill birth: 1870 Kilmallock,
Katherine M Thornhill birth: April 1938 / June 1938 Kilmallock,  mother: Tobin
Katherine M Thornhill birth: April 1938 / June 1938 Kilmallock,  mother: Fox
Katie P Thornhill birth: October 1940 / December 1940 Limerick, mother: Walsh
Liam E Thornhill birth:  April 1954 / June 1954 Limerick, mother: Lally
Margaret Helena Thornhill birth: 1889 death: July 1889 / September 1889 Croom,
Mary Anne Thornhill birth:  1865 Kilmallock,
Mary Anne Thornhill birth:  October 1881 / December 1881 Kilmallock,
Mary Josephine A Thornhill birth:  July 1902 / September 1902 Kilmallock,
Mary Kate Thornhill birth: April 1920 / June 1920 Kilmallock,
Mary Thornhill birth: 1807 death: 1875 Croom,
Mary Thornhill birth: 1865 death: October 1926 / December 1926 Limerick,
Mary Thornhill birth: 1871 death: July 1914 / September 1914 Limerick,
Mary Thornhill birth: 1874 Kilmallock,
Mary Thornhill birth: 1885 death: April 1945 / June 1945 Limerick,
Mary Thornhill birth: April 1887 / June 1887 Croom,
Mary Thornhill birth: July 1934 / September 1934 Limerick, mother: Walsh
Mary Thornhill marriage: 1853 Rathkeale,
Mary Thornhill marriage: October 1912 / December 1912Croom,
Michael J Thornhill birth: April 1933 / June 1933 Kilmallock,
Michael Thornhill birth: 1871 Kilmallock,
Michael Thornhill birth: 1873 death: October 1926 / December 1926 Kilmallock,
Michael Thornhill birth: 1873 Kilmallock,
Michael Thornhill birth: 1874 death: 1874 Kilmallock,
Michael Thornhill birth: October 1879 / December 1879 Kilmallock,
Michael Thornhill marriage: July 1917 / September 1917 Limerick,
Nellie Thornhill birth: 1891 death: July 1913 / September 1913 Kilmallock,
No Name Female Thornhill birth: 1935 death: October 1935 / December 1935 Kilmallock,
No Name Female Thornhill birth: October 1935 / December 1935 Kilmallock,  mother: Tobin
Patrick J Thornhill marriage: October 1898 / December 1898 Limerick,
Patrick John Thornhill birth: 1876 death: July 1914 / September 1914 Kilmallock,
Patrick Joseph Thornhill birth: April 1901 / June 1901 Kilmallock,
Patrick Thornhill birth: 1873 Kilmallock,
Patrick Thornhill birth: 1876 Kilmallock,
Patrick Thornhill birth: 1883 death: April 1886 / June 1886 Kilmallock,
Patrick Thornhill birth: April 1878 / June 1878 Kilmallock,
Quayle Thornhill marriage:  1865 Kilmallock,
Rebecca Thornhill birth: 1870 Limerick,
Rebecca Thornhill marriage: January 1894 / March 1894  Limerick,
Thomas Thornhill birth: 1878 death: January 1898 / March 1898  Kilmallock,
Thomas Thornhill birth: October 1883 / December 1883 Kilmallock,
Thomas Thornhill marriage: October 1934 / December 1934 Kilmallock,
William Joseph Thornhill birth: January 1905 / March 1905  Kilmallock,
William Thornhil birth: 1841 death: October 1915 / December 1915 Kilmallock,
William Thornhill birth: 1872 Limerick,
William Thornhill birth: 1875 death: October 1928 / December 1928 Limerick,
William Thornhill birth: 1876 death: October 1928 / December 1928 Limerick,
William Thornhill birth: 1891 death: January 1891 / March 1891  Kilmallock,
William Thornhill birth: 1898 death: April 1899 / June 1899 Kilmallock,
William Thornhill birth: January 1882 / March 1882  Kilmallock,
William Thornhill birth: January 1891 / March 1891  Kilmallock,
William Thornhill birth: October 1883 / December 1883 Kilmallock,
William Thornhill marriage: January 1928 / March 1928  Limerick,
William Thornhill marriage: July 1918 / September 1918 Limerick,
William Thornhill marriage: October 1913 / December 1913 Limerick,
Co Limerick Roman Catholic Baptisms
First name(s)  Last name  Baptism year  Parish County Father's first name(s) Mother's first name(s)
Anna  Thornhill 1871 Kilfinane Limerick Patritii Maria
Anna  Thornhill 1879 Kilfinane  Limerick Joannis Johanna
Arthurus  Thornhill  1878 Kilfinane  Limerick Joannis Johanna
Catharina  Thornhill 1839 Croom Limerick Adami Maria
Catharina  Thornhill 1870 Kilfinane Limerick Hannis Johannæ
Elizabetha  Thornhill 1844 Croom Limerick Adami Maria
Ellena Thornhill  1876 Kilfinane Limerick Joannis Joannae
Francesca  Thornhill  1867 Kilfinane Limerick Patritis Maria
Franciscum Thornhill 1842 Kilmallock Limerick, Cork Joanne Catharina
Henry Jno Thornhill 1868 St. Michael's, Limerick Alexander Helena
Joannes Thornhill 1875 Kilfinane Limerick Joannes Joannae
Maria Anna Thornhill 1865 Kilfinane Limerick Patritii Maria
Maria Thornhill 1874 Kilfinane Limerick Joannes Joannae
Michael Thornhill  1871 Kilfinane Limerick Joannis Johannæ
Michael Thornhill  1873 Kilfinane Limerick Patritii Marine
Michaelem Thornhill 1879 Effin and Gamenderk  Limerick Gulielmo Bridgida
Patritius Thornhill 1873 Kilfinane Limerick  Joannis Johanna
Thomam Joseph Thornhill 1877 Effin and Gamenderk  Limerick Gulielmo Brigida
Wm Thornhill  1872 St. Michael's, Limerick Alexander  Ellen
Co Limerick Roman Catholic Marriages
First name(s)  Last name  Marriage year Parish County Spouse's first name(s)
Anne  Thornhill 1833 St. Michael's, Limerick Thomas
Catharinam Thornhill 1865 Kilfinane Limerick Gulielmum
Elizabeth Thornhill 1867 Kilfinane Limerick Joannem
Helena Thornhill 1855 Kilfinane Limerick Patritius
Johannes Thornhill 1858 Effin and Gamenderk  Limerick Catharina
Julianam  Thornhill 1871 Kilfinane Limerick Joannem
Mariam Thornhill 1853 Croom Limerick Thomam
Mariam Thornhill 1861 Kilfinane Limerick Joannem
Quagle Thornhill 1865 Kilmallock Limerick, Cork Elizeth
Co Limerick Ireland Tithe Applotment Books, 1814-1855
John Thornhill tax assessment: 1833 Kilfinnane, Ballyriggin, Limerick,
Co Limerick 1911 Census
Thornhill Bridget Leagane Tobernea Limerick 59
Thornhill Christina Bridge Street  Croom Limerick 60
Thornhill Hannie Sexton Street  Limerick 40
Thornhill Henry Madden's Lane  Limerick 40
Thornhill James Ballyriggin Kilfinnane Limerick 30
Thornhill Johanna Ballyriggin Kilfinnane Limerick 67
Thornhill John Ballyriggin Kilfinnane Limerick 77
Thornhill John High Street Kilfinnane Limerick 12
Thornhill Josie Ballyriggin Kilfinnane Limerick 25
Thornhill Josie Ballyriggin Kilfinnane Limerick 3
Thornhill Mary A Sexton Street  Limerick 43
Thornhill Mary Ethel Bridge Street  Croom Limerick 22
Thornhill Mary High Street Kilfinnane Limerick 9
Thornhill Michael  Knockainy Town Knockainy  Limerick 38
Thornhill Nellie Leagane Tobernea Limerick 21
Thornhill Nora J High Street Kilfinnane Limerick 39
Thornhill Patrick Cathedral Place  Limerick 33
Thornhill Patrick High Street Kilfinnane Limerick 10
Thornhill Patrick J High Street Kilfinnane Limerick 35
Thornhill Patrick Thomas ain Street Kilfinnane Limerick 70
Thornhill Thomas  Ballyriggin Kilfinnane Limerick 27
Thornhill Willam Madden's Lane 4 Limerick 36
Thornhill William High Street Kilfinnane Limerick 6
Thornhill William Leagane Tobernea Limerick 68
Co Limerick 1901 Census
Thornhill Alexander  Maddens Lane Limerick 59
Thornhill Annie Kilfinnane Limerick 18
Thornhill Annie Leagane Tobernea Limerick 14
Thornhill Bridget Ballingaddy Kilmallock Limerick 45
Thornhill Bridget Leagane Tobernea Limerick 42
Thornhill Christiana Bridge St.  Croom Limerick 39
Thornhill Ellie Leagane Tobernea Limerick 11
Thornhill Frances Sexton St.  Limerick 34
Thornhill Helena Ballyriggin Kilfinnane Limerick 24
Thornhill Helena Maddens Lane Limerick 58
Thornhill Henry Maddens Lane Limerick 32
Thornhill ichael Ballyriggin Kilfinnane Limerick 29
Thornhill James Ballyriggin Kilfinnane Limerick 20
Thornhill Johannah Ballyriggin Kilfinnane Limerick 55
Thornhill John Ballyriggin Kilfinnane Limerick 66
Thornhill John Kilfinnane Kilfinnane Limerick 2
Thornhill Josie Ballyriggin Kilfinnane Limerick 15
Thornhill Katie Leagane Tobernea Limerick 21
Thornhill Mary Brackvoan  Bruff Limerick 13
Thornhill Mary Kilfinnane Limerick 60
Thornhill Mary Sexton St.  Limerick 36
Thornhill Norah Kilfinnane Limerick 27
Thornhill Patrick Kilfinnane Limerick 25
Thornhill Patrick Kilfinnane Limerick 60
Thornhill Thomas Ballyriggin Kilfinnane Limerick 17
Thornhill William Leagane Tobernea Limerick 55
Thornhill William Mddens Lane Limerick 28
Thornhill William South Circular Road  Limerick 12
Co Limerick Ireland Prison Registers, 1790-1924
Henry Thornhill birth:  1842 Croom other:  1866 Limerick
Quayle Thornhill other: 1864 Limerick
Co Limerick Ireland, Petty Sessions Court Registers, 1828-1912
Adam Thornhill court: 11 September 1865 Limerick,
Alexander Thornhill court:  10 October 1879 Limerick,
Alexander Thornhill court:  16 April 1886 Limerick,
Alexander Thornhill court:  16 May 1879 Limerick,
Alexander Thornhill court:  18 December 1869  Limerick,
Alexander Thornhill court:  19 July 1878 Limerick,
Alexander Thornhill court:  2 July 1866  Limerick,
Alexander Thornhill court:  25 October 1869 Limerick,
Alexander Thornhill court:  27 November 1891 Limerick,
Alick Thornhill court: 13 March 1896 Limerick,
Ellen Mary Thornhill court:  18 February 1898 Limerick,
Ellen Mary Thornhill court:  19 March 1898 Limerick,
Henry Thornhill court: 8 October 1883 Limerick,
H Thornhill court:  25 March 1904 Limerick,
Helena Thornhill court: 16 April 1886 Limerick,
Helena Thornhill court: 18 February 1898 Limerick,
Henry Thornhill court: 27 June 1890 Limerick,
Henry Thornhill court: 3 October 1887 Limerick,
J Thornhill court: 11 April 1910 Limerick,
Jno Thornhill court: 18 March 1864 Limerick,
John Thornhill court: 1 September 1882  Limerick,
Mary Thornhill court: 17 September 1879 Limerick,
Mary Thornhill court: 6 January 1910 Limerick,
Michael Thornhill court: 1 January 1914 Limerick,
Michael Thornhill court: 6 January 1910 Limerick,
Nora Thornhill court: 16 June 1911 Limerick,
Nora Thornhill court: 8 April 1910 Limerick,
Null Thornhill court: 24 November 1911 Limerick,
P Thornhill court: 29 May 1909 Limerick,
Patk Thornhil court: 29 May 1909 Limerick,
Patk Thornhill court: 20 March 1909 Limerick,
Patk Thornhill court: 29 May 1909 Limerick,
Patk Thornhill court: 3 April 1909 Limerick,
Patrick Thornhill court: 6 February 1909 Limerick,
Patrick Thornhill court: 23 January 1909 Limerick,
Patrick Thornhill court: 29 May 1909 Limerick,
Patrick Thornhill court: 9 January 1909 Limerick,
W Thornhill court: 13 September 1901 Limerick,
William Thornhill court: 17 April 1914 Limerick,
William Thornhill court: 27 June 1890 Limerick,
William Thornhill court: 30 April 1886 Limerick,
Wm Thornhill court: 1 May 1903 Limerick,
Wm Thornhill court: 2 March 1911  Limerick,
Wm Thornhill court: 4 August 1882 Limerick,
Co Limerick Ireland Landed Estate Court Files, 1850-1885
Edward B Thornhill probate: 1851 Limerick,
Edward Badham Thornhill probate: 1851 Limerick,
Elizabeth Thornhill probate: 1851 Limerick,
John Thornhill probate: 1842 Limerick,
John Thornhill probate: 1855 Limerick,
John Thornhillprobate: 1842 Limerick,
Reeves V Thornhill probate: 1851 Limerick,
Richard Thornhill probate: 1855 Limerick,
Thornhill probate: 1851 Limerick,
William Thornhill probate: 1855 Limerick,
Co Leitrim BDM's
Henry Badham Thornhill marriage:  1858 Carrick-On-Shannon,
Co Louth BDM's
Anna Maria Thornhill birth: 1834 death: January 1917 / March 1917  Ardee,
Charles John Thornhill marriage: July 1905 / September 1905 Dundalk,
Charles Thornhill birth: 1813 death: July 1881 / September 1881 Ardee,
Charles Thornhill birth: 1839 death: July 1900 / September 1900 Ardee,
Female Thornhill birth: April 1908 / June 1908 Ardee,
Helen Francis B Thornhill marriage: October 1906 / December 1906 Ardee,
Helen J Thornhill birth: 1820 death: April 1908 / June 1908 Ardee,
Hester Frances Thornhill marriage:  1869 Ardee,
Humphry O'Brien Thornhill birth: January 1895 / March 1895  Ardee,
Janet Sheelah Thornhill birth:  January 1907 / March 1907  Drogheda,
John Thornhill birth: January 1878 / March 1878  Ardee,
Kathleen Alice Thornhill birth: October 1893 / December 1893 Ardee,
Margaret Thornhill birth: 1818 death: April 1878 / June 1878 Ardee,
No Name Male Thornhill birth: January 1885 / March 1885  Ardee,
Peter John Thornhill birth:  July 1912 / September 1912 Drogheda,
Phillis Irene Cecil Thornhill birth: July 1902 / September 1902 Drogheda,
William Blundell Thornhill birth: 1858 death: April 1909 / June 1909 Ardee, Louth
William Thornhill birth: 1821 death: 1872 Ardee,
William Thornhill marriage: 1856 Ardee,
Co Louth 1911 Census
Thornhill Janet Sheelah Patrick's Well Lane  West Gate Louth 4
Thornhill John Cecil Patrick's Well Lane  West Gate Louth 48
Thornhill lorence Auguste Patrick's Well Lane  West Gate Louth 41
Thornhill lorence Beatrice Castlebellingham  Louth 47
Thornhill Phylles Irene Patrick's Well Lane  West Gate Louth 5
Co Louth 1901 Census
Thornhill Anna aria  Castlebellingham  Louth 66
Thornhill Blundell W Castlebellingham  Louth 43
Thornhill Charles John Castlebellingham  Louth 32
Thornhill Eden aud  Castlebellingham  Louth 40
Thornhill Florence A Beauliew  St. Peter's, Drogheda  Louth 31
Thornhill Florence B  Castlebellingham  Louth 37
Thornhill Helen B Castlebellingham  Louth 17
Thornhill Helen Jameson Castlebellingham  Louth 80
Thornhill Humphrey O'B Beauliew  St. Peter's, Drogheda  Louth 6
Thornhill John Cecil Beauliew  St. Peter's, Drogheda  Louth 38
Thornhill Kathleen A Beauliew  St. Peter's, Drogheda  Louth 7
Co Louth Ireland, Petty Sessions Court Registers, 1828-1912
C Thornhill court: 19 February 1878 Louth,
C Thornhill court: 2 June 1874 Louth,
Charles Thornhill court: 12 April 1881 Louth,
Charles Thornhill court: 19 February 1878 Louth,
Charles Thornhill court: 20 April 1881 Louth,
Charles Thornhill court: 24 March 1898 Louth,
Charles Thornhill court: 7 November 1876 Louth,
Chas J Thornhill court: 28 June 1900 Louth,
F E Thornhill court:  27 April 1880 Louth,
F E Thornhill court:  28 February 1882 Louth,
F E Thornhill court:  28 September 1880 Louth,
F Evelyn Thornhill court: 18 July 1882 Louth,
Francis E Thornhill court: 14 May 1878 Louth,
Francis Thornhill court: 11 October 1881 Louth,
Frederick Thornhill court:  28 June 1887 Louth,
Fredk Thornhill court:  12 June 1866 Louth,
John Henry Thornhill court: 12 August 1884 Louth,
John Henry Thornhill court: 23 August 1887 Louth,
John Henry Thornhill court: 29 July 1884 Louth,
Maud Thornhill court: 12 September 1902 Louth,
Maud Thornhill court: 28 May 1896 Louth,
Maude Thornhill court: 27 October 1898 Louth,
Co Mayo BDM's
Anne Thornhill birth: 1848 death: April 1881 / June 1881 Claremorris,
Bridget Thornhill birth: January 1918 / March 1918  Belmullet,
Bridget Thornhill marriage: January 1944 / March 1944  Belmullet,
George Joseph Thornhill birth: 1881 death: April 1881 / June 1881 Claremorris,
George Joseph Thornhill birth: April 1881 / June 1881 Claremorris,
John Joseph Thornhill birth: April 1879 / June 1879 Claremorris,
Mary Jane Thornhill marriage: July 1901 / September 1901 Ballinrobe,
Michael George Thornhill birth: 1876 Claremorris,
Michael George Thornhill birth: 1877 death: January 1878 / March 1878  Claremorris,
Patrick Thornhill marriage:  April 1917 / June 1917 Belmullet,
Pierce Francis Thornhill birth: 1881 death: April 1881 / June 1881 Claremorris,
Pierce Francis Thornhill birth: April 1881 / June 1881 Claremorris,
Co Mayo 1901 Census
Thornhill Mary J Treanlaur  Cappaduff  Mayo 26
Co Mayo Ireland Prison Registers, 1790-1924
Bridget Thornhill other: 1919 Castlebar, Mayo
Bridget Thornhill residence: 1924 Lovegelloy Co Mayo other: 1924 Co Cork
Co Mayo Ireland, Petty Sessions Court Registers, 1828-1912
John B Thornhill court: 6 January 1898 Mayo,
John Thornhill court: 22 May 1890 Mayo,
Pierce Thornhill court: 1 April 1869 Mayo,
Pierce Thornhill court: 13 January 1870 Mayo,
Pierce Thornhill court: 13 May 1869 Mayo,
Pierce Thornhill court: 17 November 1869 Mayo,
Pierce Thornhill court: 20 May 1869 Mayo,
Pierce Thornhill court: 22 April 1869 Mayo,
Pierce Thornhill court: 22 April 1869 Mayo,
Pierce Thornhill court: 25 March 1869 Mayo,
Pierce Thornhill court: 28 October 1869 Mayo,
Pierce Thornhill court: 6 May 1869 Mayo,
Pierce Thornhill court: 8 December 1869  Mayo,
S C Thornhill court: 17 November 1869 Mayo,
Co Meath 1911 Census
Thornhill Alice Stadalt Stamullin  Meath 63
Co Monaghan Ireland, Petty Sessions Court Registers, 1828-1912
Andrew Thornhill court: 23 October 1874 Monaghan,
Anthony Thornhill court: 28 November 1873 Monaghan
Co Offaly BDM's
No Name Male Thornhill birth: January 1891 / March 1891  Edenderry,
No Name Male Thornhill birth: July 1889 / September 1889 Edenderry,
Co Offaly Ireland Landed Estate Court Files, 1850-1885
John Thornhill Captain probate: 1855 Offaly (King's),
Co Roscommon BDM's
Isabella Babham Thornhill marriage: 1854 Boyle,
Co Roscommon Ireland, Petty Sessions Court Registers, 1828-1912
Edward B Thornhill court:  13 May 1863 Roscommon,
Edward Badhan Thornhill court: 21 April 1858 Roscommon,
Henry Thornhill court: 19 April 1879 Roscommon,
Henry Thornhill court: 19 October 1878 Roscommon,
Henry Thornhill court: 5 October 1878 Roscommon,
L Thornhill court: 9 July 1890  Roscommon,
Laurence John B Thornhill court: 13 November 1861 Roscommon,
Law B Thornhill court:  13 November 1861 Roscommon,
Law B Thornhill court:  21 June 1865 Roscommon,
Null Thornhill court: 21 April 1858 Roscommon,
Co Sligo BDM's
Mary Thornhill birth: 1806 death: 1865 Sligo,
Co Sligo Ireland Prison Registers, 1790-1924
Patk Thornhill birth: 1894 other: 1919 Sligo
Co Sligo Ireland, Petty Sessions Court Registers, 1828-1912
E B Thornhill court: 19 February 1885 Sligo,
Edward B Thornhill court:  11 June 1857 Sligo,
Edward B Thornhill court:  14 April 1859 Sligo,
Edward B Thornhill court:  16 June 1854 Sligo,
Edward B Thornhill court:  19 January 1860 Sligo,
Edward B Thornhill court:  19 May 1854 Sligo,
Edward B Thornhill court:  22 May 1855 Sligo,
Edward B Thornhill court:  26 December 1853  Sligo,
Edward B Thornhill court:  27 September 1860 Sligo,
Edward B Thornhill court:  28 April 1859 Sligo,
Edward B Thornhill court:  31 October 1867 Sligo,
Edward B Thornhill court:  9 July 1857  Sligo,
Edward M Thornhill court: 16 July 1863 Sligo,
Edwd B Thornhill court: 17 February 1862 Sligo,
Co Tipperary BDM's
Eliza Thornhill marriage: 1850 Clonmel,
George Thornhillmarriage:  1854 Clonmel,
Henry Thornhill birth:  1841 death: July 1901 / September 1901 Tipperary ,
Johanna Thornhill birth: 1852 death: July 1907 / September 1907 Tipperary
Margaret Thornhill birth: 1826 death: October 1889 / December 1889 Clonmel,
Mary Jane Thornhill birth: 1874 Newport,
Nellie Thornhill marriage:  October 1947 / December 1947 Tipperary ,
No Name Male Thornhill birth: 1868 Clonmel,
Thomas B Thornhill marriage:  July 1891 / September 1891 Clogheen,
William Patrick Thornhill birth: January 1898 / March 1898  Carrick-On-Suir,
William Thornhill birth: 1805 death: 1875 Nenagh,
William Thornhill birth: July 1886 / September 1886 Clonmel,
Co Tipperary Roman Catholic Baptisms
First name(s)  Last name  Baptism year  Parish County Father's first name(s) Mother's first name(s)
Cath Thornhill 1832 Boherlahan Tipperary  Jno Mary
Gulielmum Thornhill 1851 Templetenny  Tipperary  Thoma Ellena
Mary  Thornhill 1830 Boherlahan Tipperary  John Mary
Mary  Thornhill 1831 Boherlahan Tipperary  Nicholas Mary
Patritius Thornhill 1836 Ss Peter and Paul, Clonmel Tipperary, Waterford  Joannes Catha
Philip  Thornhill 1832 Boherlahan Tipperary  Nick Mary
Co Tipperary Roman Catholic Marriages
John Thornhill 1829 Cashel Tipperary  Judy
Thomas Thornhill  1847 Ballycahill and Holy-Cross Tipperary  Ellen
Co Tipperary Ireland Tithe Applotment Books, 1814-1855
Philip Thornhill tax assessment: 1827 Ballysheehan, Ballyheens, Tipperary ,
Co Tipperary 1901 Census
Thornhill Johanna Spittal Street Tipperary  50
Thornhill Henry Spittal Street Tipperary 60
Co Tipperary Ireland Prison Registers, 1790-1924
Eliza Thornhill other: 1850 Clonmel, Tipperary
George Thornhill birth: 1816 other: 1843 Clonmel, Tipperary
George Thornhill birth: 1822 other: 1852 Clonmel, Tipperary
Margaret Thornhill birth: 1825 other: 1861 Clonmel, Tipperary
Margt Thornhill birth:  1825 other: 1861 Clonmel, Tipperary
Margt Thornhill other: 1861 Clonmel, Tipperary
Thomas Thornhill birth: 1820 other: 1842 Clonmel, Tipperary
Co Tipperary Ireland, Petty Sessions Court Registers, 1828-1912
George Thornhill court: 1 September 1880  Tipperary,
George Thornhill court: 11 April 1860 Tipperary,
George Thornhill court: 11 October 1876 Tipperary,
George Thornhill court: 12 May 1875 Tipperary,
George Thornhill court: 14 June 1882 Tipperary,
George Thornhill court: 15 June 1859 Tipperary,
George Thornhill court: 19 September 1877 Tipperary,
George Thornhill court: 21 July 1875 Tipperary,
George Thornhill court: 24 August 1881 Tipperary,
George Thornhill court: 25 August 1875 Tipperary,
George Thornhill court: 3 October 1866 Tipperary,
George Thornhill court: 30 December 1874  Tipperary,
George Thornhill court: 4 October 1876 Tipperary,
George Thornhill court: 6 April 1874 Tipperary,
George Thornhill court: 7 June 1876 Tipperary,
Isabella Thornhill court: 12 December 1866  Tipperary,
Isabella Thornhill court: 6 February 1867 Tipperary,
Isabella Thornhill court: 8 May 1867 Tipperary,
J Thornell court: 12 December 1866  Tipperary,
Margaret Thornhill court:  10 January 1866 Tipperary,
Margaret Thornhill court:  17 April 1861 Tipperary,
Margaret Thornhill court:  4 March 1874  Tipperary,
Margaret Thornhill court:  6 July 1859  Tipperary,
Margt Thornhill court: 22 September 1858 Tipperary,
Mary Thornhill court: 22 October 1873 Tipperary,
Richard Thornhill court: 4 March 1874  Tipperary,
Co Tipperary Ireland Landed Estate Court Files, 1850-1885
Leonard Thornhill probate: 1875 Tipperary ,
Walter Thornhill probate:  1782 Tipperary ,
Co Tyrone BDM's
Adelaide Barham Thornhill marriage: 1861 Strabane,
Johanna Thornhill birth: 1804 death: July 1878 / September 1878 Omagh,
Rupert Thornhill birth: 1870 death: 1870 Omagh,
Thomas Thornhill birth: 1868 Omagh,
Co Waterford BDM's
Brigid F Thornhill birth: October 1951 / December 1951 Dungarvan, mother: Ahern
John Thornhill marriage: July 1884 / September 1884 Waterford,
Linnard Thornhill birth: 1797 death: 1867 Lismore,
Mary Thornhill birth: 1785 death: 1864 Lismore,
Richard Thornhill birth: 1854 death: April 1925 / June 1925 Waterford,
Walter Thornhill birth: 1829 death: January 1896 / March 1896  Lismore,
Co Waterford Roman Catholic Marriages
First name(s)  Last name  Marriage year Parish County Spouse's first name(s)
Richd  Thornhill 1857 Kilworth Waterford, Cork Kate
Co Waterford 1911 Census
Thornhill Richard Barrack Street Waterford  60
Thornhill William Bridge Street  Dungarvan Waterford  22
Co Waterford 1901 Census
Thornhill William Countygate Mocollop  Waterford  57
Co Waterford Ireland Prison Registers, 1790-1924  
John Or George Thornhill birth: 1817 other: 1844 Waterford,
Co Waterford Ireland, Petty Sessions Court Registers, 1828-1912
James Thornhill court: 9 July 1852  Waterford,
Richard Thornhill court: 9 March 1885  Waterford,
Co Westmeath Ireland, Petty Sessions Court Registers, 1828-1912
James Thornhill court: 3 October 1903 Westmeath,
John B Thornhill court: 29 April 1858 Westmeath,
Co Wicklow 1901 Census
Thornhill Charles Blakestown Upper Burgage Wicklow 51
Thornhill Edward Badham Killegar Powerscourt Wicklow 54
Thornhill George Thomas Cloghleagh Kilbride Wicklow 53
Thornhill Mary Ann Cloghleagh Kilbride Wicklow 51
Thornhill Mary Catherine Kilda Cloghleagh Kilbride Wicklow 9
Co Wicklow Ireland Prison Registers, 1790-1924
Christ Thornhill birth: 1806 Tinnahely other: 1845 Richmond (Bridewell), Dublin
James Thornhill residence: 1868 Bray other: 1868 Wicklow, Wicklow,
Co Wicklow Ireland, Petty Sessions Court Registers, 1828-1912
Edward Badham Thornhill court: 10 August 1867 Wicklow,
Edwd Badham Thornhill court: 18 May 1867 Wicklow,
James Thurnhill court: 17 May 1875 Wicklow,
No County address BDM's
Thornhill Mother Child John O'Dea
Thornhill Mother Child Joseph A Brazzil
Thornhill Mother Child Gerard B Murphy
Thornhill Mother Child Angela O'Brien
Thornhill Mother Child Ann O'Brien
Thornhill Mother Child Anne Manning
Thornhill Mother Child Bernard Hayes
Thornhill Mother Child Bridget M O'Brien
Thornhill Mother Child Brigid P O'Donnell
Thornhill Mother Child Catherine A Linehan
Thornhill Mother Child Catherine B Lee
Thornhill Mother Child Catherine O'Brien
Thornhill Mother Child Christopher J Linehan
Thornhill Mother Child Daniel J Linehan
Thornhill Mother Child Donal F Hayes
Thornhill Mother Child Donal F Hayes
Thornhill Mother Child Edmond R Creamor
Thornhill Mother Child Edward M O Sheehan
Thornhill Mother Child Eileen O'Callaghan
Thornhill Mother Child Elizabeth Linehan
Thornhill Mother Child Ellen O'Donnell
Thornhill Mother Child Female Warner
Thornhill Mother Child Helen M Kerrigan
Thornhill Mother Child Hugh Togher
Thornhill Mother Child James J Lee
Thornhill Mother Child James J Lee
Thornhill Mother Child Jane M Warner
Thornhill Mother Child Joan O'Donnell
Thornhill Mother Child Johanna Linehan
Thornhill Mother Child John A Cremin
Thornhill Mother Child John A O'Reilly
Thornhill Mother Child John A O'Reilly
Thornhill Mother Child John F Hayes
Thornhill Mother Child John J Callaghan
Thornhill Mother Child John T Stafford
Thornhill Mother Child Kiernan W Stafford
Thornhill Mother Child Margaret B O'Brien
Thornhill Mother Child Margaret M Cremin
Thornhill Mother Child Margaret M Manning
Thornhill Mother Child Marie G Stafford
Thornhill Mother Child Marjorie E O'Mahoney
Thornhill Mother Child Martin O'Brien
Thornhill Mother Child Mary C Linehan
Thornhill Mother Child Mary Linehan
Thornhill Mother Child Mary M O'Connell
Thornhill Mother Child Mary O'Donnell
Thornhill Mother Child Mary T Kerrigan
Thornhill Mother Child Mary T O'Brien
Thornhill Mother Child Maurice F Lee
Thornhill Mother Child Michael J Linehan
Thornhill Mother Child Michael O'Callaghan
Thornhill Mother Child Michael P Cremin
Thornhill Mother Child Michael P Linehan
Thornhill Mother Child Michael Rielly
Thornhill Mother Child Noel J Linehan
Thornhill Mother Child Noel J Linehan
Thornhill Mother Child Nora P Hayes
Thornhill Mother Child Patrick G O'Donnell
Thornhill Mother Child Patrick G O'Donnell
Thornhill Mother Child Patrick J Kerrigan
Thornhill Mother Child Patrick Lee
Thornhill Mother Child Patrick Linehan
Thornhill Mother Child Patrick M Togher
Thornhill Mother Child Patrick Manning
Thornhill Mother Child Patrick O'Connell
Thornhill Mother Child Richard J Sheehan
Thornhill Mother Child Rose M Togher
Thornhill Mother Child Rosem Mary D G Sheehan
Thornhill Mother Child Thomas E O'Mahoney
Thornhill Mother Child Thomas F O'Dea
Thornhill Mother Child Thomas Linehan
Thornhill Mother Child Thomas M Linehan
Thornhill Mother Child Timothy Linehan
Thornhill Mother Child William A Linehan
Thornhill Mother Child William H Lenihan
Thornhill Mother Child William J Cremin
Thornhill Mother Child William J Togher
Thornhill Mother Child William M Meade